2010 First Quarter Stock Report




10/7/10



Aggressiveness is a characteristic that tends to reward fantasy owners more times than not. In the NFL, an offensive line will sometimes hold up long enough to give the quarterback enough time to beat man coverage down the field and make the defense look foolish against a fierce pass rush. More often than not, though, when a defense brings the heat and forces the action, crisis management becomes the name of the game for the opposing team.

In that same vein, I hope to apply that same kind of pressure to the owners in all of my leagues by beating my opponents to the punch in regards to personnel moves. Sometimes, reaching a conclusion about a player too quickly is much like trying to blitz Peyton Manning – dangerous and painful. However, coming to a correct conclusion two weeks or two minutes quicker than your opponents is considered foresight. Fantasy owners can be a uneasy lot, knowing that one two-or-three-game losing streak can wreak irreparable damage to his/her team's chances to make a visit to the fantasy postseason. But just as it is in the NFL and in life, it's hard to land the big prize by playing scared. Thus, I will strive each week to help each of you become a smart blitzer, so to speak.
---
NFL coaches are fond of saying how they like to break down the regular season into four four-game segments. At the end of each quarter, they not only like to be at least .500, but also to have a fair gauge on what players are going to carry the team's momentum into the next part of the season.
Except in some rare cases, only two fantasy teams per league get a chance to play 16 games in a season. Still, I buy into the methodology of taking the pulse of your fantasy team after four games. By now, some trends are starting to emerge, players are in regular-season shape and owners can get a pretty good sense of where their team's strengths and weaknesses lie. As a result, trading at this point of the season doesn't seem as rushed or cutting bait with an unproductive player doesn't seem as hasty.
Much as I suggest in my open each week, I'm an aggressive owner, one who trusts his preseason ranking of players well into the season, all while putting a fair amount of weight into what has transpired so far. I typically don't wait until Week 4 to trade because I feel I am reasonably sure about a player's prospects before then, especially if his early-season production is matching up with what I forecasted for him in July and August. (Certainly, as we enter into the back end of the second quarter of the season, what a player is doing in that season becomes more and more important than my preseason rank or analysis of that player.) My belief is that while the risk of a player letting you down is higher with a small sample size early in the season, the reward for buying low is worth the chance. For example, the time to grab someone like Ben Roethlisberger, Ray Rice, and Marques Colston at a slightly discounted rate is running out.
Quite often, fantasy sports - football in particular - is much like the stock market. While it is highly unlikely that any player will take off like a tech stock in the late 1990s and earlier part of this decade, some players provide incredible return to their investors in just a short amount of time. But while some stocks are built for the long haul, others will come crashing back down quickly. As easy as it is to sell low, almost no owner wants to take the chance on selling high for fear they will miss out on a historic season and look foolish in the process. Certainly, it makes some sense to not cut the cord with a player who is performing at an otherworldly level, but not good investment sense. No one likes to part with the next big thing, but think about it...if a $15 stock is performing at the level of a $50 stock, do you really believe that stock will continue on to $100? It might, but history suggests it won't barring a perfect storm of events. And if that same stock holds steady at the $50 level and you were able to re-invest in two more stable $25 stocks, didn't you do yourself a favor? Like investing, fantasy sports can often be won by diversifying your portfolio, in other words, spreading the risk and reward in equal parts over your entire team instead of counting on Adrian Peterson or Drew Brees to carry your team each week.
On the other side of the spectrum, other players' values tank so quickly that owners can't get out fast enough, almost to the point where they are forced to hold onto that investment in hopes that the disappointing player can regain some value before the end of the fiscal year. But using that same $15 stock mentioned above, is it worth giving up on when that same stock is performing at a $2 level? If it can rebound to $10 by the end of the year, the answer is probably no.
Seeing as how the investment year is broken down into quarters - just as coaches break down the season - now seems as good of time as any to conduct a quarterly stock report. Which skyrocketing stocks are destined to fall? Which underperforming ones will rise? Who are some of the best buy-low and sell-high players? Let's take a look...
Stocks Destined To Lose Value Quickly
It might appear to be a no-brainer to pick on the QB who absorbed nine sacks and a concussion in less than a half of work in Week 4, but Cutler owners need to understand this has been brewing for a few games already. Detroit sacked him four times in Week 1, Dallas racked up countless pressures in Week 2 and Green Bay did the same in Week 3 while adding three more sacks. In the Packers' contest, Cutler had 2-3 potential interceptions wiped out by penalty or drops, so it was only a matter of time before the Week 4 disaster happened. What makes it worse is that of all the sacks Cutler took vs. the Giants, I felt as though six of them were his fault (as in holding the ball too long after taking a short drop). Admittedly, the Giants' defense finally played up to their immense talent, but a combination of a weak offensive line and Cutler's indecisiveness didn't help matters.
The Bears have no semblance of a running game (ironically, this time Mike Martz is not to blame), which means there is no foreseeable end to Cutler needing to carry the offense on his shoulders. So unless Martz morphs into a conservative, dink-and-dunk play-caller or Cutler speeds up his decision-making, the Giants' debacle won't be the last time the QB leaves the stadium in much worse shape than he entered it. Those of you who regularly read this column were alerted to the fact that it may be a good time to sell Cutler after Week 2. Those of you who religiously followed my Big Boards in August may recall that I soured on Cutler more and more as the summer went on because of the punishment he may incur behind the Bears' o-line and the fact the Bears face the Vikings and Jets in Weeks 15-16. The pre-bye schedule may allow Cutler to restore a bit of value over the next couple of weeks – at Carolina (four sacks in four games) and vs. Seattle (a defense that has allowed 596 yards and four passing TDs vs. one INT in two road games so far) – but the evidence is starting to suggest Cutler should be on someone else's roster sooner than later.
In the case of Benson, I'm making a slight assumption – he hasn't lost a ton of value already. With three TDs through four games, there's a good chance that his stock hasn't fallen off much in the eyes of most fantasy owners. But dig a bit deeper and you'll find that Benson should start looking over his shoulder sooner than later. Granted, I've probably never been one of Benson's biggest fans, but a 3.3 YPC over 80 carries with a long run of 13 yards after four games isn't the type of thing that will keep defensive coordinators up at night. Meanwhile, second-year RB Bernard Scott is cruising along at a 4.9 YPC clip with a long run of 12 yards in just 15 carries. Whether Benson likes it or not, the Bengals are transitioning into more of a balanced offense than they were last year (which highlights Scott's game), so his high-volume workload is doing more to hold the offense back this year than controlling the clock, which worked well in conjunction with the Bengals' strong defense last season to pick up a struggling passing game.
For what it is worth, I compare this backfield somewhat to Brandon Jacobs and Ahmad Bradshaw in New York, with the one difference being that Benson doesn't avoid contact like Jacobs does nowadays. For the Giants to be competitive now, they need Bradshaw (a speedy injury risk himself) to give them the breakaway threat that Jacobs cannot. Similarly, for the Bengals' offense to complement their defense, they must be able to break a big play in ways other than forcing the ball into double teams in the direction of Chad Ochocinco or Terrell Owens. Perhaps Benson can start showing some explosion in upcoming games vs. Tampa Bay and Atlanta, but the first half of the season should have been one that Benson could dominate; the second half of the schedule is a bit more taxing. Why not turn to a RB they have already compared to Chris Johnson to spice up the offense?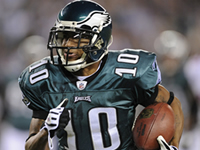 DeSean Jackson: Sell, Sell, Sell!
In two games where Kevin Kolb played a significant part of the game, Jackson has seven catches for 49 yards and no touchdowns. With Michael Vick, Jackson has posted a healthy 9-288-2 line combined in the other two games. Certainly, there is more to it than the QB (facing the weak secondaries of the Lions and Jags certainly helped in Vick's games), but the long ball is just not as much a part of the gameplan with Kolb under center as it is with Vick. I don't want to paint Jackson as simply a deep threat, but Vick stretches the field more than just about any other QB in the league. Most of Kolb's dink-and-dunk style last week can be attributed to a coaching staff that was probably scared of losing a second QB behind a leaky offensive line. Add to that the fact Kolb has taken very few snaps lately and you have a recipe for the numbers we all saw in Week 4. While the elite receivers and tight ends usually remain the top option in the offense regardless of the QB in most offenses, it doesn't always work out that way. In the Eagles' current predicament, more Kolb will likely mean more Brent Celek and LeSean McCoy (whereas Vick's game buys more time for Jackson and Jeremy Maclin to get open downfield). While I recognize that Vick's rib injury may only be a 1-2 week injury, owners of the Eagles passing game need to recognize Vick excelled against the softest pass defenses he could face in Week 2-3. As Kolb returns to the lineup, Philadelphia enters a difficult part of its schedule. Jackson is too good to keep down for too long, but understand that even when Vick returns, "Fraction" isn't going to automatically return to 20-point fantasy days again on a consistent basis.
Pettigrew is a fine all-around TE, in fact he was one of the few such TEs to come out of the 2009 NFL Draft. But while his new fantasy owners are probably thrilled with the production they are getting out of him, expect his numbers to come back to earth once starting WR Nate Burleson returns in Week 5 or 6 and to fall dramatically when QB Matthew Stafford comes back. For anyone who watched the Lions' loss to Green Bay, the announcers highlighted Pettigrew's penchant for dropping catchable balls – which has been a season-long issue for him. The return of Stafford is important in this case because he has the arm strength necessary to make Calvin Johnson a threat on every play whereas Shaun Hill does not. On a completely healthy Lions' offense, Pettigrew will be the fifth option on most plays – behind Johnson, Burleson, Tony Scheffler and Jahvid Best. If you can squeeze some value from the seventh-ranked TE in PPR leagues right now, feel safe in doing so.
Other noteworthy players drafted early who may not live up to their draft spot: Brandon Jacobs (no longer a starter or the full-time goal-line back and has seemingly lost his desire to run up the middle on a consistent basis), Jerome Harrison (has been completely been phased out of the gameplan by HC Eric Mangini's favorite player, Peyton Hillis), Cadillac Williams (has acknowledged his time as the featured back is coming to an end), Justin Forsett (the acquisition of Marshawn Lynch turns him into a third-down back at best), Johnny Knox (his deep speed is useless as long as Cutler doesn't have the time to throw), Steve Smith – Giants (never a great bet for a lot of TDs, plus Hakeem Nicks has quickly joined him as Eli Manning's co-favorite targets) and Steve Smith – Panthers (even though Matt Moore looked bad in two starts, he could feed Smith the ball and found him out in space; Jimmy Clausen has not)
Undervalued Stocks (Underperforming Players Likely To Well Exceed Their Current Market Value)
Flacco, Rice and the Ravens in general are one example of why I believe in my Preseason Schedule Analysis method of fantasy forecasting. For many owners, it is too easy to look at last year's numbers and say that a player is bound to impress/regress based simply on the changing of one or two factors. Looking back, owners should kick themselves if they didn't see that Baltimore faced the stout defenses of the Jets, Steelers and Bengals in three of the first four weeks. (As luck would have it, the Browns – Week 3's opponent – have sported a pretty decent run defense themselves so far.) Because Anquan Boldin has already had his breakout game as a Raven, I must turn to the other Ravens who may be seen as untrustworthy fantasy starters right now. Flacco simply has too many weapons not to thrive in the coming weeks with the Ravens facing a host of weak secondaries from the AFC East and NFC South, not to mention a banged-up Broncos secondary this week, followed by the Patriots and Bills leading into the Week 8 bye.
Rice can probably be had for the likes of Benson or Matt Forte right now due to his "slow" start and the knee bruise that helped the coaching staff decide to play Willis McGahee over him for most of Week 4. For some perspective, Rice had 295 yards rushing and one score to go along with 134 yards receiving through four games last season. Despite a very difficult schedule to date thus far, he has 304 total yards and no scores. Assuming the knee bruise doesn't turn into a year-long ordeal, he'll get better and it will probably start this week in a home game vs. Denver. (Yes, I recognize this is the same Broncos' defense that kept Chris Johnson bottled up, but Baltimore actually has a two-dimensional offense.) It's not unthinkable Rice still finishes around 1,800 total yards. In case you doubt me, Rice went for at least 5.3 YPC against Cincinnati and Cleveland, two respectable run defenses up to this point. Also keep in mind that OC Cam Cameron didn't really unleash Rice until about the fifth game last season and it wouldn't be all that surprising if he did so again in 2010. His breakout game is coming…
In the preseason, fantasy "experts" look for any number of reasons why to promote or downgrade certain players. My rationale for downgrading Mathews included several factors, including his injury history and the uncertainty surrounding his role (or lack of one) at the goal line. For Mathews' owners, those fears were realized earlier than expected and now Mike Tolbert has become someone that has become a fantasy factor. I never expected Mathews' to live up to the first-round pick that many fantasy owners used to acquire his services, but the pendulum has probably swung too far in the other direction now. This is Mathews' job with a bit of Darren Sproles sprinkled in and Tolbert (sometimes, but not always) at the goal line. The Chargers don't have the easiest run schedule going forward, but the presence of a lethal passing attack and absence of an elite run defense like the Steelers or Jets on the schedule means Mathews will rarely ever face a eight-man box or impossible matchup. In 12-team leagues (especially PPR), the rookie is a solid RB2 going forward. If the Mathews' owner in your league is tiring of him, make sure he/she doesn't have that problem much longer. Tolbert will continue to be a factor, but Mathews will gradually reassume his lead-back role.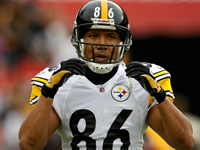 Hines Ward: Buy, Buy, Buy!
This duo is probably is a no-brainer, but I was able to acquire both in separate experts' leagues over the last week, which indicates that even the "experts" lose faith in their mid-round picks earlier than they should or forget the reasons they drafted the player to begin with. Ben Roethlisberger is a top 10 QB in fantasy and the impact his return has on all things Steelers probably can't be overstated. Under OC Bruce Arians, Pittsburgh has morphed into a passing team and I don't expect that to change just because the Steelers went 3-1 in the four games Big Ben was suspended. So, the timing to pick up Ward or Wallace is now going into the team's Week 5 bye as their owners are probably not only looking for bye-week fillers, but to also cut bait with players who aren't meeting their expectations. Ward is a perennial 80-90 catch, 1,000-yard WR (as he demonstrated in Week 1 with Byron Leftwich under center) while Wallace is a receiver that numerous Steelers players (such as Ward) and officials raved about as being the most advanced receiver they had seen from a second-year player. Wallace is unique in that he is a young speed receiver who is already a fine route runner, so with the scheme and QB now in place, Wallace is great shape to meet and possibly exceed the production Santonio Holmes posted as a Steeler. Had Wallace not exploded for 100 yards and two TDs in Week 3, many of his owners may have already set him free. With that said, it's a safe bet those same owners were expecting a bit more from him than a 6-111-0 line in the other three games combined.
The stat that probably captures Fitzgerald's season to this point: 19 catches on 45 targets. For those of you who don't have a calculator handy, that is a 42% connect (or catch) rate for a WR that has caught 63% of the passes Kurt Warner threw his way over the past two seasons. Fitzgerald has established himself as one of the top 2-3 receivers in the league, but even someone as accomplished as the Cards' star cannot be asked to dominate down the field when Arizona has already lost the battle before the ball has been released. In years past, if the Cardinals would have fallen behind like they have in two of the first four weeks of this season, Fitzgerald would have enjoyed a field day. Instead, he has struggled to maintain an YPC over 10 yards! Fitzgerald is one of several players I'm trying to acquire over the next week. Even though I don't expect new starting QB Max Hall to find his inner Kurt Warner anytime soon, I suspect he will move this offense. And when he does, Fitzgerald will have a chance to live up to his WR1 status again.
This is a short-term recommended buy, but Celek can only benefit from Kolb's re-insertion into the starting lineup. The well-chronicled best-friends-and-road-roommate angle may get overplayed from time to time, but in this case, it is warranted. With that said, it takes more than a tight bond off the field to get my attention; each player's strengths must match up to make that friendship carry over to the fantasy box score. As I touched on above, Vick's arm allows him to stretch the field vertically and his running ability allows him to stretch it horizontally. Conversely, Kolb – who possesses underrated arm strength or athleticism himself – looks bland by comparison, has been pigeonholed as a pure West Coast QB whose best asset is accuracy. Because the Eagles' coaching staff restricts Kolb's ability to show off his arm strength and athleticism, it means the players who specialize in the short and intermediate games will start to resurface. Among those players are slot WR Jason Avant and Celek, who has been dropped in a money league or two of mine already. If he is sitting out on your waiver wire too, scoop him up and see what you can get back in return for him if Vick is forced to miss at least two games.
Other noteworthy players who may rise from the early-season ashes: Fred Jackson (modest upgrade as he re-assumes the lead-back role, although owners would be wise not to trust him as anything more than a RB3 at any point this season), Marques Colston (has started slow before, but as Drew Brees' most trusted option – especially on third down – it is only a matter of time before the touchdowns start coming), Percy Harvin (the threat of Randy Moss opens the middle up for him), Mohamed Massaquoi (will start producing at a low-end WR3 or high-end WR4 level once Jake Delhomme comes back)
Stocks On The Way Up (Players Whose Value Is About To Skyrocket)
Derek Anderson has been every bit as inaccurate as most of us expected him to be (he's currently completing 52% of his passes in a league that expects at least 60%) and has reminded us that even a player like Fitzgerald is not so good that he can turn a below-average NFL quarterback into a legit starter. With news that Hall would be taking over as the starter on Wednesday, it ended speculation that started at the end of the preseason when HC Ken Whisenhunt announced that his undrafted rookie free agent was the best QB in camp. So with Steve Breaston and Early Doucet due back soon from injuries, Hall will have a chance to put the accuracy he displayed as a three-year starter at BYU to good use. If his college career is any indication, he will throw his share of interceptions but he almost cannot help but be more efficient than Anderson. Hall immediately becomes a mid-level QB2 in fantasy with potential for much more if he can carry his preseason performance into the regular season.
Very rarely do those of us who write about fantasy football get to enjoy somewhat immediate gratification. Sometimes, we play our hunches and other times we research player histories to uncover potential likelihoods. When Oakland allowed Bush to steal (and convert) a goal-line opportunity in Week 4, I felt somewhat vindicated for keeping the faith that he would eventually carve out a split backfield role with Darren McFadden. But when McFadden exited Week 4 in the fourth quarter with a right hamstring injury (as opposed to the left hammy which sidelined him for most of the preseason), it opened the door considerably for Bush to assume a greater role within the offense. As of press time, we don't know to what extent McFadden will be limited or how long he will be out, but the former Arkansas Razorback has been a hamstring injury waiting to happen over his three-year pro career. In typical Bush fashion, he is chugging right along with a healthy 5.3 YPC since returning from his thumb injury (granted, on a very small sample size – 10 carries).
Assuming the goal-line job is his going forward regardless of McFadden's status – as it was in Week 4 – Bush could very well be on his way to earning at least a 50-50 split with a couple of solid performances if McFadden cannot play over the next game or two. The Raiders have raved all season long about McFadden's ability to contribute in the passing game and his increased toughness as a runner, so it is not as if he is going to just go away in fantasy. McFadden could quite easily emerge as most valuable property of the two in PPR, but McFadden's latest injury is just another reminder of why Bush should be the lead back, even if Al Davis doesn't see it that way.
Much as is the case with Ward and Wallace above, the return of Roethlisberger will do wonders to improve the stock of Miller, who has posted a meager 10-100-0 line through four games. It'd be foolish to think Miller is going to repeat the career year he enjoyed last season, but in this offense, he's a short-yardage weapon who is a pretty solid TE in PPR leagues. And because he is an accomplished blocker as well, he is unlike most of the new generation of TEs who are "rocked-up" WRs that get pulled from the field on running downs. He's not flashy in fantasy or reality, but the kind of stable force in both realms that allow QBs like Roethlisberger and fantasy owners alike to count on him every week.
Other noteworthy players about to see their value go up: Brett Favre (obvious upgrade given the acquisition of Moss, but fantasy owners need to keep expectations realistic…Favre has looked old and made numerous poor decisions this season), Bernard Scott (Benson is not a good bet to keep his job or stay healthy all season long), Felix Jones (short-term upgrade for as long as he can stay healthy), Ryan Torain (another obvious upgrade with Clinton Portis' return this season in some doubt), Kenny Britt (a potential long-term injury to Justin Gage allows the underachieving, but talented Titans WR to carry the passing game), Brandon Tate (will assume Moss' place in the starting line up as well as his deep ball role in the offense although he can't be expected to perform anywhere close to that level), Aaron Hernandez (the one true mismatch the Patriots can throw at opponents with Moss' departure)
Penny Stocks (Wildcard Stock Picks)
It's safe to say the entire Green Bay running game is a cry for help. The trade of Marshawn Lynch to Seattle earlier this week closes the door on a potential avenue for the Packers, although there is a slight possibility Willis McGahee could still get traded before the trading deadline (possibly to the Packers). But if GM Ted Thompson was reluctant to deal a fourth-rounder for Lynch – a back they loved when he was drafted back in 2007 – it's pretty safe to say he won't do it for McGahee (and I have a hard time believing the Ravens will part with their goal-line back for a fifth- or sixth-round pick). All of this leads us back to Starks, who is the only in-house candidate who has the talent necessary to eventually take over this backfield. For those who may not remember, Starks was being hailed as Ryan Grant's eventual successor this spring and summer before he injured his hamstring. The former University of Buffalo standout hasn't been able to stay healthy for some time – so he is a bit of a long shot – but with Aaron Rodgers and the dynamic Packers' passing offense keeping defenses on their heels, there are few RB situations that are more conducive to consistent fantasy production at RB than Green Bay.
Just like Starks, it's not so much that Dixon is an unknown quantity; it's just that he has virtually no role right now. Again, just like Starks, Dixon is a talented RB who needs one break (or a few more weeks in Starks' case) to become a weekly starter in fantasy. And it is exactly that kind of player that fantasy owners need to make sure they have one spot on their roster for, at least in the 12-team, 18-player leagues I play in. As far as fantasy RBs go, Frank Gore is about as good as it gets, but his physical running style tends to lead to injury. And since Gore only played a full 16-game schedule once over his first five seasons, it would seem there is a pretty good chance his sixth season will be interrupted at some point as well. If/when that happens, Dixon becomes an awfully enticing trade chip or short-term fantasy starter. In such a scenario, I would expect Brian Westbrook to receive a fair amount of work in the passing game, but Dixon is already one of the better backup RBs in the league in my opinion.
Since the weekend of the NFL Draft, Mike Williams has been talk of the town in Tampa. Virtually everyone acknowledged that while Benn was drafted two rounds higher than Williams, it was the latter who was a remarkable talent and a potential WR1, with the biggest knock being that Williams could not stay out of trouble in college. So far, so good on that front. However, Benn has pretty much been ignored since injuring his ankle at some point during OTA's. What cannot be forgotten is that Benn actually (and rightfully) invokes comparisons to a young Anquan Boldin. Benn's progress already figured to be slow to begin with considering the complex nature of the "Z" receiver in the West Coast offense OC Greg Olson runs and was obviously set back due to his missed time in the preseason. He flashed some fantasy potential in Week 3 vs. Pittsburgh with three catches for 33 yards. While the Bucs haven't promoted him to the starting lineup just yet, it is only a matter of time before makes that jump. Sammie Stroughter – the current starter – is stretched as the starting outside receiver and fits much better in the slot. If Benn is finally starting to grasp the offense as the Bucs suggest he is, he has a shot at significant fantasy value at some point during the second half of the season.

Suggestions, comments, musings about the article or fantasy football in general? e-mail me.