Preseason Schedule Analysis




9/6/11



"If you are unsure of a course of action, do not attempt it. Your doubts and hesitations will infect your execution. Timidity is dangerous: Better to enter with boldness." - Robert Greene

In my search to come up with a mind-blowing title for this article, I instead found a quote that should resonate with many fantasy owners at this time of the year. The fact of the matter is that many owners knowingly (or even unknowingly) play not to lose as opposed to play to win. But that should not be a surprising revelation; most people in life place artificial limits on themselves. This can come as a result of a lack of trust – in others as well as themselves – or the belief they can't possibly see something that everyone else has missed or any other number of variables we won't discuss today.

But let's go back to the quote. Most fantasy owners nowadays find themselves in high-stakes fantasy leagues, which should suggest they are not unsure of themselves and believe in their ability to manage a championship team. However, when draft day arrives, many owners – even the most veteran ones – begin to doubt their preparation and hesitate executing their draft strategy. In fact, I've often said that in a typical 12-team league, 3-4 owners lose any shot at winning the league on draft day and firmly believe that to be the case.

What is my point? Pure and simple, if you are an owner of a money-league team, your actions indicate that you believe in yourself enough to win the league. It is only human nature that you and/or others will attempt to raise doubts or create hesitation in your mind, but understand those are only minor obstacles to overcome on your journey towards fantasy enlightenment.

It is with that same vigor that I hope to sidestep timidity in this article and embrace my bolder side, just days before the start of the NFL season. Some of the predictions that follow will defy logic and come true while others will probably sound reasonable now and look foolish in about a week or two. However, since timidity is dangerous, it's time to get a bit bold.

Assume PPR format when applicable and unless otherwise stated.

Dan Marino's single-season passing yardage mark will finally fall this season. For 27 years, Marino's 5,084 passing yards has reigned supreme. But in today's NFL, it is only a matter of time before that mark is surpassed. Last season alone, Philip Rivers, Peyton Manning and Drew Brees posted three of the top 15 numbers in NFL history. In 2008, Brees just missed out on breaking the record by 15 yards when a last-second throw to Lance Moore in the closing seconds of Week 17 fell incomplete. Rivers seems to be the odds-on favorite and Brees would likely be next, but Tom Brady, Aaron Rodgers, Matt Ryan and Tony Romo could all make legitimate pushes for it this year with their impressive supporting casts. And if last year was any indication of what Josh McDaniels means to an offense, Sam Bradford could join that group. In 2007, seven passers eclipsed 4,000 yards. I expect that mark to be matched or surpassed this season, with one of the aforementioned QBs setting the new standard for passing yardage excellence in the process. In maintaining the bold theme of this article, I will give you my prediction for the new record-holder. Rivers is too easy of a pick here, but folks must remember that he had to overcome some epically bad special-teams play – something that will not happen again this season. Brady is a legit pick himself, but the Patriots like to run the ball more than they did during his real pass-happy years. Rodgers has plenty of weapons, but the Packers have a top defense, meaning Green Bay should have shorter fields to travel on a regular basis. As for Ryan and Bradford, I'd like to see both QBs go over 4,000 yards before I start predicting 5,000+.

If I had to venture a guess, I will say Romo. With DC Rob Ryan being a very aggressive defensive coach, there will be many times when Dallas will be a shootout, especially with their secondary. Because the Cowboys' skill-position talent is tilted heavily to the passing game and HC Jason Garrett loves to pass, the recipe for a record-breaking season is there. It's not a stretch to suggest that Miles Austin, Dez Bryant and Jason Witten combine for 3,500 yards. Give Felix Jones another 500 receiving yards and all Romo would need at that point is about 1,100 yards combined from the likes of Martellus Bennett, DeMarco Murray, Tashard Choice, Kevin Ogletree, Dwayne Harris and Jesse Holley. Maybe when Romo breaks the record, people will cut him a break if Dallas doesn't make a long playoff run. Then again, it's Tony Romo – which means he'll have to answer questions about being a franchise QB again in 2012.

Matthew Stafford will double his career total in games played this season. In doing so, he will fall just short of 4,000 passing yards and 30 TDs. In his short career, Stafford has managed to start a total of 13 games, which has sunk any chance the Lions had of reaching the .500 mark in either season. While his absence has allowed the team to accumulate a lot of defensive line talent over that time (Ndamakong Suh, Nick Fairley), the team has curiously chose not to make any significant upgrades to the offensive line, which makes this prediction quite bold. In his two NFL seasons, Stafford has seriously injured both shoulders – his throwing shoulder more than once just last year – but one of the observations I made during Detroit's impressive preseason run this year was the number of quick passes that Stafford is making. If this carries over to the regular season, Stafford has a shot to stay healthy simply because Detroit shouldn't need him to stand in the pocket on each play when playmakers like Calvin Johnson, Nate Burleson and Jahvid Best will create mismatches for most of the defenses they face each week. This offense was reasonably explosive last season with three different quarterbacks and five different running backs seeing at least 25 touches, what is it capable of doing if Stafford and Best stop the revolving door at those positions?

Darren Sproles will greatly outperform his 11th-round ADP and finish just outside the top 25 RBs in PPR leagues. According to Fantasy Football Calculator, Sproles' average draft position in point-per-reception leagues is 11.10. Anyone who has closely inspected my Big Boards over the past few weeks already knows I have the ex-Charger valued about four rounds higher than that, but for some reason owners have been slow to warm up to him. Do they not value a pass-catching RB in the New Orleans' offense? Could Sproles be paying the price because Reggie Bush disappointed in the same role for several years? Whatever the reason, I think the case could be made that Sproles should be selected in this year's drafts ahead of Bush – and that is with the latter entering the season as a starter and the former likely third on the depth chart. The reason for this is the same reason owners drooled over the prospect of Bush in his early years – a back with 50-catch potential is more than useful in fantasy leagues. Throw in his explosiveness and durability and you have a RB who should generate 100 fantasy points in the passing game alone! And when the Saints' offense needs a spark in the running game – every offense does from time to time – expect Sproles to be the back that creates it. Sproles is one of the few players whose fantasy floor and ceiling are not that far apart, meaning he should be the kind of player that helps his owners get through a bye week or short-term injury to another RB on the roster. I expect something just short of 1,000 total yards with a few big-play scores.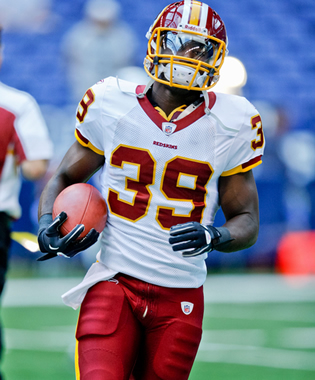 Can fantasy owners possibly love "The Rat" again?
Tim Hightower will put a temporary end to the revolving door at RB in Washington, end up as a top 15 RB and allow fantasy owners to love Mike Shanahan once again – if only for a year. Wow, that's a lot to put into one prediction! Fortunately, I haven't been burned by Shanahan's desire to turn every fantasy owner against him over the last several years. Unfortunately, Shanahan has earned a lot of nicknames from owners over the years – most of which I probably cannot put into this column – for his quick trigger and tendency to rotate backs almost on a moment's notice. However, I remember a different Shanahan, one that put heavy loads on Terrell Davis, a young Clinton Portis and Mike Anderson, Reuben Droughns, Olandis Gary – to name a few – and have always believed that he would return to the one main-back approach if he just had a durable RB who was significantly better than any other RB on the roster. And ask yourself, when has Shanahan ever traded for a runner? So let's take a look at the competition since Hightower has yet to miss a game in three years in the league. The biggest threat is probably Ryan Torain, but if the greatest ability an athlete can have is availability, he has very little to brag about. Amazingly, Torain has yet to start more than four consecutive games in the NFL and is not the greatest in any facet of the passing game. The other threat is rookie Roy Helu, who probably also will not factor into the passing game all that much this season. That's it – that's the list. So, to recap, Hightower has two RBs behind him that should not factor into the passing game, is more durable than either one and will be the most trusted goal-line option as well. At the very least, it sure sounds like Mike Tolbert without Ryan Mathews around. Ball security is his biggest concern and figures to be the only reason – outside of injury – that will send Hightower to the bench for any length of time.
Mario Manningham will finish as a top 10 WR. Percy Harvin might join him. How often does one offense produce two top 10 receivers, in terms of fantasy points/game? Interestingly enough, it has happened at least once every year – including twice in 2006 and 2007 – since 2005. If it is to happen again this season, I believe it will come from one of two NFC East teams – Dallas or the New York Giants. For the purposes of this prediction, I'll eliminate the Cowboys as they probably have too many mouths to feed in the passing game to have two top 10 receivers, a top-five tight end and a running back that will probably push 50 receptions himself.
Therefore, let's focus on New York, which has two very capable receivers and a bunch of question marks behind them. Hakeem Nicks should be safe as an elite receiver, so it makes sense that Manningham will benefit from the attention Nicks will receive and the lack of a proven third receiver, such as Steve Smith. Manningham has been one of the league's more productive third receivers with 57 and 60 catches, respectively, over the last two seasons, so an increase in fantasy value isn't exactly a bold statement. However, a top-10 finish for a first-year, full-time starter is a bold statement. Believe it or not, Manningham's 206.6 total fantasy points in PPR leagues last year allowed him to finish 19th at his position. I think it is entirely possible he pushes Nicks for the title of "best Giants' fantasy receiver", but ultimately falls short in the touchdown department. He will, however, be good enough to serve as a WR1 in the majority of fantasy leagues.
As for Harvin, I know someone will ask: how can you use the word "might" in a bold prediction column? My answer: it's the best word I can use when the subject at hand and his availability are unpredictable. In this case, it's Harvin's history with migrane headaches, something he believes he finally has under control. Apparently, his migrane-free offseason has flown under-the-radar just as much as his ascension to the top receiver role in Minnesota. In a recent money-league draft, multiple owners uttered "Percy?" when I selected Harvin as my WR2 in the fourth round, citing his headaches as their major concern. I won't lie – it is still a concern. However, I remember a league last season in which he actually held down the WR1 role for my team for a while with a mostly ineffective Brett Favre under center and playing out of position as an outside wide receiver. It appears new OC Bill Musgrave saw the same thing when he reviewed the offense in the offseason, since he plans on featuring Harvin while keeping in the slot and putting him in motion when he is on the outside. Harvin is also one of the few receivers in the league who is actually a threat to put up some useful numbers as a rusher from time to time. And let's not forget that for all the negativity Donovan McNabb seems to stir up with fantasy owners, he has managed to do pretty well with smaller receivers. DeSean Jackson had the best season of his career in his final year with McNabb while Santana Moss posted his best fantasy numbers since 2005 in his only season with the current Viking QB. Harvin may not be as fast as Jackson or as elusive as Moss, but he is more powerful and can be considered a threat in the red zone whereas the same cannot be said about the other two. Working out of the slot with a QB who has few other appealing options, Harvin should be prepared for his best season yet after posting 60 and 71 catches in his first two seasons in the league.
The "new wave" of young athletic TEs will not only make owners question why they used an early pick on the position, but will totally change the make-up of the top 10 for next year's drafts. I'll even go on record saying that I expect at least eight tight ends will reach 60 catches (the same as last season) and will predict as many as 10-12 players will hit that mark this season. (The highest number I could find recently was 10 TEs going over 60 receptions in 2009.) The TE talent pool has never been this deep, at least in the 25+ years I have been watching football, so it's probably good advice to listen to the folks out there who have been suggesting that you can wait on TEs this season because there are enough for every owner in a 12-14 team league.
Last season, the PPR top 10 read like this (fantasy points/game): Antonio Gates, Jason Witten, Dallas Clark, Vernon Davis, Marcedes Lewis, Jermichael Finley, Chris Cooley, Tony Gonzalez, Zach Miller and Kellen Winslow. Assuming good health, I think we can assume Gates, Finley and Witten are safe. After that, it could be utter chaos. Certainly, Davis should be included above, but will his QB situation cause him to be highly inconsistent? Will the same fate hurt Lewis and Miller too? How long will Clark be without Peyton Manning? Cooley is already hurt, Gonzalez is getting older and will have to share more targets than he ever has while Winslow seems to have an artificial ceiling of five touchdowns. If you agree with all that, the bottom half of the top 10 could easily see at least five new members next season. We already know about the Saints' Jimmy Graham and Texans' Owen Daniels should be top 10 TEs as long as they can stay healthy, but there is every reason to believe the Titans' Jared Cook, the Rams' Lance Kendricks, the Patriots' Aaron Hernandez and Rob Gronkowski (depending on whether the league is PPR or non-PPR) will join them. And why not? Kendricks, Hernandez and Gronkowski all have top-notch or elite QBs throwing them the ball. But more than that, Sam Bradford and Tom Brady each appear more than willing to trust them at scoring time (Kendricks with three preseason scores, Hernandez and Gronkowski combined for 16 TDs last season). As for Cook, new OC Chris Palmer intends on using him in just about every way possible. In fact, Palmer has stated his main concern is that he will ask Cook to do too many things because he is so athletic. Sometimes, that is just coach-speak, but I can assure you from watching him in college and in this preseason that he is every bit as athletic as Palmer suggests. And I haven't even gotten to the likes of the Jets' Dustin Keller, the Panthers' Greg Olsen, the Eagles' Brent Celek, the Lions' Brandon Pettigrew, the Browns' Ben Watson or the Bengals' Jermaine Gresham.

Suggestions, comments, musings about the article or fantasy football in general? E-mail me.

---
Doug Orth has written for FF Today since 2006, appeared in USA Today's Fantasy Football Preview magazine in each of the last two seasons and served as a weekly fantasy football analyst for 106.7 The Fan in Washington, D.C. this past season. He is also a member of the Fantasy Sports Writers Association. You can also follow him on Twitter.