Preseason Schedule Analysis




8/2/11



It's no secret the lockout was hard on all of us. (As difficult as it can be to watch billionaires negotiate with millionaires over more than $9 billion per year anyway…) In a typical year, even the most casual fantasy football owner has a general idea by now of his/her risers and fallers, first-round targets, mid-round steals and late-round surprises. I don't know about each of my readers, but I can safely say that I am nowhere close to the point of preparation that I usually am as we stand here in early August.

However, if the lockout did anything to fantasy football so far, it forced each of us to leave the starting blocks at roughly the same time. Whereas some well-organized owners completed the rough draft of their fantasy draft board shortly after the NFL draft in other years, it is safe to say that most owners are just now starting that process in 2011. With nearly a quarter of the 1,800+ players in the NFL right now still waiting to sign or about to report to their new teams, compiling anything more than a rudimentary top 100 list prior to now – in my opinion – is basically an exercise in futility.

From this point forward, however, the big winners in fantasy this year figure to be the owners who are the quickest to form solid opinions on the free agents who change addresses and the players they impact around them. (It was primarily for those reasons that I wrote the Offseason Movement Primer article last week – to help owners begin the process of imagining how a new situation would impact the free agent's fantasy stock.)

In an odd way, this preseason will be a lot like working the waiver wire during the season – the owner whose quick analysis is accurate analysis will benefit the most. This year will not allow us to spend a summer contemplating whether Darren Sproles' arrival in New Orleans means Pierre Thomas is merely a backup to Mark Ingram now or if he is part of a 60:40 split on early downs with his new rookie teammate. As much as the networks talk about squeezing four months of offseason activity into 1-2 weeks, the same is true for us in fantasy as well. Training camp reports and preseason games will take on even more importance than usual since those sources of information will be all we have regarding player development since we won't have the usual "best shape of his life" or "healing quicker than expected" reports that regularly fueled my Early Observation pieces (such as my AFC and NFC articles from 2010).

In case my readers were looking for a one-stop shop for all the important activity that has taken place in the past few days and how it affects owners, please allow me to help you take the first few steps toward fantasy enlightenment. I will devote the next several pages to the free-agent and trade activity that has occurred so far and what it means for owners. In an attempt to keep the length of this article reasonable for all parties involved, I will not discuss players who stayed with their original team – there will be time in the coming weeks to discuss the fluidity of their situations.

QB Kevin Kolb
2010 Team: Philadelphia
2011 Team: Arizona

Fantasy analysis: In a league where a 60% completion rate is considered borderline acceptable, the quartet of Derek Anderson, Richard Bartel, John Skelton and Max Hall combined to connect on just over 50% of their passes last season. By comparison, Kolb has a career 60.8% completion rate over parts of four seasons with the Eagles. But is Kolb worth the cost both in terms of his contract and the resources required to acquire his services? Despite his aforementioned accuracy, Kolb was 3-4 in his seven career starts for Philadelphia with a 10:13 TD-to-INT ratio. While one could say his opportunities to assume a starting job in NFL have been virtually non-existent, it is hard to defend anything less than a 1.5:1 TD-to-INT ratio throwing to the likes of DeSean Jackson, Jeremy Maclin, Brent Celek, Brian Westbrook and LeSean McCoy over the years with the Eagles. Perhaps the stability of a new contract and the certainty of a starting role will help Kolb fulfill expectations. More than that, however, is the knowledge that he will have the opportunity to throw to one of the league's elite receivers in Larry Fitzgerald. With Todd Heap joining the supporting cast that also includes 2010 rookie surprise Andre Roberts and Early Doucet, the Cardinals will have a very capable receiving corps on par with the one Kolb grew accustomed to as an Eagle. Despite the talent surrounding him, owners would still be wise to tread carefully with Kolb. There is substantial reason to doubt Kolb with his mediocre track record - albeit in limited time - so viewing him as anything more than a high-upside QB in 12-team leagues is probably wishful thinking.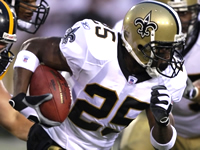 Good move: Bush in South Beach improves his fantasy value.
RB Reggie Bush
2010 Team: New Orleans
2011 Team: Miami

Fantasy analysis: Make no mistake, second-round selection Daniel Thomas is the present and the future in Miami's backfield and is a good bet to push or exceed 250 touches this year, but this trade should allow Bush to keep his 10-15 touch/game role that he wants while also preserving the rookie as he gets introduced to the NFL. (As much as Bush says he wants to be featured, there has virtually no proof that he can do so, nor has he ever been asked to carry the load since he burst onto the scene at USC.) If Miami eventually follows through on another trade for Kyle Orton, then Bush should find himself in about as good of a situation as he could have hoped for this offseason. Since he was moving toward irrelevance as a Saint, a trade to Miami represents a definite boon to Bush's fantasy stock. The absence of Drew Brees and Sean Payton as his quarterback and play-caller, respectively, will hurt, but the promise of regular touches in a Dolphins' offense that promises to be more aggressive under new OC Brian Daboll should give Bush a chance to be a regular flex starter in fantasy, at least in PPR leagues.

WR/KR Brad Smith
2010 Team: NY Jets
2011 Team: Buffalo

Fantasy analysis: During every transaction period in any sport, there are signings/selections that are necessary, others that are head-scratchers and yet others that fall under another category – luxury items. For the second straight offseason, the Bills may have grabbed a player that falls under the "luxury item" heading when they inked Smith to a four-year, $15 M deal. HC Chan Gailey sees the former college QB reprising the "slash" role of Kordell Stewart when the coach was the Steelers' play-caller 10 years ago (much as he expects that Spiller will evolve into Buffalo's answer to Jamaal Charles). As one of the game's brighter offensive minds, Smith is not to be doubted here. The initial plan is that Smith will see time as a "Wildcat" QB, fourth receiver and returner with the occasional trick play mixed in. Thus, the question for fantasy owners is whether a utility role like the one Gailey envisions for Smith is worth using a roster spot on in Week 1. The answer is that it will depend on your league settings. Gailey will list Smith as a QB, which means many fantasy sites too. Because he has very little shot at more than 3-5 quarterback snaps/game, his likely average of a 20/20/20 line (passing/rushing/receiving yards) will not be keeping on a roster. However, he is worth considering for the back end of deep-league PPR rosters if he qualifies as WR since 2-3 catches with 40 total rushing and receiving yards and an occasional TD will be decent production from a bye-week fill-in or WR5.

QB Tyler Thigpen
2010 Team: Miami
2011 Team: Buffalo

Fantasy analysis: For those owners who are looking for someone who may have a better-than-expected chance at being the Bills' starting QB next season, look no further than Thigpen. Skeptics will ask if I have watched any recent film of Thigpen, but the fact of the matter is that Gailey was the play-caller in Kansas City when he experienced a Ryan Fitzpatrick-like renaissance to his own career. From (Kordell) Stewart to Thigpen to Fitzpatrick, Gailey has created quite a reputation for taking marginal QB talents and getting more than anyone expected out of them. With that said, Fitzpatrick has a solid grasp of the starting job and the locker room, but Thigpen gives Gailey a viable option should the incumbent not follow up his successful 2010 season with another solid campaign this time around. All I'm saying here is that if it becomes obvious early in the season that the league has caught up to Fitzpatrick (or if he gets injured), make a quick play for Thigpen. He's obviously not worth drafting in fantasy this summer, but he is someone who should be kept on watch lists all season long for all the reasons I just provided above.

WR Jabar Gaffney
2010 Team: Denver
2011 Team: Washington

Fantasy analysis: Gaffney arrives in Washington about eight years after he probably wanted to join the team (during the Steve Spurrier era in 2002-2003). While the trade to the Redskins does remove him from a difficult fantasy situation in Denver, he faces the real possibility of being nothing more than a WR4 in Washington. Santana Moss will be the clear top option at receiver while rookie Leonard Hankerson and Anthony Armstrong will be given every opportunity to claim the starting job, meaning Gaffney will need to shine in a big way to see regular action outside of four-receiver sets. With Washington facing the likelihood of starting John Beck in Week 1, Gaffney can be ignored in most drafts barring an incredible preseason run that allows him to start opposite Moss.

QB Donovan McNabb
2010 Team: Washington
2011 Team: Minnesota

Fantasy analysis: Somewhere along the way on his quest to his first 4,000-yard passing season, McNabb lost the confidence of OC Kyle Shanahan. The current thinking from some NFL analysts is that less proven players like John Beck and Rex Grossman are less set in their ways and thus will allow themselves to molded by Shanahan whereas McNabb was much too accomplished to do that. Regardless of whether that thinking is correct or not, what is certain this season is that McNabb will have the benefit of playing with the best RB he has worked with entering his 12th year in the league in Adrian Peterson. With Percy Harvin and a pair of good receiving TEs in Visanthe Shiancoe and rookie Kyle Rudolph, there is enough here to suggest McNabb could be a matchup-play fantasy QB in 12-team leagues, particularly if they can add a quality free agent deep-threat WR in the coming days. (Devin Aromashodu could easily be that player, but he has bounced around enough in his career where the Vikings would be smart not to count on him filling Sidney Rice's shoes.) McNabb is highly unlikely to return to his glory years as he turns 35 this season, but he'll have some value as a mid-level QB2 this season.

RB Brandon Jackson
2010 Team: Green Bay
2011 Team: Cleveland

Fantasy analysis: On the surface, this is a curious signing. However, the Browns are most likely protecting themselves against another injury to Montario Hardesty, who has shown a lack of durability throughout his college and pro career. If everyone in Cleveland stays healthy, he may steal some of Peyton Hillis' value in PPR leagues and become the Browns' third-down RB. In all likelihood, Jackson only sees inconsistent spot duty until one of the two players ahead of him gets injured. If Hillis goes down, then he'll assume the same kind of role he had with Ryan Grant in Green Bay. If Hardesty gets hurt, his role figures to be more of a pure relief role. Jackson can be left undrafted in all but the deepest of leagues this season.

QB Bruce Gradkowski
2010 Team: Oakland
2011 Team: Cincinnati

Fantasy analysis: Perhaps after Gradkowski grabbed two of his six career wins against the Bengals, they decided it was time to bring his .300 winning percentage on board. In all seriousness, new OC Jay Gruden got the thumbs-up from Jon since his older brother drafted and coached Gradkowski in the nuances of the West Coast offense Jay wants to run in Cincinnati. With that kind of head start in experience in this lockout-shortened offseason over rookie Andy Dalton, expect Gradkowski to maintain a surprising level of QB2 value in fantasy this season. With arguably more young receiving talent than he has worked with in his five years in the NFL combined, Gradkowski may be a solid but unspectacular source of fantasy points until the Bengals likely fall out of contention. Bear in mind that Dalton is the future of this franchise, so signing up for Gradkowski in fantasy means owners need to be prepared for the plug to be pulled at any time. Given this bit of information, Gradkowski should be one of the final QB2s to come off the board in 12-team leagues.

WR Steve Breaston
2010 Team: Arizona
2011 Team: Kansas City

Fantasy analysis: The move to Kansas City wasn't surprising, but the commitment (five years, $25 M) the Chiefs showed in an injury-riddled receiver like Breaston was unexpected. For the bulk of this upcoming season, Breaston figures to have more fantasy value than Jonathan Baldwin as the rookie will likely be given something of a redshirt year. While Breaston should have top-end WR4 appeal in 12-team leagues, his contribution in fantasy figures to be the same as Baldwin's this season – to give defenses something else to think about in the passing game besides Dwayne Bowe down the field or Jamaal Charles out of the backfield. To that end, I wrote about the importance of Breaston in regards to Larry Fitzgerald's fantasy numbers during the first half of the season last year – primarily as it related to him getting into the end zone – before Breaston limped to the finish and essentially lost his job to rookie Andre Roberts. Bowe likely reached his TD ceiling last season during a seven-game stretch last season that saw him score 13 times against some of the weakest pass defenses in the league, but a healthy Breaston should help Bowe become a more consistent game-by-game fantasy entity.

WR Chad Ochocinco
2010 Team: Cincinnati
2011 Team: New England

Fantasy analysis: Somehow, it seems like poetic justice the Bengals would wait roughly four years after the Washington Redskins reportedly offered two first-round picks for Ochocinco to trade him to the Patriots for a fifth- and sixth-round pick. Considering he was looking at an immediate future of catching passes from both rookie Andy Dalton and Bruce Gradkowski instead of Tom Brady, perhaps there is some merit to Ocho's tweet shortly after the trade that he had "landed in heaven". Ocho's fantasy impact on his new teammates is not an easy one to figure out at the current time, but my best educated guess prior to the start of preseason games is that Wes Welker's WR2 status will remain pretty much the same while Deion Branch may take a small hit even though he has long enjoyed a special connection to Brady on the field. As for Ocho, he is no longer the incredible fleet-footed speed and quickness merchant he was in his heyday, but he still possesses well-above average quickness and cutting ability. He may be able to push 75-80 catches with the Patriots in 20111 if he shows anything close to the dedication he did in his early days with Cincinnati and does not resort to the freelancing that often made Carson Palmer look foolish in recent years. It would not surprise me at all if a disciplined Ochocinco produces at a WR2 level in New England in 2011.

TE Greg Olsen
2010 Team: Chicago
2011 Team: Carolina

Fantasy analysis: Without a doubt, Olsen's move to the East Coast makes him one of the winners of this free agency/trade period. While Jay Cutler loses his most trusted target, Carolina secures one of the most athletic pass-catching TEs in the league and a player who will probably emerge as Cam Newton's favorite receiver in the very near future. Another factor that should have Olsen's arrow pointing up is the coaching staff's new emphasis on involving the TE, which stands to reason in part because new OC Rob Chudzinski is a former tight end himself and has spent four total years as Antonio Gates' position coach. It is conceivable that Olsen and Shockey do cancel each other out in fantasy, but doubtful. Not only is Shockey one of the more well-known injury risks in the league, but Olsen is also among the best at his position as an intermediate and deep threat – a fact that should play well with Newton's big arm. Olsen should also be ready to enter his prime at age 26 and has proven to be one of the more durable TEs in the league, so he is safe to target as a TE1 once again in 12-team leagues now that he is away from Mike Martz's tight end-unfriendly offense.

QB Vince Young
2010 Team: Tennessee
2011 Team: Philadelphia

Fantasy analysis: In the end, the Eagles made the most sense for a player of Young's talents and reputation. One could easily argue that he had better opportunities to start elsewhere, but as I discussed in last week's column, Young's image around the league needs to be rebuilt after earning a label around the league for his "legendary" lack of work ethic. What place could he do that more than in Philly, which just took a somewhat similar risk with Michael Vick last season? Further consider that HC Andy Reid is building quite the resume with developing QBs. And finally, in the likely event Vick misses some time due to injury this season, there may be no other QB in the league that can step in and offer a similar playing style and athleticism to Vick than Young. There's almost zero chance of Young pulling a Vick and stealing the latter's starting job at any point this season, so Young's value will be much higher for Vick owners than anyone else. Deep leaguers can take a flier on him as a QB that may give his owners 2-3 solid games in relief of Vick, but Vick owners would be wise to consider Young a handcuff QB and make sure they find room for him at the end of the draft.

RB Darren Sproles
2010 Team: San Diego
2011 Team: New Orleans

Fantasy analysis: While one could argue that Reggie Bush is as elusive as Sproles, it is hard to think of a handful of RBs in the game as explosive as the former Charger. As it turns out, HC Sean Payton sees his new miniature offensive weapon in the same specialty role Bush carved out during his time as a Saint. Throw in the fact that Sproles has been willing to run inside when necessary – as opposed to Bush just recently doing so – and there's every reason to believe he will be a strong 10-touch/game contributor in an offensive attack that will highlight his skills (and he'll likely be better and more consistent in that role than Bush was for most of his time in New Orleans). Given his durability as a Charger, Sproles could easily be considered a low-end flex starter in 12-team PPR leagues since he should be good for around 150 touches and remain healthy. The acquisition of Sproles greatly hurts Pierre Thomas' fantasy stock as he could have been a consideration for Bush's old role, but now he is primarily Mark Ingram's backup and will be lucky to reach 100 rushing attempts this season, barring injury to the rookie.

WR Devin Aromashodu
2010 Team: Chicago
2011 Team: Minnesota

Fantasy analysis: Aromashodu is an interesting case. Since the day Reggie Wayne spoke up for his teammate, who was on the practice squad at the time, I have kept a close eye on him. And it also intrigues me that Minnesota – one of the two division rivals who he embarrassed during his fantasy playoff run in 2009 – was the team that signed him. With Sidney Rice in Seattle and Bernard Berrian not appearing to be anything close to what he was just 2-3 years ago, Aromashodu has some enticing deep-sleeper fantasy appeal as a Viking with Donovan McNabb's strong arm throwing the ball around nowadays. Most likely, there's nothing to see here since I could easily see Minnesota starting Percy Harvin and Michael Jenkins, but Aromashodu belongs on any owner's watch list. Again, as I said last week, Rice and Aromashodu are the same type of receiver, but not on the same talent level. However, if Aromashodu shows anything in training camp or preseason action, I don't think the Vikings will hesitate using him in the same kind of way they did Rice.

QB Tarvaris Jackson
2010 Team: Minnesota
2011 Team: Seattle

Fantasy analysis: Think back to 2007, Adrian Peterson's rookie season. With Bobby Wade as the team's leading receiver that season, "All Day" posted a career-high 5.6 YPC and 12 TDs in 14 games. Perhaps it was a small sample size (238 carries), the fact he had Chester Taylor around to keep him fresh or an offensive line that was one of the best run-blocking units at the time. However, we have seen enough situations recently to know that few things help a talented RB put up extraordinary numbers more than a very athletic QB (Vince Young starting the majority of games during Chris Johnson's 2,000-yard season; Michael Vick helping LeSean McCoy rush for 5. 8 YPC in his 13 starts in 2010 – as opposed to 3.7 in three games without Vick). What this means to the savvy fantasy owner is that Seattle could produce one, if not two, viable fantasy RBs this season. Add in the fact the Seahawks added OL coach Tom Cable – who oversaw a very productive running attack recently using his blocking principles – and there's reason to like the prospects of Marshawn Lynch and Justin Forsett this season. As far as Jackson's fantasy potential is concerned, let's just say that he is best left undrafted. Not only does it feel like he'll be looking over his shoulder at Charlie Whitehurst all season, but his inaccuracy as a passer also does not inspire much confidence.

QB Matt Hasselbeck
2010 Team: Seattle
2011 Team: Tennessee

Fantasy analysis: Had the Seahawks added someone like Sidney Rice last year, there's a good chance Hasselbeck would not have left as a free agent. Be that as it may, the new starting QB in Tennessee actually joins a pretty talented cast of skill-position players (assuming one of them doesn't hold out and another one can stay out of handcuffs). In some ways, Hasselbeck is like the Todd Heap of quarterbacks in that he is usable and somewhat productive in fantasy when he is healthy, but not such a great player at this point of his career where he is worth anything more than a mid-to-later round draft choice. And as I stated in last week's column, Hasselbeck is a great fit with the Titans because he will allow the team to compete while he mentors Jake Locker, but brittle enough that the rookie will see a fair share of quality time on the field this year and next until the coaching staff decides he is ready. Hasselbeck hasn't finished a 16-game schedule in three years, so he shouldn't be expected to do so in his age-36 season either. Despite the upside he could have throwing the ball to Chris Johnson, Kenny Britt and Jared Cook this season; there are just too many uncertainties on this offense to consider Hasselbeck anything more than a mid-level QB2 prospect.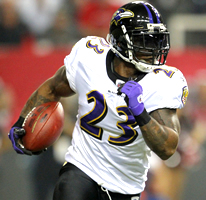 To the dismay of some, McGahee will be worth owning in 2011.
RB Willis McGahee
2010 Team: Baltimore
2011 Team: Denver

Fantasy analysis: Much to the dismay of some fantasy owners, McGahee may wreak havoc for a little while longer. But take heart, Knowshon Moreno fans – it could have been much worse. A few facts first (from last week's column): John Fox's teams have never run the ball less than 422 times in a season in his nine seasons as a HC. And over the last six seasons, Carolina's lead back averaged 225 carries per season while the "complementary" RB received an average of 158 per season – an average percentage split of roughly 59:41 between his team's top two RBs. I think this workload split is fair estimate of what we can expect from Moreno as the primary back and McGahee in the relief role and likely goal-line back. Owners should not expect the Rocky Mountain version of "Double Trouble" (DeAngelo Williams and Jonathan Stewart) in terms of production simply because the Broncos do not possess the same kind of run blocking up front nor do the backs have that kind of talent, but Moreno and McGahee will both be well worth owning in 2010. Moreno enters the exhibition season as a dicey, low-end RB2 while McGahee profiles more as a fairly intriguing flex option and mandatory handcuff for Moreno owners.

WR Mike Sims-Walker
2010 Team: Jacksonville
2011 Team: St. Louis

Fantasy analysis: Is this Josh McDaniels' next reclamation project? Along with Kyle Orton's help in 2010, McDaniels helped Brandon Lloyd become a fantasy revelation after he displayed numerous flashes throughout his career. (He was also the OC in New England when Wes Welker became a household name.) While Sims-Walker has actually produced in longer stretches than Lloyd ever did prior to last season, he also became known as an injury-prone, inconsistent and selfish player in his rather short stay in Jacksonville – not unlike Lloyd earlier in his career. Again, much like Lloyd, talent is not a question here, so a one-year deal is a low-risk move for the Rams to give their young receivers (Austin Pettis, Greg Salas, Danario Alexander) a fair amount of time to grow. The obvious upside here is that MSW shuts up and recognizes his opportunity with McDaniels and the impressive Sam Bradford and produces, thereby allowing him to cash in as a free agent in 2012. With his QB, scheme and overall situation all improved from his days in Jacksonville, consider Sims-Walker one of the top fantasy WR4 candidates this summer, with low-end WR2 potential.

RB Marion Barber
2010 Team: Dallas
2011 Team: Chicago

Fantasy analysis: One must wonder what OC Mike Martz has against Matt Forte running at the goal line. Last year, Martz tried to convince the world that Chester Taylor was worth $3 M/year, so the Bears named him their goal-line back when it was pretty obvious the offensive line was to blame for a lack of explosion in short-yardage situations. The addition of Barber now likely makes Taylor expendable one year after he signed his four-year deal, but makes Forte something less than a featured back again. According to a February article in the Dallas Morning News earlier this year, Barber was just 11-for-17 in third- and fourth-and-one plays in 2010. Along with his horrid 3.3 YPC last season, those numbers should not cause a great deal of excitement for any owner hoping to strike it rich on a late-round investment at RB, especially considering Dallas had a better run-blocking line than Chicago had last year or figures to have this season. Unfortunately, I see Barber's biggest contribution in fantasy syphoning some of Forte's potential impact with about 5-8 touches/game and four or five short-yardage scores over the course of the season.

TE Todd Heap
2010 Team: Baltimore
2011 Team: Arizona

Fantasy analysis: For a Cardinals team that has been a virtual wasteland for fantasy TEs since the days of Freddie Jones, Heap is a huge get. Even at age 31 with a poor record of durability, Arizona is doing whatever it can to make Kevin Kolb's adjustment to the desert as smooth as possible. (As of press time, the Cards are reportedly pursuing Braylon Edwards as well.) I have spoken in this space a number of times that the ideal fantasy situation in the passing game– not necessarily the best in the actual game – is one premier receiver and one above-average one at the WR and TE positions, with the idea being that most opposing defenses cannot double-cover one of the players without the other one making them pay for it. (Think Atlanta Falcons since the arrival of Tony Gonzalez.) As far as Heap is concerned from a fantasy perspective, his arrival in Arizona is basically a lateral move. If owners were targeting him as a low-end TE1 before, they should do so now as well. As it has been for years, his biggest flaw is his durability, so be sure to pair him up with another late-round TE. The biggest loser with Heap coming to town is rookie Rob Housler, who was set to take on the pass-catching TE role in this offense before this signing.

WR Plaxico Burress
2010 Team: N/A
2011 Team: NY Jets

Fantasy analysis: Give the Jets some credit here. Although $3 M is a bit pricey for a 34-year-old WR who has been away from the game for a while, the payoff could be huge and the one-year contract is essentially a "prove-it" deal for the receiver. Burress is no stranger to New York (fortunately and unfortunately for him), but initially the expectations for him should be very low. Regardless of how well Burress took care of himself in prison, there is no way New York or fantasy owners should expect immediate solid production from him. Burress' fantasy stock will likely be all over the board with the optimistic owners expecting him to produce just like Braylon Edwards did last year while the pessimistic owners will likely recall the number of athletes who fell well short of the high standards they set before they left the game. In my estimation, Burress is the kind of high-upside risk an owner should take in the 12th or 13th round. But as I have already stated, a loyal Burress or Jets fan may easily take him 3-4 rounds earlier, especially if he shows anything in the preseason.

Suggestions, comments, musings about the article or fantasy football in general? E-mail me.
---
Doug Orth has written for FF Today since 2006, appeared in USA Today's Fantasy Football Preview magazine in each of the last two seasons and served as a weekly fantasy football analyst for 106.7 The Fan in Washington, D.C. this past season. He is also a member of the Fantasy Sports Writers Association. You can also follow him on Twitter.