In recent years, I have become fond of the statement that I believe I created: "I work in fantasy, but live in reality." In any "normal" week during the NFL season, the collarbone injury to Green Bay Packers QB Aaron Rodgers and his likely 4-6 week absence would dominate the fantasy headlines. However, it is safe to say that reality has invaded fantasy over the last seven days and very little that has occurred over that time can be considered normal by NFL standards, even if it happens in the "real world" on a regular basis.

Much more information regarding the Miami Dolphins' Jonathan Martin and Richie Incognito will continue to surface in the coming days and weeks. There is so much we don't know at the moment and it is a virtual certainty more information will come to light in the days and weeks (if not years) ahead, so making any kind of grandiose statement about the situation in Miami now doesn't seem appropriate. Given the limited information we have now, it appears that we would do well to remember that while many of us may speak a certain language, we don't always necessarily speak the same language.

And just in case you were ready to make a final judgment on Incognito, consider this blog entry from the Miami Herald's Armando Salguero. We've read about the voicemail that Incognito left, but the transcript that has received so much airplay this week omits the final part of the message: "Ok, call me back," and Martin did. Furthermore, Martin reportedly later played the voicemail in front of teammates and was laughing with them. As Salguero states at the end of the blog, "Does this release Incognito from the racially-charged words? No. Do this add context? Yes. Daily reminder: We don't know the entire story. Please withhold judgment condemning or condoning either side until we know everything."

Well said.

If I were to make one prediction, however, it would be that I believe the league will either initiate (or be forced to begin) a directive that addresses mental health and team building in the coming years with the same kind of fervor it has devoted to concussions recently. Generally speaking, the NFL was able to claim some degree of ignorance regarding concussions over most of its existence because many of the players most affected had been out of the league for some time and no longer had the platform professional football provides or the resources to challenge the league. It is a much different case when a mental-health issue arises in a player that is only in his second year in the league.

Over the weekend, the NFL family took two more punches to the gut (and was fortunate they turned out to be nothing more than that). Denver Broncos HC John Fox knew he had a medical situation and wanted to address it after the season, but it became clear he could wait no longer after meeting with his surgeon last weekend following an episode on a golf course. Although many of us didn't see it in real time, a much more scary incident played out at halftime on Sunday Night Football when Houston Texans HC Gary Kubiak fell to one knee and eventually left Reliant Stadium via ambulance. As most of us know by now, it is believed Kubiak suffered a mini-stroke.

At its very core, one of the best qualities about sports is its ability to teach us how to cope with and persevere through adversity. Part of being a professional is being able to quiet the "noise" and maintain focus through that adversity. With that said, every pro player is not necessarily a "professional", just like every player or team cannot be expected to process adversity quickly or in the same way.

Rodgers is recognized as a team leader, Incognito was voted by teammates to be a member of the Dolphins' leadership council while Fox and Kubiak are the leaders of their teams based on their job description. In other words, four of 32 NFL teams lost a player or coach considered to be a vital part of their "backbone". There's a common belief that as long as a team has an established veteran quarterback, a team can still perform at a high level without its coach in the short term. However, there's a pretty good chance team owners wouldn't pay those same coaches millions of dollars if they didn't feel they were essential to the success and direction of the team. On a more positive note, Fox and Kubiak each had former head coaches in Jack Del Rio and Wade Phillips (respectively) on their staff. While transition like this can never be considered easy, Del Rio and Phillips should be able to make their absences more palatable.

Bringing it back to fantasy, the Packers' offense – if not their entire team – was centered around Rodgers' unique talents, even if Green Bay has established itself as a very good running team this season. Defenses that are not as ravaged by injuries as the Chicago Bears will have little fear in making Seneca Wallace beat them. HC Mike McCarthy has a reputation for getting the most out of his quarterbacks (Aaron Brooks, Brett Favre, Rodgers…he even called Matt Flynn's six-touchdown game a few years ago) and I have long felt Wallace was an underappreciated quarterback, but he isn't going to pick apart many quality NFL defenses.

Will the Martin-Incognito ordeal tear apart Miami at the seams? I'm not going to pretend to know whether or not this story will galvanize or divide the Dolphins for the remainder of the season, but owners need to consider both possibilities. Kubiak will be missed simply because he calls the offensive plays; Houston was not the same team after he left Sunday and it could be said the Texans' season was already headed in the wrong direction (although I'm not sure how much blame Kubiak deserves). While Fox has his hand in every facet of the game for Denver, he does not run the offense, defense or special teams. If there is a team of the bunch that could/should come out of this real-life drama relatively unscathed, it would probably be the Broncos.

-----------------------

As a devoted fantasy owner who places a great deal of emphasis on the matchup each week, I'm not sure anything upsets me more on Sunday when my teams are the victims of a fluky week. I don't always have the best team in every league (shocking, I know), but I consider myself to be a pretty fair evaluator of my team's ability to win a certain week and to project its likelihood to compete for a title. While "fluky weeks" are not all that uncommon in any given season and bye weeks require owners to start players they'd rather not carry on their roster, Week 9 seemed to have an inordinate number of performances we probably will not see again this season. As such, I will try to resist the temptation of writing that any of these players "are unlikely to approach this level of production again" because, in most cases, it should be fairly obvious they will not.

Perhaps I am still bitter (I am) about being on the wrong end of so many of these unlikely career-high games this past weekend and believe that sharing my pain with you will help the healing process (no dice so far), but here is my ode to some of the notable players that drove me crazy last weekend and their prospects for the rest of the season:

Quarterbacks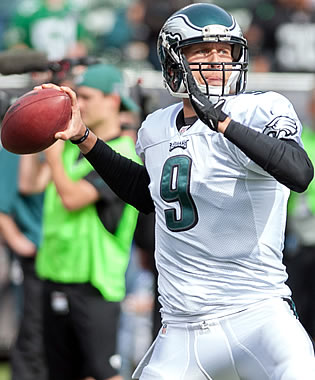 Nick Foles joined some elite company with his seven-touchdown performance in Week 9.
2013 Season (in three starts and part of another game prior to Week 9): 649 total yards, seven total touchdowns
Week 9: 420 total yards, seven total touchdowns
Analysis: Prior to Week 9, four quarterbacks in NFL history had thrown seven touchdowns passes in a game. Two of them are in the Hall of Fame (George Blanda and Y.A. Tittle) and one is a lock to join them (Peyton Manning). All four quarterbacks were at least 31 years old and at home when they did it and none of them had achieved a perfect QB rating…until Foles came along on Sunday. If that doesn't raise an eyebrow or two, I'm not sure what will. For all of the Raiders' struggles against opposing quarterbacks in 2013, they had yielded only 10 TDs through the air and Manning was the only one to throw for more than two touchdowns against them. Foles has yet to throw an interception and been incredible on the road thus far (his only poor game was his only start at home), so it is very possible he will not give the job back to Michael Vick with a pretty tame remaining schedule ahead of him.
2013 Season (in one game prior to Week 9): 281 total yards, one total touchdown
Week 9: 376 total yards, three total touchdowns
Analysis: After two games of Keenum, it is hard to understand what Matt Schaub was doing so well to keep his job for so long. It has been said in this space a time or two the Texans were not stretching the field, but I think it was only natural to assume Schaub was following orders to manage games and let the running game carry the offense. Keenum hasn't really had the benefit of a healthy Arian Foster (or Ben Tate, for that matter) for a full game, but has still been able to take advantage of his weapons in the passing game in a way Schaub hasn't in years. It should be noted that most of Keenum's success is coming down the field (his 17.7 yards-per-completion and 10.5 yards-per-attempt would easily lead the league if he qualified), so defenses may begin to adjust in the coming weeks. However, it may not matter anytime soon considering three of the next four opponents are the Raiders (see Foles above) and the Jacksonville Jaguars. Even Week 15 against the Colts has to be considered a relatively tame matchup since Keenum just had his way with them last weekend. All bets are off as long as Kubiak is sidelined, but Keenum should have staying power in fantasy for the rest of the season.
2013 Season (in eight games prior to Week 9): 1,842 total yards, eight total touchdowns
Week 9: 431 total yards, four total touchdowns
Analysis: It's not a surprise Brady finally had a huge game; it is that it took as long as it did and came against the Steelers – even if they are a shell of the defense they used to be. After this week's bye, New England will face Carolina, Houston and Cleveland in three of the next four games – all teams that are among the top 12 in terms of fewest fantasy points allowed to quarterbacks. Most of us had a pretty good idea that Brady's struggles were less about him (although he has struggled more than usual) and more about the absence of his difference-making options in the passing game like Rob Gronkowski, Danny Amendola and Shane Vereen. Week 9 will probably go down as Brady's best of the season, but he is easily the most likely player on this list to repeat this performance.
2013 Season (in seven games prior to Week 9): 1,980 total yards, eight total touchdowns
Week 9: 399 total yards, four total touchdowns
Analysis: Congratulations if you predicted Joe Flacco and Roethlisberger would rank sixth and eighth in the NFL, respectively, in attempts per game after Week 9. Roethlisberger has attempted at least 45 passes in three of the Steelers' last five games in part because Pittsburgh cannot seem to find its offense until after halftime, usually after it has fallen behind by double figures. As one might expect, Roethlisberger's fantasy production is far from predictable going forward because the defense has been so awful. For owners looking for something to hang their hat on in regards to starting him, I believe his best performances are most likely to happen when his opponent can be expected to establish a two-score lead early in the game. (Detroit in Week 11, Cincinnati in Week 15 and Green Bay in Week 16 stand out to me to be those kinds of games.) Either way, I expect Roethlisberger will be highly unpredictable for the remainder of the season, so owners should consider moving him if they can and strongly consider other options if they cannot.
Running Backs
2013 Season (in four starts to Week 9): 342 rushing yards, seven receptions for 40 yards and one receiving touchdown
Week 9: 127 rushing yards and two rushing touchdowns, six receptions for 61 yards
Analysis: It isn't so much that Stacy had a productive game; it is all about how he did it. The fifth-round rookie out of Vanderbilt had already established he was going to be the Rams' workhorse for the foreseeable future, but St. Louis hadn't scored a rushing touchdown all season long and Stacy wasn't exactly contributing much in the passing game. In other words, it wasn't a stretch to expect Kellen Clemens to dig the Rams into a hole with a couple of early turnovers and make Stacy a relative non-factor. After two games post-Sam Bradford, it is clear St. Louis has decided to put its offense on Stacy's shoulders for as long as he can carry it. So while the rookie has little chance to top his Week 9 output in any single week the rest of the season, his workload should be more than enough to hold RB2 value the rest of the way.
2013 Season (in seven starts prior to Week 9): 366 rushing yards, 15 receptions for 167 yards and two receiving touchdowns
Week 9: 150 rushing yards and two touchdowns, three receptions for 20 yards
Analysis: Amazingly, Johnson is right back on track for another 1,000-yard season. Johnson has clearly established himself as the ultimate matchup play – capable of contributing numbers unfit for a flex option in difficult matchups and week-changing totals against softer defenses. Regular readers of this column already know Johnson's Week 9 was not an overly surprising performance given: 1) the opponent and 2) the fact coaches threatened his workload with Shonn Greene's return. Three of the Titans' next four opponents rank 27th or worse in terms of rushing yards per game, so Johnson has a good chance to go on a mini-run before a slight hiccup at the beginning of the fantasy playoffs.
2013 Season (in one start and parts of three games prior to Week 9): 96 rushing yards, eight receptions for 35 yards
Week 9: 158 rushing yards, two receptions for eight yards and one passing touchdown
Analysis: Stacy exposed Seattle's run defense six days earlier, but James is no Doug Martin and isn't even really as talented as Stacy either. Yet James may have as well been James Wilder or Warrick Dunn in their primes because the Seahawks had no answer for the Bucs' 19th-ranked rushing attack (and that's after their 205-yard effort against Seattle). Even more telling, ESPN Research revealed that Tampa Bay gained 172 yards on 31 designed rushes through three quarters, meaning the damage could have been a lot worse. In short, this performance says a lot more about Seattle's surprising inability to stop the run recently than it does about James' arrival as a useful fantasy property. James is a fine backup running back and has a rather soft schedule ahead of him, but the looming threat of a Martin return plus average talent does not bode well for him to approach the kind of production he amassed in Week 9.
2013 Season (in one start and parts of five games prior to Week 9): 140 rushing yards, 12 receptions for 97 yards
Week 9: 102 rushing yards and a touchdown, seven receptions for 74 yards
Analysis: Unlike the other three backs on this list, there's a pretty good chance Jennings' efforts went for naught on your bench or someone else's. Owners may remember Jennings from the last time McFadden suffered a hamstring injury (Week 4…seriously, does it ever stop?) a little over a month ago and subsequently strained his own hamstring the following week. A non-starting running back who gains 137 of his 176 total yards in the second half of a game that got out of hand early in the third quarter certainly qualifies as one of the biggest flukes in a week full of them. Add him to make the McFadden owner suffer or as a bye-week option if he is available, but don't do it because you expect him to repeat this kind of performance again anytime soon.
Wide Receivers
2013 Season (in eight starts prior to Week 9): 48 receptions for 584 yards and no touchdowns
Week 9: nine receptions for 229 yards and three touchdowns
Analysis: There's nothing fluky about the production, except that it is obviously a bit much to expect Johnson to perform at such a high level on a regular basis. At some point along the way, it became acceptable for Schaub to do little more than hit Johnson on a 10-yard curl or 12-yard in-route. Whether the first half of the game against the Colts was about Kubiak electing to open up the offense a bit or Keenum's willingness to throw the ball down the field, Houston's offense was dynamic for about the first 20-25 minutes of the game. Arizona doesn't exactly present the most inviting stage for Johnson to turn back the clock for the second straight week in Week 10, but the Texans' schedule isn't exactly loaded with top-notch pass defenses the rest of the way. The biggest fluke about Johnson's 2013 season is that it took him eight games to find the end zone, not the fact he scored three times.
2013 Season (in eight starts prior to Week 9): 20 receptions for 214 yards and two touchdowns
Week 9: five receptions for 139 yards and three touchdowns
Analysis: Cooper is a bigger receiver (6-3, 222) whose main function is to block, but he has been something of a fantasy giant since Foles emerged against Tampa Bay in Week 6. In games started by Vick, Cooper has caught exactly two balls in every one for no more than 29 yards. In Foles' three starts, Cooper is averaging five receptions for 116 yards and 1.3 touchdowns. The fourth-year receiver is hardly a game-changer, but it is clear Vick either does not make him a priority or Foles does. And when it comes right down to it, there is enough evidence now to believe Cooper is an every-week start when Foles get the call and bench-worthy when he doesn't. Philadelphia doesn't face a daunting pass defense the rest of the way either, so owners might be able to consider Cooper a potential second-half stud if Foles can keep the job.
2013 Season (in one start and parts of six games prior to Week 9): 22 receptions for 328 yards and two touchdowns
Week 9: seven receptions for 96 yards and three touchdowns
Analysis: Surprisingly, Cotchery may not be as bad of an option going forward as it might seem. Five touchdown catches on 29 catches (and 42 targets) indicates that Roethlisberger has a fair amount of confidence in Cotchery in the red zone. Furthermore, the Steelers don't have the look of a team that is going to turn it around on defense anytime soon, so Pittsburgh could actually be a high-volume passing team for the remainder of the season. He's far from a must-add and will probably leave his future owners with a lot more single-digit fantasy-point totals than double-digit ones, but he is also not far away from fantasy relevance either. Emmanuel Sanders hasn't proven to be the most durable player in his career and the team seemed hesitant to use rookie Markus Wheaton much before his injury, so the ex-New York Jet has a chance at some value over the second half of the season.

Suggestions, comments, about the article or fantasy football in general? E-mail me or follow me on Twitter.

---
Doug Orth has written for FF Today since 2006 and appeared in USA Today's Fantasy Football Preview magazine in 2010 and 2011. He is also the host of USA Today's hour-long, pre-kickoff fantasy football internet chat every Sunday. Doug regularly appears as a fantasy football analyst on Sirius XM's "Fantasy Drive" and for 106.7 The Fan (WJFK – Washington, D.C). He is also a member of the Fantasy Sports Writers Association.