Oh, the weather outside is frightful, but the offensive fireworks are so delightful. And since we've no place to go…Let It Snow! Let It Snow! Let It Snow!
I'm hardly the festive holiday type, but I know a good hook when I think of one.
Perhaps by the time broke Matt Prater broke Tom Dempsey's 43-year-old record with a 64-yard field goal, we should have known Week 14 was going to be special. Snow and bitter cold temperatures didn't keep scoring down, it increased it. A NFL-record 104 touchdowns were scored last week in all, with No. 100 coming on Alshon Jeffery's beautiful grab in the back of the end zone at the end of the first half in the Chicago Bears' Monday Night Football victory over the Dallas Cowboys.
Lesean McCoy broke Steve Van Buren's 64-year-old team record for rushing yards in a single game. Jeremy Ross returned both a kick and a punt for a touchdown. Josh McCown threw for 348 yards and accounted for five touchdowns. BenJarvus Green-Ellis scored twice in the box score, but only once in reality. Dennis Pitta returned from a 13-week absence as if he had never been sidelined. And the list goes on…
But if anything could overshadow all the scoring, it may have been the losses of some of the top players in fantasy football. Adrian Peterson, who did not return after leaving with a mid-foot sprain, probably will not play in Week 15. Rob Gronkowski tore his right ACL and MCL in addition to suffering a mild concussion, adding to the lengthy list of injuries/surgeries his 24-year-old body has sustained over his four-year pro career. Eddie Lacy played through an ankle injury, but will likely be questionable at best this week. Wes Welker's day came to an early end with his second concussion since Week 11, meaning he's probably unlikely to play again until the NFL Playoffs. And the list goes on…
This kind of carnage at any point of the fantasy season is rarely ever a good thing, but it is particularly troubling in the fantasy playoffs when the margin of error is smaller and the importance of being able to rely on the foundation of your team is increased. As a result, the fantasy deck has been reshuffled yet again, meaning the teams that are still around fighting for their postseason lives have another chance to plug a hole in their lineup or substantially weaken an upcoming opponent by outbidding him/her for their likely handcuff.
Adding to the fun that typically occurs at this time of year, some teams begin "turning the page" to next season. Teams such as Houston, Atlanta, Washington and Minnesota can talk about wanting to win out all it wants to, but a franchise that has no shot at the playoffs owes it to itself to evaluate its young players and possibly audition any valuable assets it has to increase those players' trade value. I believe such a case is taking place in Washington, where Kirk Cousins has replaced Robert Griffin III at quarterback for the remainder of the season. Almost every skill-position move – either due to an injury, a benching or for rest purposes – creates something of a ripple effect in reality and needs to be analyzed by fantasy owners.
And it is here where I want to start this week. Owners can find help on the waiver wire at any point during the season, but it is always difficult to find good help – as any business owner would tell you. Each of the players below saw their stock increase dramatically over the last few days following the events of Week 14. Consider yourself lucky if your team is in a position that none of these names will help you, but there's a pretty good chance that some of them will play a large role in determining which fantasy teams advance to their league's championship game. The following players are listed in the order in which I would rank their impact for Week 15: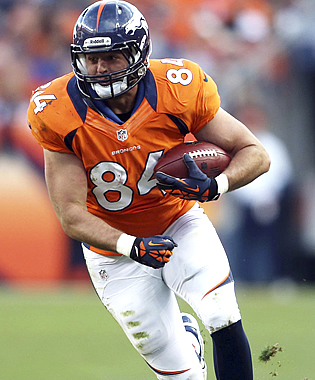 Welker and Tamme were targeted 15 times last week.
Jacob Tamme, TE Denver – While more and more tight ends have been used in the slot in recent years, very few are actually slot receivers. Even fewer tight ends with that ability have a rapport with their quarterback in that spot. Last but not least, only Tamme has a quarterback has accomplished as Peyton Manning throwing him the ball. All of this information became very relevant when Welker was declared out on Wednesday. No one will mistake Tamme for Welker, but the ex-Colt is literally the "next man up" and needs to be viewed as a receiver playing tight end for as long as Welker is out – much like Dennis Pitta. Welker and Tamme were targeted 15 times last week and Denver faces a defense in San Diego this week that will probably fall all over itself trying to prevent Demaryius Thomas from repeating his 7-108-3 line from Week 10.
Also consider that cold temperatures will probably increase the likelihood Manning will focus more on short passes. Tamme just missed out on two touchdown receptions in the second half last week, drawing a pass interference call as the featured receiver on a "rub" route that Welker usually runs at the goal line and just missing out on a 26-yard score on a fly route midway through the fourth quarter. While no one should expect Tamme to register 15 targets this week against San Diego, it would not surprise me in the least if he emerges from Week 15 as a top-eight play at his position, especially in PPR leagues. If Welker misses Week 16 as well, I wouldn't hesitate saying the same thing about him then either. Of all the players on this list, he is easily the one I have the most confidence in this week.
James Starks, RB Green Bay – Lacy is not expected to practice until at least Friday and even that isn't a given after he sustained an ankle injury last week. Johnathan Franklin went on injured reserve earlier this season, which leaves old friend James Starks as the only show in town if Lacy cannot go. Given his track record, Starks is about as trusty as Francium (the least stable element on the periodic table), which is to say I believe in his ability to finish a game he starts about as much as I do any of Green Bay's backup quarterbacks. With that said, the Packers face fantasy's most forgiving defense against opposing running backs in Dallas this week and HC Mike McCarthy isn't going to back off the running game with Matt Flynn under center. Kahlil Bell could see his first offensive touches as a Packer, but finding matchups this good this late in the season for a capable running back off the waiver wire is pretty difficult. All of these options come with a great amount of risk – perhaps with the exception of Tamme – but if Starks can hold up for 20 or more touches, he has a great shot to be a top-15 running back in fantasy this week.
Jordan Todman, RB Jacksonville – Winners of three in a row, the Jaguars could actually challenge for the division title in the horrid AFC South if the season was just a little bit longer. (It's a reflection of the division, not Jacksonville finding its groove.) Maurice Jones-Drew left the team's Thursday Night Football victory over the Texans with a strained right hamstring, but did not waste time telling NFL Network he would be ready for Week 15. But as we were all reminded earlier this season with Steven Jackson, hamstring pulls – especially those to older backs – are usually not come-back-the-next-week kind of injuries. To that end, MJD will not attempt to practice until at least Friday, which makes him a lot more doubtful in my book than questionable.
Enter Todman, who appeared to be set for a feature-back role with MJD out in the Texans' game before he struggled with cramps. Adding even more intrigue to the situation, Todman was limited Wednesday with a shoulder injury. Although I have a hard time finding a rational explanation for it, Buffalo has really struggled against the run in recent weeks and Jacksonville has enjoyed a fair amount of success. Bobby Rainey – a similar kind of back to Todman with a bit less speed – gashed the Bills for 127 rushing yards and a score last week. I don't have a ton of faith in Todman – particularly because I think rookie Denard Robinson is already as good and has more upside – but MJD owners that snag Todman should be able to utilize him without much threat of a committee, which had been the case off and on with Jones-Drew and Todman in recent weeks. The only reason I could not push him any higher on this list is the presence of Robinson, who the team may want to see more from as the season comes to an end.
Kirk Cousins, QB Washington – Although RG3's "demotion" probably came as a surprise to the casual observer, the fact that it happened shouldn't be overly surprising. The dynamics of the situation – everything from the possible disconnect between owner Daniel Snyder and Shanahan to RG3's "demise" from NFL Rookie of the Year to Cousins being handed a three-game audition to increase his trade value for a team desperate for draft picks – are what make the move as intriguing as it is, but those are all stories for another time.
So far, Cousins has been given one opportunity as a starter and fared well in Week 15 against Cleveland last season. In that game, Washington handed the ball off to Alfred Morris 27 times – the second-highest total of his career – and Cousins targeted Pierre Garcon on 12 of his 37 throws. Given the struggles of the Redskins' defense, it is probably impossible to ask for a repeat of Morris' workload, but is there any reason to believe that Cousins cannot have success against over his final three games? The Falcons (ninth), Cowboys (first) and Giants (16th) all rank in the top half of the league in terms of most fantasy points allowed to quarterbacks, meaning owners who have been riding Josh McCown lately may have found a viable option – albeit a lower-upside one – as his run as a fantasy starter is probably over in Chicago. The few owners of Aaron Rodgers that remain in the fantasy playoffs will be hard-pressed to do much better than Cousins.
The Washington situation is one that looks bad at first glance, but almost every party – the team, Shanahan, Griffin and Cousins – come out of it looking pretty good if Cousins performs well during his three-game trial. The team should be able to get back more in a trade for Cousins, Shanahan looks smart for "sparking" the offense and maintains his reputation as a coach who can develop quarterbacks, Griffin enters the offseason fully healthy for the first time in his pro career and Cousins moves that much closer to a potential long-term starting job in another city. The point to all this is just because a quarterback change is chaotic doesn't mean it can't be helpful; every party has something to gain from this move, which makes this a rare situation to say the least. Usually, when everyone has something to gain from a move – as is the case here – good things can happen, even if every party's motivation is different. There is a lot of risk involved here considering just how bad Washington has been offensively for most of the season, but the matchups are good enough that Cousins could help (but not carry) teams to fantasy championships – assuming the rest of the roster is solid.
Toby Gerhart / Matt Asiata, RB Minnesota – Allow me to begin by saying the obvious: there is no such thing as a good replacement for Adrian Peterson. And, as luck would have it, Gerhart injured his hamstring in relief of Peterson and will not practice until at least Friday. What cannot be denied is that Gerhart has averaged 7.9 yards per carry on 36 attempts this season and can be trusted in the passing game. It would take a fairly big leap of faith to trust him over more established options in either of the final two weeks (with upcoming matchups against Philadelphia and Cincinnati) if Peterson held out for the remainder of the season, but there's a pretty good chance Gerhart will be featured if he can go. Peyton Hillis showed us earlier this year what can happen when any NFL running back sees 20-25 touches and Gerhart is at least twice the back now that Hillis was coming off the street in that Monday Night Football game against the Vikings.
However, if Peterson and Gerhart both cannot play, get ready for Asiata. I'll venture a guess and say this is one of the first few times most readers have heard of the undrafted free agent out of Utah, but he is someone I have believed in for a little while. (Here's the proof; scroll to the bottom of the page. You'll be pleased to see a number of "longshots" I identified last season have started to emerge in 2013.) Up until this season, I actually preferred Asiata over Gerhart because I felt that while both players are straight-line power runners, the former actually possesses a bit more speed. I believe Gerhart has improved his game this season and is my preferred option at the moment, but the talent gap isn't as big as many would have you believe. However, given the recent improvement of the Eagles' defense overall and the rash of injuries to the Bengals' secondary, I expect the Vikings to spend most of their time figuring out how to get rookie WR Cordarrelle Patterson as many touches as possible this week. Outside of desperate Peterson owners without a viable alternative, Gerhart and Asiata are low-end flex options at best.
Chris Ogbonnaya, RB Cleveland – It was almost comical to watch Chicago and Dallas attempt to play run defense on Monday Night Football, but what has not been funny this season is the running back production in Cleveland. At first glance it would appear that Willis McGahee's concussion in Week 14 should mean good things for Ogbonnaya's fantasy fortunes this week, but one has to wonder if he or Fozzy Whittaker will benefit the most against a defense that has yielded 963 total yards and four touchdowns to the running back position over the last five weeks alone. As the numbers above will attest, the Bears have been awful stopping the run. However, it should be noted that Ogbonnaya (45 snaps) saw nearly twice as many snaps as McGahee (24) did last week and finished with seven touches – the same as Whittaker (in 20 offensive plays). Despite Chicago's shortcomings on defense, it is hard to imagine Cleveland will become the seventh straight opponent to put a running back over 100 yards rushing against the Bears since the Browns' top two playmakers are receivers (Josh Gordon and Jordan Cameron). Still need further proof Ogbonnaya is risky despite the matchup? No Browns running back has gained 100 yards from scrimmage in a game this season.
Daniel Thomas, RB Miami – The second-year back that has made more news in fantasy due to his ability to block Lamar Miller from fantasy relevancy finally had his moment in the sun…er….snow against Pittsburgh in Week 14 when Miller left with a concussion. Fortunately for Miller, he returned to a full practice on Wednesday, making him likely to suit up against New England. Thomas was hardly going to be a must-start as the featured back, but the matchup against the injury-ravaged Patriots' defense was juicy enough for him to be a strong flex play. New England is so awful against the run now that both backs may actually still end up being worthy of a start, but it has become pretty clear over the course of the season that only HC Joe Philbin and OC Mike Sherman know what direction they are going in each week at the running back position.

Suggestions, comments, about the article or fantasy football in general? E-mail me or follow me on Twitter.

---
Doug Orth has written for FF Today since 2006 and appeared in USA Today's Fantasy Football Preview magazine in 2010 and 2011. He is also the host of USA Today's hour-long, pre-kickoff fantasy football internet chat every Sunday. Doug regularly appears as a fantasy football analyst on Sirius XM's "Fantasy Drive" and for 106.7 The Fan (WJFK – Washington, D.C). He is also a member of the Fantasy Sports Writers Association.