There seems to be a fine line between being considered a visionary and a lunatic. Essentially, if a person stumbles across something unusual or useful that no one else has considered before and can see it through, they are a visionary. Conversely, if that same person cannot apply take what is in their mind and articulate it – be it through the written word, verbally or building it with their own hands – there is a good chance they will find ridicule waiting just around the corner.

The reason I mention this is because there is plenty of similarity between the two people mentioned above, with the major difference being that one person was successful and the other wasn't. Making bold predictions can work very much the same way. Let's just say when looking back at last season's Bold Predictions, it was an interesting mix of vision and lunacy. For example, I hit Ryan Lindley's four-start prediction on the head, suggested Dez Bryant would finally emerge as a top-five receiver and gave readers a pretty good estimate as to what Doug Martin would do. On the other hand, Titus Young made my optimistic projections for him look ridiculous by doing such things as intentionally lining up in the wrong spot. The Atlanta Falcons did their part as well, being a bit slow to recognize Michael Turner's engine didn't have much horsepower left in it.

For what is worth, I approach my Big Boards each year as if I am attending a suit-and-tie affair and my Bold Predictions as if I'm going business-casual. In other words, I take May-August pretty seriously and try to relax a bit with my final preseason contribution. As you make your way through the rest of this column, I ask that you consider the prediction and the rationale behind it (and remember it only if I am correct). After all, it doesn't do my reputation any good if you remember everything I get right AND everything I get wrong…

After going with a team-by-team prediction approach last year, I decided to lower the number of predictions this year in order to artificially inflate the percentage of times I'm right. (Don't let anyone fool you, fantasy writers can't stand being wrong…) Take it for the laid-back column it is meant to be and enjoy the long weekend of football ahead.

Spoiler alert: if you don't like the Denver Broncos, you probably will not enjoy the 5-10 minutes it will take to read the rest of this piece.

Note: I receive e-mails about this column every year, so allow me to issue this disclaimer for those that will inevitably ask: my Big Boards are what I believe will happen. These predictions should be considered more what I believe could happen. Additionally, all these predictions were made with PPR scoring in mind.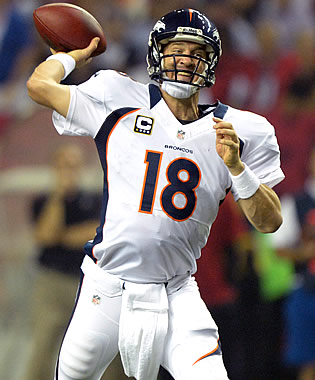 Manning is at the center of a a perfect fantasy storm.
1. Peyton Manning will be the highest-scoring quarterback in fantasy football. In doing so, he will set a new career high in yards and completion percentage while throwing for 42 touchdowns.
Point of reference: Manning's career highs are 4,700 yards, 49 TDs and a 68.8 completion percentage. Consider that Manning – who admittedly had a weak arm last year thanks to four neck surgeries – finished sixth among fantasy quarterbacks despite not taking a single regular-season snap in 2011. The 37-year-old threw for 4,659 yards for 37 touchdowns while completing 68.6% of his passes (all the marks were the second-best of his career). Fast forward to 2013 and Denver has a perfect storm of events conspiring to push Manning to the summit of fantasy football once again. The offensive line has taken a few hits from last year, which would typically worry me if Manning didn't unload the ball so quickly. The line's shortcomings will probably show up more in the running game, where none of the three running backs have been able to distinguish themselves. On defense, the six-game suspension of Von Miller and free-agent departure of Elvis Dumervil should allow opponents to score more often – at least early on. But those are only some of the other reasons Manning should be asked to shoulder more of the load. Denver added one of best – if not the best – slot receiver in the game (Wes Welker) to a receiving corps that defenses already couldn't stop. Combine that with Manning having another year to strengthen his chemistry with Demaryius Thomas and Eric Decker and the tempo at which the Broncos plan to play at in 2013 and there is reason to believe the four-time league MVP could break all of his own personal records this season.
2. Jamaal Charles will be the most consistent and valuable property in fantasy football.
As my Big Boards have suggested all August, I don't think Adrian Peterson should be the consensus No. 1 overall selection in all formats. It's no secret the hiring of new Chiefs HC Andy Reid changes the outlook in Kansas City, but let's put some perspective on the fantasy dominance of his most talented backs during his stay in Philadelphia. Brian Westbrook averaged 21.4 fantasy points per game from 2004-08 despite never rushing for double-digit touchdowns. LeSean McCoy – despite scoring only five touchdowns last season on an offense that was dreadful near the end – averaged 19.6 fantasy points from 2010-12. Charles is faster than both players, arguably every bit as elusive and finds himself in a situation where he and Dwayne Bowe are the only true consistent threats in the passing game. I conservatively projected him for 73 catches through 15 games in my PMAs and believe he could legitimately catch 80-90. Even if Charles does nothing more than meet his 8.4 yards-per-catch average, his floor should be roughly 650-700 yards receiving. And let's not forget he is a running back who is likely to carry the ball about 250 times. Again, if all he does is meet his career average of 5.8 yards-per-carry, that is 1,450 yards – a mark he has hit twice already in his career. With roughly 2,100 total yards and 80 receptions, we are already looking at 290 fantasy points before touchdowns are factored into the equation. Better yet, he has proven to be durable – outside of a freak injury when he blew out his knee on a first-down marker in 2011 – and in case anyone needs a reminder on how consistently Reid's running backs are in fantasy, take a look McCoy's player page.
3. Eddie Lacy will end the Green Bay Packers' long regular-season streak of failing to put a single rusher over 100 yards…in Week 10.
To be clear, the last time any Packer rushed for over 100 yards in a game was in the wild-card round of the 2010 NFL Playoffs (James Starks). However, the last regular-season game in which a Green Bay player cracked triple digits on the ground in the regular season was Week 5 of that same season (Brandon Jackson) – 43 games ago. The offensive line is still a question mark, but the Packers have been pretty adamant about being more physical this year and Lacy can provide that and a little bit more. Assuming he can stay healthy – far from a guarantee – he is also a pretty solid bet to become the first Packer since Ryan Grant in 2009 to rush for over 1,000 yards in a season. But back to the prediction, I'm not just calling my shot…I'm also going to tell you where it will land. The Packers' pre-bye schedule is brutal and it would seem unlikely for the rookie to blow past the century mark against the Niners, Redskins or Bengals. The next five weeks are less daunting but still very challenging with Detroit, Baltimore, Cleveland, Minnesota and Chicago all capable of containing Lacy. However, when the Eagles visit in Week 10, the ex-Alabama standout should have his day. Philadelphia's defense – especially stopping the run – should be among the worst in the league and the tempo at which its offense will go isn't likely to help matters on that side of the ball.
4. Ben Tate will play 16 games for the first time in his career, finish among the top 25 running backs and be one of the few players drafted after the seventh round this summer to help carry his fantasy teams to a title.
As a point of reference, of those running backs that played at least 10 games last season, the 25th-ranked player averaged 11.9 fantasy points/game (BenJarvus Green-Ellis). Anyone who has owned Tate since he entered into the league in 2010 knows to be prepared for an adventure. After sitting out his entire season and watching Arian Foster break out, Tate appeared to be on the verge of his own breakout the following year. He exploded onto the scene with a strong preseason in 2011 and three solid starts to open that regular season while Foster was recovering from a hamstring injury. Despite not drawing another start the rest of that year, he rushed for 942 yards and ramped up expectations for a similar 2012. But it was not meant to be; Tate was limited to 11 games due to hamstring and foot injuries that helped contribute to Foster's 460 touches last season (including the postseason). Ironically, that massive workload figures to be the very thing that contributes to Tate seeing the field a lot in 2013. Entering his contract year, Tate will be as motivated as ever to prove his durability and Houston will be more than happy to let him do as much heavy lifting as he can since the Texans have Foster under contract through 2016. I'll stop just short of saying Houston will feature two 1,000-yard rushers simply because I'm not sure Foster will hold up long enough. However, if both players stay healthy, go ahead and add that prediction on to the statement above.
5. Demaryius Thomas, Eric Decker and Wes Welker will all score at least 10 touchdowns.
This prediction pretty much goes hand-in-hand with my earlier one about Manning. It should go without saying many of the same reasons I provided for Manning's likely huge season will have a direct bearing on his receivers. Thomas (10 touchdowns) and Decker (13) each hit double digits last season, so the bold part of this prediction comes with Welker setting a career high in touchdowns. Here's why it is possible: even if Welker does nothing more than steal Brandon Stokley and Jacob Tamme's numbers in the slot (where that duo spent most of their time last year and where Welker will spend the majority of his time in 2013), he will finish with 93 catches and seven scores. No offense to Stokley and Tamme, but Welker is a slot machine. Opposing defenses already had a hard enough time containing Thomas and Decker; now, defenses will have to contend with the best trio of receivers Manning has enjoyed since 2004 when (coincidentally) he was the quarterback of an offense that had three receivers score 10 times (Marvin Harrison, Reggie Wayne and Stokley). Furthermore, few – if any – of Denver's opponents figure to be all that good defending the pass. There will be a six-game stretch from Week 3-10 (and seven if you include Week 2 against a questionable Giants secondary) in which Manning could legitimately throw for 25 touchdowns against Oakland, Philadelphia, Dallas, Jacksonville, Indianapolis, Washington and San Diego. Of that bunch, the Cowboys may be the only team that has a shot to keep Manning & Co. somewhat in check.
6. Rueben Randle will frustrate owners through the first half of the season, only to emerge as a second-half and fantasy-playoff superstar – giving the Giants enough reason to let Hakeem Nicks walk in free agency.
The reason that Randle will frustrate early is pretty clear: he stands behind Nicks and Victor Cruz on the depth chart. However, it is not a stretch to say the second-year wideout is already as good now as – if not better than –Mario Manningham was in his final season with the Giants in 2011. New York has also shown the ability to provide three useful fantasy players in the passing game in recent years and I'm willing to bet that Randle will see more opportunity than TE Brandon Myers – the main reason why Myers didn't rank any higher on my Big Boards than he did. Although Nicks is entering a contract year and Victor Cruz has been extremely durable to this point of his career, the former is a moderate-to-severe injury risk and the latter enters the season with a bruised heel that may or may not be ready for the season opener. OC Kevin Gilbride was effusive in his praise of Randle in the offseason and few will question he has the size and talent to be special receiver sooner than later. While he may not start approaching his fantasy ceiling until 2014, there's a good chance he'll begin to deliver on his potential starting this season.
7. Pierre Garcon will finish among the top 10 receivers in all formats.
I'll admit, I'm not Garcon's biggest fantasy fan and have sincere doubts about his ability to hold up for an entire season – especially when he enters this season with a foot injury he chose not to have corrected because doctors couldn't guarantee it would "fix the problem". With that said, opportunity and the trust a quarterback has in his wideout are usually more than half the battle when selecting fantasy receivers. As far as the opportunity is concerned, Garcon plays the same position in Mike and Kyle Shanahans' offense that started or prolonged the extended dominance of players such as Brandon Marshall, Andre Johnson and Rod Smith through the years. And regarding the trust Robert Griffin III has in Garcon, well, let's just say that it appeared at times last season that the ex-Colt was his only read before he tucked the ball down and left the pocket. That's not to say RG3 is a one-read passer, but it also isn't as if he has a ton of other appealing options either. So when it comes right down to it, betting against Garcon is gambling that the Shanahans cannot recreate their receiver magic, Griffin will become more of a pocket quarterback without the benefit of a training camp and Garcon will not play an entire season. There are obviously safer options ahead and behind him on my Big Boards – which is why I will not draft him as a WR1 in any of my leagues – but I'm not sure there are many other players at his position with much more fantasy upside.
8. Markus Wheaton will become a regular starter no later than Week 10 and do a fine Mike Wallace impression while he's at it.
Let's start by saying Emmanuel Sanders is no slouch; after all, he has shown enough during his three-year career to prompt the Patriots to sign him to an offer sheet. Let's also say that Wheaton is not Wallace, just eerily similar with a more-developed sense of route-running at similar points of their careers. Sanders played all 16 games for the first time as a pro in 2012, which is the first reason why owners should put some stock into this prediction – namely, Sanders' lack of durability. More importantly, Wheaton is a blur that made defenders look silly in the preseason despite the fact he missed most of his Pittsburgh's offseason work due to the rule that prohibits players that haven't graduated from working out for their new teams until their colleges last quarter/second semester comes to an end. Wheaton should overtake Jerricho Cotchery for No. 3 duties in short order and will be nearly impossible to keep off the field when Pittsburgh realizes it needs his big-play ability on the field as much as possible. Heath Miller is a good bet to be a shell of himself less than a year after his major knee injury, which could eliminate Ben Roethlisberger's safety valve. By the end of the season, I would expect Wheaton and Sanders lining up regularly on the outside and Antonio Brown in the slot in three-WR sets. Even if Wheaton doesn't overtake Sanders as a starter, it is possible he'll force OC Todd Haley to use a three-wide package as his base formation.
9. Julius Thomas will finish among the top 15 tight ends.
Continuing my pro-Broncos theme in this piece, this is something I expect to happen and shouldn't come as a surprise to the regular readers (if he can stay healthy). A 6-5, 225-pound former basketball player, Thomas will undoubtedly be fourth in the pecking order when it comes to receiving targets. However, what he offers is uncommon athleticism on an offense that is already stacked with players opposing defenses must scheme to stop. Thomas will initially be asked to fill the Joel Dreessen role in the offense (as the ex-Texan continues to be bothered with a knee issue) – a position that netted 41 catches and five touchdowns from a player much less athletically gifted than the Portland State alum. Julius Thomas' upside is obviously limited somewhat by the fact there is one ball to throw to Thomas, Decker and Welker. But with Manning annually completing around 400 passes per season, it's not hard to see a scenario in which he approaches 55-60 catches. And in case you were wondering, yes, Thomas is yet another reason why I may just go all in on Manning as my fantasy quarterback this season.
10. With the first pick in the 2014 NFL Draft, the Oakland Raiders will select…
If there is a consensus entering the season, it seems to be the Raiders will be among the worst teams in recent memory. It is hard to argue the point either since Darren McFadden stands out as the only offensive player that would start for more than half of the teams in the league. The offensive line is atrocious and the quarterbacks vying for the starting job either have very little to offer in terms of accuracy (Terrelle Pryor) or arm strength (Matt Flynn). The defense is not without talent (Lamarr Houston, Sio Moore, Tyvon Branch and Charles Woodson among a few others – take a bow), but it has been as hurt by the draft sins of yesteryear as the offense – only two first-round picks (McFadden and K Sebastian Janikowski) from 2000-12 are even on the roster. It'd actually be a shame if the new administration – led by GM Reggie McKenzie – didn't get a chance to see this thing through since he did put together what appears to be one of the team's better draft classes in years and has a chance to take another big step forward if the crown jewel of college football – South Carolina DE Jadeveon Clowney – declares for the draft as many expect at the end of this season. Then again, could Oakland ignore its sorry quarterback situation when a prospect like Louisville's Teddy Bridgewater is there for the taking? What the 2013 Raiders lack in terms in excitement, they should make up for next offseason and make Clowney the No. 1 overall pick…that is, unless he would rather stay in school than be in Oakland. Maybe Bridgewater feels the same way? The good news? At least the top two left tackles in my opinion – Texas A&M's Jake Matthews and Michigan's Taylor Lewan – are seniors and cannot return to school. Hopefully, Oakland can prove all of us wrong because the NFL is a better league when the Raiders matter.
Instead of waiting until the end of the preseason to search for the next Victor Cruz (like I did here last season), I'm going to provide a list of under-the-radar players who impressed me in the previous week of preseason action). The main difference between what I did last year and what I will do this year, however, is simply identify players who stood out. And this isn't so much about who performed well in the box score, but more about skill-position players who did their job well. If nothing else, consider putting these players on your dynasty watch list (in no particular order):
Week 1: Armanti Edwards, WR Carolina; Brice Butler, WR Oakland; Jaron Brown, WR Arizona; C.J. Anderson, RB Denver (out 4-6 weeks); Rex Burkhead, RB Cincinnati; Jermaine Kearse, WR Seattle; Travaris Cadet, RB New Orleans, Ace Sanders, WR Jacksonville; Marquess Wilson, WR Chicago; Michael Cox, RB NY Giants
Week 2: Khiry Robinson, RB New Orleans; Kenny Stills, WR New Orleans; Charles Hawkins, WR Arizona
Week 3: Michael Preston, WR Tennessee; Marlon Brown, WR Baltimore; Michael Ford, RB Chicago

Suggestions, comments, about the article or fantasy football in general? E-mail me or follow me on Twitter.

---
Doug Orth has written for FF Today since 2006 and appeared in USA Today's Fantasy Football Preview magazine in 2010 and 2011. He hosted USA Today's hour-long, pre-kickoff fantasy football internet chat every Sunday this past season. Doug regularly appears as a fantasy football analyst on Sirius XM's "Fantasy Drive" and for 106.7 The Fan (WJFK – Washington, D.C). He is also a member of the Fantasy Sports Writers Association.