Sometimes you're the windshield and sometimes you're the bug.

My inability to win Opening Week games in fantasy football has become almost comical in recent years. I haven't tracked it, but I do recall the only league in which I won a Week 1 matchup last year was the one in which I owned Peyton Manning (and all seven of his touchdowns). In my seven meaningful leagues this year – four of which are money leagues – I was able to win one game this past weekend. Why, you ask? OK, let me tell you:

- Adrian Peterson (10 touchdowns in 14 games), Eddie Lacy (11 in 15), Fred Jackson (10 in 16), Zac Stacy (eight in 13), Dez Bryant (13 in 16), Jordy Nelson (eight in 16), Larry Fitzgerald (10 in 16) and Jimmy Graham (16 in 16) combined to score 86 touchdowns in 122 games last year. So it should come as no surprise that none of them found the end zone in Week 1. What else do they all have in common? They are all littered among my various money-league teams.

- Lacy, Doug Martin, Toby Gerhart and Jordan Reed each got hurt early and missed parts or the rest of the game. Yes, these fine young men also grace my rosters as well.

- So maybe you're thinking I might catch a break from the schedule...not so much. In my four money leagues, I faced the top-scoring team in three of them. In the one league in which I had a chance of winning before Monday Night Football, I lost when Keenan Allen made his last catch with just over two minutes remaining.

Believe me, I'm not looking for sympathy here. Rough weeks are going to happen in this hobby of ours and mine just seem to come at the beginning of the season. Scoring touchdowns isn't the end-all and be-all of fantasy football (especially in PPR leagues), but it is amazing how often the team that scores more of them wins that week in fantasy. None of fantasy's "Big Four" running backs (Peterson, LeSean McCoy, Matt Forte or Jamaal Charles) found the end zone, which should probably give owners a pretty good idea of what kind of weekend it really was. For my sanity (and probably yours as well), I'm not going to bother to figure out the probability of every one of the aforementioned players being held scoreless in the same week again, but I'm going to guess it is relatively low.

------------------------------

As much as America's passion for football seems to increase each year, the overreaction to the events of Week 1 seems to follow suit. The NFL might be a sprint compared to all other professional team sports, but it is still a marathon that needs to be treated as such. Did you run into the Julius Thomas, Calvin Johnson or LeVeon Bell buzzsaws in Week 1? Good news. There's a strong chance your team may only have to face them one more time this season.

Unfortunately, overreaction is not limited solely to the fantasy owners that don't spend every waking hour (outside of work, that is) watching and breaking down games. (And let's be clear about one thing before I proceed: watching and breaking down every game does not ensure that an owner or analyst is going to be "right" at the end of the day or year, but it certainly does increase the chances.) Having said that, I'm going to make a bold claim and say that roughly 75 percent of fantasy analysts do nothing more than watch the games the networks show and read the box scores. How do I (kind of) know this? Because I very infrequently see analysts back up their opinions with anything more than media reports when I get tipped off by an e-mail or friend about what is being said in the world of fantasy football.

Here's one example: let's just say that when I hear/read that Isaiah Crowell is going to vulture scores from Terrance West in Cleveland after new HC Mike Pettine admitted Crowell wasn't even part of the game plan going into the opener, it suggests to me some people aren't doing their homework. Is Crowell a threat to West while Ben Tate recovers from his knee injury? Yes, because Crowell was the most talented running back in this year's draft in my opinion. However, the Browns drafted West in the third round and, as such, have more invested in him, so they are going to probably ride him through their Week 4 bye with Crowell serving in a complementary (but not necessarily goal-line) role. Crowell wasn't even a lock to make the roster until the final week of the preseason, so I doubt he managed to then wrestle goal-line duties away from West in a week and a half of practice when Tate was getting the majority of the snaps anyway.

Crowell may end up being the goal-line back for West over the next two weeks given his success against the Steelers, but it is unlikely the coaches went in with that plan because, as I already said, he was not expected to play. Furthermore, Crowell barely saw any action after his second touchdown, including in the red zone when Cleveland tied the score at 27-27 in the fourth quarter. In other words, it is pretty safe to say that if a team doesn't commit to one player after he scores two touchdowns inside the red zone, he's probably doesn't have that role locked up. As far as I could tell, the Browns chose to start almost every drive with West after the Tate injury and shuffle in Crowell after about 3-4 plays, although that was not a consistent move by the coaching staff either (as evidenced by the game-tying drive mentioned earlier).

As for their play, the rookies made some mistakes as runners, but were impressive overall. If I'm a Tate owner and West is already on another roster (as he should be), I'd make a strong play for Crowell. If I'm a West owner, I'm also making a play for Crowell because his talent and burst are pretty obvious and it may not take long for him to work his way into a more significant part of Cleveland's offense. Maybe Tate comes back in 2-4 weeks, doesn't have another injury issue and makes the rookies nothing more than handcuffs after that. Given Tate's injury history, however, I doubt that will be the case.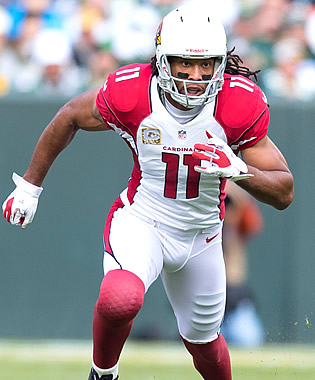 Don't overreact to Fitzgerald's Week 1 performance.
The other instance where I am disappointed in some of my fantasy-writing brethren is in regards to Larry Fitzgerald. In this business, there seems to be a rather huge rush to drum up support about certain "breakout" candidates in an effort to back up "their guys" (as if we'll get named "Breakout Fantasy Writer of the Year" at the end of the season if we hit on a few). Michael Floyd is certainly the future at receiver and a very big part of the present in Arizona. However, if Carson Palmer is going to throw for over 4,000 yards like many think he will, one could reason that Fitzgerald will probably see at least a fourth of that action, especially considering Cardinals HC Bruce Arians rarely uses his tight ends in the passing game. For all the handwringing over Fitzgerald's Week 1 performance, where did Palmer go when the game was on the line late?
I also have no problem with any owner that suggests Fitzgerald is on the decline because an erosion of skills is an inevitable thing for any NFL player after they turn 30. My problem comes when analysts turn a quote from Arians to the Arizona Republic that reads like this: "You have guys go out and whatever the coverage dictates you get. The coverage dictated (Fitzgerald) wasn't getting any. He was open a couple of other times where we threw it somewhere else, but I'm not interested in anybody's numbers other than the W's. Those days are long gone," and chop off all but the last five words of the quote to make it sound as if Arians was talking about Fitzgerald's days of the unquestioned top receiver are over. No offense, but most of us already knew that midway through last year when Floyd really started to emerge. Fitzgerald is no longer the "unquestioned" top receiver, but there is no question in my mind he is still a top receiver. (More on that later.)
My plea to fantasy owners is this: if you're going to place some or most of your faith in the recommendations of a fantasy analyst and it isn't obvious through their writing that he/she watches the games and/or breaks down game tape, there's a good chance you are watching about as much football as they are. Those of us writers who dare subscribe to NFL Game Rewind don't just talk about "watching film" so we can ascend to the title of "film gurus"; rather, I like to think most of us do it because we: 1) enjoy the game and 2) understand how much of an advantage it can provide in the fantasy world.
My plea to the fantasy analysts I referenced earlier (and you know who you are): take it upon yourself to do more. Anyone that takes this job seriously understands there will be plenty of times you will be wrong. I have been wrong many times before and I will be wrong many times in the future. However, I have been wrong a LOT less in recent years since I started using Game Rewind. The answers to our questions each week usually lie in the tape. What we don't get from that, we can sometimes collect from team insiders and media. It doesn't work nearly as well the other way around.
Speaking of watching game action, here are some of my other Week 1 observations:
Robert Griffin III appeared to be the victim of an ill-conceived game plan (or his new coach's inability to follow through on the original one).

Let's open with one observation that I'm willing to be proven wrong on in the coming weeks. New HC Jay Gruden told the Washington Post last week that he believed the strength of his football team was the running game. Based on the last two years, the rookie coach made a solid point about the foundation Mike and Kyle Shanahan helped create. It sure looked to be the case in Week 1 as well since Alfred Morris and Roy Helu combined to average 7.6 YPC on 18 attempts. Houston, as we all know, entered Week 1 with the menacing pass-rushing tag team of J.J. Watt and Jadeveon Clowney.
At any rate, Houston-Washington was a one-score affair until the final two minutes, so it is a bit perplexing as to why Griffin passed twice as much as Morris and Helu ran. One thing that was apparent from re-watching the game is that Gruden either did not have much confidence in his offensive line holding up against the Texans' pass rush (or lost confidence during the game) or Griffin's ability to do the right thing against Houston DC Romeo Crennel's defense. Here's why I think it is the former: I'm going to estimate that of RG3's 32 pure drop-back passes (he used play-action nine times on 41 total drop-backs), roughly 27 or 28 of the plays were three-step drops, meaning the ball is supposed to come out quickly. So what we seem to have here is a conservative, yet pass-heavy attack against a formidable pass rush against a defense that hasn't proven it can stop the run – and certainly didn't prove it in Week 1 – from a team whose coach stated the strength of his team is the power running game.
Even in today's more wide-open game, nothing takes the bite out of a pass rush quite like an offense that can run the ball and follow it up with a handful of successful play-action passes. Griffin appeared to be conflicted as to whether or not he was allowed to leave the pocket (for whatever that is worth) and Houston didn't appear to be the least bit concerned about him running, which is also cause for concern and opens the door for an entirely different set of questions. RG3 has the arm and two receivers that have well-established reputations as deep threats, so it seems a better run-pass balance might be in order (which we knew could be a problem for Gruden). Then again, if Washington doesn't fumble twice inside the red zone and Griffin throws for a couple scores on those drives, maybe we are all talking about how wonderful Griffin is handling the new offense. After all, he did complete 78.3 percent of his passes…
Patriots CB Darrelle Revis was not used as a "shadow" corner.

While there is certainly value into locking down one side of the field, it seems a bit silly to bring in a cornerback on a one-year, $12-million contract so he can take out the offense's second-best receiver most of the day while the opponent's top threat moves all over the formation. New England could have easily opted to put Mike Wallace (and every other top receiver it will face during Brandon Browner's four-game suspension for violating the league's substance-abuse policy) on "Revis Island" full-time, so Week 1 is a pretty good sign that New England will play sides with its corners going forward – just like Seattle and a number of other teams do. This is obviously good news for Cordarrelle Patterson next week, assuming the Pats don't reconsider their options after watching the Vikings' most second-year receiver on tape. (Revis' usage will be something I will track over the next few weeks.)
Speaking of Wallace, he's not a one-trick pony anymore.

Again, it is vital that I emphasize that one week does not a season make. But as any owner of Wallace from last year will tell you, watching a speedy receiver line up on the right side of the field and execute clear-out patterns all day can get a bit old when he's not running under a ball at least some of the time. Five of Wallace's 11 targets came in Revis' coverage (as did his touchdown), suggesting that it will be a top priority to get Wallace the ball on a weekly basis. Just as importantly, new OC Bill Lazor used Wallace all over the field just as reports have suggested since his arrival. Wallace lined up on the right outside, left outside, twice in the slot and even came out of the backfield. Moreover, he was being used in the short and intermediate areas as well as down the field. If I'm a Wallace owner right now (which I am in two money leagues), I'm ecstatic. With three games against Buffalo, Kansas City and Oakland before the Week 5 bye, Wallace could easily perform like a low-end WR1 considering none of those teams have the quality of cornerbacks New England does.
Toby Gerhart will be just fine, assuming he gets a bit of help from his friends.

The implication here is that Jacksonville's offensive line didn't exactly blow anybody off the ball nor did OC Jedd Fisch give his new bellcow runner much of a chance to succeed. Gerhart is a powerful man with much more athleticism that he is given credit for, but his strength is probably always going to be as a power runner. In other words, most of his runs need to be ones in which he can square up his shoulders as quickly as possible and run in between the tackles, which did not happen enough in Week 1. Gerhart collected 36 of his 42 rushing yards after contact in the opener, which should give even the most casual observer some idea of how often the Jaguars were getting beat to the punch. How bad you ask? I watched each of his 18 attempts and counted seven times in which he was hit in the backfield and at least five more times when he was contacted at the line of scrimmage. Keep an eye out for reports regarding his ankle this week. I'm fairly certain half of the league's running backs aren't able to come back into the game two series after getting horse-collared like he did, so he's already proved he is plenty tough and will play in pain.
If you can figure out the pattern to the Bills' backfield, you are a better person than I am.

C.J. Spiller started the game and played the first two snaps before yielding to Fred Jackson on third down (that much was not a surprise). Jackson played the next two series and Spiller saw only one play in that time. On the fourth drive, Anthony Dixon started and alternated snaps with Spiller for four plays until Jackson once again came on for third down. Spiller was the man on the next possession after Buffalo forced an interception and scored on the next play. Dixon began the next drive, came out on second down and gave way to Jackson on third down to close the first half. On the first possession of the second half, it was back to Spiller on early downs and Jackson on third down. It remained the Spiller show for the most part until about midway through the fourth quarter, when he gave way to Jackson. Spiller started the Bills' only drive in overtime and left after three plays for Jackson, who essentially wrapped up the game with his powerful 39-yard run down to the 1. If I lost you somewhere in there, my apologies. While some teams subscribe to the "hot hand" theory at running back, Buffalo could care less about letting one of its running backs getting into a rhythm. About the only thing that remains somewhat consistent is Jackson's role on third down and at the goal line.
The rumors of Fitzgerald's demise have been exaggerated.

Carson Palmer said following the Monday Night Football game that San Diego was "trying to take Fitzgerald away" and, to some degree, that was true on certain plays (such as Michael Floyd's 63-yard catch in the first quarter when Fitzgerald's corner route behind Floyd drew the safety up and left the third-year wideout 1-on-1 with his defender downfield. There were a handful of other occasions in which it sure looked like as if the Chargers' safeties had been instructed to prioritize Fitzgerald's route in zone coverage over Floyd or any other Arizona receiver. As far as I can tell, Fitzgerald wasn't the clear first read on any play until the second play of the Arizona's first possession in the third quarter when a Chargers' linebacker jumped a slant route and caused Palmer to look to the opposite side of the field. While Palmer was accurate when he was taking what the defense was giving him in a post-game interview, that wasn't the case when it came to Fitzgerald, who saw his first official target with 12:43 left in the game. That target was Fitzgerald's one-handed grab out of the end zone in which he was tightly covered. The second official target was a forced high-point throw along the right sideline, which also describes the failed two-point conversion with about 2 ½ minutes left. In fact, the only time he got "open" was on his 22-yard diving reception on a pick/rub play. So he's washed up, right? Not so fast.
I'm not going to try to play up a one-catch, 22-yard performance and make it sound like it was a dominant performance, but the opener wasn't about Fitzgerald's "eroding" skills in my opinion. Arizona Republic reporters Kent Somers and Bob McManaman suggested earlier this week that Fitzgerald was a bit more questionable to play on Monday night than what was being reported due to a knee issue. Regardless, it seems odd that not a single soul stated that Fitzgerald had lost a step in the preseason dress rehearsal against Cincinnati when he caught three balls for 71 yards in about a quarter and a half, including a 41-yard catch-and-run on a quick slant. The eight-time Pro Bowler is not the exact same receiver now that he was during the Cardinals' Super Bowl run in 2008, but most fail to realize he doesn't need to be either. Technique and ball skills have always been the most critical part of his success and those qualities are going to allow him to age as gracefully as any NFL receiver can. Arians has been quite successful with slightly older receivers in his recent stops (Hines Ward and Reggie Wayne), so history would appear to be on Fitzgerald's side.
One of the best things about Game Rewind is the fact that it includes coaches' tape (the all-22 look at the field that I think most diehard football fans would prefer to see on TV). All-22 film gives coaches – and now fans – the option of watching any player (or players) from the beginning of the snap until the whistle if they desire. This distinction becomes important when we are looking at players like Fitzgerald in Week 1. The youngest player in NFL history to record 800 catches did not create separation on every route he ran, but no other receiver does that. I counted at least five occasions in the first half alone in which Fitzgerald found the hole in the zone or could have been a viable target against man coverage, but Palmer was either on the run or opted to go in another direction. That will happen to every receiver at some point pretty much every season, especially when there other quality options. Another key point to make: 11 of Palmer's 24 completions went to running backs or fullbacks versus the Chargers, suggesting that unloading the ball quickly was (or became) a key part of the plan of attack in the opener. Fitzgerald is also the featured slot receiver in HC Bruce Arians' offense and is typically the "motion man" when the play calls for it. That fact in and of itself is a significant tipoff that the coaching staff believes he is still the player they want to feature.
Fitzgerald is as sound technique-wise as any receiver in the league. If you drafted him expecting mid-to-high WR2 production, let's just say I still think that will be a safe bet. I expect Palmer and the Cardinals to overcompensate a bit this week as Floyd will likely draw shadow CB Dominique Rodgers-Cromartie in coverage. At the very least, strike up a conversation with the Fitzgerald owner in your league and see if they regret drafting him. There aren't often buy-low opportunities with future Hall of Fame receivers after Week 1, but there has been enough outrage to suggest more than a few folks believe he has already taken a clear back seat to Floyd. I'm willing to bet that happens next year (assuming he re-signs in Arizona).

Suggestions, comments, about the article or fantasy football in general? E-mail me or follow me on Twitter.

---
Doug Orth has written for FF Today since 2006 and has been featured in USA Today's Fantasy Football Preview magazine since 2010. He has hosted USA Today's hour-long, pre-kickoff fantasy football internet chat every Sunday over the past two seasons and appears as a guest analyst before and during the season on Sirius XM's "Fantasy Drive" as well as 106.7 The Fan (WJFK – Washington, D.C). Doug is also a member of the Fantasy Sports Writers Association.