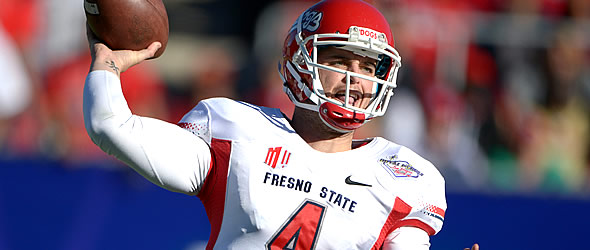 Carr will get his shot at the starting quaterback job in Oakland but it may not come until mid-season.
2.04 OAK – QB Derek Carr
Carr looked like the best quarterback prospect in this draft at times and probably the eighth or 10th-prospect other times. He consistently shied away from pressure and did not show good footwork for the first half of the 2013 season. In the second half of the season, however, Carr was clearly a different quarterback - at least until Fresno State's bowl-game loss to USC. Either way, Carr has a pretty predictable path to the starting job in Oakland assuming that Matt Schaub proves last year's falloff was not a fluke. With that said, it is difficult to put much faith in an Oakland signal-caller in fantasy right now and the fact that Carr probably won't start until midseason or after doesn't help matters. He's a late-round fantasy flyer at best in redraft leagues and probably no more than a late-second or early-third round selection in 12-team dynasty league rookie drafts.
2.06 TB – TE Austin Seferian-Jenkins
In one fell swoop, Tampa Bay has assembled a trio of huge receiving options in Mike Evans and Seferian-Jenkins who can dominate in the red zone. Seferian-Jenkins is the best all-around tight end of the top three available and should be an above-average short-to-intermediate target right away. Seferian-Jenkins has some Rob Gronkowski qualities to him, although he is not nearly as physical or aggressive as the oft-injured Patriots' Pro Bowler. Although Seferian-Jenkins lacks the fantasy upside of Eric Ebron as a rookie, he's a legit higher-end TE2 possibility and makes sense right now as an early second-round pick for dynasty owners in rookie drafts.
2.07 JAX – WR Marqise Lee
The board falls right for the Jags here as Lee steps into a solid Year 1 situation with Justin Blackmon not being counted on in 2014 due to suspension. If and when Blackmon returns, Lee and/or Blackmon can both move into the slot and contribute there as well. The 2012 Biletnikoff Award winner endured a difficult injury-plagued season in 2013 as well as a well-publicized coaching and quarterback change that brought his mind-boggling reception totals from the previous season down. Still, the Jags should no longer have to count on the likes of Mike Brown to make plays opposite Cecil Shorts. Depending on Blackmon's status come August and September, Lee could start out the season with WR4 value. From a dynasty perspective, however, it's hard to like Lee much if/when Blackmon and Shorts are healthy and active.
2.10 PHI – WR Jordan Matthews
The SEC's all-time leading receiver lands in a wonderful situation in Philadelphia, where he should beat out Riley Cooper quickly and assume starting duties opposite oft-injured Jeremy Maclin. Matthews may lack elite athleticism, but he is an efficient run-after-catch player that brings more qualities to the table (namely blocking ability) than the player he replaces (DeSean Jackson). Matthews should begin 2014 as a top-end WR4 option in redraft leagues and could ascend to the WR3 level if Maclin can't stay on the field. In dynasty, he belongs behind Sammy Watkins, Mike Evans, Odell Beckham, Kelvin Benjamin and Brandin Cooks and ahead of Marqise Lee of the receivers drafted so far.
2.13 SEA – WR Paul Richardson
An absolute deep-ball terror, Richardson is one of the slightest-framed players to get drafted within the first two rounds in recent history. Not all that dissimilar from Brandin Cooks in terms of build, vertical ability and route-running, Richardson profiles initially as a deep-ball specialist for a Seahawks' team that cannot count on Sidney Rice and just lost Golden Tate. Richardson will have a hard time finding redraft value because he's going to fall behind Percy Harvin, Doug Baldwin and probably Jermaine Kearse on a run-heavy team and is probably no more than an early third-round rookie draft pick in dynasty.
2.17 NYJ – TE Jace Amaro
Amaro is part of the new breed at tight end in that he is a 6-6, 265-pound player that played nearly all of his snaps at Texas Tech in the slot. Perhaps no other tight end available in this draft possesses a better set of hands, although one has to wonder how his below-average blocking skills - at the moment - fit with the Jets' likely run-heavy attack. By using a second-round pick to select him, New York obviously believes it can help Amaro become an average NFL blocker and, if that happens, the Jets will have a player that can cause mismatches all over the field in the passing game. Amaro probably is a mid-to-low fantasy TE2 in redraft due only to the Jets' quarterback situation. In dynasty rookie drafts, Amaro could fall into the early-to-middle part of the second round.
2.20 ARI – TE Troy Niklas
Rob Housler has been put on notice. Niklas has played tight end for only a couple of seasons, but rivals Austin Seferian-Jenkins as the most well-rounded top-five player at his position. However, Cardinals HC Bruce Arians has said that he prefers blocking tight ends over receiving tight ends, which should speak volumes about his fantasy potential. Niklas is well off the redraft radar and probably will warrant no more than a fourth-round rookie draft pick in dynasty.
2.21 GB - WR Davante Adams
GM Ted Thompson is a steadfast believer in taking the best player available and it is hard to argue that he wasn't right with his selection of Adams, who I thought was often the better half of the Fresno State combination with Derek Carr, at least early in 2013. With James Jones leaving for Oakland, Adams lands in a plum spot for his future fantasy value and could easily move past Jarrett Boykin into the third receiver slot by 2015. As Jones and Boykin have proven in recent years, even Aaron Rodgers' fourth receiver has consistently been a fantasy asset. Adams is a WR5 in redraft formats and warrants an early-to-middle second-round pick in dynasty rookie drafts.
2.22 TEN – RB Bishop Sankey
And the first running back comes off the board in the person of Sankey, who will be asked to fill the shoes of Chris Johnson as well as keep Shonn Greene in a late-game, goal-line pounder. Fantasy owners should expect both to happen in short order. While he lacks the explosiveness of Gio Bernard, Sankey is arguably as well-rounded and a more powerful runner that could have the same kind of impact that Doug Martin did in 2012 on a team that has a lot of talent on the offensive line and a run-oriented offensive philosophy. Sankey merits consideration as a top-three dynasty pick in rookie drafts and is very likely to finish among the top 15-20 running backs in redraft formats.
2.23 CIN - RB Jeremy Hill
A year after selecting Gio Bernard the first running back taken, the Bengals double-dip in the running back pool and make Hill the second back off the board in this draft. While there is little question about the talent, Hill has enough off-field baggage to make him a question mark and is arguably a lesser prospect than Carlos Hyde, who was in Cincinnati's backyard. Hill will almost certainly make BenJarvus Green-Ellis an afterthought at some point this season and takes a bit of luster off of Bernard as a true workhorse. Hill will probably start out as no more than a RB4 in redraft leagues and is perhaps an early-second round dynasty league pick.
2.24 DEN – WR Cody Latimer
Latimer emerged from a late-round prospect in February into a player that (rightfully) generated first-round consideration in the days leading up to the draft. Perhaps most interestingly, he dropped only one of his 119 targets from last season and falls into one of the best possible situations for his long-term NFL success. There's an outside chance that Latimer makes some noise in his rookie year because he is - in my opinion - a top-five receiver in this draft and reminds me of an non-injured Hakeem Nicks, but the odds are much stronger that he is nothing more than a WR4 behind Demaryius Thomas, Wes Welker and Emmanuel Sanders. In the likely event that Welker moves on after the end of the year, however, Latimer could easily play the Eric Decker role as Sanders slides inside. He's off the redraft radar, but a late-first or early-second round pick in rookie drafts.
2.25 SF – RB Carlos Hyde
Considered by many the best running back in the draft, Hyde's arrival makes it pretty clear that Frank Gore will likely not be in San Francisco past the end of this season and throws a considerable amount of cold water on the potential emergence of Marcus Lattimore as his long-term successor. Lattimore possesses more natural talent and is a better fit for the Niners' straight-ahead running game, but Hyde doesn't have the considerable injury history of the former South Carolina standout. At any rate, San Francisco should be set at the position for the next 3-5 years. The landing spot makes Hyde a late-round redraft pick and late first-round dynasty pick at best.
2.29 JAX – WR Allen Robinson
Emphasizing they are not counting on Justin Blackmon this year, Jacksonville follows up its selection of Marqise Lee with Robinson, who essentially carried the Penn State passing attack for the final two years of his college career. Robinson doesn't possess ideal speed, but has enough speed and explosion to be Cecil Shorts' long-term tag team partner while Lee will probably see significant time in the slot. Robinson will probably battle TE Marcedes Lewis as the player most likely to lead the Jags in receiving scores right away and would make for a nice upside WR4 in redraft and early-to-mid second-round pick in rookie drafts.
2.30 NE – QB Jimmy Garoppolo
The Patriots take another foray in selecting Tom Brady's heir apparent in Garroppolo because Ryan Mallett is almost as good as gone in 2015 (assuming he isn't traded this weekend). With Brady showing no signs of decline or wanting to retire, Garroppolo has very little dynasty and no redraft value.
2.31 MIA – WR Jarvis Landry
Landry has generated Hines Ward comparisons thanks to his physical play; he could very well replace Mike Wallace (assuming Miami wants to move on from him) or Brian Hartline, who is a lesser all-around talent than Landry. The LSU product doesn't create much separation, but makes sense playing alongside Wallace and Hartline in the slot this season while Miami waits to see if Brandon Gibson can recover from injury. Landry has a slight amount of redraft appeal (if he beats out Gibson) and probably slots in as a late second-round pick in rookie drafts.

Suggestions, comments, about the article or fantasy football in general? E-mail me or follow me on Twitter.

---
Doug Orth has written for FF Today since 2006 and appeared in USA Today's Fantasy Football Preview magazine in 2010 and 2011. He is also the host of USA Today's hour-long, pre-kickoff fantasy football internet chat every Sunday. Doug regularly appears as a fantasy football analyst on Sirius XM's "Fantasy Drive" and for 106.7 The Fan (WJFK – Washington, D.C). He is also a member of the Fantasy Sports Writers Association.