It's a time honored tradition as old as fantasy football.

"Is _______ even playing?"

For fantasy owners, one of the most frustrating things is watching our top running backs go long stretches without a touch, much less a carry. More frustrating than that is not being able to explain what happened to the players we thought were stars come crashing back down to earth.

I consider myself a bit of a running back connoisseur, so I feel like I appreciate good play from the position as much as anyone. In fact, I've often said the most beautiful play in football is a well-executed zone run because it so often marries patience with vision and precise timing.

In today's NFL, appreciating running back play probably makes me a bit of a dinosaur because not only is the game seemingly doing its best to reduce its reliance on the position, but the rules (namely the lack of live contact for offensive linemen in practice) are also working against their ability to succeed as well. Regardless, I take it personal when I "get one wrong" and make every effort I can to try to understand how it happened.

For the purposes of this article, I will not be writing about the ones I got "wrong" because I'm not sure any of the backs below qualify, if only because they were so "right" a month ago. (Note: I don't believe in slumps when it comes to anything that doesn't require accuracy, so there will not be any such mentions below. Long-time readers already know I think the notion of a "hot hand" in the backfield is one of the most ridiculous things in football. However, that's another story for another time.) Instead, it is hope I can explain what went wrong in each case, suggest what can be done to fix it - if anything - and figure out what fantasy owners should expect for the rest of the season.

For each summary below, I've provided the proof (the statistical slide since the player's fast start) and the pudding (my detailed analysis as to why it's happening). Dig in …

Kareem Hunt, Kansas City

The Proof: Since rushing for over 100 yards in four of his first five career games, he is averaging 47.8 yards since. Additionally, Hunt hasn't found the end zone in six straight games since scoring six times in the first three weeks.

The Pudding: Seriously, the No. 2 back in overall PPR scoring is "struggling?" Well, I suppose that depends on your definition. Anyone who has owned a fantasy back in an Andy Reid offense over the years has learned to take the good (usually a one-back guy in a fantasy-friendly scheme) with the bad (maddening peak-and-valley usage from time to time). Last week really marked the first time "the bad" came into play AND was hard to explain. Matchups, negative game scripts and short weeks have contributed to depressed production over the last month and can easily explain his 21-yard effort against Pittsburgh and/or 46-yard performance versus Denver. With very few exceptions, running backs simply aren't having success against those teams.

Reid has apparently identified Charcandrick West as the superior third-down option, although that is a debatable stance if we treat Pro Football Focus' pass-blocking grades as the gospel (Hunt - 38.1; West -37.9). Whether or not that is the Chiefs' reason for relying so heavily on West on third down is probably not a question anyone except Reid and/or OC Matt Nagy can answer, but it's hard to think of any other area of the game in which Hunt is not the better player. It could also simply be a matter of Reid and Nagy picking their spots on when to use the rookie in the first half of the season so they can ride him hard down the stretch. In fact, that is the most likely answer, especially considering Hunt is averaging 20.8 touches and already has 187 through nine contests.

So what has changed to make Hunt less of a fantasy force? The big-play touchdowns that made him such a revelation in September have dried up, but most owners likely anticipated he wasn't going to sustain his early pace anyway. Perhaps the biggest problem when it comes to scoring touchdowns is he has registered only three carries from the 5 or closer since Week 3, including just one inside that area. Over that same time, Kansas City has scored only three offensive touchdowns inside the 10 through the air - two of which were on fluky third-down catches by West in Week 5. Simply put, the opportunities for "cheapies" just haven't been there. Even though the Chiefs have become a big-play offense to some degree, it's fair to assume regression will eventually work in Hunt's favor again and give him some chances to get back in the end zone sooner than later.

As for his yardage, it doesn't seem to me Reid is using Tyreek Hill in motion nearly as often as he has in the past. The interior of the offensive line hasn't played together much since the fast start - OG Laurent Duvernay-Tardif and C Mitch Morse both missed multiple games - which has contributed to the problem. Defenses really haven't changed their approach much; he is facing eight men in the box 32.3 percent of the time per Next Gen Stats - roughly the same mark he did earlier in the season.

The verdict: In order, here are the current ranks of the defenses - in terms of which ones are giving up the most PPR points to running backs - the Chiefs face the rest of the way: 16th, 11th, 21st, sixth, seventh and 24th. While I acknowledge Hunt's recent struggles from a fantasy perspective are more than just some tough matchups, I'll take his talent, overall situation and workload over a whole host of other backs. The tough thing to keep in mind with Hunt is that most of us drafted him to be a RB2 this summer. If we asked ourselves then if we would be happy if our RB2 was consistently going over 100 total yards, most of us would have been thrilled. Although the touchdowns may not come in bunches like they did in September, I feel confident in saying he is going to be OK.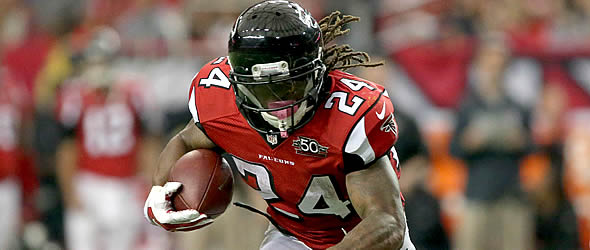 Since scoring five times over his first four games, Freeman has been held out of the end zone since.
Devonta Freeman, Atlanta
The Proof: Since scoring five times over his first four games, Freeman has been held out of the end zone since.
The Pudding: As much as owners want to believe otherwise, scoring touchdowns is not a talent so much as it is usually taking advantage of an opportunity. Granted, some teams are better equipped and more able to give more opportunities to certain players to score a touchdown, but the ability to score is not necessarily a skill per se. (Look no further than Hunt for proof. He did not lose his "nose" for the end zone after three weeks.)
So what gives? How can a running back scored every week for four straight weeks, then not score at all the next four? Let's look at "opportunity." Since receiving 14 chances (rushes/targets) in the red zone over the first four weeks - including eight inside the 5 - Freeman has secured only five opportunities inside the 20 over the last four contests - none inside the 5. Overall volume can sometimes overcome that problem, but that has been lacking in a big way as well. After averaging 19.8 touches (17.5 rushing attempts) over the first four weeks, Freeman is seeing 13.5 touches since.
The most troubling aspect of Freeman's "demise" is the fact he has arguably been a better player - at least more efficient - than he was over the first quarter of the season. Through four games, he was averaging 4.1 yards per carry. In his last four, his YPC has jumped up to 5.2. Perhaps the most frustrating part for Freeman's owners is the near-equal usage of Tevin Coleman in the passing game. While Freeman has nearly twice as many carries (114-63), the two are tied with 24 targets apiece and the former holds only a slight advantage over the latter in catches (18-16). As a point of reference, Freeman had 227 carries, 65 targets and 54 receptions versus Freeman's 118 carries, 40 targets and 31 catches last season.
Put another way, Atlanta decided to make Freeman the second-richest running back in the league in August and decided to use him less despite the fact the passing game has struggled and Freeman is making more of his opportunities now than he was over the first four games.
The verdict: As is the case with Hunt, the touchdowns should return in short order. As for his usage, your guess is as good as mine, but it's too easy and too early to say Freeman is suffering from the play-calling of OC Steve Sarkisian. His rushing totals (carries, yards and touchdowns) are very much on track to rival last season's. Interestingly, he had five total TDs through eight games last year as well and finished with 13. Coleman has yet to suffer the injury that has knocked him out for two or three games in each of his first two seasons, so what we are upset about is Freeman's lack of work in the passing game. The remaining schedule isn't as enticing as it looked back in August, and there is no track record to go on with Sarkisian here, so owners who ride it out with Freeman are betting on the Falcons figuring out they need to feature the running game a bit more. Freeman's history suggests we should stay the course.
Doug Martin, Tampa Bay
The Proof: Martin averaged 5.7 YPC in his first game back from suspension but only three yards per carry since.
The Pudding: The easy answer here is Martin began his season with the easiest matchup he could have asked for (the Patriots) and the schedule has gotten more challenging since. That's a fair assessment, but it's far from the only explanation. Owners and observers often frustratingly believe problems that creep up with players - in regards to their fantasy production - can be corrected by fixing one problem. (i.e. "Oh good, the opening-day offensive line is back intact." … "He's off the injury report." … "Runs-stopping DT/LB ___ isn't playing this week." We usually have no idea what is going on in their personal lives or what is being said behind closed doors at the facility among a host of other things.)
Somewhat shockingly, Martin has yet to record a single touch when Tampa Bay was ahead on the scoreboard. It's difficult for an offense built around the principle of having a power-running attack to be able to get its top back to run against a tired defense when it is always playing from behind. The Bucs also don't use Martin a lot as a receiver, so game script has played a fairly large role in his demise over the last month.
Per Football Outsiders' Adjusted Line Yards metric, Tampa Bay's 3.95-yard average is just slightly off the 4.01 it registered in 2016. The Bucs also rank 22nd in third-down conversion percentage (36.8) after finishing sixth a season ago (43.7), further supporting the notion Martin and his offensive line aren't getting the chances to wear out opposing defenses. However, it's worth noting 30.6 percent of his 180 rushing yards over the last four games have come on his three longest runs, meaning he is averaging 2.2 YPC on his other 57 attempts.
The verdict: From a pure scouting perspective, he looks every bit as spry and quick as he did in the preseason and Week 5. What has changed is how often he is forced to avoid penetration in the backfield. So while Martin looks good, sometimes it doesn't matter how ready a player is to make something happen. For the running game to work right, all hands on deck and have to be rowing in the same direction. That doesn't appear to be the case for the Bucs, who aren't opening many holes for Martin and have been so ineffective on defense that Martin ends up playing about three quarters worth of football. While Martin's ship may not sink to the bottom of the ocean this year in fantasy, it may be too much to ask him to account for all the holes that are causing the boat to take on water.

Ameer Abdullah, Detroit
The Proof: After averaging 11.8 PPR fantasy points through four games, he is scoring 6.8 per game since.
The Pudding: There are probably some who believe I am an Abdullah apologist. I don't think I am. I see a frustrated runner wasting away in a backfield playing for a coaching staff who wants to believe in his talent but can't find it within themselves to break out of the committee backfield approach for reasons I probably cannot comprehend. Owners already know this team is built for and around the highest-paid quarterback in the league in Matthew Stafford, so there aren't going to be a lot of running backs capable of setting the fantasy world on fire until the Lions change their offensive approach. But perhaps their opportunistic defense has completely overshadowed the fact Detroit is 1-4 in games in which it has surrendered more than 20 points this season.
For the fifth time in as many seasons, Theo Riddick is averaging less than four yards per carry - he's actually at 2.6 right now - Dwayne Washington checks in at 2.2 YPC on 20 carries and Zach Zenner at 1.6 on 10 attempts. (Abdullah's current YPC is a career-low 3.4 after seasons of 4.2 and 5.6, albeit the latter coming in only two games last season). So what we have here is either four backs who should not be in the league based on horrible per-carry production or, more likely, an offensive line that isn't holding up its end of the bargain in the running game. My experience - if not common sense - leads me to believe when all four backs on a team struggle to hit the league average in YPC, there is something very wrong with the scheme or the line. The fact Abdullah is nearly a yard better per carry - two in some cases - tells me he consistently does more with less than they do.
Abdullah hurt his cause by fumbling twice - losing one - on Monday Night Football in Week 9 and probably cemented the likelihood he will not see goal-line/red zone work on a regular basis moving forward. On the plus side, Week 9 was only the second time in 26 career NFL games the Lions entrusted him with at least 20 touches. Shockingly, Detroit is 7-1 in the eight games in which Abdullah has received at least 17 touches, including 4-0 this year. While I understand just about everyone is capable of cherry-picking a stat that fits a narrative they want to push, I'd like to think a win-loss record might appeal to coaches, especially when that same team hasn't had a running game to strike fear into opponents in what seems like a generation.
The verdict: Up until last week when he finished with 22 touches (21 carries), Abdullah was experiencing the same kind of volume drop-off over the second quarter of the season Freeman has been. Detroit also kept Abdullah busy in the passing game in the first four games - three games with exactly three receptions - but his usage in that area has declined as well with five total catches since then. The eventual return of LT Taylor Decker should help, but this is another case where the team needs to commit to its main back and be willing to accept some of the bad to get more of the good. It's quite possible Detroit's starter in 2018 is not on the roster, but if the Lions are being honest with themselves, they still really have no idea if Abdullah can be that guy. While the second-half schedule is not loaded with cupcake run defenses, it is heavy on mediocre offenses, so there should be no excuses when it comes to trying to establish Abdullah. Will it happen? Detroit's recent history suggests it won't let it happen. I hope I'm wrong.
C.J. Anderson, Denver
The Proof: Anderson managed at least 20 carries three times in the first four games, averaging 82.5 rushing yards per contest. Since then, he has posted three games with 10 carries or fewer, averaging 38 yards per outing.
The Pudding: My final PPR Big Board ranking had Anderson as my overall RB36, so I'm not going to pretend like I'm surprised owners are struggling with what to do with him. Still, in my mind, he's always been a bit of an underappreciated talent. His issues this year have to do with his situation, not unlike the men before him in this piece. The difference between him and everybody else, however, is more obvious. About the same time Trevor Siemian started to feel the pressure of the pass rush and went into the tank as a passer is about the same time Anderson's production began to fall off a cliff. With minimal work in the passing game (12 catches) and both of his touchdowns coming in Week 2, there just aren't a lot of other avenues for him to produce fantasy points when Denver isn't scoring enough points to play with the lead.
During the Broncos' current four-game losing streak, they have led for a grand total of 4:01 - all of which came last week in a game they eventually lost 51-23. During Denver's 3-1 start, it led for 101:54. The one game over the second quarter of the season in which Anderson played to the matchup was against Kansas City, which, up until last week, used S Daniel Sorensen in essentially the same hybrid safety/linebacker role it has used Eric Berry in recent times. (To state the obvious, there aren't a lot of Eric Berrys out there.) In other words, the Chiefs were using nickel personnel to play their base defense.
However, Anderson's "demise" is more than just about game script. Over the first four games, Anderson was receiving 66.4 percent of the backfield's carries and owned 77 percent of the catches made by Denver running backs. Over the past four contests in which the Broncos have tried to work in Devontae Booker and Jamaal Charles more frequently, those marks have fallen to 53.8 and 7.7, respectively. His YPC has dipped from 4.5 to 3.5 as well.
Predictably for a player who hasn't scored since Week 2, the red zone work has really fallen off during the losing streak. Since recording his 12th and 13th touches inside the 20 of the season in an Oct. 1 win over the Raiders, Anderson has just three red zone touches since - all of which came inside the 5-yard line. Two of those plays did not produce positive yardage, while the other one gained one yard.
The verdict: The answer as to whether or not Anderson can contribute anything to fantasy owners for the remainder of the season might come this weekend, as New England comes to town. The remaining schedule isn't overly challenging from a run-game perspective, but we've already established there's more to Anderson's recent woes than his opposition. Twice in the four weeks since the Week 5 bye, it feels like the defense has either laid an egg or quit - neither of which is acceptable for a team with this much talent or playing for a first-year coach. The committee backfield attack appears here to stay, and the offense needs something more than the threat of Brock Osweiler throwing the ball to help a struggling offensive line. I'm afraid there will be more valleys than peaks in Anderson's future..
---
Doug Orth has written for FF Today since 2006 and been featured in USA Today's Fantasy Football Preview magazine since 2010. He hosted USA Today's hour-long, pre-kickoff fantasy football internet chat every Sunday in 2012-13 and appears as a guest analyst on a number of national sports radio shows, including Sirius XM's "Fantasy Drive". Doug is also a member of the Fantasy Sports Writers Association.