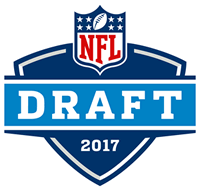 2.05 - WR Zay Jones, Bills
One night after drafting a solid CB in Tre'Davius White, the Bills trade with the WR-needy Rams to land a solid receiver in Jones, who set the FBS record for career receptions. Jones was perhaps this draft's most consistent receiver and is a great complement to big-play Sammy Watkins. Taken one step further, Jones possesses perhaps the best set of hands I have seen in a prospect in years. The landing spot is far from ideal in what is to be a run-heavy Buffalo offense, but the East Carolina product should provide great insurance against another Watkins injury at the very least. Jones lives in the short and intermediate areas of the field and should only help Tyrod Taylor become a more stable QB2.
2.08 – WR Curtis Samuel, Panthers
This selection serves two purposes: 1) it puts Devin Funchess on notice and 2) it helps the Panthers replace the vertical threat they lost with Ted Ginn Jr. Samuel is a bit of a less refined version of Christian McCaffrey and was considered a RB/WR hybrid during the draft process, but he will almost certainly be the new-and-improved version of Ginn. Samuel is like Ginn in that he is a raw route-runner, but he is more of a Percy Harvin clone and should be a player who sees a lot of action on screens, reverses and returns right away. Any concerns about Cam Newton dropping from the QB1 ranks due to a lack of rushing contributions should be minimized by the infusion of talent he is getting at receiver.
2.09 – RB Dalvin Cook, Vikings
It could be argued Cook was the most complete running back available in the draft, so Minnesota probably just found its long-term solution to replacing Adrian Peterson. Cook has several off-field issues and an injury history that pushed him into the second round, and there is no question the Vikings have issues on the offensive line and Latavius Murray in his way. That's the downside. The upside is Cook has a fairly good shot at being the primary back right away - likely ceding carries to Murray at the goal line - and is a big-play threat every time he touches the ball. He is also very dynamic in the passing game and proved time and again he could handle a heavy workload at Florida State. It may take a year or two before he ascends to RB1 status in fantasy given the aforementioned issues, but Cook is a player who compares favorably to Jamaal Charles and could easily enjoy a similar career.
2.12 – TE Gerald Everett, Rams
A surprising pick considering how much the new coaching staff reportedly loves Tyler Higbee. Everett is part of the growing list of former basketball players to become a higher-round prospect despite limited experience playing football. Despite checking in at 6-3 and 240 pounds, he is still a more oversized wide receiver than an undersized tight end at this point. And maybe Everett ends up playing receiver when all is said and done. To begin his career, however, he will likely be a "move" tight end. Make no mistake: while Engram boasts enticing run-after-catch and big-play potential, but he has some of the smaller hands in the draft and is a raw route-runner and blocker. With Los Angeles' sad group of receivers, Everett automatically becomes one of the top two or three red zone options. HC Sean McVay would like nothing better than to see Everett become his new Jordan Reed, but he is a huge project and will likely need two years in order to be worth much consideration in fantasy.
2.13 – TE Adam Shaheen, Bears
If Chicago gets its wish, Mitchell Trubisky just got his long-term security blanket. In an age in which it seems like most tight end prospects are "rocked-up" receivers, Shaheen is a throwback at 6-6 and 278 pounds. Despite his near-offensive lineman size, he is a former accomplished high-school basketball player who actually possesses a bit of fluidity as a route-runner and has more than speed (4.79) than anyone his size should expect to have. Surprisingly, he didn't dominate defenders as a run-blocker at the Division II level, but the Bears probably care less about that - it is something one would hope a NFL coach could correct in relatively short order - and more about giving Trubisky a player who compares favorably to Jason Witten. The jump from Division II to the NFL pretty much rules out any shot he'll make an immediate contribution, but he should emerge as a red zone weapon fairly early in his career.
2.16 – RB Joe Mixon, Bengals
Oh boy. The job security of Jeremy Hill and Giovani Bernard is now very much in jeopardy. Of course, Mixon isn't available anywhere close to the No. 48 pick in the draft if not for his 2014 incident in which he punched a female student. Mixon served a one-year suspension for the incident and was considered by some to be the most-talented running back in this draft - even ahead of Leonard Fournette and Christian McCaffrey. Despite the presence of Hill and Bernard, Mixon enters Cincinnati as the most talented running back on the roster. If his past is in the past, the Bengals may have just landed a poor man's version of David Johnson, as the 6-0, 228-pounder is as good of a running/receiving option as this draft has. Especially considering Hill's recent struggles and Bernard's knee injury, Mixon is the early favorite to lead the Cincy backfield. Just beware: For all the upside he brings, he brings an equal amount of risk in reality and fantasy.
2.20 – QB DeShone Kizer, Browns
How funny would it be if Cleveland could land its new long-term quarterback before the 2018 draft, which is projected to have a handful of blue-chip signal-callers? Kizer is the most talented quarterback in this draft, but the reason he is available he at No. 52 is because teams aren't sure about his consistency and ability to deal with adversity. He is much more comfortable in the pocket than most quarterback prospects who can be considered dual threats and made more high-level NFL throws than any other top signal-caller available in this draft. At 6-4 and 230-plus pounds with plus-athleticism, Kizer has a Steve McNair-like ceiling. Or, if evaluators are right about his mental toughness, he could be out of Cleveland before the end of his first contract. He does have the benefit of working with HC Hue Jackson, but the situation he is going to is far from ideal. He is a major boom-bust pick for Cleveland but well worth the risk at this point of the draft.
2.30 – WR JuJu Smith-Schuster, Steelers
The Steelers have an incredible track record of drafting receivers, but I really do not care for this pick unless they truly believe Martavis Bryant has cleaned up his act. Smith-Schuster has drawn a lot of comparisons to Anquan Boldin, but he is more a poor man's Hakeem Nicks in my opinion. Smith-Schuster's best asset is his size (6-2, 220) and one of his best traits is his ability to turn into a running back after the catch. His size undoubtedly helps him when it comes to blocking, although it's not hard to see he takes pride in that part of his craft. He does have a flair for the spectacular catch as well, but he has inconsistent hands and doesn't create a lot of separation. Smith-Schuster should carve himself out a nice NFL career, but it's hard to see him emerge as anything more than a decent third option for Ben Roethlisberger anytime soon.

---
Doug Orth has written for FF Today since 2006 and been featured in USA Today's Fantasy Football Preview magazine since 2010. He hosted USA Today's hour-long, pre-kickoff fantasy football internet chat every Sunday in 2012-13 and appears as a guest analyst on a number of national sports radio shows, including Sirius XM's "Fantasy Drive". Doug is also a member of the Fantasy Sports Writers Association.