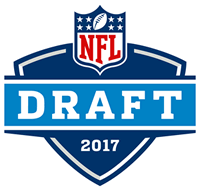 3.03 – RB Alvin Kamara, Saints
The Saints may be hoping to get their next Pierre Thomas with this pick, but it is hard to defend the selection of a No. 3 running back when New Orleans still has yet to address its pass rush. The Tennessee product is a top-five back in this draft on talent alone, but he was far too inconsistent and comes with a few red flags. Worst of all, it's hard to see where Kamara will get more than 100 touches in 2017 or 2018 with Mark Ingram and Adrian Peterson likely still around. Kamara has among the best mix of balance, elusiveness, slipperiness and pass-catching abilities among backs in this class, while his explosiveness (4.56 speed, 39 1/2" vertical and 10'11" long jump) explains how he produced 23 touchdowns in only 284 touches at Tennessee. If Kamara could play every week like he did against Texas A&M last year, he'll be worth the pick. But there's a reason he never carried the ball 20 times in a game in college. He's going to need a lot of things to happen in front of him in order to be fantasy-relevant anytime soon.
3.05 - WR Cooper Kupp, Rams
General NFL fans will probably their eyes at a receiver from FCS Eastern Washington, but that would be a mistake. Kupp is most productive receiver in college football history, and it isn't just a function at playing at a lower level of football. No Division I wideout EVER did what he did in four seasons: 428 catches, 6,464 receiving yards and 73 receiving touchdowns. Not good enough? Fine. Eastern Washington played two Power-5 programs over Kupp's last three seasons: Washington in 2014, Oregon in 2015 and Washington State in 2016. The totals in those three games: 35 catches, 597 yards and eight TDs. (In case you need a reminder, Washington had Marcus Peters and a young Sidney Jones three years ago.) Kupp likely profiles as a long-term slot in HC Sean McVay's offense, which will probably try to use him in the same way Washington has utilized Jamison Crowder. Kupp has more upside, however, and could very well emerge as the Rams' top receiving before the end of the season. His arrival, along with that of TE Gerald Everett, gives Jared Goff a fighting chance at owning the middle of the field at some point in the near future.
3.08 - WR Taywan Taylor, Titans
Rishard Matthews and Corey Davis should have nothing to worry about, but fans of Tajae Sharpe should be concerned. Taylor projects as a long-term slot option for Tennessee, and he's good enough he may force the Titans to consider using more three-wide packages. The Western Kentucky product is dynamic after the catch and is nearly impossible to guard straight up when given a two-way go out of the slot due to his suddenness and burst. He also understands how to vary his tempo as well. Among his most major concerns are his apprehension to go over the middle and inconsistent focus, which leads to a few more drops than a player with his playmaking ability should have. He's also a bit on the slight side (5-11, 203) and probably isn't going to beat Matthews or Davis out of a job anytime soon on a that loves to run the ball, so his fantasy upside figures to be limited for the foreseeable future.
3.15 - WR ArDarius Stewart, Jets
It doesn't take long before Stewart's physicality just leaps off the tape, and I love the fit for a Jets' team who can use the attitude he brings. Stewart is constantly in search-and-destroy mode, instantly turning into a running back after the catch and punishing defenders on downfield blocks. While he lacks the same explosion and hands, he has a Steve Smith (the recently retired one from Utah) kind of demeanor. Pro Football Focus credited him with an average of 10.7 yards after the catch per reception, second-best among Power-5 wide receivers. Stewart has work to do as a route-runner and can try to do too much with the ball in his hands. He also wasn't exposed to all that much man defense and press coverage at Alabama with that program almost always possessing such a dominant ground game and not passing all that much, and his hands could be better (11 drops over the last two seasons). With that said, New York should be able to feel good its future with Robby Anderson, Quincy Enunwa and Stewart as its top three receivers if it chooses to move on from Eric Decker at any point. While any Jets' receiver will be difficult to use in fantasy this year, Stewart has the most long-term upside of the young trio mentioned above.
3.18 - WR Carlos Henderson, Broncos
Henderson obviously doesn't present a threat to Demaryius Thomas or Emmanuel Sanders in two-wide sets, but he immediately becomes immediate favorite to take over slot duties for a Denver offense that hasn't gotten much position in recent years. At 5-11 and 199 pounds, Henderson is an above-average route-runner with the burst to separate from his defender and a fiercer competitor after the catch than one might imagine for a player of his size. His immediate contribution should come on special teams, however, as he seems like a long shot for solid fantasy production on an offense with two receivers who will combine for 150-plus receptions again this season.
3.20 - WR Chris Godwin, Bucs
Tampa Bay goes from having very little receiving talent outside of Mike Evans to an embarrassment of riches, as the team added DeSean Jackson in free agency, O.J. Howard in the first round and now Godwin. The Penn State product burst onto the stage with a huge performance in the Rose Bowl and gives Jameis Winston yet another big-play wideout who will start his career behind Jackson. However, Jackson is no stranger to injury, so the 6-1, 209-pound Godwin isn't all that far away from being a top-three target in a very good offense. However, it's not a role that will lead to much fantasy consistency, so he may be looking at being a clear-out receiver/deep-ball specialist for his first 2-3 seasons in the NFL.
3.22 - RB Kareem Hunt, Chiefs
Kansas City nailed this pick. Owners of Spencer Ware and Charcandrick West better take notice, as Hunt brings the kind of explosion to the backfield Jamaal Charles used to provide. He can stop and start almost on a dime and strings together moves about as well as any back in this class. Despite his elusiveness, Hunt doesn't lack for power; he also has outstanding balance and is plenty stout enough (5-10, 216) to run inside - something he did plenty at Toledo. He also values the football (one fumble on 722 total touches over the last three years). PFF credited him with 98 total missed tackles forced (second in the country) and 22 missed tackles on receptions (second in the nation among running backs). Hunt should be considered an immediate threat to Ware and pass West on the depth chart in short order, and the possibility exists Hunt could overtake Ware at some point. Hunt will almost certainly be an undervalued asset in redraft leagues but he's very much worth a pick in the later rounds.
3.23 - QB Davis Webb, Giants
We'll keep this one short, as Webb isn't going to unseat Eli Manning. Webb does bring more talent to the No. 2 job than New York has seen in ages and would have a fighting chance to win a game or two should Eli ever miss a game. Manning will probably still be playing by the time Webb's rookie contract expires, but it will be close. New York provides Webb with the comfort of being able to make the transition from "Air Raid" quarterback to a pro-style offense as well. Webb can be ignored in fantasy with this landing spot.
3.25 - RB D'Onta Foreman, Texans
Another case of Houston taking the best player available, although Foreman serves the dual purpose of allowing HC Bill O'Brien the luxury of taking some early-season carries away from Lamar Miller like he hoped without needing to bite his lip watching more Alfred Blue. At least early in 2016, Foreman looked like a spitting image of LeGarrette Blount. By the end of the first month of the season, he appeared to be much more of a finesse runner than power back. Foreman is an intriguing combination of size and quickness for a bigger back, but he fell in this draft in large part to a lack of contributions in the passing game - blocking and receiving - and fumbling woes, which were likely brought on by a broken hand he suffered during the season. Look for Houston to give him an opportunity to steal some short-yardage work from Miller, although the Texans love Miller too much to take him off the field all that often. He should be considered a handcuff with decent redraft and dynasty upside.
3.32 - WR Kenny Golladay, Lions
Golladay brings much-needed size (6-4, 218) to a Detroit offense which probably missed Calvin Johnson a bit more than the numbers showed last season. PFF credited him with five career drops among 165 catchable targets, so the Lions have reason to believe he can contribute as a red zone option right way despite being raw. He also runs 4.5, so he is an intriguing size/weight/speed talent. Make no mistake about it, however, the Northern Illinois product is a project. Golladay will probably spend the first year or two of his NFL career on special teams while occasionally providing Matthew Stafford a big target in the end zone.
3.34 - WR Chad Williams, Cardinals
Williams was arrested last May for firearm and marijuana possession, which is the main reason why a 6-1, 207-pound receiver with 4.43 speed and good production along with a solid showing in the Senior Bowl is still available at No. 98. The Grambling product plays bigger than his size and hard to bring down, although he is a bit too much straight-line to ascend to starting status at some point in Arizona. He'll likely be stashed behind John Brown and J.J. Nelson for the foreseeable future, even after Larry Fitzgerald retires.
3.36 - TE Jonnu Smith, Titans
Smith was an ultra-productive player at Florida International and should be a savvy pick for Tennessee in that he is probably the tight end most like Delanie Walker in this draft, which suggests the Titans hope he eventually takes over for the veteran. The 6-3, 248-pounder has endured his share of adversity over the last two years, missing the final four games of the 2015 season with a knee injury before he was a victim in an incident in which his girlfriend poured boiling water on him this past fall. Smith is actually very quick for his position (short-shuttle time of 4.18 is better than the combine average for receivers) and an above-average route-runner, although his hands are a bit inconsistent and his blocking needs work. He can be ignored in fantasy, but he is a nice insurance policy for Walker.
3.40 - QB C.J. Beathard, 49ers
New HC Kyle Shanahan has a nice track record for developing quarterbacks, but the selection of Beathard feels much more like a selection of a signal-caller who he hopes will emerge as a long-term backup. Beathard did play in a pre-style offense at Iowa, but he is very much an average prospect with very little upside.
3.41 - RB James Conner, Steelers
Interesting, interesting, interesting. If Le'Veon Bell is "new school" and redefining the running back position because of his patience and footwork, then Conner is "old school" in that he is a hammer who dishes out punishment with this straight-ahead style. Conner really needs to line up seven yards in the backfield and allowed to get a head of steam built up in order to be his most effective, and Pittsburgh should allow him that opportunity on the few occasions Bell needs a breather. Conner shouldn't have much problem becoming Bell's handcuff in short order - a job description which will should make him one of the most sought-after backup running backs in fantasy.
3.42 - WR Amara Darboh, Seahawks
While he is nowhere near the physical specimen of former Super Bowl star Chris Matthews, one can't help but wonder if Seattle is hoping the 6-2, 214-pound Darboh can give the offense the same kind of contribution, albeit more consistently. Darboh comes from a pro-style offense with Michigan and simply does what he is supposed to on just about every play, which helped him outperform more highly regarded teammate Jehu Chesson. Unfortunately, he doesn't stand out in any one particular area, so he'll have to get by on being a jack of all trades in the NFL. He's likely to be more of a special-teams contributor for the foreseeable future than fantasy contributor.

---
Doug Orth has written for FF Today since 2006 and been featured in USA Today's Fantasy Football Preview magazine since 2010. He hosted USA Today's hour-long, pre-kickoff fantasy football internet chat every Sunday in 2012-13 and appears as a guest analyst on a number of national sports radio shows, including Sirius XM's "Fantasy Drive". Doug is also a member of the Fantasy Sports Writers Association.