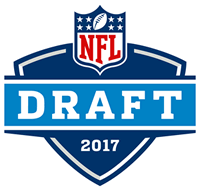 4.03 – WR Dede Westbrook, Jaguars
A second-round receiver based on production, Westbrook last until the third day based on off-field issues and character concerns. The Oklahoma product basically carried the Sooners' passing game in 2016 and should be able to give Jacksonville a bit of a deep threat as an owner of 4.38 speed. At 6-0 and 178 pounds, he isn't ready to hold up to full-time duty and will be hard-pressed to bypass Allen Hurns or Marqise Lee on the depth chart anytime soon.
4.07 - RB Samaje Perine, Redskins
Washington got a lot of mileage out of Rob Kelley last year, but the Redskins could very well be drafting his eventual replacement here. Perine rivals Leonard Fournette as among the most physical runners in this draft, and he possesses more speed than Kelley. Although Chris Thompson will continue to hold onto the majority of passing-down duties, Perine also is a more natural receiver than Kelley. "Fat" Rob will almost certainly begin the season as the starter, but it should really only be a matter of time before the NCAA single-game record-holder in rushing yards passes him on the depth chart. He should be able to give Washington what it hoped it was getting for Matt Jones and is certainly worth a look late in redraft leagues.
4.10 - WR Josh Reynolds, Rams
Los Angeles continues to remake its receiving corps, and Reynolds is a solid addition who could be starting - along with Cooper Kupp - by the end of the season. Reynolds is a long-strider who may be the best bad-ball/50-50/end-zone fade receiver in this draft. At 6-3 and 194 pounds, he needs to add some muscle, but he gives the Rams a much-needed tall wideout who can potentially bail Jared Goff. There is a bit of Alvin Harper to his game, and he could eventually settle into being a very good No. 2 receiver in the NFL.
4.13 - RB Tarik Cohen, Bears
The 5-6, 179-pound Cohen is virtually no kick or punt return experience, so Chicago is rolling the dice he can earn his keep as an explosive third-down/passing-down option. Here's saying he will. Nicknamed "The Human Joystick", Cohen is ridiculously elusive and should become a fan favorite in short order. Most amazingly for a player of his size, he is a bit of a freak show physically with huge hands (10 1/8") and a powerful lower half. He obviously presents no threat to Jordan Howard, but Chicago will almost certainly try to use him in a Darren Sproles-like fashion, which obviously makes him a potential fringe option in PPR leagues.
4.15 - RB Joe Williams, 49ers
Sitting behind Carlos Hyde and Tim Hightower on the depth chart, Williams isn't going to see any immediate playing time, but he's going to be worth a stash in deeper leagues given Hyde's injury history and Hightower's age. Furthermore, any middle-round pick new HC Kyle Shanahan makes needs to be monitored. Williams is a more physical runner than his size (5-11, 210) might indicate, and it is very possible Shanahan sees this Utah Ute as his new Tevin Coleman, although he has work to do as a receiver. Still, with the issues Hyde and Hightower (one-year contract as well) have, Williams is a dark-horse candidate to be a lead back in San Fran by 2018.
4.21 - TE Michael Roberts, Lions
Eric Ebron has been put on notice, as if the fact Detroit not yet picking up his fifth-year option wasn't enough. The 6-4, 270-pound Roberts is more Brandon Pettigrew than Ebron, but he gives Detroit a dependable set of hands as a possession receiver and a plus-blocker in the run game, which makes him a possible three-down option if the Lions want to move on from Ebron at some point in the near future. While this selection means more for the running game now than it anything, Roberts has a shot of being a starter in 2018 and a low-end fantasy TE2 option at that point.

4.26 - RB Donnel Pumphrey, Eagles
Philadelphia obviously has no desire to move away from a running back by committee. While Pumphrey leaves college football as the NCAA's all-time leading rusher, he is much more likely to replace Darren Sproles as the team's primary passing-down option in 2018 than steal the starting job. Like Sproles, the 5-8, 176-pound Pumphrey made his living at San Diego State thanks to elusiveness and speed - qualities which will allow him to excel in the return game and on designed shot calls when the Eagles see a matchup they like.
4.27 - WR Ryan Switzer, Cowboys
Switzer was a dynamic slot option for North Carolina this season and quickly emerged as Mitchell Trubisky's favorite option in the passing game. He is better known for his exploits as a return man, tying the NCAA record with five punt return touchdowns in 2013 and finishing one shy of the NCAA career mark with seven. On the surface, Switzer seems like he'd be a carbon copy of Cole Beasley, but the former is a better all-around player and will probably overtake him at some point this year or next. He's obviously not going to overtake Dez Bryant as Dak Prescott's top option, but Switzer should eventually be able to become a consistent 50-catch player and will obviously have a ton of upside in return leagues.
4.28 - RB Jamaal Williams, Packers
Attention, fantasy owners: we have our first Day 3 running back who should have immediate value in redraft leagues. Williams did not get nearly enough buzz during the draft process and should quickly find himself working in tandem with Ty Montgomery as the power complement in the Packers' backfield. Williams' leg drive is among the best in this draft and, to that end, PFF charted him with 55 missed tackles in 2016, eighth-best in this draft class. Williams is a bit more than just a between-the-tackles bully, however, as traditional power backs typically don't fare overly well running behind zone-blocking lines, which is what he did for the Cougars. He is fast enough to hit the edge and repeatedly shows the vision to do a lot of damage once he plants his foot in the ground. Williams only fumbled twice on 369 touches over his last two seasons as well. Long-term, the Packers may have just found themselves their successor to Eddie Lacy.
4.34 - RB Wayne Gallman, Giants
Gallman finds himself in a pretty good situation, but a bit of an ordinary runner and may not give the G-Men anything more than a younger, more powerful version of Bobby Rainey. Paul Perkins' job security should remain pretty safe with this pick, even if he loses a few short-yardage/goal-line carries to the new guy as a result of this selection. Gallman should probably be selected late in deeper leagues because he should be the No. 2 option in relatively short order, but he doesn't possess a ton of upside.
4.35 - WR Chad Hansen, Jets
Just about every skill-position player drafted by New York warrants a write-up, if only because the Jets are in full-scale rebuild mode. Hansen has a bit of Eric Decker in his game but should be a long-term reliable possession receiver in the league. Especially given the quarterback situation, Hansen isn't anywhere close to being on the radar in redraft leagues, but his is a name to keep in mind down the road.
4.37 - RB Marlon Mack, Colts
Perhaps it shouldn't be all that surprising given the depth of this draft class, but it comes as a bit of a shock a big-play back like Mack is still available. With only Robert Turbin and Josh Ferguson in front of him, South Florida's all-time leading rusher becomes a name to know in fantasy with Frank Gore near the end. Mack is also an exciting cutback runner with enough power to break arm tackles, although he runs a bit too upright at this point to be considered an "inside runner" - something Gore should be able to help him with. Mack does his best work on the perimeter, however, and he will be able to contribute more in the passing game than his 65 receptions over three seasons might suggest. On 651 career offensive touches, he committed 12 fumbles - a rate of 1.8 percent (roughly 2.5 times what evaluators deem acceptable). With that said, it might take a year or two for Mack to get there, but once he irons out his flaws, he has a good chance of being a lead back at the next level.

---
Doug Orth has written for FF Today since 2006 and been featured in USA Today's Fantasy Football Preview magazine since 2010. He hosted USA Today's hour-long, pre-kickoff fantasy football internet chat every Sunday in 2012-13 and appears as a guest analyst on a number of national sports radio shows, including Sirius XM's "Fantasy Drive". Doug is also a member of the Fantasy Sports Writers Association.