It's crunch time and the last of the bye weeks. I trust your roster is set to produce at peak efficiency for the final few weekends and into the playoffs. If not, don't be afraid to trade depth in exchange for a better starting lineup.

Truths

The man who fears no truth has nothing to fear from lies.

- Thomas Jefferson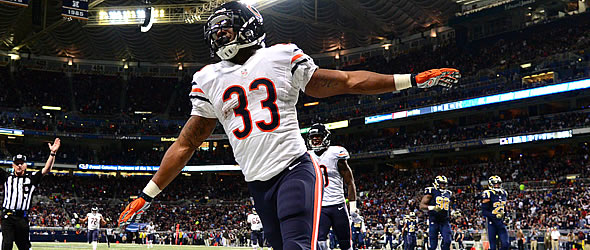 Big Bears Backup: Jeremy Langford has rolled up 50.4 fantasy points as a starter the last two weeks.


1) Jeremy Langford won't disappear upon the return of Matt Forte.

While DeAngelo Williams combined for 224 yards and three TDs during his two-week replacement of Le'Veon Bell to start the season for the Pittsburgh Steelers and then sat for a long time, the rookie Langford (324 yards and three TDs in Weeks 9 and 10) won't go back to sitting on the bench like Williams even if Forte is ready to go on Sunday. The difference is that Williams, at 32-years-old, is not the future in Pittsburgh, but with Forte in the final season of a four-year $30.4 million contract and less than 25 days away from his 30th birthday, Langford (a fourth-round selection who is signed through 2019 at an average salary of $705,000) could be a more cap-friendly future for the Bears running game.

2) Peyton Manning's performance on Sunday was the worst of his career.

True. The only two times he threw for fewer yards (5-for-20 for 35 yards and 4 INTs) were in games he was only playing in the first series to keep his start streak alive after his team had clinched a playoff berth. Manning has thrown four or more interceptions five other times, but in those cases passed for at least 285 yards and a touchdown. Fantasy owners were forewarned of this season's poor production by the way he finished 2014, so it shouldn't come as a complete surprise that the end of Manning's Hall of Fame career is just a couple of months away. Even when he gets healthy he can't be counted on to produce starter-worthy numbers.

3) There is almost no statistical data to help us evaluate Denver's Week 11 starter - Brock Osweiler.

Osweiler's career to date consists of a total of 54 passes (24 last Sunday) for 305 yards, two touchdowns and one interception. He only played one full season at Arizona State where he threw for 4,036 yards and 26 touchdowns (13 INTs). The good news is that he has a couple of pretty good wide receivers and faces a Bears' defense that has just five interceptions this season while yielding 17 touchdown passes. He should have low-end starter value in fantasy leagues this Sunday.

4) Danny Amendola can successfully replace Julian Edelman in your fantasy lineup.

As the starter, Edelman produced 61 receptions for 692 yards and seven touchdowns on 88 targets. That's 1.28 fantasy points per target. Amendola has posted 40 receptions for 403 yards and two touchdowns on just 48 targets. That's 1.11 per target in a part-time role and is higher than the Patriots' other option - Brandon LaFell (.8 FPts/T). Amendola may not be equal value to Edelman, who wasn't quite the equal to Wes Welker, but he's still going to produce as a starter. He is owned in less than 50-percent of all fantasy leagues, so make sure to place your waiver claim.

5) Eagles Week 11 starting quarterback Mark Sanchez can be a viable fantasy option.

That's not to be confused with a viable winning option for the Philadelphia Eagles and their fans. Sanchez has proven that he can post numbers in a Chip Kelly offense, but he's also shown he will make a critical mistake when the team needs him most. The frequent mistake at crunch time won't change the fact that, for fantasy owners, he averaged 21.3 fantasy points per game last season in nine games. The Eagles new starting quarterback is owned in less than 20 percent of all leagues and will be a more reliable fantasy option than unknown Brock Osweiler. In fact, 21.3 ppg is better than Matt Ryan (20.9), Ryan Tannehill (20.8), Matthew Stafford (20.3) and Russell Wilson (20.1) are averaging this season.



Lies



History is strewn thick with evidence that a truth is not hard to kill, but a lie, well told, is immortal.

– Mark Twain




1) The recently fired Rob Ryan has been a good defensive coordinator in the past.



A lie well told. Ryan has been a poor DC since 2004 after four successful years as linebacker coach for the Patriots. His defensive teams in Oakland (2004-08), Cleveland (2009-10), Dallas (2011-12) and New Orleans (2013-15) were almost always below average. In fact, his teams have finished in the bottom half of points allowed in 10 of 12 seasons. His 2015 Saints are particularly bad allowing a league-worst 31.5 ppg this season. He's a media creation with his flowing hair, his scowl and a familiar last name, but you should always start your fantasy players against a Rob Ryan defense.

2) The Indianapolis Colts will struggle without their star quarterback Andrew Luck.

The Colts are 2-5 under Luck and 2-0 with 40-year-old Matt Hasselbeck under center. Want more? Luck's completion percentage is 55.3 percent while Hasselbeck's is 63.2 percent. Luck has 15 touchdown passes and 12 interceptions. Hasselbeck has three touchdown passes and no interceptions. Luck's QB rating is 74.9, Hasselbeck has a 95.0 rating. The Colts face the Falcons, Buccaneers, Steelers and Jaguars over the next four weeks and three of the four are in the bottom half of the league in passing yards allowed and touchdown passes allowed. Hasselbeck could be a viable fantasy option in all four games if needed.

3) Devonta Freeman is still the best fantasy running back in the league.

This is a false statement. Over the past three games Freeman has posted just 13 fantasy points in each and has failed to run for a touchdown after rushing for nine in the first six games. There are 10 running backs who are averaging above Freeman's level over the past three contests led by Charcandrick West (23.2), Adrian Peterson (19.6), Langford (18.3) and Todd Gurley (17.5). While Langford's value for the remainder of the season is to be determined, the other three backs are trending in the correct direction.

4) It was smart to move Brandin Cooks after his slow start and the emergence of Willie Snead.

Cooks' rise in production of late can be directly related to the improved play of his now healthy quarterback Drew Brees. Brees leads the NFL in fantasy points over the past three games (36.5 ppg) and Cooks is averaging 18.9 ppg over the same span. He's scored five times after reaching the end zone just once in the first seven contests.

5) As the eighth overall selection in the 2013 draft, Tavon Austin has been a complete disappointment.

A half-truth. I would agree that his first two seasons left a lot to be desired, but in 2015 Austin is finding a way to produce despite subpar quarterback play. He's averaging 9.9 points per game this season and 11.4 ppg over his last three games. He's had to use his running ability to produce at this level and his 225 rushing yards leads all wideouts by a huge margin. Hopefully, the recent change at quarterback in St. Louis will help Austin's receiving numbers, but as long as Coach Jeff Fisher gives him the opportunity to run the ball he should continue to be a WR2.


---
Steve Schwarz served as the fantasy sports editor of The Sports Network and is the 2014 FSWA Football Writer of the Year.