For many, it's the first round of the fantasy playoffs. We're talking one-and-done from here on out. Install your best lineup and hope to "survive and advance."

Truths

Rather than love, than money, than fame, give me truth.

- Henry David Thoreau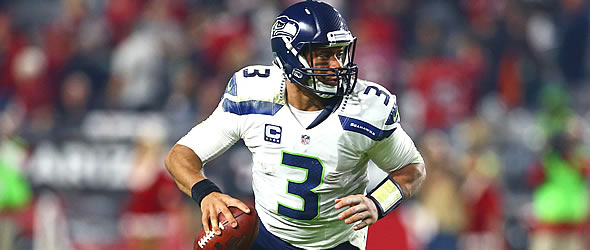 Russell Wilson will have to continue his hot streak if he's going to duplicate his 2014 fantasy season.




1) Seattle quarterback Russell Wilson has disappointed fantasy owners this season.



True, but it's not his arm that is the problem, it's his legs. Wilson has already thrown more touchdown passes than he did in 16 games last season (21 vs. 20). He'll likely throw for more yards too, as he's averaging 249.8 ypg vs. 217.2 ypg in 2014. No, the problem is with his legs. Last season Wilson rushed for 849 yards and six touchdowns, but in 2015 he's rushed for just 450 yards and one score. Even extrapolating through 16 games, his legs will yield 53.1 less fantasy points in 2015.



2) Peyton Manning ranks 36th in FPts/G this season, producing 16.1 per game.



Manning averaged 23 FPts/G over the first 14 years of his career (224 games), but it appears he can't play in Gary Kubiak's "system." Incidentally, Brock Osweiler is also producing 16.1 FPts/G, so fantasy owners who plugged him into their lineup hoping for an increase in production are probably still disgruntled.



3) Handcuffing running backs really works.



Three of the top-five running backs based on FPts/G have been lost for the season and in two of the three cases the replacement has put together very good numbers. After Jamaal Charles (16.8 FPts/G) went down, Charcandrick West has done an excellent job as his replacement. It's the same story with Le'Veon Bell (14.5) and DeAngelo Williams. It's only in Houston, where the Texans haven't found a good option to replace Arian Foster (14.3), that fantasy owners have come up short. And don't forget the job Jeremy Langford did when Matt Forte injured his knee.



4) Jacksonville's Allen Robinson has become an elite receiver and is in the running for "Sleeper of the Year."



Just check out the top-five fantasy receivers: DeAndre Hopkins (14.7 FPts/G), Antonio Brown (14.7), Odell Beckham Jr. (14.6), Robinson (14.5) and Julio Jones (14.2). The difference between Robinson and the other four wideouts is that the other receivers were first- or second-round fantasy selections while Robinson was a sixth-round option (ADP 64). Robinson leads all wideouts with 11 touchdown catches after a three-touchdown, 33.3-point performance last Sunday. Next up for Robinson is a matchup against the less-than-elite Colts pass defense.



5) Doug Baldwin has become a WR1.



After posting single-digit fantasy points in seven of the first eight games, Baldwin has averaged 19.8 FPts/G since Seattle's Week 9 bye. With Jimmy Graham gone for the remainder of the season, Baldwin should remain a top option. Strangely, he's owned in less than 65 percent of all leagues. The Seahawks face two bottom-five pass defenses in Baltimore and Cleveland in the first two rounds of the fantasy playoffs, so if he's still available in your league, pick him up today and start him on Sunday.



Lies



It is easier to believe a lie that one has heard a thousand times than to believe a fact that no one has heard before.

- Unknown source

1) "I knew the Eagles were going to upset the Patriots this week," unknown Eagles fan.

A complete lie. Not even Philly fans thought they had a chance last Sunday. It was the Philadelphia defense/special teams that led the way, as they did many times in 2014 when they led the league in fantasy points behind 11 return touchdowns. They have totaled just six this season after hitting for three (a blocked punt, punt return and interception for touchdown) against the Patriots. That combination has only happened three times in NFL history: by the 1992 Eagles, 2014 Eagles, and 2015 Eagles. Despite giving up 302 points in 12 games this season, last Sunday's points barrage pushed the Eagles D/ST into second place behind only Denver averaging 7.6 FPts/G.



2) As we saw on Sunday, Tom Brady's fantasy value shouldn't take a hit even without Rob Gronkowski in the lineup.



False. Despite posting 35.3 points against the Eagles last Sunday, since 2010 when Gronkowski arrived in New England, Brady has averaged 24.8 FPts/G with his favorite tight end in the lineup and just 19.6 when he is inactive. "Gronk" is unlikely to return from his knee injury for the matchup with Houston in Week 14.



3) Marcus Mariota proved last weekend that he's ready to lead your fantasy team to the "promised land."



Not so fast. Yes, he put together a monster game against Jacksonville, throwing for three touchdowns and running for a fourth, but the rookie is not yet ready for "Prime Time." Mariota has learned how to beat up on his weakest opponents, but he's struggled against the better teams. He's averaged 28.3 FPts/G against; Tampa Bay, Cleveland, Indianapolis, New Orleans, Oakland and Jacksonville, none of which ranks above 20th in defense against opposing quarterbacks, but just 13.6 against Buffalo, Miami and Carolina. The schedule has Tennessee facing the New York Jets, New England Patriots and Houston Texans over the next three weeks so be careful about using him in the playoffs.



4) Buffalo tailback LeSean McCoy holds no ill-will toward former coach Chip Kelly.



For the former Eagles star, it's a perfect time to return to Philadelphia. He's healthy. He's posted double-digit fantasy points in seven straight games and he can deal a crushing blow to Kelly's miraculously-still-alive playoff hopes with a Bills win at Lincoln Financial Field. The Eagles rank 27th in rushing yards allowed and 20th in fantasy points to opposing running backs. And don't forget the off-season controversy McCoy stirred up by calling his former coach a racist. It's unlikely that the pair will shake hands before or after the game.



5) The Pittsburgh Steelers offense is rolling at just the right time with the fantasy playoffs set to start this week.



While it's true that the Steelers are averaging 35.75 ppg over the past four games, check out their schedule before getting too excited. Pittsburgh faces Cincinnati at Paul Brown Stadium (ranked sixth against opposing QBs, eighth against RBs and 10th against WRs) on Sunday. They could only score 10 points against the Bengals in their previous meeting. Then Pittsburgh hosts the best defense in the NFL in Week 15 – Denver. It's not likely that you will want to sit Ben Roethlisberger, Antonio Brown, Martavis Bryant or DeAngelo Williams over the next two weekends, just don't expect them to be as productive as they have been over the past month.


---
Steve Schwarz served as the fantasy sports editor of The Sports Network and is the 2014 FSWA Football Writer of the Year.