Opening up a box score or checking season totals for yards rushed, thrown and caught can tell you quite a lot, but not everything you need to know about your fantasy player. You have to delve deeper into the statistical world if you want to know what really happened and how it will help, or hurt, your fantasy hopes and dreams of holding up the trophy at the end of the season.

Listed below are five times when the numbers don't tell the whole story and five times when they do.

The Numbers Lie –

1. Itís a myth that Thursday night football hurts fantasy owners with poorly-played, low-scoring games because coaches donít have adequate time to prepare. Yes, in the first two seasons teams combined to average a putrid 35.25 ppg in 2011 and 37.84 ppg in 2012, but coaches have learned their lessons well. Teams combined for 46.28 ppg in 2013 and 47.93 ppg last season. Last seasonís total was above the regular season average points scored per game for the first time in history. The Steelers and Patriots totaled 49 points in the season opener and Denver vs. Kansas City in Week 2 should be a decent scoring game as well. Install players into your lineup for Thursday nightís game as if it were any other game.

2. The Bearsí defense gave up just 189 yards passing in Week 1, well below the league average of 232.2 ypg. You might think they had a good day defending the leagueís best passer Ė Aaron Rodgers. That would be a wrong assumption. Rodgers was 18-of-23 for 189 yards and three touchdowns and posted a 140.5 QB rating. Thatís without Jordy Nelson and Randall Cobb at less than 100 percent due to a sore shoulder. Watch the Bearsí defensive numbers plummet after Week 2 when Carson Palmer, who is 6-0 over his last six starts and averaging 276 ypg comes to town.

3. Allen Hurns led Jacksonville in receiving yards (60) and Allen Robinson led the Jaguars in yards-per-catch (27.0), but it was rookie Rashad Greene who was targeted a team-high 13 times, catching seven balls for 28 yards, including a touchdown. Anyone who is seeing double-digit targets on a regular basis will be a factor going forward. Watch Week 2 against Ndamukong Suh and the Miami Dolphins to see if this was a one-game fluke or a growing trend. Heís owned in less than 1% of all Yahoo leagues and could be worth a flier.

4. Tennessee rookie quarterback Marcus Mariota toasted the Tampa Bay Bucs in his NFL debut by going 13-of-16 for 209 yards, four touchdowns and a perfect 158.3 QB rating. Come on people Ö it was Tampa Bay. Iím a huge Mariota fan and on draft day wanted him to end up with my hometown Philadelphia Eagles, but he and his receivers arenít THAT good. Expect a lot of rough patches over the next 15 games and donít go wild trying to trade for him after his impressive start. Hey, even Bishop Sankey looked good last Sunday. We will find out more about the rookie quarterback in Week 2 when he faces the Browns who gave up a league-low 57.1 percent completion rate a season ago and yielded just 179 passing yards in the 2015 season opener.

5. Atlanta rookie Tevin Coleman appeared to get the best of Devonta Freeman in their RBBC situation. Coleman looked very good running the ball for 80 yards on 20 carries. Beware, the Falcons were ahead for 57 of 60 minutes and still the split was 44-of-77 plays for Coleman (57 percent) and 29 plays for Freeman (38 percent). Freeman is the better receiver out of the backfield. This battle isnít over so donít go crazy if you are trying to trade for the Falconsí rookie after his nifty Week 1 showing.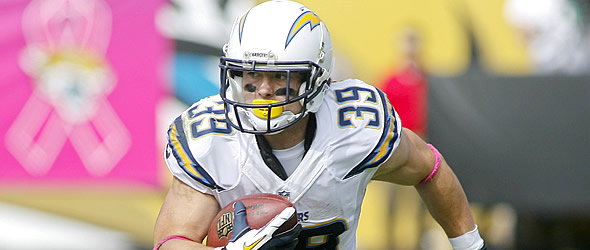 Danny Woodhead's snap count numbers in Week 1 suggest he'll be a viable Flex play on a weekly basis.





The Numbers Tell the Truth -





1.

Chargers rookie Melvin Gordon (ADP 34) saw less playing time than backup Danny Woodhead. The veteran was on the field for 42 plays to 36 for Gordon and scored twice in the red zone. Get used to this fantasy owners because management and quarterback Philip Rivers trust Woodhead and heís getting the same usage as in 2013 when he backed up Ryan Mathews. Gordon may be a very good value in dynasty leagues, but as long as Woodhead is healthy the rookieís role will be limited. By the way, Woodhead is still available in 50 percent of all Yahoo leagues and would be an excellent waiver addition for those who lost a running back due to injury.



2.

OK, maybe there IS something wrong with Peyton Manning. He threw the ball 40 times and ďamassedĒ just 175 yards with zero touchdowns and one interception. In 257 games over his Hall of Fame career, Manning has thrown for less than 180 yards just 25 times and that includes six games in which he only played the first quarter to keep his consecutive played streak alive while his team was getting ready for the playoffs. However, Manning has thrown for under 180 yards in three of his last six games! Heíll get a chance to redeem himself with fantasy owners next week against the Kansas City Chiefs, but if you have a solid backup quarterback you might want to play him as Manning threw for just 179 yards against the Chiefs in November of 2014.



3.

The Eagles lost to Atlanta Monday night, but Sam Bradfordís performance should have won over fantasy owners. The quarterback took plenty of hits and survived. He and his Eagles only showed up for the final 30 minutes and still he produced big yardage numbers (36-of-52 for 336 yards, one TD and two interceptions). The Eagles used the short pass as a running play and his fantasy owners have to like that. DeMarco Murrayís owners may not be quite as happy. Start Bradford as long as he can still stand up and walk without a severe limp.



4.

Larry Fitzgerald, once a first-round selection and now mired with a preseason ADP of 79, led the Cardinals in targets (8), receptions (6) and yards receiving (87). OK, he didnít catch any of Carson Palmerís three touchdown passes, but heís a much better player than an eighth-round selection with the veteran Palmer under center. The Cardinals face a Bears defense that yielded 264.4 ypg a season ago and 34 touchdowns passes (second worst in the league). The Bears gave up three more touchdown passes in Week 1 to Rodgers. Fitzgeraldís fantasy value should be high for Week 2.



5.

The Chargers passing game posted 404 yards against Detroit on Sunday. The return to health of Keenan Allen and Danny Woodhead, the re-energized Steve Johnson and Ladarius Green playing the ďAntonio Gates roleĒ give Rivers all the weapons he needs to succeed. Now he just needs his offensive line to continue to give him the time to throw and this could be a regular occurrence. Rivers was a fast starter last season too (2,213 yards, 20 TDs, 5 INTs in first eight games) and appears to be repeating that trend in 2015. Make sure heís in your lineup again in Week 2.
---
Steve Schwarz served as the fantasy sports editor of The Sports Network and is the 2014 FSWA Football Writer of the Year.