Truths

The truth may not lead you to where you thought you were going, but it will always lead you somewhere better. – Source unknown

1) "If you run the ball well, you usually protect your quarterback better," said Broncos coach Gary Kubiak at Monday's press conference.

This is particularly important when you start a 39-year-old quarterback. Despite being 2-0, Denver's offense has struggled and needed their defense to bail them out in both wins. Not coincidently, starting tailback C.J. Anderson (24 attempts for 56 yards) has been one of the biggest early season disappointments for fantasy owners considering his first-round ADP. He'll get a chance to save his starting job in Week 3, but his owners should already own, or be putting in a waiver claim, for backup Ronnie Hillman as insurance.

2) Bill Belichick is a migraine headache for anyone who owns a New England Patriots' running back.

Nothing new to see here. For those who thought the return from a one-game suspension to LeGarrette Blount would mean he'd be fantasy-worthy in Week 2, welcome to the "World According to Belichick." Blount made it onto the field for just seven of 86 snaps last Sunday and rushed twice for four yards - both attempts late in the fourth quarter. Of course, everything could change next week so those fantasy owners jumping on the "Dion Lewis train" be wary. The constantly changing running back situation is why Belichick is the greatest thing for Excedrin sales since Mike Shanahan.

3) Arizona Cardinals signal caller Carson Palmer is the No. 3 fantasy quarterback, ahead of the likes of; Aaron Rodgers, Matt Ryan and Russell Wilson.

In last week's Truths and Lies column, we told you how we liked both Palmer (four TD passes) and Larry Fitzgerald (8-112-3). Palmer faces the San Francisco 49ers this weekend who are yielding a league-worst 10.2 yards per attempt. I like Palmer again this week too. The 49ers will face Rodgers in Week 4 so this could be the start of a trend – going against the San Francisco secondary.

4) When Cam Newton is running the football he's a better fantasy option.

If Newton runs the ball at least eight times in a game, he's averages 26.3 fantasy points. When he isn't thinking run and has five-or-less carries in a contest, he averages just 19.2 points. He'll face division rival New Orleans this weekend and they rank 27th in QB fantasy points allowed.

5) After two games Emmanuel Sanders has more fantasy points than Broncos teammate Demaryius Thomas.

Sanders isn't a better receiver than Thomas, but because Thomas is more explosive and strikes fear into the heart of defensive coordinators, opposing teams create strategies to stop Thomas first, last and always. This will inevitably lead to Sanders out-scoring Thomas in fantasy leagues in 2015. It's not like Sanders isn't a good receiver - he posted 101 receptions for 1,404 yards and nine touchdowns last season. In just his second campaign catching passes from Peyton Manning, Sanders has a better chance to repeat his 2014 production than Thomas.

Lies

There are three kinds of lies: lies, damned lies, and statistics. - Benjamin Disraeli (1804-1881) British politician and author

1) Chip Kelly's Philadelphia Eagles rolled through the preseason averaging a league-leading 404.2 ypg and 33.2 ppg.

So far, all it means is that his fast-paced offense works against "vanilla" defenses and against players who may or may not make their team's 53-man roster. What we've seen through the first two weeks of the 2015 season is that the Eagles offensive line is really offensive and that the lack of elite speed on the outside (or maybe the fear of getting Sam Bradford hurt), keeps the Eagles offense from stretching defenses. The result is seven and eight men in the box and a total of 70 yards rushing on 33 carries (2.1 ypc). Fantasy owners must stay away until the coaching staff gets this problem fixed.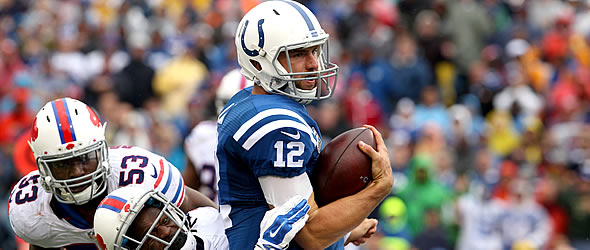 It's no time to panic. The schedule gets softer beginning this week (TEN) for Andrew Luck and Co.





2) The Indianapolis Colts have scored a league-low 21 points this season and it's already time to trade them for any reasonable offer.



As Aaron Rodgers once said, "R-E-L-A-X." Sure, the Colts haven't put it together, but they have gone up against the Buffalo Bills and New York Jets – two pretty good defensive teams. Fear not, Andrew Luck and company will produce as you expect. They were 0-2 last season too. It's time to show patience and let head coach Chuck Pagano repair what needs to be fixed. Besides, except for Luck, you wouldn't receive anything close to draft day value.

3) There have been nine extra points missed in two weeks versus the historic average of 7.4 misses for the entire season over the past five years.

Field goal kickers are actually doing pretty well in 2015 when you consider it's now a 33-yard extra point. They have made 146-of-155 attempts for a 94.1 percent success rate. That number compares favorably to the 88.9 percent success rate place-kickers have averaged over the past five seasons from 30-39 yards (1,283-of-1,442). Going to the extreme, if every coach went for a two-point conversion last season and made it at last year's success rate (47.5 percent) they would have totaled 1,168 points versus an expected 1,157 points at this season's extra-point success rate. That's not much of an advantage for such a big risk, so don't expect a lot of coaches to follow Mike Tomlin's Week 2 example.



4) Cincinnati Bengals running back Giovani Bernard out-touched starter Jeremy Hill 23-to-11 in last Sunday's game against San Diego and could become a fantasy-worthy option.



Don't go crazy over this statistic as Hill was being benched for fumbling twice. Hill will be the starter in Week 3 and as long as he holds on to the football should return to workhorse status. The second-year running back fumbled five times in just 249 touches last season which was tied for second highest among backs (DeMarco Murray led with six in 449 touches), so the second half was a teaching moment for head coach Marvin Lewis.



5) Michael Crabtree's fantasy value is "dead and buried" and his rise from the ashes won't help quarterback Derek Carr take a huge step forward.



Ignored by most fantasy owners after showing little in the two years following his 2013 Achilles injury, the receiver posted his best numbers since December 2012 against the Baltimore Ravens last Sunday (9-111-1). Although his fantasy value will still be limited as the No. 2 option behind elite rookie Amari Cooper, the pair should help their second-year quarterback to be a fantasy-worthy starter. Quite an improvement over last season's receiving corps which consisted of; James Jones, Andre Holmes, Kenbrell Thompkins, Denarius Moore and Rod Streater. Carr (owned in less than 20 percent of all leagues) will still be hit-or-miss early this season with tough games against Denver and the Jets, but he should have more good days than bad. He's certainly a better option as a replacement for injured Tony Romo (out), Drew Brees (questionable) and Jay Cutler (out) than Brandon Weeden, Luke McCown or Jimmy Clausen.

---
Steve Schwarz served as the fantasy sports editor of The Sports Network and is the 2014 FSWA Football Writer of the Year.