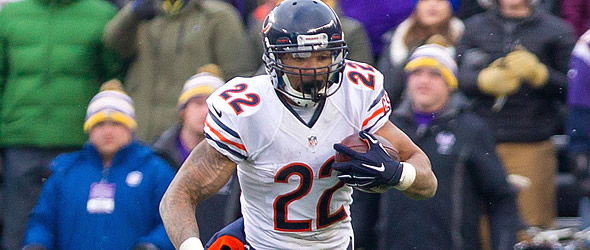 Forte is capable of being an "every-down-back" but will face competition from Powell and Robinson.


Matt Forte sees himself in a great spot.

"I envision myself in this offense with this team having a great defense and running the ball. Also being able to throw the ball to our big receivers, I just really felt like this would be a good fit for me."

Of course, we still don't know who the starting quarterback will be, but if Ryan Fitzpatrick returns then the New York Jets should be a balanced offense between Forte's running and the pass catching of his former teammate, Brandon Marshall, and Eric Decker.



Fantasy impact in Chicago



The eight-year running back out of Tulane has been a consistent fantasy stud since 2008, primarily because of his ability to catch the ball out of the backfield (487 receptions, 4,116 yards, 19 TDs). But in 2016, his numbers took a significant hit when the Bears started using rookie Jeremy Langford. Forte and his huge contract needs became expendable – enter the Jets who had a running back need of their own after losing Chris Ivory to Jacksonville.

Despite sharing time with Langford, Forte posted his fifth top-10 fantasy running back season in eight years and third in a row.



Projected impact with the New York Jets



The Jets signed Forte to a three-year, $12 million deal. Sounds good, until you check out the team's deal with backup Bilal Powell (three-years, $11.25 million). Then the Jets took a shot on former New Orleans Saints' running back Khiry Robinson.

So what is a fantasy owners to think?

Fantasy owners should think that Jets management was just doing their job.

Forte is a 30-year-old running back with 2,500 touches on his resume (2,035 rushing attempts, 8,602 yards, 45 TDs). So they bought some very expensive insurance for their new "workhorse" running back. Powell is a good pass-catcher, not in Forte's class, but solid. Robinson, given his 220-lb frame, could end up being a goal-line or short-yardage guy.

But let's not get ahead of ourselves. If Forte can stay healthy, he is still a three-down running back. Neither Powell, Robinson nor Zac Stacy is good enough to steal significant playing time.
The addition of Forte as a receiver for New York cannot be understated. In 2015, Marshall and Decker combined for 61 percent of the Jets' receiving yards. That total was the most in the NFL last season, and the 8th-highest percentage since 2002 among teams with at least 4,000 receiving yards.

Given the Jets' tight end choices of Jace Amaro and Zach Sudfeld, the team has limited upside at that position. So they brought in the best receiving back in the NFL. A back who averages 61 receptions per season and just two years ago hit triple digits.

But the street is not completely lined with "fantasy gold" in New York. There are problems which fantasy owners must acknowledge.

The Jets offensive line, once dominating, wasn't very good in 2015. In fact, they were ranked 26th overall by Pro Football Focus and 25th in the running game. The Bears, by contrast, ranked fifth in run-blocking and 16th overall. Nick Mangold and D'Brickashaw Ferguson will need bounce-back seasons and the team needs to fortify the line in the draft or free agency.

Also, Forte is not a great option at the goal line. He scored just three of nine attempts inside the 5-yard line last season. He's certainly no Todd Gurley (8-of-9 in 2015) or Devonta Freeman (9-of-14).

Then add in that Forte is 30-years-old with a lot of mileage … a time when most running back start to decline.

So what are we to make of Forte's fantasy value in 2016, given the above information?



Forte's 2016 fantasy value



First off, until the quarterback situation is answered, nothing is written in stone. But assuming Fitzpatrick returns to the fold, Forte should continue to be a top-10 fantasy back because he'll be the No. 1 running back option and the No. 3 receiving option on the team.

The Jets will likely try to limit him to about 300 touches in 2016. Approximately 240 of them on the ground and 60 receptions. Forte's career rushing average is 4.2, but behind this questionable Jets OL we will use 4.0 ypc for 960 yards and six touchdowns along with 60 receptions at 8.5 ypr for another 510 yards and a pair of scores. Combined total for 2016 – 1,470 yards and eight touchdowns.


---
Steve Schwarz served as the fantasy sports editor of The Sports Network and is the 2014 FSWA Football Writer of the Year.