It is said that the vice president is just a heartbeat away from assuming the duties of the President. The NFL equivalent is the backup. He's just one hard hit, or rolled ankle away, from being a starter. It's the reason fantasy owners must learn to handcuff at important positions.

But just as there is variety in life, so too, there are good backups and bad backups.

Because a player gets an opportunity to play doesn't necessarily mean he will succeed for his team, or fantasy owners. Some backups are in training to someday take over the starting role while others are just collecting a check until retirement.

Knowing the difference could win you a championship.

Just look at the Philadelphia Eagles quarterback situation in 2013. Michael Vick was the opening day starting quarterback. Early in the season, however, he was injured and backup Nick Foles replaced him in the lineup. Foles was ready to play and went on to a historical season throwing for 27 touchdowns against just two interception in 10 starts. Fantasy owners who handcuffed Foles didn't lose a beat when Vick went down.

That same season, Josh McCown replaced Jay Cutler in Chicago and went 3-2 in five starts, throwing 11 touchdowns against one interception and earning a 300-yard passing bonus three times.

On the other hand, when fantasy superstar Aaron Rodgers suffered a broken collarbone in Week 8 against the Bears later that year, neither Seneca Wallace (16-for-24 for 139, 0 TDs, 1 INT) nor Scott Tolzien (55-for-90 for 717 yards, 1 TD, 5 INTs) were fantasy-worthy replacements.

The situation isn't exclusive to quarterbacks.

Last season when Le'Veon Bell was suspended for the first two games of the season, backup DeAngelo Williams produced huge fantasy points for his owners with a 127-yard, 1 TD opener and a three-touchdown second game.

That, of course, was a planned absence. What wasn't planned was the injury to Cardinals starter Andre Ellington (PCL). First, Chris Johnson took over and played well until he broke his leg, then David Johnson grabbed the football and the rest was fantasy history.

So who will be ready to take over the reins this season?

Let's look at three quality backups at quarterback, running back and receiver.

Quarterback

1) Brett Hundley, Green Bay

He's never thrown a regular season pass, but he'd be coming into a very good situation with great receivers and excellent coaches. Just as Rodgers sat and watched a great quarterback in Brett Favre, so too is Hundley watching a great one, and we assume (hope), learning how it's done. Hundley posted excellent numbers at UCLA (9,966 yards passing, 75 TDs, 25 INTs) and he was 45-for-65 for 630 yards, 7 TDs and 1 INT in the 2015 preseason. He's a must handcuff for Rodgers owners.

2) Colin Kaepernick, San Francisco

Sure, there are a lot of issues with 49ers' backup Colin Kaepernick (multiple surgeries, head case), but no one can argue that, when healthy, he has the perfect physical tools for a Chip Kelly offense. He was Marcus Mariota at the University of Nevada before Marcus showed up at Oregon, and in the two years when he took over for Alex Smith in San Francisco from 2012 through 2013 he was an undeniable force. If, and it's a big if, Kelly can right this ship, it's possible he could be good once again when Blaine Gabbert inevitably fails.

3) Drew Stanton, Arizona

He's a veteran with little long-term value, but if Carson Palmer is injured for any length of time in 2016 Stanton has already proven he can get the job done. In 2014 he replaced Palmer for eight starts and went 5-3 with a decent 78.7 QB Rating. With the improved skill position talent on this team in 2016, I'd expect him to be even better.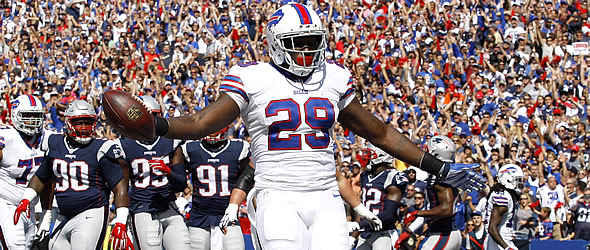 Talent and offensive scheme make Karlos Williams one of the key handcuffs for fantasy owners.




Running Back



1) Karlos Williams, Buffalo

As a rookie he rushed for 100 yards on two occasions … and didn't start either game! Williams averaged an elite 5.6 ypc last season and scored nine times while backing up four-time Pro Bowler LeSean McCoy. Should anything happen to McCoy, who has started all 16 games in a season just twice in his seven-year career, Williams should be able to step right in and play at a high level.

2) DeAngelo Williams, Pittsburgh

The 11-year veteran was a fantasy stud when called upon by the Steelers last season. He totaled 40 fantasy points in the first two games of the season (Bell suspension) and then averaged 19.3 FPts/G from Week 9 through the fantasy championship week (Bell injury). As scary as the Pittsburgh passing game is for defensive coordinators, Williams will have continued success this season if needed.

3) DeAndre Washington, Oakland

A fifth-round selection out of Texas Tech, DeAndre Williams may get a chance to show his stuff early in his career. The Raiders weren't particularly happy with Latavius Murray's production last season and would likely turn to the rookie if the trend continues in 2016. Although Oakland has Roy Helu (138 receptions over five seasons) on the depth chart, Washington is also adept at pass receiving (124 receptions) along with running the football (3,411 rushing yards in four college seasons).



Wide Receiver



1) Seth Roberts, Oakland

Roberts beat out Rod Streater for the No. 3 wideout spot in 2015 and finished the season with 32 receptions for 480 yards and five scores. Not bad for the guy considering the top two receivers, Michael Crabtree and Amari Cooper, saw a combined 276 targets to his 55. If the 28-year-old Crabtree falters or slows, Roberts would be in line to catch a lot more passes from up-and-coming Derek Carr. I'd like to have Roberts stashed on my bench if that happens.

2) Sammie Coates, Pittsburgh

A year-long suspension of wideout Martavis Bryant (50-765-6) moves Markus Wheaton into the starting lineup and shifts second-year receiver Sammie Coates into the backup role. Coates caught all of one pass last season, but at a minimum becomes the Steelers' third receiver in three-wide sets. He's an athletic freak of nature, who seems ready to take a jump forward after a good off-season, and could become a favorite target for Ben Roethlisberger if he gets an opportunity.

3) Marqise Lee, Jacksonville

The Jaguars have an elite pair of wide receivers in Allen Robinson and Allen Hurns so Lee isn't likely to earn a starting role any time soon, but if one of the starters goes down to injury Lee could be a viable fantasy option. Both "Allens" saw 100-plus targets and caught more than 1,000 yards and 10 touchdowns a season ago because the Jacksonville offense thinks "must score" to keep up with the opposition who racked up 448 points a season ago (28.0 ppg). Behind Blake Bortles, that wide open offensive strategy figures to continue until the Jags "newly improved" defense proves they can hold their own. Lee could become a good "next man up" if needed.

---
Steve Schwarz served as the fantasy sports editor of The Sports Network and is the 2014 FSWA Football Writer of the Year.