For many, Week 17 is the lull before the real NFL playoffs begin. But for some, this is championship week and for those select few, we will continue to advise you on lineup decisions.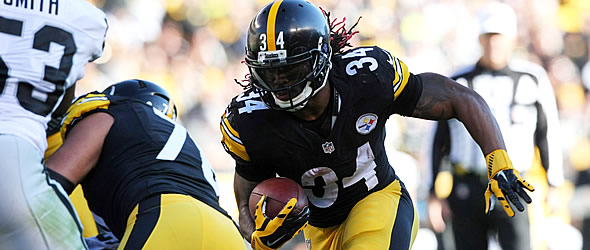 Wacky Week 17 where DeAngelo Williams or perhaps Fitzgerarld Toussaint will be an elite play.

Truths

"Truth does not become more true by virtue of the fact that the entire world agrees with it, nor less so even if the whole world disagrees with it." - Maimonides

1) Week 17 starting lineups are always an issue with stars sitting in preparation for the playoffs or off-season golf.

Example: Le'Veon Bell (20.2 FPts/G) may have carried you all the way to the final weekend, but with Pittsburgh locked into the No. 3 seed, there is no earthly reason he should see the field on Sunday. Those fantasy owners who handcuffed DeAngelo Williams or perhaps Fitzgerald Toussaint will be rewarded against a Cleveland defense that doesn't slow down many running backs. Other "locked in" teams to avoid include; Houston (AFC No. 4), Dallas (NFC No. 1) and the New York Giants (NFC No. 5).

2) I was right last week when I said Tyreek Hill would have trouble catching passes against the top-ranked Denver pass defense.

The Chiefs rookie wideout saw five targets, but didn't catch any of them. On the other hand, Andy Reid smartly used Hill out of the backfield and he rushed for 95 yards and a touchdown on just six carries. I guess that proves that sometimes you can be right and still be wrong.

3) Opportunity is the mother of invention.

You can be a great player, but unless you get a chance to show it, nobody will know. Backups who starred after getting a chance to start made the difference in many leagues. Dak Prescott, Jordan Howard, Jay Ajayi, Tyrell Williams and Tyreek Hill are a few examples of difference-makers who probably weren't selected on draft day.

4) It will take a miracle for the Tampa Bay Buccaneers to earn a playoff spot.

In addition to a win, the Bucs needs Indianapolis to beat Jacksonville, Dallas to beat Philadelphia, Detroit to beat Green Bay, Tennessee to beat Houston, San Francisco to beat Seattle and, finally, the Washington and the New York Giants to tie. Fortunately, with a 1 p.m. start time, fantasy owners will likely still get their best effort. You can start Jameis Winston, Mike Evans and even Jacquizz Rodgers.

5) Unlikely names will frequent the top-five at each position this weekend.

In 2015, these players posted top-five results in Week 17; Kellen Moore, Ronnie Hillman, Jonathan Grimes, Dennis Funchess and Will Tye. Not a household name among them. The season before that saw Geno Smith, Jordan Todman and Virgil Green make the list. Moral of the story: There could be some big totals available on the waiver wire in Week 17 if you know where to look.
Lies

"Give me just enough information so that I can lie convincingly." - Stephen King

1) The difference between Russell Wilson this season and the 2015 version is his lack of scrambling.

Not completely true. While he has scored 30 less fantasy points with his feet this season (2.0 FPts/G), he's also thrown 14 fewer touchdown passes (despite seven in the last two weeks) and three more interceptions. I attribute both to the lack of a strong running threat which pulls linebackers up closer to the line of scrimmage. It's the absence of "Beast Mode" - Marshawn Lynch.

2) Claiming Oakland backup quarterback Matt McGloin should be a viable replacement for injured Derek Carr.

Sorry, he's just not "Carr-worthy." In six career starts back in 2013, McGloin owned a 1-5 record and averaged 16.1 FPts/G. Carr has averaged 21.0 FPts/G this season. Handcuffs only work when the backup can produce like the starter.

3) A great receiver will produce no matter the quarterback situation.

False. Brandon Marshall is down 8.2 FPts/G this season and DeAndre Hopkins is down 6.5 FPts/G. Thanks Ryan Fitzpatrick, Bryce Petty, Brock Osweiler and Tom Savage! Demaryius Thomas has been a shell of himself the past two seasons averaging 9.7 FPts/G after posting 14.2 FPts/G in both 2013 and 2014. Even Antonio Brown is not immune. Over the past two seasons he's averaged 15.2 FPts/G with Ben Roethlisberger under center and 7.2 points with anyone else.

4) If you draft and trade for the best players you will always win.

Obviously false. Sometimes it's better to be lucky than good. I won the FFToday Staff league not just because my team got hot at the right time, but because Brandon LaFell posted career high receiving yards (6-130-1 and 19 FPts) and my opponent started Jets wideout Robby Anderson, who failed to score on three targets, after averaging 9.7 targets and 12.4 FPts/G over the previous three games. Winning fantasy football takes both skill and a little luck.

5) Fantasy experts never get anything wrong!

If you prick us, do we not bleed? If you tickle us, do we not laugh? If you poison us, do we not die? OK, don't get any bright ideas, I was just quoting William Shakespeare. Thanks for reading FFToday these past months and I'll try to be perfect next season.

---
Steve Schwarz served as the fantasy sports editor of The Sports Network and is the 2014 FSWA Football Writer of the Year.