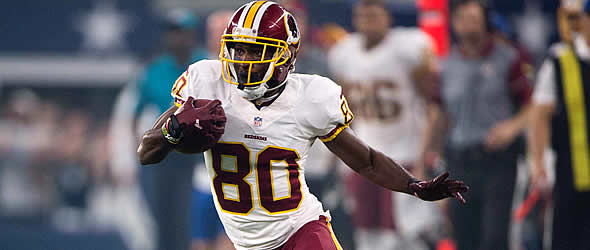 The loss of Jackson and Garcon gives Jamison Crowder a realistic chance to crack the 1000-yd mark.
There were a whopping 23 members of the 1,000-yard receiving club last season. From the 1,448 yards of yardage leader T.Y. Hilton to No. 23 Kenny Britt's 1,002 yards (LA Rams). That was tied with 2013 for the most members of this once exclusive club in the past decade.

During the 1980s, only 14.3 pass-catchers averaged 1,000 yards in a season (I did not include the shortened 1982 or 1987 seasons). In the 1990's that number increased to 17 players per season. Over the past 10 seasons, however, with the proliferation of the passing game and rules changes to help the offense, there has been an average of 20.2 players to reach this "milestone."

That should make finding a 1,000-yard receiver or two for your fantasy team easy, right?
Maybe not.

Only 12 of 22 receivers from 2015, repeated in 2016. That's just 54.5%. Want to make sure your choices on draft day are the right ones, then you need to know how receivers produce big yards.

There are basically two ways to make the grade.

First, you are an extremely talented wideout. Think Julio Jones, Odell Beckham Jr. or Antonio Brown.

It's not a guarantee, however. You need to play with at least a "proficient" quarterback. Otherwise you could end up missing your goal, as DeAndre Hopkins and Kelvin Benjamin did last season (No, Cam Newton' passing production wasn't even mediocre last season due to hidden injuries – 21st in passing yards and 20th in passing TDs). You could also be "1,000-yard worthy" based on your talent, but miss the mark by being injured. Dez Bryant and Alshon Jeffery come to mind.

You can also reach the mark by being a skillful, though not elite, receiver, and be in the right spot at the right time.

Your team's No. 1 receiver goes down due to injury (Keenan Allen) and you step in to fill his shoes (Tyrell Williams). Or, your team's expected top receiver fails to produce (Marvin Jones) and you step up to fill his shoes (Golden Tate).

So talent isn't the only requirement. You need good health, a good quarterback and opportunity. As a fantasy owner we need to find these circumstances. Avoid the bad ones and find the good ones (OK, injuries are going to be difficult to predict).

Below I have listed four receivers, who cracked the 1,000-yard mark in 2016, but won't reproduce those results in 2017. They aren't necessarily players to avoid, just don't take them too early based on last year's statistics.

I'll also show you four receivers who will step up in 2017.

Won't Repeat

1) Mike Wallace, Baltimore – Wallace still has the speed to take a ball 90-yards to the house, he just doesn't do it often enough. He barely made it into the club last season (1,017 yards) and that was while competing for targets with aged Steve Smith, Breshad Perriman, Kamar Aiken and Dennis Pitta. The team lost Smith to retirement, but has added Jeremy Maclin (now healthy) and one of the best, if not the best pass-catching running back in the league - Danny Woodhead.

2) Tyrell Williams, Los Angeles Chargers – This one is easy, as the only reason Williams saw so many Philip Rivers passes was the absence of Allen. Williams won't see anywhere near the 119 targets from a season ago with the return of Allen and the natural progression of talented tight end Hunter Henry. Also, a healthy Melvin Gordon could see 75 targets.

3) Pierre Garcon, San Francisco – Garcon has gone from the rain forest to a desert. Where Kirk Cousins threw the ball 606 times (114 to Garcon), the 49ers passed the ball just 491 times in 2016. His new quarterback options are; Brian Hoyer, Matt Barkley, C.J. Beathard or Nick Mullens. The current starter, Hoyer, has never passed for more than 3,334 yards or 19 touchdowns in a season.

4) Kenny Britt, Los Angeles Rams – You would think that as a free agent, Britt would have gone to a place with improved quarterback play after spending last season catching inaccurate passes from Jared Goff. Apparently that wasn't on his bucket list. The Browns' passing offense (3,264 yards, 15 TDs) was just marginally better than the Rams (2,951 yards, 14 TDs) in 2016. Meanwhile, Cleveland QBs were sacked a league-worst 66 times (Rams ranked second-worst with 49). In 2017 he'll be catching passes from the trio of second-year quarterback Cody Kessler, rookie DeShone Kizer or Brock Osweiler, who turned Hopkins into a fantasy disaster. Britt will be the second-most talented receiver in Browns camp, behind 2016 first-round draft choice Corey Coleman (No. 15 overall).

1,000-Yard Club

1) Jamison Crowder, Washington – Crowder is a budding star. With Garcon in San Francisco and DeSean Jackson in Tampa Bay, the crowded Redskins wide receiver corps has thinned out considerably. Crowder should lead both Terrelle Pryor and Jordan Reed in targets and receptions and could catch 100 balls. He faded in the final four games of 2016, so he needs to be stronger and ready to carry this kind of load.

2) Willie Snead, New Orleans – Michael Thomas is the team's No. 1 receiver, but Snead is ready to step up as a strong No. 2 now that the Saints traded Brandin Cooks' 78 catches, 1,173 yards and eight scores to New England. Drew Brees is still an elite quarterback who can distribute to both Thomas, Snead and Coby Fleener and have all of them prosper.

3) Allen Robinson, Jacksonville – OK, this is sort of cheating because he posted 1,400 yards in 2015, but fell victim to the complete failure of the Jaguars' passing game in 2016. I don't believe Blake Bortles can possibly be as bad as he was last season. The addition of rookie running back Leonard Fournette should allow Bortles to be more efficient on fewer attempts and Robinson should benefit from the result. Robinson is in the final year of his rookie deal and wants a big deal which means producing big numbers. Money is always a great incentive.

4) Brandon Marshall, New York Giants – Like Robinson, Marshall posted monster numbers in 2015 (109-1,502-14) then fell victim to sub-par quarterback play. Actually, sub-par is way too generous. The Jets combination of Ryan Fitzpatrick, Bryce Petty and Geno Smith threw for just 3,645 yards and 16 touchdowns. He'll catch balls from Eli Manning this season, who threw for 4,027 yards and 26 touchdowns last season. Sure, Marshall will be the No. 2 guy, but Manning averaged 4,291 and 30 TDs the past three seasons without a great second option to Beckham. He has one now. The Giants don't throw much to their running backs and Evan Engram/Will Tye don't figure to steal many targets from their top three receivers.

---
Steve Schwarz served as the fantasy sports editor of The Sports Network and is the 2014 FSWA Football Writer of the Year.