Like most Americans, I put my name on the "Do Not Call" list, not that I think it does any good. I still receive multiple annoying "robocalls" every week.

This list, however, is "my" do not call list for draft night. Players, who for various reasons, I will not announce when it's my turn to pick (or bid on in auction leagues … well, except maybe to push up the price for my opponent).

There are three primary reasons for my turning my back on a player. They are; 1) I think he'll be unproductive, 2) he'll be productive, but overpriced or, 3) the injury risk is too high.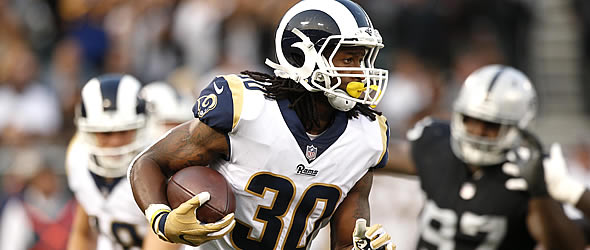 Todd Gurley's disappointing and unproductive 2016 season makes it difficult to call his name in 2017.




1) Unproductive



Todd Gurley (16.9) Ė Heís still running behind a subpar offensive line and quarterback. The line ranked 27th last season and even with the addition of Andrew Whitworth (ranked No. 1 in pass-blocking last season) this is still a mediocre line. Jared Goff isnít going to scare defensive coordinators and they will continue to load the box. Are you willing to accept his 2016 totals (855 yards and six touchdowns) from a middle of the second round pick?

Carlos Hyde (34.0) Ė Yes, Hyde will get the first shot to carry the running game for the 49ers, but will he actually do something with it Ö besides getting hurt? The offensive line is bottom-third and the defense gave up the most points in the NFL last season. Seems like they might be playing from behind and Hyde isnít a very good pass-catcher.

C.J. Anderson (46.6) Ė Even assuming aging Jamaal Charles doesnít make the final 53-man roster, Anderson has a number of challenges to overcome, not the least of which in sixth-round pick DeAngelo Henderson (Coastal Carolina). The offensive line isnít great despite the addition of former Cowboy Ronald Leary.



2) Overpriced



Ezekiel Elliott (15.3) Ė Heís overpriced because, as it stands today, heíll miss 46% of the fantasy regular season (6-of-13 games). By the time he comes back, you could be buried so deep in a hole that you wonít be able to climb out of it to make the playoffs. If your league drafts after the August 29th hearing and Elliott gets a reduction in his suspension, or successfully uses the ďBrady defenseĒ (sue in court to delay the suspension) then ignore this paragraph.

Leonard Fournette (19.2) Ė Call it the Elliott effect. Fantasy owners watched Zeke dominate in his first season and falsely assume the top RB selection in 2017 can do the same thing. First, Fournette doesnít run behind the Dallas offensive line. Second, in college Fournette was injury-prone and heís already dealing with a foot issue (the same one from his time at LSU). Having run just 12 snaps in preseason, he canít possibly know the entire offense. Given Chad Henne or a stumbling Blake Bortles, what will defenses key on? Fournette. Iíd much rather take Isaiah Crowell or Lamar Miller.

T.Y. Hilton (24.4) Ė This one isnít about Hilton. Itís about the man throwing him the ball. You canít choose Hilton at the end of the second round without knowing for sure whether Andrew Luck will be under center in Week 1. Just this week Colts coach Chuck Pagano said there is no "timeline" for Andrew Luck's (shoulder) return. Would you like a quarter of your season with Hilton catching balls from Scott Tolzien? Me neither.



3) Injury risk



Marshawn Lynch (22.1) Ė Is it good that his body has been given a full year to heal after nine seasons in the NFL? Or is it still a 31-year-old body that after 2,144 rushing attempts and 9,112 yards canít carry the Raiders running game. His running style is rough and tough, but that takes a toll. He reminds me of old-timer Larry Brown (Washington) from the 1970s, who loved to run over people, but his decline was precipitous. Second-round picks should be sure things.

Keenan Allen (36.3) Ė I love a healthy Allen. Too bad I havenít seen that guy since 2013. Heís played nine games in two seasons and the Chargers have made plans to survive without him. Tyrell Williams, first-round pick Mike Williams, Travis Benjamin and great pass-catching tight ends (Hunter Henry, Antonio Gates). You are paying the price for a healthy wideout, but getting a question mark.

Sammy Watkins (56.8) Ė Watkins went from a running quarterback (Tyrod Taylor) to a giant question mark under center. Heís only been a Ramsí receiver for two weeks so there is almost zero familiarity with Goff. Add to the fact he hasnít played a full season since 2014 and there is no way he should be going in the fifth round. Julian Edelman is going 10 picks later. Jamison Crowder is a dozen picks lower. Iíd much rather have them.

OK, there is actually a fourth reason Ö I hold a grudge.

Cam Newton - I drafted him high in a two-QB league last season and he disappointed me. I probably wonít pick him this season unless he drops well below his expected draft round (ADP 93.5, 8th round).

Randall Cobb - I had the Packersí wideout in 2015 when he should have been a fantasy monster with Jordy Nelson (knee) sidelined for the season. Instead, he came up relatively small (79-829-6 after posting 91-1287-12 in 2014) and I still havenít forgiven him. Heís the third receiver behind two guys (Nelson and Davante Adams) who combined for 273 targets, so heís once again not going to be on my roster this season.

And hereís why you shouldnít hold a grudge.



Priest Holmes -

He was putting together an all-time season in 2002 (1,615 rushing yards, 672 receiving yards, 24 combined TDs in 14 games), carrying my team on his back, when he injured his hip on a 56-yard run and missed the final two games of the season. I should have appreciated his effort, but I held his injury against him. The next season he rushed for 1,420 yards and 27 touchdowns along with 690 yards receiving, but I had refused to bid on him. Sometimes Iím an idiot.

---
Steve Schwarz served as the fantasy sports editor of The Sports Network and is the 2014 FSWA Football Writer of the Year.