It's Week 3 and as a good advisor I need to remind you there is an early Sunday game from London. Make sure you are prepared. Also, despite the hurricanes still in the Caribbean, weather doesn't appear to be a factor this Sunday. OK, it might drizzle in Seattle, but when doesn't it?
Now let's get to the heart of my advice.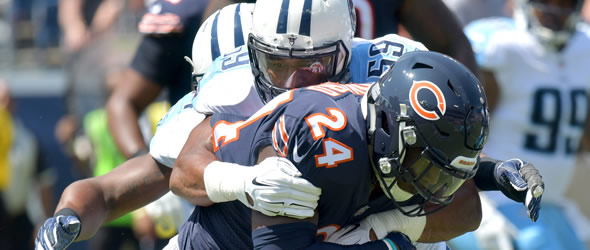 The emergence of Tarik Cohen and a nagging shoulder injury are draining Jordan Howard's value.

Truths

"Telling the truth is a beautiful act even if the truth itself is ugly." Glen Duncan, the Last Werewolf

Ugly truth No. 1. Russell Wilson has, through two games, been sub par, failing to capitalize on an early easy schedule.

In a previous analysis, Wilson's Seattle schedule was supposed to be advantageous over the first five games, but the Seahawks' quarterback has not made use of it, causing all phases of the passing offense to disappoint fantasy owners. Wilson ranks 26th among quarterbacks (14.6 FPts/G) which is barely viable in two-quarterback leagues. In turn, wideout Doug Baldwin is averaging just 5.2 FPts/G (54th-best), Tyler Lockett (3.6, 74th-best) and Jimmy Graham (0.5, 70th-best). Only Paul Richardson (6.9) has been better than expected. Wilson still holds a favorable schedule over the next few games, and given his current mediocre trade value, you should continue to play him and hope he returns to form and value.

2) Ugly truth No. 2. Those who were sure Brian Hoyer's career would be resurrected by "offensive guru" and head coach Kyle Shanahan, are staring at some ugly numbers.

He's 39-of-62 for 292 yards, zero touchdowns, two interceptions and 7.1 FPts/G. That's a 60.7 QB rating. The only good news I can give you is he's played two very good defensive teams in Carolina (with the return of Luke Kuechly) and Seattle, so perhaps some improvement can be expected, but it may not be enough to get Pierre Garcon owners where they hoped to be … top-30.

3) Ugly truth No. 3. Jordan Howard is not going to repeat 2016 totals.

Chicago Bears rookie running back Tarik Cohen has taken the wind from the sails of the floundering S.S. Howard. Through two games, both losses, Howard is averaging just 2.7 ypc on 22 carries. Meanwhile, with the Bears in "catch up mode" most of the time, Cohen has been used on 51-percent of the plays (68-of-131), leading the team in targets (21), receptions (16) and he's second to Kendall Wright in yards (103 vs. 102). Because the team is so thin at wideout, having already lost Cameron Meredith and Kevin White, Cohen figures to continue seeing heavy usage. Howard's fantasy owners must hope OC Dowell Loggains finds a way to get both men on the field at the same time, because if he can't, it's the expensive S.S. Howard that could sink your championship hopes and dreams.

4) Ugly Truth No. 4. Christian McCaffrey is definitely in a 50/50 timeshare with Jonathon Stewart.

Those who thought "old soldier" Stewart would just fade into the sidelines while eighth-overall pick McCaffrey took over workhorse duties are struggling with the fact that Stewart has 35 touches and McCaffrey 30. Barring injury, it looks like both backs are limited to low-end RB2 status.
5) Ugly Truth No. 5. There is a danger that even when he returns to full health, Odell Beckham Jr. might not be able to produce as in the past three seasons.

What I saw on Monday night, with Beckham in the lineup (though about 80%) was horrifying. The New York Giants offensive line was just that … offensive. Eli Manning looked old and afraid of taking hits. Their running game is non-existent. Brandon Marshall couldn't take advantage of the attention paid to Beckham on the other side of the field. The Giants have scored one touchdown in two games, managed just 503 total yards, yielded eight sacks and a pair of turnovers. Until this team straightens out the offensive line issues, the offense is going nowhere … including Beckham.
Lies

"False words are not only evil in themselves, but they infect the soul with evil." Plato, Phaedo

1) Don't let Le'Veon Bell's 6.9 FPts/G through two games infect your soul.

As a Bell owner I'm not frustrated. Hey, he's still healthy. In Week 1, I said he'd struggle early based on how he was used last season after returning from a four-game suspension (16.7 rushing attempts over the first six-game span versus 26.9 attempts over the next six games). He touched the ball just 13 times in Week 1 but was already up to 31 touches last weekend. Sure, he didn't produce much from all those touches, just 91 yards and no touchdowns, but my advice is stay on course. The best is in front of him and you, if you stick with the plan.

2) Bilal Powell is still a viable fantasy option.

I certainly thought he was all offseason and preseason right up until last weekend. Unless his ribs are still bothering him, I'm at a loss for this precipitous drop. He finished 2016 with 556 combined yards and three scores over the final four games. Yet here we are in Week 3 and last week he saw just 18 snaps (six rushing attempts, two targets) while Matt Forte saw 27 snaps and Elijah McGuire 11. As Vince Lombardi bellowed more than once, "What the hell's going on out there?!"

3) Traded to New England in 2017, more than a few experts thought Brandin Cooks could be Tom Brady's "next" Randy Moss.

It was a bit of a dream, that Brady-to-Cooks, who averaged 81-1156-8 the past two seasons in New Orleans, could be like Brady-to-Moss (83-1255-16 from 2007-09). It's not like Cooks' old quarterback was Ryan Leaf, it was future Hall of Fame QB Drew Brees. While both guys had small quick receivers across from them, Cooks has to share targets with Rob Gronkowski while Moss had Ben Watson. Our preseason ranking had him at No. 10 among receivers and our "Rest-of-the-Way" is ranking him one spot lower - No. 11.

4) The struggles in Cincinnati make A.J. Green an immediate "sell" candidate.

Not unless you want to sell at the lowest possible price! Yes, the Bengals offense has struggled. Yes, Andy Dalton has looked bad. But based on their schedule he wasn't going to get off to a hot start playing Baltimore and Houston, both top pass defenses from a year ago. Take a deep breath, sit back and watch the next two games before making a decision. I promise you, against Green Bay and Cleveland the next two weekends, Green and the entire Bengals offense will perk up (OK, they couldn't really go much lower could they?). Green is still getting his targets (18 over two games) and his tirade after Game No. 2 assures he'll be the focus of the passing game against the Packers.

5) Jay Cutler can't start for a fantasy team anymore.

I'm starting to believe this statement to be false. Cutler can be viable under Adam Gase's direction. Cutler proved it in the Dolphins season opener with a respectable 230 yards and a touchdown in a 19-17 win at the Chargers. Although his 15.4 fantasy points has him at No. 23 among quarterbacks, call me in three weeks after he plays the Jets, Saints and Titans' defenses. DeVante Parker is developing into a stud right before our eyes and Jarvis Landry continues to be the volume underneath guy. They also have Kenny Stills, Julius Thomas and a running threat in Jay Ajayi that keeps defenses honest. He's not going to be elite option because of this balance, but pick and choose your spots and Cutler should be able to help you.

---
Steve Schwarz served as the fantasy sports editor of The Sports Network and is the 2014 FSWA Football Writer of the Year.