Week 14 in the NFL season is an interesting week for fantasy football players as most standard leagues are transitioning into the playoffs. Either you are elated and relieved to have made the fantasy post-season, or you are wallowing in your sorrow of Matt Ryan dropping a stinker against the Bucs while promising yourself that you will never, under no circumstances, draft that pick-machine bum again.

Now as I slowly digress from my hatred of Ryan and my frustration from going against my personal rule of not drafting players with two first names (I know it is silly, but I have many bizarre superstitions), I take some solace in the fact that I have a few more weeks of fantasy fun with DFS.

I assume that Week 14 is a boom period for DraftKings and FanDuel, as other season-long losers like myself look to continue their fantasy football addiction. I also assume that many readers of this column may be new to site, looking to test the waters and see what all of the DFS hype is about.

With that in mind, I think it would be a good time to review some of the DFS theories and concepts mentioned in previous articles. The following roster from Week 13 is an excellent example as I utilized many of the concepts while building a winning squad in a cash game against a group of friends.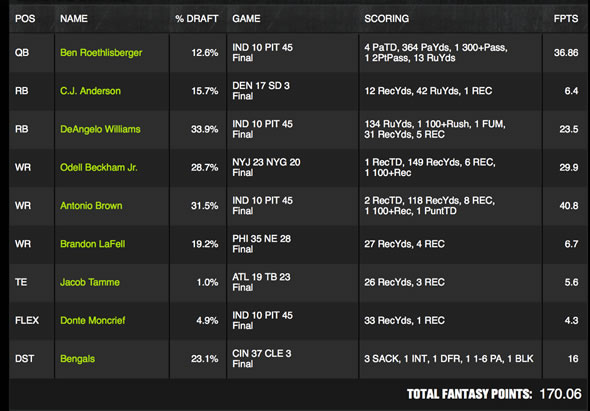 Quarterback: Ben Roethlisberger
DraftKings Points: 36.86
Grade: A
Week 13 was one of the highest scoring weeks for quarterbacks in the history of fantasy football, with 12 players scoring over 20 points. Heck, even subpar signal callers like Blaine Gabbert and Brian Hoyer got into the action.
On a week like this in a cash game, you really need to make sure you didn't miss the mark on a QB as the probability of your competitors having a solid QB is high. Cash game owners with Kirk Cousins, Derek Carr, or Matt Ryan likely missed out on cashing this week due to the vast number of QBs who delivered 20 point-plus games.
Luckily for me I decided to go with a Steelers stack at home against the Colts, with Big Ben, Antonio Brown, and DeAngelo Williams. Both Ben and Brown seemed to be locks due do their consistent performances this season, which is key in cash games when you are playing against a smaller pool of players compared to large GPP games.
In addition to a high floor, I felt like this game had the makings of a shootout with both Ben and Brown having high ceilings. This stack paid off, with Ben posting 36.86 points and Brown finishing as a top WR play for the week. The foundation of these two players carried me to a victory.
Running Backs: C.J Anderson and DeAngelo Williams
DraftKings Points: 29.9
Grade: B-
In my Week 2 article I discussed the benefits of using a three-player stack with a quarterback, wide receiver, and running back on the same team. This strategy is a bold move for DFS that only works with players playing in a high scoring game, and the running back needs to also catch passes out of the backfield to benefit from the doubling-up effect from the QB points.
I typically would only use this in large GPP games when I am shooting for the stars, but in the case of Pittsburgh and how well their offense is rolling, I felt comfortable using a triple stack in a cash game. Another reason why I felt comfortable is the fact that Williams is a strong pass catching RB and the Steelers dump it off to him frequently.
Williams did not disappoint with 165 total yards and 5 catches, however, he did fumble and did not reach the end zone. At 23.5 points, I cannot complain with the production from a $5,600 player.
At a mere $3,500 Anderson seemed like a great value play against a struggling Chargers' defense. The pick had the makings of paying off well for me as Anderson managed 42 yards on seven carries in the first half. But an ankle injury forced Anderson out, derailing what could have been a huge game.
Wide Receivers: Antonio Brown, Brandon LaFell & Odell Beckham Jr.
Draft Kings Combined Points: 77.4
Grade: A
I wanted to give myself a B for my wide receivers this week solely because of the turd LaFell dropped against the Eagles. His drops and inability to catch a deep ball from Brady against a terrible secondary was beyond frustrating. Needless to say LaFell will not be on a roster of mine in the near future.
Now with the frustrations out of the way, having two of the top three wide receiver plays of the week in OBJ and Brown more than made up for the 6.7 game LaFell gave me. Brown at home on national television seemed like a no-brainer regardless of the cost, with a floor of no less than 5 catches for 80 yards.
I also pegged Beckham with a big game due to the fact that it was the battle of New York and the Jets secondary was without Revis. Even with Revis, Beckham would have likely played well, but I would have faded him for someone else.
With nearly a half of my total points coming from my wide receivers, I was very pleased with my selections this week. Another reason why I chose the Brown and Big Ben stack was the fact that Vegas pointed to a high scoring game with an over/under of 50. Check out my article on using Vegas betting lines for more info on this strategy.
Tight End: Jacob Tamme
DraftKings Points: 5.6
Grade: D
As solid as my picks were for wide receiver and quarterback, my tight end and flex picks were supremely terrible and nearly cost me from cashing. My strategy for tight ends is either going big for a Gronk-like play, or going cheap with a tight end who will likely see lots of passes.
With Leonard Hankerson out for the season and 5 catches for 70 yards in his previous game, I thought Tamme would have some volume value against the Bucs. What I failed to remember is that Matt Ryan is terrible and his inability to read defenses would kill Tamme's value. At least he did not give me a goose egg like Eric Erbron laid for me Week 11.
Flex: Donte Moncrief
DraftKings Points: 4.3
Grade: D
A garbage-time catch for 33 yards in what I thought would be a high-scoring game was unacceptable from Moncrief, who scored 22 points on 8 catches for 114 yards against the Bucs Week 12.
Looking at the previous week's performance is not always a smart move when it comes to DFS, especially considering if the defensive match ups are significantly different. In the case of Moncrief, I felt like the matchup against Pittsburgh was as good or better than his previous matchup against the Bucs, and Moncreif and Hasselbeck appeared to be building a rapport.
This pick might have been the worst of the week had Moncrief not been an inexpensive play at $4,600. The goal at FLEX is to find a player who will give me a minimum of 10 points in cash games, which Moncreif failed to achieve. I may look for a pass catching RB like Darren Sproles next week instead of a WR.
Defense: Bengals
DraftKings Points: 16
Grade: B
The Bengals at home against Austin Davis and the Browns proved to be a smart play, as Cincinnati managed 16 points on three sacks, one fumble, and one interception. Denver against the Chargers was clearly the best play of the week in terms of a possible defensive score, and the Broncos did not disappoint.
But the other top plays of the week were somewhat of a surprise, and not likely a play my competitors in a cash game would make. Anyone who picked Philly against the Pats was flat out lucky. I am more than pleased with my 16 points, which was more than enough to put me over the top an into the cash.