Like Al Bundy in Married With Children throwing four touchdowns in a high school football game, or Uncle Rico in Napoleon Dynamite claiming to be able to throw a ball over them mountains, most of us have that banner year in fantasy football where everything seemed to go right.

The 2009 regular season was without a doubt the best season in my 15-plus years of playing fantasy football. With the core of Peyton Manning, Eric Decker and Rob Gronkowski leading the way, and timely late season pickups like Danario Alexander and Bryce Brown giving me a final push, I finished the league with a 12-2 record and a massive lead in the overall point total.

I entered the playoffs as the number one seed and was blessed with what appeared to be a cupcake opening round matchup against a fourth-place team that squeaked into the playoffs on fumes like cousin Eddy's tenement on wheels pulling in to the Griswold's driveway in Christmas Vacation.

My quest to be the first team in my league to win four Super Bowls was two wins away and the engraving of my name on the Marshall Faulk Award (our Lombardi Trophy) seemed like a foregone conclusion.

But as you can probably deduce from a sappy intro that includes three movie/TV references (the first of the year I might add), I lost in epic fashion in the first round of the playoffs, only to dominate all three playoff teams in the eventual Super Bowl round. It took me a while to get over that loss, so much so that I actually considered walking away from the game for a few years to help calm my nerves and lower my blood pressure.

Like all pouting fantasy owners, which pretty much describes 99 percent of us, I stopped whining and got back to work the next summer on my draft board. Three years later, I was blessed with a déjà vu moment like 2012, except this time I was the piece of crap Winnebago stumbling into the playoffs as the fourth seed and my buddy was the team with the best record and the most points.

As you can imagine I won it all with the help of some lucky moves like Vance Johnson filling in for an injured Tyler Eifert, and the Bills defense shutting down the hapless Cowboys in Buffalo.

I lost the year I should have won and then pulled out an improbable victory the year when it looked like I didn't have a chance in hell.

What did I learn from this that I can apply to future season-long fantasy leagues and DFS games? It reminded me just how much luck goes into matchups and the performance of players, and how much good fortune is involved in fantasy sports.

Yes, we are all knowledgeable fantasy players and the more information we can gather on a team or a player will help us make an educated guess when building our DFS rosters or making a draft board for season-long teams. But when it is all said and done, and bit of good old luck can be the deciding factor between winning and losing. It is a big part of what makes this game fun, and perhaps a bigger part that makes it so infuriating.

I want to take a moment to thank all of you for taking the time to read this article and your support for FFToday.com. I hope all of you benefitted from some of the knowledge I disbursed throughout the year, and that you all made some money playing DFS.

The following lineup review is from a Yahoo Champions contest that I entered using the free entry earned from my championship win mentioned above. Although a few small mistakes cost me a chance from moving on, I think this lineup provides some interesting educational points owners can use going forward.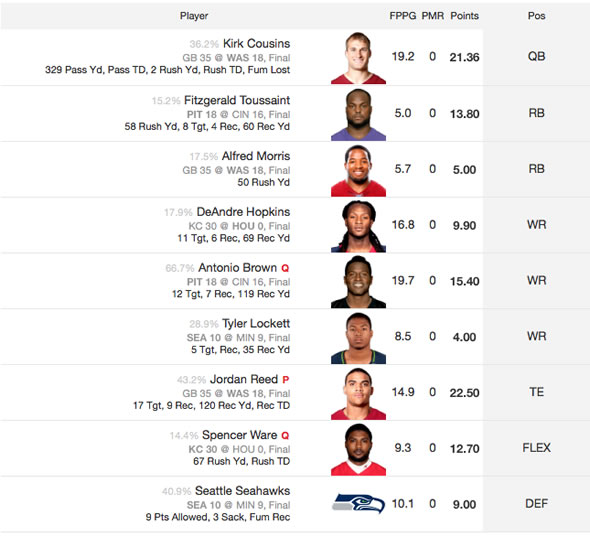 Quarterback: Kirk Cousins
Points: 21.36
Grade: B
With only eight quarterbacks to choose from in the player pool, pickings were a bit slim for quarterbacks in Wild Card weekend. Add in the fact that Russell Wilson and Teddy Bridgewater were faded due to crazy cold weather conditions in Minnesota, and AJ McCarron and Bryan Hoyer are terrible, I really only had four players to choose from for my team.
I went with the player who had the highest upside and the most reasonable price in Cousins against the Packers. Cousins came through with two passing touchdowns and a rushing score to go along with 329 passing yards. He would have had an even better day had DeSean Jackson not left four points on the table with a bone-headed, half-hearted effort at the goal line.
Running Back: Fitzgerald Toussaint & Alfred Morris
Combined Points: 18.80
Grade: D
As usual, I went heavy on wide receivers this week and decided to find value at running back. A big reason for this was the fact that the top backs like Adrian Peterson did not have good matchups, and DeAngelo Williams was out due to an ankle injury.
Toussaint seemed like a nice value with Williams out and my second option came down between Giovani Bernard and Morris. Neither of the latter two did much, but at least Toussaint gave my 108 total yards and four catches.
Wide Receiver: DeAndre Hopkins, Antonio Brown and Tyler Lockett
Combined Points: 29.3
Grade: F
I allocated a sizeable percentage of my budget on wide receiver this week based on the fact that I felt like there was little value and running back. Hopkins and Brown seemed like safe plays with high floors and high ceilings, while Lockett had upside on both special teams and deep passes to be a home run threat.
As you might surmise from my grade of an F, none of the players live up to their expectations, failing to secure even one touchdown between the three of them.
Hopkins' six catches for 69 yards on 11 targets is an indictment on just how terrible Brian Hoyer is as a quarterback. His 10 million turnovers in the game against the Chiefs are another.
Lockett was a last minute change that I regretted instantly. I should have put more thought into the fact that cold weather games reduces the chance of quarterbacks throwing deep down the field, and my value placed on Lockett was based on the big play.
Tight End: Jordan Reed
Points: 22.50
Grade: A
Volume tight ends playing with a hot quarterback are no-brainers for me, even if they come at a premium like Reed. Adding a tight end that receives a whopping 17 targets is a slam dunk play, even if that player converts only half of those passes like Reed did in this game.
I also am a fan of double-dipping or stacking a QB with his volume target. Cousins and Reed did not disappoint, despite the fact that nearly 50% of the owners on Yahoo had the same thought process as me.
Flex: Spencer Ware
Points: 12.70
Grade: B+
I had a feeling the Chiefs would beat the Texans handily and Ware would be active in the second half. My goal was for him to deliver a game similar to his week 17 performance in which he scored 13.60 points on 76 yards and a touchdown.
Although he was off by nine yards on his rushing total, I was pleasantly surprised by his rushing touchdown and 12.70 points .
Defense: Seahawks
Points: 9
Grade: C
Nine points from a defense is usually a decent total. But in a small player pool like Wild Card week, missing out on 29 points from the Chiefs proved to be too hard to overcome.
I missed the semifinals by roughly 20 points, the difference between picking Seattle instead of KC. My logic was to go with the defense in the poor weather conditions, and the Seahawks did not disappoint with three sacks and a fumble recovery.
But a shutout and a return touchdown were the gravy train for fantasy players this week, and unfortunately I was not on board.