Week 8 was a crazy set of games in the NFL, complete with a record setting shootout in the bayou, season-ending injuries to stars like LeíVeon Bell and Steve Smith, and lopsided games in which bonafide fantasy stars failed to deliver.

We watched Alex Smith run for more yards on the ground (78) than Aaron Rodgers threw in the air (77). Drew Brees tied an NFL record with seven passing touchdowns in a 52-49 win over the Giants to keep the Saintsí playoff hopes alive, while the G-men became the first team in NFL history to score 49 points and lose.

Derek Carr continued to prove his fantasy worth with a four touchdown game against a tough Jets secondary, and Josh McCown outscored Andy Dalton, Peyton Manning, Ben Roethlisberger, and Aaron Rodgers, despite having a tough matchup against the Cardinals.

It was a crazy week to say the least, and an excellent time to look back at one of my DFS contests to see what worked, and what didnít, in hopes of gaining some intelligence that I can use for future weeks.

The following lineup placed 9,395 out of 479,166 entries in a $1.25 million DraftKings GPP contest, with the top prize earning $100,000. I won $10 on a $3 buy in.

Quarterback: Philip Rivers
27.04 Points on DraftKings
Grade: C

Rivers entered the week on the heels of five straight 300-yard plus games, including a 500-yard behemoth on the road against the Packers Week 6. With a proven track record of playing well on the road against tough teams, Rivers seemed like a lock for top production against a Ravens team that had struggled mightily against the pass.

Although Rivers did manage 301 yards and three passing TDís, either QB in the bayou bonanza between the Giants and Saints would have been a much better play. In hindsight, I should have paid closer attention to the 51.5 over/under Vegas had on the game when looking for value at the quarterback position. Check out my article on Vegas betting lines for more info on how to use Vegas lines to your advantage in DFS.

Running Backs: Devonta Freeman and Todd Gurley
45.7 combined points on DraftKings
Grade: B-

I decided to use a large portion of my budget on Freeman and Gurley based on the advantageous match ups each player had at home against suspect defenses. Freeman against the Bucs and Gurley against the Niners seemed worthy of the cost, however, only the latter proved to be the right play.

Gurley rushed for 133 yards on 20 carries, including a 71-yard scamper to the house against a hapless San Francisco squad. It was his fourth straight 100-yard game, making him an excellent foundation play for me this week. The risk of starting him seemed low and the reward of a great game was not out of the question. Gurley finished in first place for running backs with 26.6 points for the week.

Freeman, on the other hand was a disappointment. After finding the end zone in five of his six previous games, my hunch was that this would be a bounce back game for Freeman after failing to score Week 7 against the Titans. The Bucs entered the game giving up the 18th most points to opposing running backs, leading me to believe that the top rusher in the NFL would do well and be worth the $8000 price tag.

With hindsight being 20/20, I should have taken a closer look at the game log of points allowed on the FFToday site. Although the Bucs started off slowly defensively against the run, they have been stout as of late and have not given up a rushing TD since Week 3. Freeman did manage to score 19.1 fantasy points, but he did not deliver the game-changing points you expect from an expensive RB in DFS.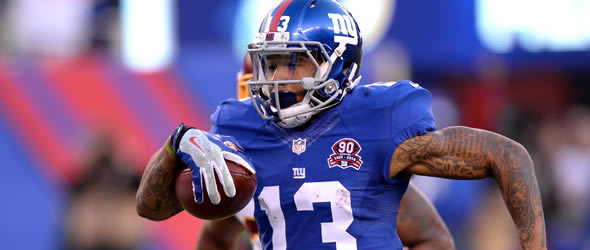 Odell Beckham Jr. led all fantasy receivers in Week 8 with 130 yards and 3 touchdowns.
Wide Receivers: Odell Beckham Jr., Randall Cobb, and Michael Floyd
74.7 combined points on DraftKings
Grade: B
Beckham seemed like a no-brainer play due to the fact that New Orleansí defense is terrible, and a return home to Louisiana would be added motivation for the former LSU star. Both factors turned out to be true as OBJ torched the Saints for three touchdowns in route to 42 points and the number one play on DraftKings.
With John Brown active I was a little hesitant to use Floyd on the road against the Browns, despite the fact that Joe Haden and the Cleveland secondary has been terrible this year. I rolled the dice in hope that my cheap play of the week would pay off for only $3,500. This gamble worked out well, as Floyd posted 23.6 fantasy points with 106 yards and a touchdown.
Unfortunately, my against-the-grain choice of Randall Cobb in primetime did not pan out, costing me a chance at a decent payday. My logic was that Cobb would work in the slot while Harris and Talib shut down Jones and Adams on the outside. In a classic case of overthinking things and a career worst game from Aaron Rodgers, my hope of fantasy glory went up in flames in Denver.
Tight End: Heath Miller
23.5 points on DraftKings
Grade: A
After spending 95% of my budget on other skill position players, tight end was the last position to fill and only $2900 to spend. My lack of funds did not allow me to choose my favorite of the week - Travis Kelce against the Lions. But Miller proved to be a strong play with 10 catches and 100 yards in Big Benís return to action. Of the low cost tight ends, Miller seemed like the safest play, as Roethlisberger leans on him against tough defenses like the Bengals. My hope was 10 points, and I was pleasantly surprised to get the 4th best tight end of the week at only $2700.
Flex: Jonathan Stewart
14.3 points on DraftKings
Grade: B
$4,100 seemed like a value for a starting running back playing against the Colts on Monday Night, especially considering the fact that the weather report of rain led me to predict a running game plan by OC Mike Shula.
Stewart delivered a decent game of 84 yards and a touchdown, but fumbled the ball on a snap due to the wet conditions. Using adverse weather conditions to find advantageous fantasy match ups in DFS is a nice tool, especially when you are looking for players to fade. This was a case in which a play based on weather conditions backfired.
In large guaranteed prize pool games with nearly a half-million people playing, you need to hit on the top player at nearly every position to cash. I managed to pick the correct play with Gurley and Beckham Jr, but my failure to choose either Eli Manning or Drew Brees proved to be my downfall.
Rivers gave me solid production with 300 yards and three TDs, but he paled in comparison to the top performers of the week, leaving me with a small consolation of doubling my money. In hindsight, this would have been an excellent lineup for a head-to-head match up.
Back to the drawing board for Week 9.