After spending the previous three weeks playing exclusively in head-to-head matchups, I decided to focus on cash game multipliers in Week 8 to take advantage of a few cheap plays that I thought would have high floors and the possibility of a huge upside.

In head-to-head matchups I tend to find as many consistent performers with the hope of providing a high baseline or floor to help me defeat my opponent. After selecting a few foundation players that fit this description, I then use the remaining budget on cheap upside players that could deliver breakout games to put me over the top.

Multipliers and 50/50 games require a bit of a different strategy, as I am going against a group of players instead of just one opponent.

In these types of games, I still need a core group of consistent foundation players to give myself a baseline amount of points to compete, but the increased number of opponents in the contest means that I need more upside players than I would in a head-to-head game.

With my strategy in place, my first goal was to identify the quarterback that I thought would give me the highest floor regardless of price. As I wrote in my preview piece, Andrew Luck had been one of the most consistent fantasy performers in the first seven weeks of the season, giving fantasy owners an average of 27 points in his previous three games.

Next, I decided to go with two running backs and one wide receiver who I felt would be the highest scoring players at their respective positions for the week, and then go with upside players in the remaining skill positions to round out my roster.

Devonta Freeman at home against the Packers and Christine Michael on the road against the Saints were the two running backs that I identified as the best RB plays of the week, regardless of price.

In addition, I determined in my selection process that Mike Evans at home against the Raiders was the best wide receiver play of the week.

The remaining players on this ticket were chosen due to advantageous matchups or they were projected to receive a high volume of targets.

As you might imagine after Evans' dud against the Raiders, I failed to cash on this ticket and my strategy this week did not work out.

Keep reading to find out other errors in my strategy, including investing too heavily on Brock Osweiler's skill position players in what appeared to be a choice matchup at home against the Lions.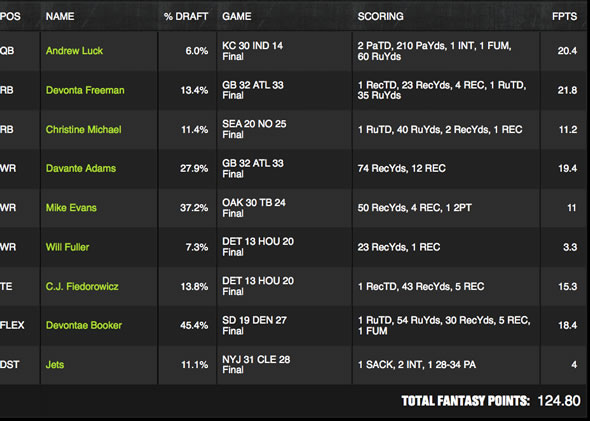 Quarterback: Andrew Luck
DraftKings Points: 20.4
Grade: C
In head-to-head matchups my goal is to get at least 20 points from my quarterback. In multipliers and 50/50's, I increase that baseline goal to 25 points, considering the fact that the probability of other people in the group having the chalk play for the week is higher that when I am playing against one person.
Luck appeared to be a great value play at $6,800 due to the fact that he averaged 25 points in his last three games, including two games on the road against Houston and Tennessee.
But the injury bug bit Luck, as top receiver T.Y. Hilton was limited to just one catch for six yards after missing a big chunk of the game with a hamstring injury.
On face value 20.4 points seemed like a manageable amount to allow me to complete for one of the 4000 multiplier spots, but that was not the case as 17 other quarterbacks outperformed Luck this week.
I would need strong performances from my other skill position players to pick up the slack.
Running Backs: Christine Michael, Devonta Freeman
Combined DraftKings Points: 33
Grade: B-
Michael and Freeman were my selections to deliver the highest floor and ceiling for the week at the RB position regardless of price. Michael's recent stellar play increased his salary by $1300 over the past month, while Freeman's salary ($6,500) appeared to be a value based on the fact that Tevin Coleman was ruled out with a hamstring injury.
The latter proved to be the better play, as Freeman shined with two touchdowns and 58 combined yards.
A poor game script for Michael proved to be his downfall, as Russell Wilson and the Seahawks offense struggled despite having an excellent matchup against the Saints. Michael scored a rushing touchdown, but poor play from Wilson and the Saints milking the clock in the second half limited Michael to just 11 touches.
Projecting fantasy points in a combination of anticipating the number of touches a player will get and the value of those touches based on the opponent and possible game script.
I was correct in my projection for the quality of touches for Michael in this game, but I was dead wrong in the number of touches and projected game script. This failure was a key contributor to my loss this week.
Wide Receivers: Mike Evans, Davante Adams, Will Fuller
Combined DraftKings Points: 33.7
Grade: D
Spending $8,100 on a wide receiver is not something I typically do, unless I anticipate that the player will be the top scoring player of the week at this respective position. With Evans playing at home against an Oakland team that allowed the 10th most points to opposing wide receivers, I figured he was a lock to give me his baseline average of 23 points this season.
The only game in which Evans failed to score at least 19 points was against the Broncos, and we all know that the Raiders are light years away from the Broncos when it comes to defending the pass.
Of course Evans dropped a turd of a game, with only four catches for 50 yards on 11 targets. He proved to be the Evans of 2015 for me this week and not the Evans of 2016, and wound up costing me a chance to cash.
Fuller at home against the league's worst pass defense in the Lions was my home run play. In three games against easy opponents, Brock Osweiller and Fuller connected for just over 300 yards and two scores, including five catches for 107 yards and a TD Week 1 against the Bears.
With Detroit fitting well in the phylum (shout out to Chris Harris) of terrible pass defenses, I was near certain Fuller would once again deliver a solid fantasy performance. Needless to say, I was wrong, and Fuller caught one stinking ball for 23 yards. Ugh.
The Adams play was a no brainer based on volume and what appeared to be a high scoring game. He caught 12 balls for 74 yards, but did not reach the end zone.
Tight End: C.J. Fiedorowicz
DraftKings Points: 15.3
Grade: A-
The Fedora has quietly put up top 10 fantasy points this season for tight ends, with at least four catches in his last five games. In addition to volume, he has proven to be StinkWeiler's favorite target in the red zone, as evident by his two receiving TD's in his last three games.
In a week where Gronk, Kelce, Eifert, and Reed all came through for their fantasy owners, the Fedora was quietly a top five play at a fraction of the price.
I came up 20 points short of cashing this week on this ticket, and it was certainly not C.J.'s fault.
Flex: Devontae Booker
DraftKings Points: 18.4
Grade: A
To round out my Davonte trifecta I went with the trendy pick of the week in Devontae Booker of the Denver Broncos.
It was a popular pick on DraftKings, with nearly half of all players choosing the rookie from Utah on their tickets for the week. 84 combined yards and a TD were great, but the fumble was disappointing and the Denver offense as a whole did not perform quite as well as I thought they would.
Defense: Jets
DraftKings Points: 4
Grade: F
I continue to fall into the trap of picking defenses that go against the Browns, only to be disappointed because although the Browns are terrible, they have not given up many defensive scores this year.
Picking defenses is a crapshoot and something I have not excelled at this year. Perhaps going with the Broncos against whomever they play is the best thing to do.