Last week I discussed the value of the consistency calculator tool and how it can help you identify solid cash game plays like Andy Dalton and Melvin Gordon.

With both of those plays paying off last week for DFS owners who went along with my projection, I thought I would share another free tool in this week's article that can be used by both cash and GPP players.

Vegas odds makers who make a living trying to predict the outcome of games and setting favorable odds for their respective casino provide an excellent free tool for DFS owners. The over/under and line provided for each game can be valuable in identifying players who are playing in possible high scoring games and players with potentially positive game scripts.

For example, MGM Mirage has the Green Bay/Atlanta game has the highest scoring game of the week with an over/under of 52.5 combined points for the two teams. The line on the game is Atlanta is favored by just three points at home, meaning that Vegas thinks both teams will score well, but the overall winner is nearly a push.

In this game, you can target players on both teams and can anticipate positive game scripts for both sides throughout the entirety of the game, in what could turn out to be a close shootout.

Conversely, the same odds makers have an over/under in the New England/Buffalo game as 47 combined, with the Patriots favored by just under a touchdown. In this scenario, Vegas is telling you that they do not view the game as a shootout, with the possibility of the Patriots pulling away early and milking the lead in the second half.

In this game, you can start Patriot skill position players who will work with Brady to build the lead over the Bills, and LeGarrette Blount could receive heavy usage in the second half as the closer. In addition, Mike Gillislee could have value in the first half when the game is still in the balance, but could lose carries in the second half when the Bills are training and are forced to pass.

Of course these are just speculative ideas and we don't know how games play out until they actually happen. But for owners looking to decide between two similar players, taking a quick look at betting lines is a nice free way to help set your final roster.

Here are a few recommended plays this week using both betting lines and the consistency calculator tool.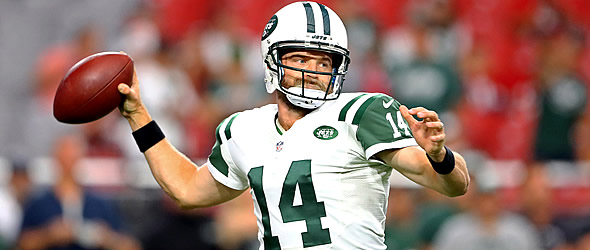 Back in the saddle, Ryan Fitzpatrick makes for an interesting GPP play against the lowly Browns.
Quarterbacks
H2H/Cash - Andrew Luck ($6,800 on DraftKings)
MGM Mirage odds makers predict the Kansas City/Indy game to have the second highest over/under of the week with 49.5 points, with the Chiefs favored by 2.5 on the road against the Colts. This confirms my opinion that the game will be relatively high scoring, with the Colts likely passing until the final whistle blows.
With regards to consistency, no quarterback has been more consistent than Andrew Luck this year at providing at least 15 points per game. In addition, Luck has been lights out recently, with three-straight games of at least 24 points, including 30.82 points Week 7 against the Titans.
The Chiefs have allowed over 25 points to two of the last three quarterbacks they have faced, and are dealing with injuries in their secondary.
All of these factors add up to an excellent cash game play in Luck this week, as he will likely have a high floor and the possibility of being the number one QB play.
Other options to consider - Matt Ryan vs. Green Bay & Matthew Stafford @ Houston
GPP - Ryan Fitzpatrick @ Cleveland ($6,200 on DraftKings)
Head coach Todd Bowles doesn't seem to have faith in him, and Fitzpatrick himself came out with some controversial comments that he doesn't believe the Jets front office believes in him either.
DFS GPP owners looking for a nice home run play at quarterback should believe in Fitzmagic this week, as the Jets take on the winless and hapless Cleveland Browns.
Fitzpatrick only has one game this year with more than 20 fantasy points, and has been one of the biggest disappointments of the 2016 fantasy season. But no quarterback has failed to throw at least two touchdowns against Cleveland this year, and if Fitzmagic is going to have a good game, one would think it would be this week against the Browns.
Other options to consider - Jameis Winston vs. Oakland & Derek Carr @ Tampa Bay
Fade - Aaron Rodgers vs. Atlanta ($7,500 on DraftKings)
This one may come back to bite me, as Rodgers enters the game on the heels of a 27-point game Week 7 against the Bears.
I do think it is possible for him to play well, but he has yet to deliver a performance on the road worthy of his $7,500 price tag, and I think the revamped Falcons pass rush is going to give him and the Packers passing game some fits.
Running Backs
H2H/Cash - Christine Michael ($7,300 on DraftKings)
No longer a value play at $7,300, Michael is currently priced as the second-most expensive running back behind David Johnson ($7,700).
With three consecutive 20-point weeks prior to last week's poor performance against a tough Arizona defense on Sunday Night Football, look for Michael to get back on track against New Orleans and the 32nd ranked defense against the rush.
Russell Wilson is still not healthy and his inability to move outside the pocket has limited the value of receivers like Doug Baldwin and Tyler Lockett. But that has not affected Michael so far in the running game, and I anticipate a high floor and very high ceiling for Michael this week.
Other options to consider - Devonta Freeman vs. Green Bay & Jacquizz Rodgers vs. Oakland
GPP - Devontae Booker vs. San Diego ($3,700 on DraftKings)
There are only two reasons why I would stay away from Booker in GPP games this week. First, I think everyone and their mother will play him as he is the darling of the fantasy world right now.
And second, what if he doesn't respond well to the starting role and drops a turd in what should be a choice matchup at home against a San Diego team that has allowed the sixth-most points to opposing running backs.
I think the first concern is valid, and owners looking to avoid high ownership plays will not be happy with Booker's ownership levels Week 8. But the second one seems less likely, as Booker has looked great in limited work this season and looks primed to breakout with C.J. Anderson shelved with a knee injury.
Vegas doesn't see this game as a shootout with an over/under of 44.5, but Denver is favored by nearly a touchdown on some boards, leading me to believe it will be Booker time in the second half.
Other options to consider - Knile Davis @ Atlanta & Darren Sproles @ Dallas

Fade - Mark Ingram vs. Seattle ($5,000 on DraftKings)
Ingram's $5,000 salary appears to be a bargain, considering where he was drafted this summer in season-long leagues and the potent offense of the Saints. But if you look at his game log, Ingram has managed only two 20-point games this season, with both of them coming against easy rushing defenses in San Diego and Atlanta.
When playing against strong rush defenses, Ingram has struggled with three games under 11 points. The Seahawks would fall into the latter category, making Ingram too risky of a play for me this week in DFS.
Other options to consider - Ryan Mathews @ Dallas & David Johnson @ Carolina
Wide Receivers
H2H/Cash - Brandon Marshall ($7,800 on DraftKings)
The price tag for Marshall is a bit steep considering the fact that he has not been the same constant TD scoring force in 2016 like in years past.
In fact, Marshall has only scored 20 or more points in one game this season. Which is kind of surprising considering the fact that he and injured teammate Eric Decker were the two most consistent wide receivers in 2015.
I think Marshall and Fitzmagic get back on track in their matchup against the Browns this week. Look for Marshall to have a decent floor of 75 yards and a touchdown, with the possibility of a monster game.
Other options to consider - Randall Cobb @ Atlanta & Demaryius Thomas vs. San Diego
GPP - Will Fuller @ Detroit ($6,000 on DraftKings)
Fuller has been nearly invisible over three of the past four weeks, as the Texans faced off against three of the most difficult pass defenses in Denver, New England, and Minnesota.
When going against subpar pass defenses Chicago and Tennessee, the rookie WR from Notre Dame has been nothing short of spectacular.
The Lions have given up the ninth-most points to opposing wide receivers, leading me to believe that this might be a get-well game for Fuller and the Houston passing game. I can't recommend Brock Osweiller with a straight face, but I feel confident recommending his skill position players.
Vegas does not have this game has a shootout (45 1/2 over/under), but the line of 2.5 for Houston is an indication that the Texans offense will likely need to pass throughout the game.
Other options to consider - Ty Montgomery @ Atlanta & Tyler Lockett @ New Orleans
Fade - Dez Bryant vs. Philly ($7,100 on DraftKings)
We don't really know how well Bryant will be able to move in his first game back from a fracture in his knee, and the Philly defense has given up only three touchdowns to opposing wide receivers this season.
I'll get back on the Dez wagon soon enough, but I can't spend $7,100 on him until I see that he is back to his old self.
Other options to consider - Jeremy Maclin @ Indy & Julian Edelman @ Buffalo
Tight Ends
H2H/Cash - Jimmy Graham @ New Orleans ($6,100 on DraftKings)
For those that believe in the revenge game narrative, Graham returning home to the Super Dome to face the Saints does not get much better.
I'm not sure I buy into that notion, but I do feel confident in the fact that the former Saint has delivered double digit points in four consecutive games, including two 20 point games in Weeks 3 & 4.
The Saints have only given up two touchdowns to opposing tight ends this season, primarily due to the fact that teams have lit them up with wide receivers and running backs. Graham will see plenty of action out wide as a receiver, and I would be shocked if he doesn't score in this game.
Other options to consider - C.J. Fiedorowicz vs. Detroit & Gary Barnidge vs. NYJ
GPP - Antonio Gates @ Denver ($2,700 on DraftKings)
Offenses like San Diego and Atlanta provided a template this season on how to beat the Broncos by focusing on tight ends and running backs out of the backfield. Look for San Diego to utilize their tight ends again this week against Denver, with Gates reaching pay dirt at least once.
Other options to consider - Cameron Brate vs Oakland & Jacob Tamme vs. Green Bay

Fade - Jack Doyle vs Kansas City ($3,500 on DraftKings)
Everybody's favorite cheap tight end may hit a buzzkill this week against a Kansas City defense that has allowed only one opposing tight end score this season.
Doyle does rule, but I like other options more this week.
Defense/Special Teams
Vikings @ Chicago ($4,100 on DraftKings)
Normally I would not advocate spending this much money on a defense, as there are usually fine options for quite a bit less. But with Jay pick-six Cutler returning to the field with a "I don't give a crap" attitude the Vikings looking for blood after getting embarrassed by Philly, I can't help but think this will be the top defensive play.