Death, Taxes, and the sun rising tomorrow are a few of the clichéd guarantees in life that we have all come to know. In the unpredictable NFL, there are very few guarantees aside from the refs blowing calls in favor of Seattle on Monday Night Football games and Bill Belichick giving a platitudinous post-game interview with reporters.

There are very few times in the course of a season where a player comes close to being a guarantee. Tom Brady returning to action against the Browns was the closest thing to a sure bet this season, with Brady delivering three touchdowns and 400 yards against one of the league's worst pass defenses.

With Arizona coming off a bye and the lowly San Francisco 49ers rush defense coming to town, running back David Johnson appears to be the next closest thing to a guarantee for DFS owners, even with his hefty price tag of $8,400 on DraftKings.

To say that San Francisco has been terrible against the run would be an understatement. Since 2002, only the 2013 Bears have given up the same gaudy 5.3 yards per carry the 49ers have allowed to opposing backs.

In addition to giving up yards on the ground, the Niners are tied with Cleveland for the most rushing touchdowns allowed this season with 12, and the Browns have played an extra game against Ezekiel Elliott and the Cowboys.

Considering the fact that he has averaged 25.3 points per game, including 36.5 points against the 49ers in Santa Clara Week 5, David Johnson should be an absolute dominant force in this matchup.

Now it does beg the question of should you play Johnson and his hefty price tag in cash games and GPPs, as he will likely garner a significantly high ownership percentage in both?

My advice would be to fade him in GPP's and hope that Arizona takes a commanding lead on defensive and passing scores.

In cash games, his high floor and high ceiling are just too enticing to pass up.

Here are a few other players I am targeting for Week 10.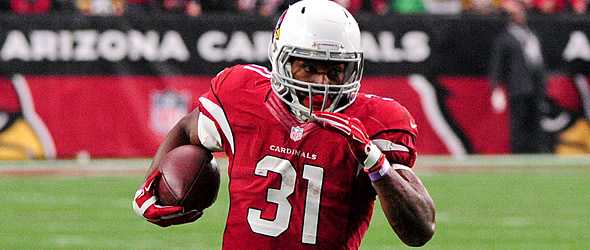 It's David Johnson Week. Set him in your lineups and don't worry about his ownership percentage.
Quarterbacks
H2H/Cash - Aaron Rodgers @ Tennessee ($7,400 on DraftKings)
A much maligned player in the fantasy football industry, Rodgers has been surprisingly effective over the past three weeks and currently ranks third overall in passing touchdowns.
Although I have been a proponent of fading him more than once this season, it is tough to pass on his matchup on the road against the Titans in a game that has the makings of a shootout (50.5 O/U).
Rodgers has averaged just under 29 points per game in his last three contests, while the Titans have been the third-worst defense to opposing quarterbacks during that period.
Other options to consider - Ben Roethlisberger vs. Dallas & Philip Rivers vs. Miami
GPP - Carson Wentz vs. Atlanta ($5,400 on DraftKings)
Recommending a rookie quarterback with only one 20-point game on the year might appear to be a silly move on my part, especially one with the limited weapons that Wentz has in Philadelphia.
Just like location is important when buying and selling real estate, your opponent and game script is equally important in DFS when identifying inexpensive GPP plays that might breakout.
A positive game script for passing due to the high flying Atlanta offense should force Wentz and the Eagles offense to pass throughout the game. Mix in the fact that the Falcons currently own the 32nd pass defense and could be without their best corner in Troufant, and you have the recipe for a possible monster game.
Other options to consider - Marcus Mariota vs. Green Bay & Alex Smith @ Carolina
Fade - Cam Newton vs. KC ($6,800 on DraftKings)
Last year's fantasy darling has been anything but this season, and may struggle again this week against a KC defense that will have pass rush reinforcements in Justin Houston and a secondary that excels in covering the tight end.
If you take away the two 30-point games Newton has scored against easy opponents like San Francisco and New Orleans, he would average well under 20 points per game this season. Not exactly superman-like numbers.
Running Backs
H2H/Cash - David Johnson vs. San Francisco ($8,400 on DraftKings)
The only feasible way that I can see Johnson fail to produce a 20-point game is if he gets injured, or the Arizona defense has multiple pick six touchdowns like they did against Colin Kaepernick in Week 3 of 2015.
Now that I have sufficiently jinxed Johnson, let me add in the crazy stat of his usage in the passing game. In Week 7 against Seattle, Johnson scored 28.1 points without scoring a rushing or passing touchdown. This was due to the fact that he caught a whopping eight passes on 13 targets.
Like I said in my opening, he is as close to a sure bet as you can get, and he will be a staple in my cash game lineups despite the fact that I anticipate most of my competition owning him as well.
Other options to consider - Melvin Gordon vs. Miami and Jay Ajayi @ San Diego
GPP - Darren Sproles vs Atlanta ($4,300 on DraftKings)
The folks at DraftKings have been surprisingly slow to respond to the fact that despite Doug Peterson's insisting Ryan Mathews is the lead back in Philly, Darren Sproles is in fact the top RB in Philly.
The little firecracker continues to impress despite his age and stature, with double digit points in consecutive weeks in which he received 20 touches.
You will be hard-pressed to find more touches as a discounted price of $4,300, and the fact that Atlanta's offense will likely put pressure on the Philly passing game to score points makes Sproles a no-brainer play in all formats.
Other options to consider - Kapri Bibbs vs. New Orleans & C.J. Prosise @ New England
Fade - Devontae Booker vs. New Orleans ($7,000 on DraftKings)
In two games as the starter for Denver, Booker has underwhelmed to the tune of 2.2 yards per carry against Oakland and 2.8 yards against San Diego.
He has been so disappointing, that head coach Gary Kubiak has said that Kapri Bibbs has earned the right to more carries.
Sure the matchup against the Saints looks choice, but it risky in the fact that you are not guaranteed volume for a player costing you a hefty $7,000 price tag.
Wide Receivers
H2H/Cash - Alshon Jeffery @ Tampa Bay ($6,600 on DraftKings)
Jeffery and Cutler will look to continue their solid play from last week against Minnesota, as only the Atlanta Falcons have allowed more fantasy points to opposing defenses than the Tampa Bay Bucs.
If Jeffery and Cutler can connect for four catches for 63 yards and a score against the Vikings, expecting a floor of that level of production with a ceiling of 100 yards and two scores is a reasonable expectation against suspect corners Vernon Hargreaves and Brent Grimes.
Other options to consider - Mike Evans vs. Chicago & Stefon Diggs @ Washington
GPP - Tyrell Williams vs. Miami ($5,700 on DraftKings)
Tyrell Williams has been a consistent performer in nearly every game this season when the Chargers play someone other than Denver.
Williams caught six of his seven targets for 65 yards and score last week against the Titans, and seven balls for 140 yards Week 7 against Atlanta.
You can pass on Miami, as evident by the fact that they have allowed the seventh-most fantasy points to wide receivers this year. My only concern here is game flow, as Miami will focus on shortening the game with a ball controlled run game with Ajayi, creating a possible negative game script.
Other options to consider - Albert Wilson @ Carolina & Jamison Crowder vs. Washington
Fade - Brandon Marshall vs. Los Angeles ($6,900 on DraftKings)
This is the first time all season that Marshall's salary has dipped below the $7,000 mark, and frankly, I think it is still way too high considering just how poorly Marshall and the Jets passing game have played this year.
Left tackle Ryan Clady is out for the year, making an already suspect line even more porous against a Rams defensive front that has been on a tear lately. Ryan Fitzpatrick is already hobbled by a knee sprain and his lack of mobility and defensive pressure will kill this offense.
Tight Ends
H2H/Cash - Travis Kelce @ Carolina ($5,600 on DraftKings)
The start your tight end against Detroit mantra you continue to hear from the fantasy industry on a weekly basis was forced to take a sabbatical this week as the Lions are on a bye.
Don't fret my friends, the Panthers have been almost as putrid against opposing tight ends, making Kelce an attractive start this week.
KC will likely have difficulty moving the ball on the ground, and number one wide receiver (I say that in jest) Jeremy Maclin is likely out with a pulled groin, leaving Kelce as the Chiefs' main receiving threat.
The question is can Kelce keep his cool and not get kicked out for unsportsmanlike conduct. I think so, and I think he bounces back with a pair of scores.
Other options to consider - Jason Witten @ Pitt & Antonio Gates vs. Miami
GPP - Zach Ertz vs. Atlanta ($3,700 on DraftKings)
I wanted to go with Kendricks here, but the horror of his dropped touchdown pass keeps playing on a loop in my head.
Instead, I decided to go with Zach Ertz against the Falcons, in what has the makings of a shootout in Philly. Ertz caught all eight of his targets for 97 yards Week 9 against the Giants, opening the door to the possibility that he and rookie QB Carson Wentz are finally getting on the same page.
Don't anticipate a touchdown, as that is not historically been a strong point for Ertz and Doug Peterson continues to force balls to Dorial Green-Beckham in the red zone, despite the fact that Green-Beckham is terrible and has the ball skills of my labradoodle puppy.
Other options to consider - Ladarius Green vs. Dallas & Virgil Green @ New Orleans

Fade - Jimmy Graham @ New England ($5,300 on DraftKings)
The Seattle offensive line is so terrible that the Patriots defense will be able to shut down the run without allocating much focus to Michael or Prosise, opening the door for Patricia and Belichick to do their typical strategy of shutting down the main threat of their opponent.
After eight catches for 103 yards and two touchdowns, it is clear that Graham is Seattle's man offensive threat right now.
Owners expecting similar production this week on the road in Foxboro will be disappointed.
Defense/Special Teams
Arizona Cardinals vs. SF ($3,700 on DraftKings)
I don't expect four turnovers and a couple of defensive scores this week like the last time Colin Kaepernick played the Cardinals on the road, but one score and a few turnovers is certainly in the realm of possibility on Sunday.