Week 17 in the NFL season can be frustrating for season-long fantasy owners as playoff-bound teams tend to sit starters for rest and fear of injury. For this reason, most leagues tend to finish the fantasy playoffs in Week 16, when most teams are still vying for a playoff spot with star players playing their usual snap counts.

The late season resting of players that drives most fantasy players nuts can actually be a blessing for DFS owners looking for value plays on their tickets, as second string running backs and wide receivers with cheap salaries can be a nice addition to a daily lineup.

Take for example Darren McFadden, who will likely see the majority of carries for the Cowboys with Ezekiel Elliott resting for most of the game. Although the former Arkansas Razorback will have Mark Sanchez behind center and some of the starting offensive linemen in the vaunted Dallas line may sit, he is still an excellent value at his current salary of $4,300.

DeAngelo Williams of the Pittsburgh Steelers is also another player to keep in mind, with the news that head coach Mike Tomlin will likely sit Ben Roethlisberger, Antonio Brown, and Le'Veon Bell against Cleveland.

Just like McFadden, Williams will have a backup quarterback running the offense with second and third string skill position players. But in a game where touches are key and a matchup at home against the No. 31 ranked Cleveland run defense, Williams is a very enticing play at his backup salary of $5,500.

Those are just a few plays that I am targeting based on NFL teams resting starters this week. Here are a few other picks that may help you bring home some cash on DraftKings.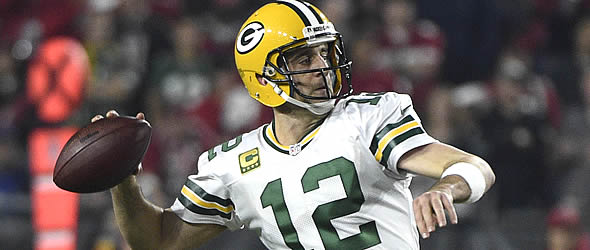 NFC North on the line: Aaron Rodgers threw four touchdowns the last time he faced Detroit.
Quarterbacks
H2H/Cash - Aaron Rodgers @ Detroit ($7,700 on DraftKings)
The theme this week with all DFS options is motivation, and will they play the entire game. In the case of Aaron Rodgers on the road against Detroit, the Packers have everything to play for in the battle for the north crown, and Mr. Olivia Munn will torch the Lions secondary that allowed three easy passing touchdowns to Dak Prescott Week 16.
I understand the hesitation of some owners paying for the most expensive quarterback, especially one who managed only 11 points two weeks ago on the road against Chicago. But in a game where locking up a quarterback with a high floor is key, Rodgers playing for the season against Detroit in a dome is about as sure of a thing as you can get. Pay the premium and try to make up some of the cost with low-priced running backs like McFadden and Williams.
Other options to consider - Matt Ryan vs. New Orleans & Russell Wilson @ San Francisco
GPP - Matthew Stafford vs. Green Bay ($6,000 on DraftKings)
Stafford hasn't topped 20 fantasy points since he injured his middle finger against the Saints. While some might attribute his struggles to the finger injury, I would venture to say his lack of production can be attributed to tough matchups and the absence of Theo Riddick in the passing game.
Although Riddick did not practice on Thursday and may miss Sunday's game against Green Bay, a home game against a Packers secondary that has allowed the eighth-most fantasy points against opposing wide receivers makes me like Stafford this week.
Heck, if Adam Theilen and Sam Bradford can light up the Packers at Lambeau Field to the tune of 200 yards and two scores, I like Stafford's chances to have a big game at home with Golden Tate leading the way.
Other options to consider - Blake Bortles @ Indy & Joe Flacco @ Cincinnati
Fade - Philip Rivers vs. Kansas City ($6,500 on DraftKings)
After a strong start to the season with three 20-plus performances in his first five games, Philip has been mediocre at best down the stretch, even in advantageous matchups like Atlanta on the road and Oakland at home.
Injuries to his wide receiving corps and a surprisingly high number of interceptions and fumbles have limited Rivers' fantasy value this season.
Conversely, the Chiefs defense has been spectacular down the stretch, limiting opposing quarterbacks to single digits fantasy points in the last three weeks, while not allowing a single passing touchdown since Week 13.

Running Backs
H2H/Cash - Devonta Freeman vs. New Orleans ($7,000 on DraftKings)
A win over the Saints secures the number two spot in the playoffs for the Falcons and the much-coveted first round bye, while the Saints have only pride on the line and a chance to play spoiler against a division foe.
The two teams combined for 77 points when they faced off in Week 3, with Freeman posting 200 total yards and a score.
New Orleans has been the whipping boy for Freeman since he was drafted in 2014. He scored a touchdown in four of the five games he has played against the Saints, including a two-touchdown, 160-yard game Week 5 of 2015.
The main fear with Freeman is the possibility that Tevin Coleman will have a big game on the ground. But if you believe in the narrative that the two backs take turns with having big games, it is Freeman's turn after Coleman's 135-yard, one score performance last week.
Other options to consider - Jay Ajayi vs. New England & Ty Montgomery @ Detroit
GPP - Alex Collins @ San Francisco ($4,600 on DraftKings)
Thomas Rawls is back at practice and is on track to start Week 17 against the 49ers, but his bruised shoulder and the likelihood of Russell Wilson and the passing game blowing out San Francisco leads me to believe he will not be used heavily.
Enter Alex Collins, a rookie running back from the University of Arkansas who looked impressive last week against Arizona when Rawls left with an injury.
I have written ad nauseam about the futility of the Niners run defense, so I will spare you any further explanation on why playing running backs against San Fran is a good idea.
Collins could be a home run hitting running back that could bring fantasy gold for DFS players as we close out the regular season.
Other options to consider - Alfred Blue vs. Tennessee
Fade - Jordan Howard @ Minnesota ($6,800 on DraftKings)
In a game of two eliminated teams with nothing to play for accept pride and contract bonuses, Howard on the road against the Vikings is a play that I am avoiding this week on my tickets.
Howard has been spectacular this season, a likely rookie of the year candidate in any other season without Dak and Zeke stealing the show. But the Vikings have allowed the 25th fewest points to opposing running backs over the past five weeks, and I anticipate that Mike Zimmer will have the defense fired up to stop the Bears in front of the home crowd.
Wide Receivers
H2H/Cash - Doug Baldwin @ San Francisco ($7,000 on DraftKings)
Tyler Lockett's gruesome leg injury last Sunday against Arizona opened the door for Baldwin to see the majority of carries as the Seahawks mounted a comeback against the Cardinals.
With Lockett out until 2017 and the Seahawks in need of a win and a Falcons loss to move up to the second seed in the playoffs, I suspect that Baldwin will receive double digit targets against the 25th ranked 49er pass defense.
Other options to consider - Golden Tate vs. Green Bay & T.Y. Hilton vs. Jacksonville
GPP - Steve Smith @ Cincinnati ($4,900 on DraftKings)
The future hall of famer told reporters this week that Sunday's game against the Bengals will be the last of his storied career.
With both teams out of the playoffs and little to play for, look for head coach John Harbaugh to give Smith every chance possible to leave the game with a big performance.
I am buying the retirement narrative and I will own multiple shares of Smith this week. A floor of seven targets is likely, while the chance of 10 to 15 targets is not out of the question.
Other options to consider - Adam Theilen vs. Chicago & Brandin Cooks @ Atlanta
Fade - Julio Jones vs. New Orleans ($6,800 on DraftKings)
Jones admitted after last week's pedestrian 4/60/0 line against the Panthers that he was playing cautiously to avoid aggravating his turf toe injury.
The Falcons have enough firepower to beat the Saints to secure the second seed in the playoff, leading me to believe that Jones once again will be a decoy on the field.
Tight Ends
H2H/Cash - Travis Kelce @ San Diego ($5,000 on DraftKings)
Travis Kelce has clearly been the best tight end in football over the second half of the season, reaching 100 yards in five of his last six games, including last week's 11/160/1 monster game in a victory over Denver.
For some reason the salary makers at DraftKings have yet to adjust his salary accordingly, making Kelce a decent value play even at $5,000.
Kelce had six catches for 74 yards when the Chiefs hosted the Chargers at Arrowhead Week 1, which was well before Andy Reid and the coaching staff made Kelce the focal point of the offense.
Look for a big return with a nice floor from Kelce in an important Week 17 game against the Chargers with significant playoff seeding implications in play.
Other options to consider - Kyle Rudolph vs. Chicago & Zach Ertz vs. Dallas
GPP - Eric Ebron vs. Green Bay ($3,600 on DraftKings)
My best friend (a diehard Lions fan) and I got a full-bellied chuckle when ESPN's Sean McDonough said "a surprising drop from the usually sure-handed Ebron." Eric Ebron is many things, including big and fast, but sure-handed is certainly not something I think of when I think of the former first round pick from North Carolina.
With that said, I will target him this week on my GPP tickets due to his matchup against the Packers and the fact that Anquan Boldin may be limited with a hand injury.
Ebron caught eight of his 12 targets for 93 yards in last week's loss to Dallas. Look for him to give similar numbers and a possible score this week against Green Bay.
Other options to consider - Ryan Griffin vs. Tennessee & Jesse James vs. Cleveland
Fade - Jason Witten @ Philadelphia ($3,100 on DraftKings)
Witten is an iron man and will no doubt try to get on the field this week against the Eagles. For fantasy purposes, I am avoiding all Cowboys this week accept for Darren McFadden, as you simply do not have enough information to make a logical prediction on their usage.

Defensive Play of the Week
Titans vs. Houston ($2,900 on DraftKings)
Eliminated from the playoffs and without their star young quarterback who left with a broken leg last week, the Titans will no doubt be motivated to beat their division foe in the final game of the season.