After a fairly boring wild card weekend in which all four home teams won going away, the matchups in the divisional will hopefully provide more drama and intrigue.

Will Big Ben break his trend of poor performances on the road give the Steelers a date in the AFC conference game with the Patriots (yes, I am giving Brock Osweiler and the Texans zero chance to beat Brady and the Pats), or will Andy Reid continue his post-bye week magic and shut down Big Ben at Arrowhead?

Can Russell Wilson lead an underdog Seahawks team to victory against a revamped Falcons defense, or will Matt Ryan turn around his 1-4 career playoff record and give Atlanta their first playoff win since 2012?

Of all the narratives that will be talked about this on talk radio and pregame shows, the inexperience and youth of the Cowboys vs. the veteran Packers is the one that is most interesting to me.

How will rookies Dak Prescott and Ezekiel Elliott handle the pressure and spotlight of playing in the NFL playoffs for the first time? Will Dak continue to play well beyond his years, or will the stress of sending the Cowboys to their first NFC Championship game since 1996 be too much for the first-year quarterback?

For DFS purposes, my plan of attack is to target veteran players who have playoff experience and attractive matchups like Patriots, Packers, Falcons and Seahawks. It wouldn't surprise me to see Dak and Zeke put up numbers against the Pack, but I'd rather let other DFS owners target the young players while I stick with veterans.

Here are a few players that I will be targeting on my DraftKings tickets this week.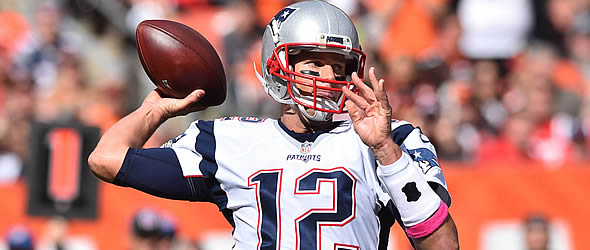 Tom Brady has thrown 13 touchdowns in his last five playoff contests, averaging 306 yards per game.
Quarterbacks
H2H/Cash - Tom Brady vs. Houston ($7,600 on DraftKings)
With three touchdown passes in three of his last four games, including a near-flawless 25/35 for 276 yards and three touchdowns to close out the regular season against Miami, Tom Brady and the New England passing attack entered the playoffs churning like a well-oiled machine.
Although the Houston defense ranks second in the league against the pass and no quarterback has thrown for more than two touchdowns since Week 12, none of those quarterbacks are named Tom Brady and none of those games took place in Foxboro.
The New England defense is going to have little difficulty shutting down Osweiler like they did in the 27-0 Week 3 shellacking, giving Brady numerous short fields to play with and a positive game script.
My only reservation is that the Patriot D/ST scores a defensive touchdown and/or LeGarrette Blount scores multiple rushing touchdowns. Otherwise, Tom Brady is a lock for 275 yards and three touchdowns, with the upside of a possible monster game at home.
Other option to consider - Matt Ryan vs. Seattle
GPP - Russell Wilson vs. Atlanta ($6,900 on DraftKings)
Wilson posted one of his worst games of the season in Seattle's Week 6 loss at home against Atlanta, as the Falcons limited the diminutive signal-caller to zero touchdown passes in the game.
It was the start of a three-game stretch where Wilson failed to log a touchdown pass, primarily due to the fact that he was dealing with knee and ankle injuries that limited his mobility. Those ailments have since healed and Wilson ended the season on a high note with eight touchdown passes and one interception in his final three games of regulation.
I like Wilson as a GPP play because he presents a high upside play at a relatively low cost compared to Rodgers and Brady, and the Falcons proved Week 6 that they can move the ball against the once vaunted Seattle defense.
Other option to consider - Alex Smith vs. Pittsburgh
Fade - Ben Roethlisberger @ Kansas City ($6,500 on DraftKings)
Big Ben's road/home splits are startling, with the former first round pick from Miami (OH) completing only 59% of his passes for nine touchdowns on the road compared to 71% and 29 at home.
When you consider those stats and how much better Kansas City plays at Arrowhead compared to on the road, playing Big Ben this week is a risky play in all formats.
His recent carelessness with the football (seven picks and a fumble in his last four games) and nagging ankle injury sustained last week against Miami are red flags as well.

Running Backs
H2H/Cash - Ezekiel Elliott vs. Green Bay ($8,500 on DraftKings)
I wrote about how my curiosity on how well the Cowboys rookies will handle the pressure of their first playoff game will make me a bit hesitant on starting Dak Prescott and members of the Cowboy passing game.
That same concern does not apply to Zeke simply because I think he will be a volume monster in this game, which is exactly what cash game owners are looking for in their running backs.
Aaron Rodgers is white hot right now, and the best way for the Cowboys to limit Rodgers is to keep him off the field by running Zeke and the ground game over and over again.
The former first-round pick from Ohio state has not reached more than 30 carries in a game since Week 3 against the Bears when he rushed for 140 yards on 30 touches. Look for similar numbers this week as the Cowboys look to control time of possession.
Other option to consider - Spencer Ware vs. Pittsburgh
GPP - Devonta Freeman vs. Seattle ($5,900 on DraftKings)
Why on Earth would someone want to start Freeman against Seattle, a team limited him to his worst performance of the season with only 40 yards on 12 carries and no touchdowns?
The answer is simple. Freeman has been a beast at home this season, scoring 11 of his 13 touchdowns. Whether it is scheme or playing in the comforts of home at the Georgia Dome, Freeman has been the main scoring back for the Falcons at home while Tevin Coleman has done most of his damage on the road (six of eight TD's came away.)
Not surprisingly, Seattle is a much better defense at home than one the road, giving up nearly five points more per game away from CenturyLink Field. It should also be noted that the Seahawks have struggled against good offenses without injured safety Earl Thomas, with Arizona and Green Bay scoring 34 and 38 points respectively.
Other option to consider - Thomas Rawls @ Atlanta
Fade - Lamar Miller @ New England ($5,600 on DraftKings)
Miller has been a model of consistency over his past three games with a touchdown in all three contests. Unfortunately, he has been constantly mediocre when it comes to his per carry average (sub three in two of the three games).
The Patriots have not a single running back to rush for more than 100 yards per season, partly because the defense plays well against the run and partly because the New England offense has been so good that opposing running backs have been taken out of the game because of negative game scripts.
I anticipate that will be the case once again, with Miller receiving between 10 and 20 carries without scoring a touchdown.
Wide Receivers
H2H/Cash - Davante Adams @ Dallas ($7,000 on DraftKings)
Jordy Nelson has been ruled out of the game with fractured ribs sustained in Green Bay's Wild Card weekend win over the Giants. In Nelson's absence, Aaron Rodgers leaned heavily on Adams and Randall Cobb, with the former catching eight of 12 targets for 125 yards and a score.
I expect similar target volume for Adams against the Cowboys, as Rodgers will look to exploit a defense that ranked 21st in the regular season in points allowed to opposing wide receivers.
Last year Adams struggled when Nelson went down and did not embrace the number one wide receiver role. With a healthy Randall Cobb and Jared Cook to help take some of that pressure off, Adams seems to be more confident in the lead job.
Other option to consider - Dez Bryant vs. Green Bay
GPP - Paul Richardson @ Atlanta ($4,100 on DraftKings)
In last week's preview, I wrote about the volume increase Richardson received once Tyler Lockett went out for the season with a leg injury. Instead of listening to my own advice, I went with Richardson' teammate Jermaine Kearse and was the beneficiary of a whopping two catches for 14 yards while Richardson scored a touchdown.
I won't make that same mistake twice. Richardson has clearly carved out a role for himself in the Seattle offense and his circus catches are becoming a weekly occurrence. I like his chances of converting between five and eight targets into 75 yards and a score this week - a perfect option for GPP players.

Other option to consider - Tyreek Hill vs. Pittsburgh
Fade - Julio Jones vs. Seattle ($8,400 on DraftKings)
This one might be a bit of a stretch when you consider the fact that Julio caught nine balls for 139 yards and a score against Seattle Week 6. But when you look closer at that game, his score came on a busted coverage play between Richard Sherman and a safety, which is something that does not happen regularly.
With how well Jones and Ryan burned the defense when they played in Seattle, I would imagine defensive coordinator Kris Richard will work on a scheme to limit Jones in the rematch.
I could be wrong on this one and Jones may blow up, but I feel like he is the riskiest of the expensive skill position players this week and I will likely avoid him on my tickets.
Tight Ends
H2H/Cash - Travis Kelce ($6,100 on DraftKings)
The last time I recommended Kelce he burned me with one catch for eight yards and no touchdowns, leaving myself and many other DFS owners out to dry.
In a week where top tight end options are hard to find based on the fact that the Steelers, Cowboys, and Packers do run much of their offense through the tight end position, pickings are a tad bit slim for owners looking for a high floor play.
Pittsburgh finished the season as the 11th-worst team against tight ends, highlighted back-to-back double-digit games for Dennis Pitta and Gary Barnidge. You can score against Pittsburgh with tight ends, especial those that are big and fast like Kelce.
Other option to consider - Jimmy Graham vs. Atlanta
GPP - Jared Cook @ Dallas ($3,900 on DraftKings)
Cook is my breakout player of the week in the divisional round, as the injury to Jordy Nelson and Dallas' struggles at stopping the tight end (Cowboys allowed the most yards and fourth-most touchdowns to tight ends this season).
In terms of targets trends, you cannot go wrong with Cook, with the veteran tight end garnering eight targets in three of his last four games.
Other option to consider - Levine Toilolo vs. Seattle
Fade - Jason Witten vs. Green Bay ($3,500 on DraftKings)
Witten's production has been nearly impossible to predict this season, leaving fantasy owners guessing when and where the future hall of famer will be utilized in the Dallas offense. After catching all ten targets against Tampa Bay Week 15, Witten was a complete afterthought in the team's blowout win over Detroit the following week.
He could be due for a big game after not being utilized the last two weeks, but who really knows, and the Packers have not allowed a receiving touchdown to a tight end since Ryan Griffin in Week 13.

Defensive Play of the Week
New England vs. Houston ($4,000 on DraftKings)
The only team with a clear advantageous matchup against a turnover prone team, the Patriots will likely receive a sizable ownership share in all formats this week. Don't be scared off by that fact. Spend the $4,000 needed to secure the team with the highest floor and a decent shot at a defensive touchdown.
If you are in need to a home run option and a team that could score a special teams touchdown, Tyreek the freak and the Chiefs are a decent choice as well.