Of the many storylines from this week's slate of four divisional games, the rematch between Ben Roethlisberger and the Jacksonville Jaguars secondary is the one that has piqued my curiosity the most.

The Jags embarrassed Big Ben and the Steelers by forcing five interceptions in a shocking 26-9 victory at Heinz Field in Week 5. It was one of the worst performances of Roethlisberger's career, especially at home in front of the Steeler faithful.

Roethlisberger responded with wins in nine of his team's final ten games, with the only loss coming against New England in a questionable non-call on a would-be game-winning touchdown reception by Jesse James. During that span, Roethlisberger was a top-five fantasy quarterback, with three separate 30-plus point performances against Tennessee, Green Bay, and Baltimore.

Big Ben and the Steelers claim to welcome a chance at a rematch against the Jags, and many of the Jaguars have responded publicly that Big Ben should be careful with what he wishes for on Sunday.

Regardless of the outcome, the game between Pittsburgh and Jacksonville presents numerous DFS options for daily fantasy owners, including a possible sneaky tight end play or two.

Below are a few players that I am targeting in what will be my final preview piece of the 2017 fantasy season.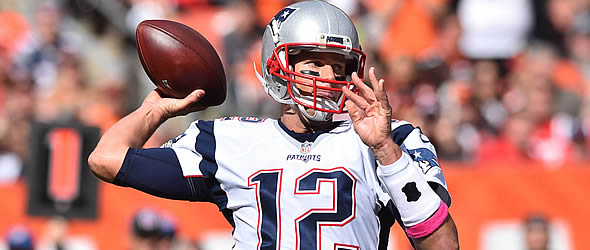 Cash players not comfortable paying a premium for a QB should consider paying up for Tom Brady.
Quarterbacks
H2H/Cash - Tom Brady vs. Tennessee ($7,000 on DraftKings)
Cash players not comfortable paying a premium for the top quarterback should consider paying up this week for Tom Brady against the Titans. Of the eight quarterbacks starting this weekend, Brady has the highest floor at home against a Titans team that allowed 21 first-half points to the Chiefs before the injury to Travis Kelce. Pair Brady with Gronk in cash and reap the rewards of a 40-point foundation from your quarterback and tight end.
Other option to consider - Case Keenum vs. New Orleans
GPP - Nick Foles vs. Atlanta ($5,200 on DraftKings)
Although the Falcons played well against the Rams and limited second-year quarterback Jared Goff to 259 yards and a score in the Wild Card round, they did finish the season allowing the 15th-most points to opposing quarterbacks. Foles does not possess a high floor that I typically target in cash games, but his upside and inexpensive salary makes him attractive in GPPs.
Other option to consider - Marcus Mariota @ New England
Fade - Blake Bortles @ Pittsburgh ($5,000 on DraftKings)
Bortles appeared shaky against the Bills as if the playoff stage were too big for the former first-round pick. I have a sense that the Steelers will rattle Bortles and force him to make more poor decisions and throws.
Running Backs
H2H/Cash - Le'Veon Bell vs. Jacksonville ($9,600 on DraftKings)
Like Brady, I am paying the premium this week on Bell, the running back that possesses the highest floor and the best chance for a big game. Teams that have found success against Jacksonville have found the path to victory on the ground. Look for Bell to garner close to 30 total touches as the Steelers look to win the game in the trenches.
Other option to consider - Devonta Freeman @ Philadelphia
GPP - Alvin Kamara @ Minnesota ($7,800 on DraftKings)
No running back this week has a favorable matchup that stands out as a must-start in any format, especially GPP. But betting against Kamara, even with the Saints traveling north to take on the No.1 ranked Vikings defense, is not something I would recommend. If there is a way to beat the Vikings with running backs it is in the passing game, and there Kamara is without a doubt the most dynamic receiving running back this year.
Other option to consider - Latavius Murray vs. New Orleans
Fade - Derrick Henry @ New England ($7,300 on DraftKings)
Call it a hunch, but I anticipate that Belichick and the Patriots will focus on shutting down the run and force Mariota to beat them in the passing game. I also expect that game script will limit Henry's carries as the Titans chase points in the second half.
Wide Receivers
H2H/Cash - Julio Jones @ Philadelphia ($7,900 on DraftKings)
Of the two top-tier wide receivers playing this week, I prefer to go with Jones over Antonio Brown based on matchup and the fact that Jones is not coming off a severe leg injury. My plan the week is to spend a premium on cash game running backs instead of wide receivers, but if forced to choose an expensive WR option, I would go with Jones against the Eagles.
Other option to consider - Adam Thielen vs. New Orleans
GPP - Ted Ginn Jr. @ Minnesota ($5,800 on DraftKings)
One of the strengths of the Vikings is the ability of their safeties to help in run support. That aggressiveness can come at a cost when playing against teams with excellent play action passers and a wide receiver who can expose aggressive safeties over the top. For this reason, I like Ginn and his ability to break a big play against Harrison Smith and the Vikings.
Other option to consider - Nelson Agholor vs. Atlanta
Fade - Michael Thomas @ Minnesota ($7,200 on DraftKings)
Xavier Rhodes limited Thomas to 50 yards the first time they played and will be tasked once again at shadowing Thomas on Sunday. Thomas may break free for a touchdown reception, but I doubt he will have a day worthy of his 7.2k price tag.
Tight End
H2H/Cash - Zach Ertz vs. Atlanta ($5,800 on DraftKings)
Gronk is the obvious play here and makes sense pairing him with Brady in a cash stack. Owners not able to spend 7.1K on a tight end may want to consider Ertz in cash games against Atlanta. The Falcons were strong against tight ends, as evident to the fact that the allowed the 24th-fewest points in the regular season. But Ertz's volume in passes over the middle against an aggressive Atlanta linebacking corps make him a solid play.
Other option to consider - Delanie Walker @ New England
GPP - Kyle Rudolph vs. New Orleans ($4,700 on DraftKings)
The Saints have not allowed a tight end touchdown since Week 11 to the Redskins and only one tight end managed double-digit points vs. the Saints this season. As a contrarian play in GPP, I like Rudolph against the Saints based on the narrative that Marshon Lattimore will matchup in single converge outside on Stefon Diggs and the Saints with focus their nickel and safety help on Adam Thielen in the slot. With single coverage as the third option for Keenum, look for Rudolph to be a big factor on Sunday.
Other option to consider - Vance McDonald vs. Jacksonville
Fade - Josh Hill vs. Minnesota ($2,600 on DraftKings)
Hill scored his second touchdown of the season in the Wild Card round against the Panthers. Don't chase points with Hill, as the volume is not there and he is too much of a risk for a goose egg.

D/ST: Pittsburgh vs. Jacksonville
I like to bet against below average quarterbacks in road matchups. Bortles looked shaky at best, and the Steelers will rattle him and force him to make poor choices with the football.