I've been writing this article for several years now and while I have had some nice hits and some memorable misses, the main thing I've noticed over the years is it is getting harder and harder to find sleepers. I'll even go as far as to say the fantasy football sleeper is dead. Nowadays even your average owner that plays in just home or work leagues seems to know the full depth chart of every team in the NFL. With podcasts, websites, twitter updates, and constant media attention, fantasy football has become so big that there are very few, if any, hidden gems anymore.

I don't mean to sound like a downer though, overall it is a great thing, as it makes leagues more competitive and gives us more to discuss and strategize upon. So while this article is still technically called "deep sleepers" it's centered on players that could easily outperform their ADP. Most of the players are going in round 12 or later and may not even be drafted in the majority of 12-team leagues.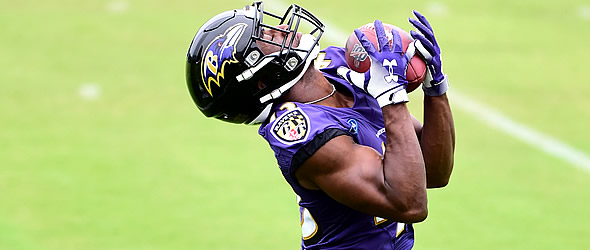 Justice Hill's ability to catch the ball makes him a nice late-round target in your fantasy draft.
1. Justice Hill (RB, Baltimore, ADP 13.06)
One of the most interesting, and perhaps difficult teams to project this year is the Baltimore Ravens. We donít know for sure how much Lamar Jackson will progress as a passer and itís a mystery who (if anybody) will step up in the receiving game. What we do know for sure is the Ravens will run the ball A LOT. They already had the most rush attempts in the league last year (547) and there is little reason to believe they won't be top 5 again this season.

To determine how valuable a guy like Justice Hill could be letís do a little math experiment. Letís say the Ravens attempt 525 rushes this year. Mark Ingram obviously should take the bulk of these carries so letís say we give him a healthy 250 carries, which would be top 5 in the league most years. We obviously have to give Lamar Jackson a big dose as well, so letís say 160, or 10 per game assuming he plays all 16. This leaves a little over 100 carries spread out among the remaining RBs on the roster which is OK but not enough to be fantasy relevant unless it comes along with high efficiency.

So why is Hill high on my list as a sleeper to target? First of all these projections are probably the best (or worst) case scenario. Ingram is a solid back but he is also going to be turning 30 this season, has a checkered injury history, and a lot of touches on his resume. Ingram has also played some of his best ball as a compliment runner so the Ravens should want to keep him fresh by using multiple options.

In the case of Jackson, would anyone be surprised if he missed a few games given his style of play? I know itís always risky to predict injuries but the combo of a 30 year-old back and a running quarterback doesnít exactly inspire confidence in health. Even if the injury situation doesnít work out in Hillís favor, he can make his mark in other ways, primarily as a receiver, not only on 3rd downs, but lining up as a receiver on pass plays as well. As a sophomore, Hill caught 31 passes in 13 games and profiles as an excellent receiver at the next level, often being compared to Reggie Bush. As an ultra-athlete, Hill crushed the combine (4.4 40, 40 inch vertical) and even put up 21 reps on the bench despite being undersized. With the Ravens lacking established receivers and Jackson struggling to throw downfield, short passes, screens, and check-downs could easily be a big part of this offense and Hill could be a primary target. With one of the easier schedules on their plate and an offense centered around the run game, Hill is in a great spot as a star-in-waiting that can be had in the mid-13th round in standard and late 12th in PPR leagues. With a chance to have standalone value and an even better chance to be one of the top handcuffs, I love Hill as a late-round sleeper this year. One of my favorite groups of players to look at when trying to identify sleepers and potential breakout players is second-year wide receivers that were highly touted but did not do much in their rookie season. In this case, Gallup fits the bill perfectly, as he was a third-round pick by the Cowboys but had a very quiet year, finishing with a 33/507/2 line while starting eight games.

Gallup is going very late in drafts due to the presence of Amari Cooper and the run-heavy gameplan in Dallas. Obviously nobody in their right mind will tell you Gallup will surpass Cooper as the teamís top receiver; however he doesnít have to, as Gallup was much more efficient and productive after Cooper joined the team. Gallup does not have the physical/athletic profile to be an alpha-dog receiver but operating behind such a player (like Cooper) who draws the defensive attention, Gallup will have easier matchups that he can exploit on a weekly basis. With the Cowboys second highest targeted receiver (Cole Beasley) gone, there should be more targets available and Gallup should easily fill that second receiver role.

As for being a run-heavy team, that is a fair description but it is not like Dallas was dead last in passing. There were actually 11 teams that passed less than the Cowboys last year and if anything Iíd expect a few more passes with the development and the trust of Dak building. Along with the respect that Cooper demands, the same can be said about Zeke and the run game, so there will be very little defensive attention on Gallup.

The final thing that excites me about Gallup is the change in offensive coordinators from Scott Linehan, who was often conservative and predictable, to Kellen Moore who is bringing more innovative concepts to the Cowboys offense.

While Gallup might not have the upside to be a WR1 or maybe not even a WR2, he is being drafted as a WR6 which doesnít make a lot of sense to me. Gallup is as an integral piece and an up and coming talent on an efficient and possibly (from time to time) even explosive offense where he should have constant favorable matchups. Iíll gladly take Gallup this year as a WR5 or 6 knowing he has WR3 upside.
3. Albert Wilson (WR, Miami, ADP undrafted)
The Dolphins are not exactly a team that screams excitement but Wilson does scream extreme fantasy value. Wilson is coming off a hip injury but has avoided the PUP list and looks to be a full-go for the preseason. Wilson was on his way to a breakout season last year, posting the best yards after catch (YAC) as well as the highest forced missed tackle rate of any receiver with a minimum of 25 receptions. Wilson showed off his blazing speed, recording the 3rd fastest on-field speed last year (21.74 mph), behind only Tyreek Hill and ranked among the top 5 in fantasy points per target. Unfortunately Wilson got hurt and was unable to fulfill his breakout, but the fact that he was so efficient should give us confidence that the best is yet to come.

Just barely 27, Wilson is still in the prime of his career on a team that should have to throw a lot and doesnít have a bona fide star, or even legitimate reliable receiver on the roster. In addition, Wilson plays the slot almost exclusively and Ryan Fitzpatrick, the expected starter, targets the slot at a higher rate than any quarterback in the past 8 years (600 minimum attempts).

Given this, you would think Wilson was at least getting drafted in most leagues, but you would be wrong. The crazier thing to me is that both Kenny Stills and DeVante Parker are both being drafted despite being less efficient and in Parkerís case, a bust. While I do not think any Dolphins player is going to be a stud this season, Wilson stands out to me as someone who can be very consistent with some occasional big games thanks to his after-the-catch ability.

As a late-round flyer or even waiver wire pick up you could do much worse than a receiver that was on his way to a top 40 WR season last year whose situation has only improved.
4. Breshad Perriman (WR, Tampa Bay, ADP undrafted)
Perriman was a first round draft pick by the Ravens just four years ago but quickly received the bust label after losing his first year to injury and subsequently catching just 43 balls in 27 games as a Raven. After being released, the Browns picked him up last season and Perriman flashed in spurts (21.3 ypc) but not enough to garner fantasy attention as shown by his current ADP of undrafted in 15 round drafts. Now, still just 26 years old and a member of the Bucs, Perriman looks to rebound and salvage his career on his third NFL team in four years.

The reasons I like Perriman are plenty and start with being a member of what easily could be the most pass-heavy attack in the NFL. The Bucs were already the 4th most pass-heavy attack last season and they brought in Bruce Arians as head coach. Considering the lack of talent at the RB position and a terrible defense, it would be no surprise to see the Bucs at the top of the passing attempts category by yearís end.

Currently Perriman is penciled in as the Bucs third receiver and while I do not see him passing Chris Godwin or Mike Evans, there is room for Perriman to make an impact. The Bucs lost 179 targets from last year with the departures of Adam Humphries and DeSean Jackson, and while Godwinís targets will likely increase and O.J. Howardís should as well, there is still plenty more to go around. Perriman could easily see 70+ targets if healthy.

With a similar skill set to Jackson, Perriman could fill the void that Jackson left all the while being six years younger and about 4 inches taller with similar raw speed. Perriman might just be a one-trick pony but the pony could eat in this offense. If Godwin or Evans were to miss any time Perrimanís value would rise even higher and could even rise to WR2 status for a limited time. The bottom line with Perriman is he failed as an alpha-dog receiver but obviously has the raw talent to be successful. He just needs to find his role and this situation seems to be a perfect fit.
5. Geoff Swaim (TE, Jacksonville, ADP undrafted)
Tight End is a position where I love to find sleepers because, letís be honest, unless you invest an early round pick in one of the big three, or strongly believe in the next small tier of up-and-comers, you are going to be most likely streaming.

Swaim, for those of you who haven't heard of him (I donít blame you!) is going into his 5th season and his first with the Jaguars, after spending his first four in Dallas. Swaim was drafted in the 7th round in 2015 and was a decent but not an exciting prospect, with barely above average measurables and production.

So why should you care about this guy? First off, tight end is traditionally a position that takes a while to develop and going into his 5th season, Swaim finally showed signs of being a decent receiver last year, with 26 receptions in 9 games last season after catching just 9 passes total his first three years.

Secondly, Swaim chose to go to the Jaguars and sounds like a guy who made his decision to go there based on playing with Nick Foles and his propensity to throw to tight ends. While the Jaguars did draft Josh Oliver, he is a bit of a raw prospect and Swaim is a much better blocker so should be the starter in Week 1.

The Jaguars are still likely a run-first team but with Foles behind center they should also throw more effectively as well. With no star receivers that demand targets, the ball should be spread around and Swaim may be the teamís best red-zone threat at 6í4íí 250.

While Swaim isn't a threat to the elite at the position, he could easily finish as a top 15 tight end but can be had for free on the waiver wire in most drafts. Iíd rather take a chance on a guy like Swaim for free than spend a mid-round pick on the position that you will most likely be dropping after a few weeks anyway.