The offseason in dynasty is just as exciting as the regular season. The combine, free agency, the draft, trades, rookie research, it's all part of the experience. At the start of each offseason, I always sit down and make a list of 10-15 players I want to acquire via trade. Some of these players are probably buy-high's some are buy-low's and some are just a total gut feeling.

When putting together a buy list I look at a few things including past performance, team situation, prospect profile, player outlook for the upcoming season and league sentiment (both NFL and fantasy). The result is five of my favorite buy's this offseason, and more specifically, guys that I would look to acquire in the next four-to-five weeks before the NFL draft in late April.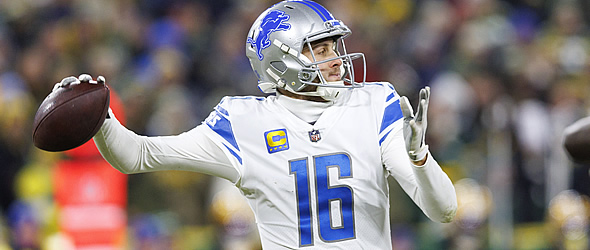 I know what you might be thinking, "I came here for exciting players to add to my roster and you give me Jared Goff"? Hear me out. Goff is just 28 years old, a former first overall draft pick, and is coming off his best fantasy season to-date, yet is ranked outside the top 15 dynasty Quarterbacks by almost everyone (some have him outside the top 20). In most leagues, even 2QB leagues, Goff is cheap based on two things.

First, he mostly flopped in Los Angeles (although he was not as bad as many think) and then was traded along with a bunch of assets for Matthew Stafford, causing sentiment to be low among dynasty owners.

Second, seeing as thought the Lions have two first round picks, including pick No.6, some believe the Lions may draft a quarterback early and totally derail Goff's dynasty value. I look at this as an opportunity. I do NOT believe the Lions draft a QB in the first round this year based on team discourse, their needs, and Goff's performance last season. As a result, this next four to five weeks could be the last time Goff can be had on the cheap.

Goff was basically without Jameson Williams and still finished as a top 12 fantasy QB in almost all formats last season. With Williams back close to full health alongside emerging stud Amon-Ra St. Brown, the Lions should have a potent 1-2 punch that will likely be passing a lot (10th most in 2022) thanks to their horrendous defense. I get it, Goff doesn't run and so his ceiling is capped to a certain extent but he has great weapons, a great schedule, plays in a dome, was 6th in pass attempts last season, and maybe most importantly… is cheap. Go get Goff now, before the NFL draft, when I expect his value to rise after the Lions likely pass on the QB position. Akers has had an up and down three-year career since being a 2nd round pick of the Rams in 2020. He showed a lot of promise towards the end of his rookie campaign but then tore his Achilles and missed the entire 2021 regular season. While he returned in 2022, his first 12 weeks were rocky and there were even rumors that Akers would be traded or cut. Just as it looked like Akers value could not get any lower, something crazy happened. He exploded. the final six weeks of the season, leading the NFL in rushing during that span and was a top 5 fantasy back.

Still just 23 years old, Akers has the pedigree to be a top 10 fantasy back if he stays healthy and is given the opportunity. With his injury history and rough start to 2022, most people have Akers outside their top 20 dynasty backs, so this is a nice buying opportunity. There seems to be some sentiment that the Rams will go after a free agent running back or perhaps draft one, but their acquisition isn't likely to be an Akers replacement, but more of a complement.

The Rams are not in a great spot from a salary cap perspective, and thanks to various trades, they are very light on draft picks. While they will likely add depth at the position I strongly believe Akers will be given the starting role on a team that should have a bit of a bounce-back year with Sean McVay, Matthew Stafford and Cooper Kupp all returning.

If Akers can come close to replicating his strong finish from 2022, he should rocket up the ranks quickly and have top 10 fantasy potential. Running backs are expensive in most leagues you will be hard pressed to find a back at Akers age and potential at a discounted price.

Before the big free agency signings happen and before the NFL draft occurs, take a chance and send some offers out there for Akers, you may end up with an absolute steal. Hollywood Brown was on an absolute tear the first six weeks of the 2022 season, with a 26% target share in the absence of DeAndre Hopkins (suspension). After Hopkins returned, Brown came back down to Earth, got injured, then returned to backups at quarterback after Kyler Murray went down with a torn ACL.

This offseason there are serious rumors of the Cardinals moving on from Hopkins, and Hollywood should be the main beneficiary if/when this happens. With a relatively weak wide receiver draft and free agency class, I think it is very likely Brown is the Cardinals number one focus on offense this coming season. As long as Murray returns healthy, I see very little reason why Brown couldn't recapture the magic of the first six weeks of 2022 when he was around WR7 in most formats.

With a questionable run game and a bottom tier defense I see a lot of shootouts for Arizona and Brown should benefit from this type of game script. Brown, at 25, is still just entering the prime of his career and a full offseason in Arizona should only help his cause. He is currently ranked somewhere in the mid-to-late twenties by most experts, but I personally have him closer to the late teens or very early twenties.

The Cardinals moving on from Hopkins will obviously give Brown a boost in sentiment so act quick on trying to obtain Brown before any more news breaks. I'd gladly give up a late first round pick this year or the player equivalent for Brown, who has shown he has WR1 upside and is still a player on the rise. Burks is an interesting player to evaluate. He was a highly touted prospect and was ranked as the best receiver in the 2022 class by many before the combine, where he performed poorly, dropping his stock considerably. Burks also had some issues in training camp and got off to a slow start, catching just 10 balls his first four weeks before missing the next month with an injury. The rest of the season Burks bounced between hot and cold, injured and healthy, but never really made a true impact.

While there was plenty not to love about Burks rookie season, a deeper dive shows some hope. Burks ranked top 20 in route win rate, averaged 5.4 yards after the catch and posted a very solid 58% success rate on contested targets. Fighting through injuries, QB turmoil, and just being a rookie in general, I don't think Burks had a bad season, we just got spoiled by big numbers from Garrett Wilson and Chris Olave, two receivers in Burks' draft class.

While most dynasty owners are throwing out huge offers out for guys like Wilson/Olave/London or hoping to grab a rookie WR with a top 12 pick, I'll be bargain-hunting for Burks, who I think is poised to have a nice bounce back sophomore season. I would feel comfortable giving a late 1st round pick for him (in non-superflex leagues), as I think he is on par with the top 3-4 receivers from this upcoming draft class and has as much upside as the top 3-4 incoming rookie running backs. While the rest of your league mates are looking for the next shiny new toy, take a shot at last season's shiny toy that comes at a bit of a discount. If you're looking to acquire a tight end, Freiermuth is in the sweet spot. The guys above him (Kyle Pitts, Mark Andrews, Travis Kelce) are way too expensive in most leagues and the guys below him are some combination of too risky, too old or have too little upside. Freiermuth is a nice combo of youth, upside, and safety based on production/role, and value.

As a rookie two seasons ago, Freiermuth caught 60 balls and 7 touchdowns, and while his touchdowns dropped significantly to just 2 this past season, he did end up getting more targets, catches, and yards despite a fairly shaky performance from rookie QB Kenny Pickett.

The Steelers offense was pretty abysmal last season, with just 12 total receiving touchdowns, dead last in the entire NFL, and about half of what the average was around the league. This number is very likely to regress positively to the mean in 2023 with improvements from Pickett entering his second season and the offense returning mostly intact.

While Freiermuth has some promising players around him (Diontae Johnson, George Pickens, Najee Harris), Freiermuth was the 2nd most targeted player on the team and in fact was the 5th most targeted tight end in the league last season. Despite his consistency, the lack of touchdowns and a mediocre Steelers season took the spotlight off Freiermuth, making him a perfect value to acquire at the position. I believe we have already seen his floor and you should still get your money's worth even if he never truly breaks out into the next tier.

There are lots of ways to approach acquiring Freiermuth but one of my favorites is to trade down if I have a TE ranked above him allowing you to get an ascending player AND an additional piece of value. If you don't have a higher ranked TE, I would not be afraid to send an early 2nd round rookie pick in exchange for Freiermuth and even a late first if it is a TE premium league, which are becoming more popular.

At just 24 years old Freiermuth should offer great stability and a relatively high ceiling for the next 5-plus years in dynasty.