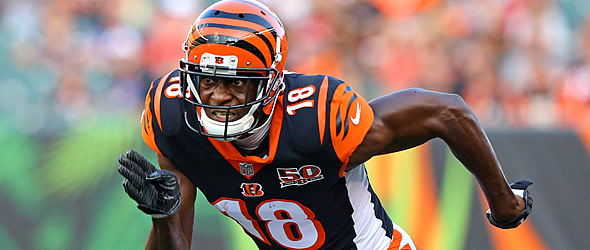 If HC Zac Taylor can breathe some life into the playbook, A.J. Green can regain his top 10 WR ranking.
QB Andy Dalton
2018 QB Rank - No.26, 20.2 FPts/G
The winds of change in Cincinnati finally blew in, as Marvin Lewis was mercifully let go, and Sean McVay protege Zac Taylor was added as head coach. The Bengals hope plucking a fruit off the McVay tree will help salvage whatever is left of Andy Daltonís career, as he returns to lead the offense for the 2019 season. Dalton was at best mediocre last year before being put in I.R. with a thumb injury suffered during Week 12. This is likely the final shot the 31-year old has as a starter in this league.

This offense has potential for sure, with two quality wideouts in Green and Boyd, and an explosive runner in Joe Mixon. But in order for this offense to take the next step, Dalton has to be more than simply a game manager, and thatís not something heís done all too frequently in his career. McVay and Taylor worked magic with Jared Goff, but can an unproven rookie head coach catch lighting in a bottle again? The pace of this offense is certainly going to improve, and at times they will be dangerous to defend, but I canít bring myself to trust Dalton as anything more than low-end back-up. Losing 1st round pick Jonah Williams is going to leave Dalton susceptible to rushes on the blind side and hurt the consistency of the offense, leaving the Red Rifle to fire more than a few blanks.

RB Joe Mixon
2018 RB Rank - No.9, 14.3 FPts/G
Mixon was finally able to flash the skills than made him one of the most talented players in the country coming into the 2017 draft. Despite missing two games due to a mid-season knee scope, Mixon showed a combination of speed, power, and versatility as he rang up a solid RB1 season. Keep in mind, that this was an offense that was missing its quarterback and stud receiver for most of the year. There are a few reasons why Mixon has a good chance to be a fantasy asset again in 2019.

I donít claim to know much about the intricacies of the offensive scheme being put into place, but I can tell you itís going to look a heck of a lot more modern than what Cinci has been doing for the past decade. Expect the Bengals to use Mixon in space more this season, as his loping stride, vision, and power are miss-matches for defensive backs and linebackers. 50 receptions arenít out of the question, and he should be even more efficient touching the ball with a more spread out attack. Losing Jonah Williams is going to hurt, but this offensive line showed great improvement last season, and should be decent again this year. My only hesitation with Mixon is his durability. Heís missed 4 games in his first few seasons, and lower leg injuries seem to pop up frequently. He showed no ill effects last season after coming back, but itís something to think about. If Dalton can get on track and cut down on mistakes, this offense has a chance to rebound in a big way, putting Mixon squarely in the RB1 conversation.

RB Giovani Bernard
2018 RB Rank - No. 61 5.5 FPts/G
Joe Mixonís second year ascendance to the workhorse role has basically relegated Bernard to mop up duty. With career lowís across the board, Bernard hangs on to the Cinci roster as a solid back-up and a veteran who can come in on 3rd down as needed. I thought the Bengals could and should have upgraded a bit more at running back than they did, as they are trying to fit lots of old parts into a new offense, but in reality, Bernard will give fantasy owners exactly what the Bengals need; an insurance policy for Mixon and nothing much beyond that.

WR A.J. Green
2018 WR Rank Ė No.38, 11.7 FPts/G
Itís a very rare thing to have to scroll so far down the rankings to find A.J. Greenís name. One of the most solidly consistent fantasy receivers of the last decade, Green enters his age 30 season at a serious crossroads. He missed seven games due to injury last year, and has had three fairly lackluster seasons in a row now. Entering the final year of his contract, Green is going to need a big year to cash in.
Coming off toe surgery, things sound great for Green this offseason. He looks to be full go for training camp later this month, and seems excited about the energy that a new head coach has brought to the offense. If heís truly over the toe injury that has lingered for years, and if Coach Taylor can indeed breathe some life into the playbook, look for Green to find his rightful place back in the top 10 at his position.

WR Tyler Boyd
2018 WR Rank Ė No. 16, 10.4 FPts/G
One of the most improbable WR2 finishes in recent memory, Boyd rocketed up from many league scrap heaps to likely contribute to more than a fair share of fantasy championships. Doing an insanely solid A.J. Green impression, Boyd was dependable and a consistent playmaker on the Bengals offense. Despite missing the final two weeks of the season, he compiled a 76-1028-7 season, scoring 9 or more standard league points in more than half of his games, and all of this coming from a guy who was a waiver wire add in nearly 100 percent of leagues. In retrospect, Boyd gave us a taste of his capabilities during a solid rookie year. Injuries cost him six games of his second season, but he rebounded in a big during that oft publicized ď3rd yearĒ for receivers.
Ok, Boyd had a great 2018, but what about 2019? I think itís safe to say a healthy A.J. Green will make a repeat season nearly impossible. But the former 2nd round pick showed last season that he can handle the heavy lifting in the pass offense, and with a wide open scheme, Boyd is going to retain fantasy value. Knock him down a few tiers from last season, but draft him with solid WR3 value in mind.

WR John Ross
2018 WR Rank Ė No. 76, 4.9 FPts/G
For most receivers picked in the top-10 a 21-210-7 line in their 2nd season would be a major disappointment. For Ross, it was a gigantic improvement over his abysmal rookie year. Yes, you read the previous sentence correctly, somehow Ross scored a touchdown 33 percent of the time he caught the ball! Suffice to say a major touchdown regression is on the way for the 3rd year receiver from Washington. Likely on a do or die season, the colossal bust has to hope a new coaching staff can coax some more production out of him. I just donít see it happening. Heís never projected as a possession guy, and for a player whoís known for his deep threat speed, his yards-per-catch average was mere decimal places better than Kyle Rudolph (yuck!) last year. Iíd be shocked if this Bengal offense can support more than two fantasy viable pass catchers, and Ross wonít be one of them.

TE Tyler Eifert
2018 TE Rank - No.54, 6.0 FPts/G
As Iíve researched and subsequently written about the players for this Outlook, Iíve realized just what a strange juxtaposition this Bengals offense is. They just about cleaned house in the offensive coaching room (quarterbacks and wide receiver coaches were retained), but did nothing to drastically change the offensive personnel. This says to me that the staff and front office believes the current players fit the scheme perfectly, OR and this is possible considering this organization, they simply have no clue or are too cheap to do anything about it. The lack of change is evident here with the tight end position, as they resigned both Eifert and Uzomah this offseason. As typical as his career, Eifert can be dominant while on the field. And thatís the problem. Eifert has only been healthy enough to play in 14 games over the past three seasons and anything the Bengals get from him this year will be a bonus. Eifert has been a trap for several years now. Unlike the Bengals, you should move on.
TE C.J. Uzomah
2018 TE Rank - No.19, 3.9 FPts/G
Uzomah had a career year last season, putting up a solid 43-439-3 line over 16 games. He was a reliable, if unexciting option in the passing game, but is in for a steep regression if Eifert and Green return to health. This hybrid Rams offense that's coming also doesn't rely heavily on the tight end position, so don't expect a repeat of the 66 targets either. Even with all the work to himself last season he was barely a TE2.