With free agency just beginning I'll be highlighting some of the biggest names available at each skill position. I'll match each player with a team that I think would be a best-case scenario for his fantasy value in 2019. Up next are the Running Backs.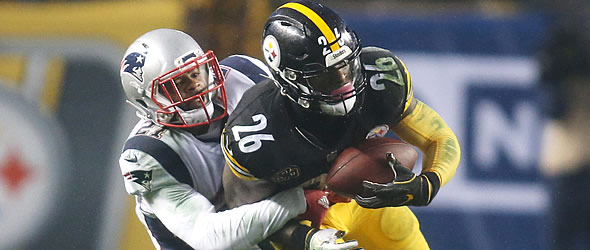 The Colts appear to be out of the Le'Veon Bell sweepstakes leaving the Jets as a prime landing spot.
1. Le'Veon Bell
Bell is a talented, patient back who turned down $20.5 million from the Steelers to test the open market, He didn't play a down in 2018 after drawing the franchise tag and refusing to play in Pittsburgh, and he's finally an unrestricted free agent because the Steelers didn't throw a transition tag on him out of spite. With 7,996 total yards from scrimmage in 62 games over five seasons, he's one of the most prolific backs we've seen, and he's just 29 years old. A game-breaking type of player who can handle an enormous workload, some consider him the best pass-catching back of the past decade, and there will be several teams interested in acquiring his services for 2019.

Best fit: Jets

The most obvious landing spot for Bell would be with the Jets – for multiple reasons. First, they've been mentioned in the same breath as Bell for the better part of a year and are in the market to add a high-priced free agent with their glut of about $100 million in total cap space. Sam Darnold is their QB, and there's no doubt they need a dynamic pass catcher to give him a viable outlet and allow him to take some of the pressure off the pocket. Bell may opt to string a few teams along and get a bidding war going, or even look to reunite with Antonio Brown on the Raiders, but in the end, he probably goes to the Jets.

Other possibilities: Raiders, Dolphins
2. Mark Ingram
A former Heisman Trophy winner who's established himself as a viable committee and fantasy back, Ingram will probably never be the NFL bell cow that folks imagined during his time at Alabama. The Saints have made it a priority to resign Ingram, but they're not alone in trying to sign the 29-year-old veteran back. Both the Chicago Bears and fellow NFC rival Green Bay Packers have emerged in pursuing him, according to reports from NFL source Ian Rapoport. Ingram's reduced workload the past few seasons make him a viable free agent target with much less wear and tear than other backs his age. He finished 2018 with 645 rushing yards and six TDs after missing the first four games of the season following a PED suspension.

Best fit: Saints

If Chicago can move Jordan Howard before next season, they could land Ingram to assume that role and continue to utilize Tarik Cohen in the passing game. And it's no sure thing the Packers make a big splash and move on from Jamaal Williams/Aaron Jones duo.

In the end, though – Ingram will probably sign with the Saints, where he makes a lot of sense as a complement to Alvin Kamara. Even Kamara has expressed the desire and belief that Ingram would land back in New Orleans in 2019.
Other possibilities: Bears, Packers, Colts
3. Jay Ajayi
Jay Ajayi hits the free agent market following back troubles and a season-ending knee injury (torn ACL), which could be a factor in when and where he signs a new contract. Before the injury he'd racked up 184 rushing yards and three TDs on 45 carries and was showing plenty of life in his legs as he earned a larger workload than in the previous season following the trade from Miami. There are a few potential landing spots, and they could be impacted by where Bell, Ingram and a few other big-name backs land.

Best fit: Buccaneers

It unlikely he returns to the Eagles, who seem to be making plans without him and looking to add a committee-leader type of back at the position. The Bucs, on the other hand, are desperate for a productive back capable of handling all the roles required, and Ajayi won't be a costly piece in a market that has a few golden geese.

Other possibilities: Bears, Dolphins, Saints
Coleman is just 26 years old and has the benefit of splitting carries with Devonta Freeman for most of his time with Atlanta. He was passable in a 1A role last year but gained just 800 rushing yards and scored only four times on the ground. He could fit much better into an offense where he's the primary ball carrier and has some help in committee form. Coleman has decent size (6-1, 205) and hasn't racked up huge numbers in his career just yet. He's slated for about a $5 million a year payday, with the length of the deal (4-6 years?) being the only possible sticking point.
Best fit: Eagles

We talked about how the Eagles wanted to add a 1A back and complement hm with other pieces, and that's just what could happen. They've already worked up a playbook that focuses on the committee approach and Coleman could be the deal fit with in that offensive scenario. They've expressed some concerns they'll get priced out of the market, and that mans he could land in a place like Miami or back with the Falcons.

Other possibilities: Dolphins, Raiders, Falcons
5. Bilal Powell
Powell is an overachieving grinder who fits in just about any offensive set – a versatile back comfortable in pass blocking and as both a receiver and runner. His future in New York seems bleak, however, coming off a season-ending neck injury (bulging disk). It's a long recovery for the injury and may threaten his NFL career, but if his rehab goes well he could draw some interest from teams looking for a veteran backfield presence.

Best fit: Dolphins

The eight-year NFL veteran still has plenty of life in his legs (he played just seven games last season and tallied 343 rushing yards and 453 yards from scrimmage). The Dolphins have some young backs who could benefit from a veteran with a proven work ethic and skill set that could filter through. Powell could be an excellent piece alongside Kalen Ballage and Kenyan Drake, who is in a contract year in 2019.

Other possibilities: Jets, Falcons, Bucs