In the FFToday Staff League, I used my third-round pick on Jerick McKinnon. He was supposed to be my RB2, and now heís gone for the season without participating in a single regular season game.

How would you define my loss there? Did I lose a third-round pick? An RB2? Maybe we can spin it positively by saying I lost an overpaid, unproven RB on a rebuilding team who was never going to contribute much to my fantasy squad anyway.

I wouldnít define my loss in any of those ways. I donít even see it as a loss. Sure, itís an event that I can use to extract some pity from readers because the injuries that strike after oneís draft and before the season begins are always the hardest to swallow. But a week from now, other owners will be plagued by unexpected injuries or other blindingly obvious and unjustifiable expenditures of draft capital.

Thatís part of the game, folks. The point is that the only proper and productive way for me to look at McKinnonís spot on my roster is as a space that I should fill with the player most likely to help my team. I shouldnít be looking for a ďthird-round valueĒ or even an ďRB2.Ē I need to assess my team as it stands without McKinnon and use the now empty slot in my lineup for whatever player I can acquire (perhaps on waivers; perhaps through trade) that will have the most positive impact possible on my squad.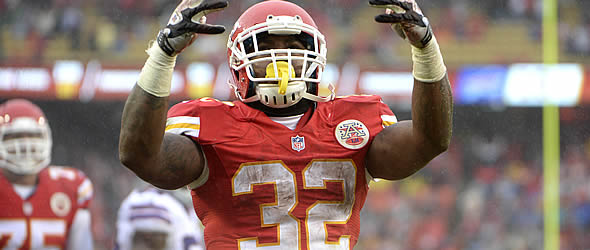 Chiefs RB Spencer Ware turned out to be a wasted pick in early fantasy drafts last summer.



And hereís the part I want to hammer home: As I consider trades, I wonít care at all about what I ďpaidĒ for my players; and Iíll only care about what other owners ďpaidĒ for theirs to the extent that I expect such considerations to cloud their thinking.

For example, last July, when people expected Spencer Ware to be the starting RB in KC & Kareem Hunt to be the backup, Ware went considerably earlier in drafts than Hunt. In one draft, I took Ware as my 5th-round pick even though I could have had Hunt in that spot. At the time, I didnít know that Ware would get hurt or that Hunt would be electrifying in Week 1. But once those things happened, all I could do was recognize that I blew that pick. There was no way to try to salvage value from my 5th-round investment in Ware. The fact that I overpaid for Ware didnít imbue him with some kind of ďresidual value.Ē Too frequently, fantasy owners think that the value they invested in busted players is value that they need to recover somehow. Thatís dumb. You blew it. Now forgive yourself by remembering that no one can see the future. Move on to the best replacement you can. Donít let your idea of residual value result in a non-contributing player tying up a roster spot. And more importantly, donít expect other owners to be enticed to trade for players that you overpaid for simply because you mismanaged your draft capital.

If you drafted Allen Hurns in 2016, you probably overpaid for him based on his production in 2015. Tough luck. You took a gamble & it didnít pay off. The sooner you recognized that, the sooner you were able to recover from your mistake. The longer you tried to hold on to Hurns in an attempt to trade him to another owner who still valued him according to his productivity from the previous season, the more you hurt your teamóbecause it only became more obvious with each passing week that a repeat of 2015 was not in the cards for Hurns.

My point here is that Iím not certain about whatís going to happen with LeíVeon Bell & James Conner, but I am absolutely certain that if Connor ends up being the Kareem Hunt for Pittsburgh in 2018, hundreds (thousands?) of LeíVeon Bell owners will be among the last people to see that phenomenon for what it is. They used their first-round pick on Bell, so surely they deserve that sort of value for him in trade.

No. It doesnít work that way. And the sooner you recognize that it doesnít work that way, the sooner you can start digging yourself out of whatever holes you created with your poor draft choices in 2018. I donít know which of your choices were the worst, but the ones that you allow yourself to imbue with residual value because of blown draft capital are the ones that will do the most long-term damage to your team.

So my question for readers this week is simple: What are some of the most outrageous trade offers you have received from owners who refuse to come to terms with the fact that the players they are attempting to unload are nowhere near as valuable as they imagined when they drafted them? Email me your outrageous trade offers.



Survivor Pool Picks



Alack & alas, dear readers. With a heavy heart, I must report that the scheduling of family commitments will prevent our beloved Matthew Schiff from sharing his Survivor Pool expertise in 2018. This means youíre stuck with my insights for the time being. (Veteran readers of this column will recall that Schiff started contributing his picks because heís better at making them than I amóso if you think youíre better, feel free to submit your recommendations via email by noon on Wednesdays throughout the season). But since Iím all weíve got for now (even the astute Mike Krueger refuses to touch this topic with a 10-foot pole), Iíll provide my thoughts on Week 1.

Trap Game: San Francisco @ Minnesota

The Vikings are 6-point favorites in this game for good reason. They have a solid defense, an underappreciated runner in Dalvin Cook, and arguably the best receiving tandem in the league in Adam Thielen and Stefon Diggs. But the thing about San Franciscoís Jimmy Garoppolo (once the heir-apparent to Tom Brady) is that he hasnít yet lost a game as an NFL starter. For that reason alone, this game makes me nervous despite the hefty line from Vegas.

Pick #3: Green Bay over Chicago

Matthew Schiff and I both believe that anything is possible in divisional games. We both try to steer clear of them when possible, but we both recognize the circumstances when they make sense as survival picks. The first criterion is that the favorite (in this case Green Bay) should be playing at home. Check. The second criterion is that the line (in this case 7.5 points) should be significant. Check. The third criterion is that the better team should be in good shape (always the case in Green Bay when Aaron Rodgers is healthy and has had a chance to practice with his receivers). Check. Still, itís a divisional game, so Itís hard for me to select it as my top choice.

Pick #2: New Orleans over Tampa Bay

According to Vegas, this is the most lopsided match of the week. The Bucs roll into New Orleans on Sunday as 9.5 point underdogs to Drew Brees and the Saints. Thanks to a suspension, Tampa wonít have QB Jameis Winston for the first 3 weeks of the season. If these teams werenít divisional rivals, Winstonís absence would make this my top pick of the week. But in my opinion, the three teams the Bucs are most capable of defeating in Winstonís absence are the ones they face twice each season (including the Saints). Yes, itís a strong play. But itís a divisional match-up, so I donít like it as much asÖ

Pick #1: Baltimore over Buffalo

Not everyone remembers that Joe Flacco used to be a pretty good QB. Thatís easy for a lot of us to forget after years of watching him throw to the likes of Torrey Smith, Mike Wallace, and Jeremy Maclin. I expect Flacco to do well in 2018 with Michael Crabtree & John Brown at his disposal. But this pick isnít really about how good I think the Ravens might be. Itís about how bad I think the Bills are going to be without Tyrod Taylor (whom they never appreciated). Do you really think Nathan Peterman can lead the Bills into a hostile crowd environment & steer them to a victory? I just donít see it happening. And the best thing about this pick is that using the Ravens in Week 1 means keeping both the Packers & the Saints available for later weeks, when the pickings will be slimmer.


---
Mike Davis has been writing about fantasy football since 1999--and playing video games even longer than that. His latest novel (concerning a gamer who gets trapped inside Nethack after eating too many shrooms) can be found here.