Last week's question: How many players from your draft ended up starting in your final game last season?



Although I received a wide range of answers to my question about how many of the players drafted by owners ended up on their final rosters in 2017, no one reported a starting lineup surviving intact from the draft to the end of the season, but no one ended up with a final lineup featuring fewer than 3 draftees either. Turnover was wildly inconsistent from league to league (based primarily on bench depth as far as I could tell, with deeper benches generally translating to lower turnover—though this may have been an illusion created by the fact that not everyone who responded provided information about bench depth).

Unsurprisingly, the players taken earliest seem to be the ones most likely to remain active, as RDB found with the players he drafted in rounds 1-5 of 2017:
I'll talk about my championship team from last season. My league is a 10-team PPR, IDP league. The draft is 19 rounds and I ended up with 6 total players from draft day, my first 5 plus 1, on my week 16 roster. Each week we start 12 players: 7 Offense + 1K + 4 IDPs.

I won the league starting 5/12 from the draft. Gurley, Julio, Tate (who I benched that week), Demaryius, Kelce, and LB Telvin Smith. Also, I traded away Mixon, who I drafted, in a trade that didn't amount to much.
The single most comprehensive view of the "draft drift" question came from Darrel, who color codes the rosters in his league to keep trades and waiver wire acquisitions separate from each other and from draftees:
My team drifts a TON annually. Folks in my league have heard this from me every year: "The DRAFT is just a SUGGESTED roster." As commissioner I maintain a spreadsheet showing all rosters and update it weekly. I show drafted players in BLACK, free agent pickups in RED, traded players in BLUE, and IR players in PURPLE. By the end of the year it is not uncommon for many teams to be at least half RED in their lineups. Mine is generally one half or more RED. We pay $1 into our prize pool for every player added (ADD/TRADE) during the year. It is not uncommon to see 20 or more transaction fees among several teams during the year.

As an example, we are entering Week 4 and my roster (15 players) shows 5 RED players already, 1 BLUE Player, and 1 Player in PURPLE. The average amongst all 12 teams is 4-6 RED players per roster.
I think more commissioners might want to follow Darrel's lead here of tracking this information across the entire league so that owners can tell, at a glance, whether the most successful owners tend be more or less active as traders or scourers of the waiver wire. This could be especially effective as a teaching tool in sleepy leagues with people who don't understand the importance of staying on top of the changing NFL landscape. However, in a league like Mark's (which gives veteran owners 16-spot rosters), almost all of the most important talent in the NFL will be scooped up on draft day:
Aside from injuries, our rosters turn over very little. A lot of that has to do with very good drafting and draft prep. The prep has become so good and available these days that most people who take the time, will find that they have their bases covered.

Sometimes you don't see people coming after an injury and they make enough of a splash to displace starters, but the only turnover that happens in our league with any frequency tends to be at the bottom of a roster for weekly streaming or to replace an injury. For example, because I had D Adams, Tyreek, Kupp and Ginn at WR, I took flyers on Hurns, Benjamin, Miller, and Sutton in rounds 10-14 of a 16-round draft. I've since replaced them with the Bears, Callaway, Kirk, and Andy Dalton. Same for RB. Because I had Gurley, Miller, and Hyde, I took a flyer on Kerryon Johnson and Ty Montgomery in rounds 8-9. Johnson I kept but I replaced Ty with Buck Allen after week 1. I also drafted the Texans but have been streaming except where the Bears have had the matchup. This week it's the Packers.

The moral of the story is that people who build solid starters (valued at their norm instead of their upside) tend to not feel like they've got to do a lot of roster changing even if they start slow. All three RBs mentioned in your article were drafted at their max. Cleveland is better and not behind so much and we knew that going in, so Duke was way devalued in our league. As soon as we all saw "hamstring" injury for Mack, we knew he wouldn't be a factor until late in the year if at all. When Penny couldn't get anything done in the preseason but Carson could, you don't buy into the draft capital argument. But that's a different article.
You're right, Mark. That point about valuing players "at their norm instead of their upside" could make for another article—one that the question for Week 5 will touch on in a round-about way.



Last Week's Bonus Question: What if the Bills' upset of the Vikings ended your survivor pool after just 3 weeks?



Our resident survivor pool expert (Matthew Schiff) is taking a sabbatical in 2018, but he wrote in to ask for suggestions about what to do with survivor pools that ended after just 3 weeks with everyone being eliminated and more than half the participants exiting on the final week with the same wrong pick.

Bill wrote in with what is probably the most straightforward solution:
My 12-team league runs a Survivor Pool every year. We had 6 eliminated in Week 1 and the other 6 all got eliminated in Week 3. I split the pool evenly between the 6 that were eliminated in Week 3 and restarted the Survivor Pool in Week 4 and everyone may participate again (with all teams available to be picked). I found this the easiest way to handle this unique situation.
Bill's approach is perfectly sound (and should probably be the default setting in most pools), but survivor enthusiasts looking for a more intriguing approach may want to consider Taylor's model:
I've been in [survivor] pools for 10 years (and running one for the last 6). For all but last year, the survivor game was won before Week 9 of the season; in the vast majority, it was over by Week 5. After one very short year (similar to this year), my predecessor made an executive decision to add a concurrent season-long game (or until a winner was clearly evident). The entry fee was boosted slightly, and payoffs were split appx. 2-2.5:1 for the pure survivor game:season-record contests. (Note: Players have the option of taking different teams each week for each of the two contests, as long as the only-once-per-season rule is followed for each contest. Only one player does this.)

In addition, I added a third contest (and shuffled prize pools around slightly) starting last year, giving an entry fee + $5 for the longest unbeaten string for the length of the season/contest. I added it to reward those who were picking well, but otherwise out of [contention for] any awards. The survivor winner is ineligible, and tiebreakers reward those picking low-win NFL teams. (Our pool has too many players who just take the biggest spreads available.) Last year, the "most-meager unbeaten streak" prize had the most interest and intrigue, with a risky-but-winning pick of Indianapolis to win the tiebreaker on the last week of the regular season.
On the one hand, I feel like it might be easier to teach a person how to play craps than how to participate in the simultaneous and overlapping pools proposed by Taylor, but on the other hand, he speaks from experience about the fact that survivor pools (especially when they are confined to a single fantasy league) tend to be over far too quickly—often with far too many "winners" in the final week. In other words, I think there's a lot to be said for experimenting with some of Taylor's ideas.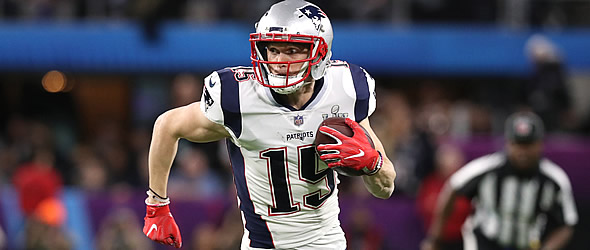 Doh! Chris Hogan appeared to be a safe pick in the middle rounds of fantasy drafts this summer.





This week's question: Which of your draft picks turned out to have a lower floor than you thought possible?



This question grows out of Mark's comment about mistaking a player's upside for his norm, as I did with Chris Hogan in the FFToday draft. When I took Hogan in the 5th round, I didn't think I was getting a great WR for the entire season, but I was dead solid certain that I would have a start-worthy player for 6 weeks. "With Brandin Cooks gone and Julian Edelman suspended, how unproductive can Hogan possibly be?" I asked.

I don't remember how I answered, but I definitely answered wrong—because I had no idea that Hogan would be held to 31 or fewer yards with no scores in 3 of his first 4 games this season.
How about you? Which player from your draft has gone above and beyond in the disappointment of expectations department? Are some positions inherently more likely to create the illusions of false floors than others? Why do we get floors so wrong in our projections?

You can email me your answers or post them in the comment field below.



Survivor Pool Picks



Trap Game: Colts at Patriots

For the third week in a row, I'm refusing to get anywhere near the Pats. I was right to be worried about them against the Lions in Week 3, but wrong to be worried about them vs. the Dolphins in Week 4. I'm probably wrong again this week, since New England is the only double-digit favorite for the entire Week 5 slate. With T.Y. Hilton already declared out, it seems especially unlikely for the Colts to upset the Pats in Foxboro, but the many skill player substitutions we can expect from Indy (which will also be missing RB Marlon Mack and TE Jack Doyle) could cause confusion for a Patriots team studying film on the Indy offense of yester-week. I'm sure I'll come to trust New England once Josh Gordon or Julian Edelman helps to get a legit passing attack established, but until then, I'm steering clear.

Pick #3: Bengals over Dolphins
(4-0; GB, NO, CHI, LAC)

The Dolphins travel to Cincinnati as 6.5-point underdogs. It's not clear what the line would be if Miami could find a running game, but the Fish appear more likely to plunge down from their 25th-ranked rushing spot than to climb up any time soon. The Dolphins cruised to a 3-1 start by beating the Titans, Jets, and Raiders before collapsing against New England in Week 4. That collapse is likely to continue against a Bengals team that has achieved the same record against considerably stiffer competition (wins vs. Indy, Baltimore, & Atlanta—and a loss to Carolina). Bengal fans who overvalue the eternally injured Tyler Eifert may think that their team is weaker now than at the beginning of Week 4 (when Eifert was still healthy), but the return of LB Vontaze Burfict from suspension should actually make the Bengals more formidable than they have been at any point this season.

Pick #2: Carolina over NYG
(2-2; no, LAC, hou, GB)

The last time Cam Newton faced the New York Giants was in Week 15 of 2015, when he racked up 340 passing yards, 100 passing yards, and 5 TDs in a 38-35 squeaker. In an interview after the game, he remarked, "The score wouldn't have been so close if I had a weapon like Christian McCaffrey to exploit." Okay, I made that up, but it's true that McCaffrey's versatility only makes Newton more dangerous as a passer and a rusher. It doesn't help that the Panthers spent Week 4 resting, whereas the Giants spent it being embarrassed at home by the Saints. The streakiness of Eli Manning makes it difficult to know what to expect from the Giants, but we are into the second quarter of a season that looks promising for the Panthers and gloomy for New York, so Vegas is probably right to favor Carolina by 7.

Pick #1: Saints over Redskins
(3-1; BAL, LAR, min, JAX)

It's no fun picking the Monday night game in survivor pools, but the disparity in talent (especially at skill positions on offense) makes this choice almost irresistible. Washington's passing game uses wide receivers so ineffectively that RBs Adrian Peterson and Chris Thompson have almost as many receiving yards between them (255) as WRs Paul Richardson, Jamison Crowder, & Josh Doctson (258). So my question is simple: How do you beat a team like the Saints without a passing attack? I understand that when Washington gets into the red zone, Jordan Reed is a touchdown machine. But you have to get to the red zone with frequency to keep up with the Saints, and Washington's 28th-ranked passing attack doesn't seem capable of pulling that off—even against the wildly inconsistent defense of New Orleans.

---
Mike Davis has been writing about fantasy football since 1999--and playing video games even longer than that. His latest novel (concerning a gamer who gets trapped inside Nethack after eating too many shrooms) can be found here.