Last week's question: Are you any good at managing FAAB?



In last week's column, I asked readers to chime in on the subject of managing FAAB (free agent acquisition budget) over the course of a season. I received several thoughtful replies, including this one from Matthew:
I can give you a good example of how FAAB is spent in my one league. Add/Drops were frozen until after Week 1. So when we drafted in mid-August, James Conner was not drafted. Come Week 1, he goes bonkers and is now available for FAAB pickup. We get a $165 budget. As the week went on, I kept upping my bid until the night before I settled on $150. I thought for sure I would get him. Sure enough, my arch nemesis bid all $165. His reasoning: What was that extra $15 going to do for you anyway? It was a good point. Getting an RB1 for what looks like at least 9 more weeks is worth every dollar of FAAB. This week I won Giovani Bernard for $115. The next highest bid was only $59. So what...at the end of the day, the overspend should be worth it for a possible RB1 for 2 to 4 weeks. I think you take your two to three shots early at what could be a massive boost to your team, and play the margins the rest of the year.
I like Matthew's point about "the overspend" on Bernard. It's easy to get sidetracked into focusing on not wasting any more FAAB than necessary, but the real focus should be on acquiring the players you need to improve your team. A reader named Rob echoed this sentiment while stressing that we shouldn't get too worked up about specific players & will have more success by thinking in terms of tiers (as when drafting):
I take the same approach to FAAB as I do tier drafting. Just like in a draft, it's dangerous to fall in love with a player, so I find a group of players that I like better than ones on my roster and I throw multiple bids.

For example, in my $100 faab league, I bid $6 and $5 for Giovani Bernard and Phillip Lindsay. On both bids I elected to drop Peyton Barber, but I didn't stop there. I put in a backup bid on Lindsay by dropping Jordan Wilkins. I ended up winning both bids.

At the onset, I determined to be thrilled with winning either RB, but left myself a chance to win both with the additional bid. Also, I bid a backup bid on White, but didn't win since I won the other two. I did t have a 3rd RB on my roster that I was willing to drop.

In summary, identify the players on your roster that you don't want, then identify as many free agents as possible that you think are better. Then throw as many darts as your faab allows.
A reader named Mike shared Matthew's interest in Lindsay, but didn't bid enough to win him in one league:

In my FBG / FFPC Championship league I bid $415 Week 1 on Phillip Lindsay & someone bid $518. This league is full of savvy, experienced owners. In 2 lesser leagues I got Lindsay for $365 & $170. The point of spending early so you can utilize that player all season vs just a couple of weeks hit home for me. All my leagues are 12 teams with 20 man rosters. You play 2 WR, 2 RB, 1 TE & 2 Flex. One thing that holds me back spending too much, too early is that IF I have a rash of injuries I have a reserve of funds. A reserve though for what? Too often there aren't worthwhile players available later in the year. I like the plan to use big money early, but my 1st year in FBG/FFPC I lost a bid to get C.J. Anderson who came from nowhere late in season to be a hot commodity. I had $420 left & bid the bank on CJ. Another guy simply outbid me by $1 more than I had left. He then used CJ to knock me out of playoffs.
My thanks to Mike for illustrating the problem of spending too much too early even when one appreciates the value of getting a season (or most of a season) out of a player acquired early enough.

I hope these perspectives will help readers get a little more bang for their FAAB bucks in 2018. I especially like Rob's point about using a tiered strategy to throw as many darts as possible as an obvious way to improve on my own approach. My thanks to everyone who responded.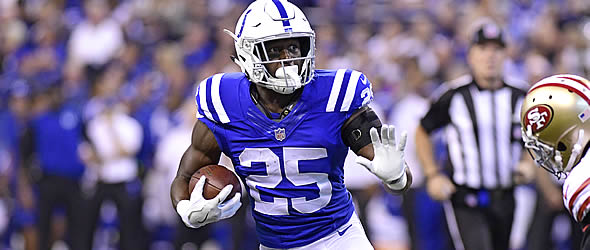 Ditching underperforming draft picks: How much turnover did your roster go through last season?





This week's question: How far did your team drift from your original draft last season?



The question for Week 4 comes from a reader named Mike, who is amazed at how quickly his roster has turned over at the RB position since his draft: "I drafted Duke Johnson, Rashaad Penny and Marlon Mack and have since dropped all three and added Adrian Peterson, James White and T.J. Yeldon after two weeks."

If that much change is possible for one team just two weeks into the season, Mike wonders how many players from drafts actually ended up in starting lineups at the end of last season.

Thanks for the question, Mike. The easiest way for people to answer (either by posting a comment below or emailing me) is with an x/y response in which x represents the number of players in your final starting lineup of 2017 who came from your draft & y represents the number of positions you fill each week. So if 5 of your 8 starters in the championship game last year came from your draft, then the shortest useful answer would be 5/8, but it would be interesting for readers to provide additional information (such as which players were drafted, which were acquired by trade, and which came from the waiver wire).

Since I have no idea what sort of answers to expect, I'm intrigued.

Survivor Pool Picks

Some upsets are more upsetting than others. Buffalo's victory over Minnesota in Week 3 probably prompted the same thought for many of us eliminated from our survivor pools: "How did I not see that as the exact right time to zag in response to everyone else zigging?"

When the whole world is championing one very obvious pick early in the season, it can make a lot of sense to go with a less obvious choice just because of the opportunity to separate yourself from the herd. If you had the courage to steer clear of the easy Vikings pick in Week 3, congrats.
I wasn't so fortunate. Neither was the former hero of this column, Mathew Schiff, who contacted me to let me know that as a result of the Minnesota loss, some smaller pools are already done for the season.

Matthew has a bonus question for readers concerning what to do when everybody in your survivor pool (such as one confined to a single fantasy league) gets their pick wrong this early in the year: "Do you reopen the LMS pool or split it between those that were still alive in Week 3?"
I know different groups handle this situation in different ways, but I hope to hear from readers who have a strong preference for one method of resolution over another.

Trap Game: Dolphins at Patriots

Divisional games are always tricky—and especially so in the AFC East—and more especially so in early-season games involving the Patriots. If you have enough of a handle on the Pats or the Fins to feel confident about the outcome of this game, you're way ahead of the rest of us. The only prediction I can make with confidence is that with Rex Burkhead now on IR, I'll be even happier than usual to plug James White into a PPR flex spot.

Pick #3: LAC over SF
(3-0; GB, NO, CHI)

The Chargers are 10.5-point favorites at home against the 49ers, who have lost Jimmy Garoppolo to a torn ACL. This game would probably be the top or second choice for most Survivor Pool analysts, but C.J. Beathard is a productive enough backup QB for me to be worried about the Chargers' preparation. Since most of the 49er offense in 2018 has been built around Garoppolo's skill set, the Chargers will have been breaking down film on a different offense than the one with Beathard under center—a formula that has resulted in surprise wins for plenty of backup QBs in recent memory (from Nick Foles to Ryan Fitzpatrick). So even though the Chargers are much more talented than the 49ers in both the running and receiving departments, this one makes me a bit skittish.

Pick #2: GB over Buf
(1-2; no, LAC, hou)

I know what you're thinking. Picking against Buffalo didn't work out for me last week, so why would I assume that Green Bay (which isn't as talented as Minnesota on either side of the ball) will beat a team that just smoked the Vikings? Look, I'm not assuming anything. I just don't think the Bills can do it again. Can they really keep traveling to the stadiums of talented NFC North teams as double-digit underdogs & winning? With Shady McCoy banged up? With Zay Jones & Kelvin Benjamin phoning it in? Call this my bet against lightning striking twice.

Pick #1: Jax over NYJ
(2-1; BAL, LAR, min)

So far in 2018, the Jaguar defense has 1 TD, 1 pick, 2 fumble recoveries, and 7 sacks. It's not hard to imagine the Sacksonville defenders doubling their stats in the first three categories against a pedestrian Jets offense featuring a rookie QB in Sam Darnald, who has thrown 5 picks to his 3 TDs this season (in addition to being sacked 7 times so far). If this game came down to the New York offense vs. the Jacksonville defense, I would have to take the Jaguars. But if it comes down to Keelan Cole & Dede Westbrook & Leonard Fournette (still injured, but trending towards playing) against a Jet defense that hasn't looked stout since decoding Matthew Stafford's signals in Week 1, I would still take the Jaguars. So that's what I'm doing.

---
Mike Davis has been writing about fantasy football since 1999--and playing video games even longer than that. His latest novel (concerning a gamer who gets trapped inside Nethack after eating too many shrooms) can be found here.