Last Week's Question: What was your most undeserved win?
Every fantasy enthusiast I know has a vivid recollection of a matchup won by a hair's breadth, so Jason's story is archetypal:
Week 10, 2013. Up by 4.76 going into MNF. My opponent has Tampa Bay RB Mike James. James runs 5 times for 41 yards on Tampa's opening drive and BREAKS HIS ANKLE on the goaline. I win by .66 points.

I wanted to give my opponent a framed copy of that photo for Christmas but feared he would never talk to me again.
Those Monday night games, eh? Most of us can relate (either to Jason or to his victim). And in an era of lackluster tight end production, most of us can relate to Zack's experience with Vernon Davis:
I played a championship where my opponent needed one catch from Vernon Davis on Monday night to win. He got a couple of targets and even dropped a pass. Goose egg for my opponent, and I won the championship.
For drama fans, that's a perfect way to win a championship. I'll pass on the drama though; I prefer a runaway victory with no need to sweat bullets every time a certain tight end runs a pattern.
I appreciated the concise responses from Jason and Zack because I knew I would get some detailed stories from yesteryear that might exceed the attention span of the average reader in 2020. But sometimes it's worth taking the time to savor a detailed story from yesteryear, such as this one from Michael:
My most undeserved win goes all the way back to 1994, the year we started our league. It just so happened that it occurred in week 15 that year, when I was playing my best buddy for our Super Bowl.

Back then, you didn't have the constant ticker showing you scores and player performances at the bottom of the screen like you do today. In addition, all scores were manually tabulated the next day by looking up the box score in the paper. Also, this was straight up scoring. Only TD's, extra points, field goals, and 3 points for QB passing TD's. That was it.

I knew I was leading him by 14 points while the late afternoon games played and was feeling pretty good. He had the Oakland kicker (Jeff Jaeger) active, and I had Haywood Jeffries of Houston as my WR2. Well, Oakland that day couldn't seem to score a TD against Denver. Houston was bad that year, and they were losing to Seattle 16-0, so I knew my player had not scored. The Oakland game was on tv, and Oakland played very methodically that afternoon and. They were able to drive down the field repeatedly but could not finish in the red zone. Out came Jeager again and again, and he proceeded to kick five field goals that day.

I was crushed as Jaeger's last FG went through the uprights, knowing that I probably lost our inaugural Super Bowl by one point after being up by 14.

When I woke up the next day, I reluctantly perused the local newspaper box scores, sure of my defeat. As I scanned the Houston box score, it was confirmed that Houston did indeed lose but scored a late 4th quarter receiving touchdown by Webster Slaughter, making the score 16-6. Much to my astonishment, however, they went for a two-point conversion and made it! My WR2, Haywood Jeffries, caught the two pointer to make the score 16-8 with only minutes left in the game!

I could not believe my eyes! Instead of losing the Super Bowl by one point as I had thought the night before, I ended up winning by one point on the meaningless late game two-point conversion by Jeffries.
Great story, Michael--and very memorable (so it doesn't surprise me that you've kept all those details straight for a quarter century). My thanks to everyone who shared an undeserved victory--and also to those whose thoughts ended up in the next section of the column.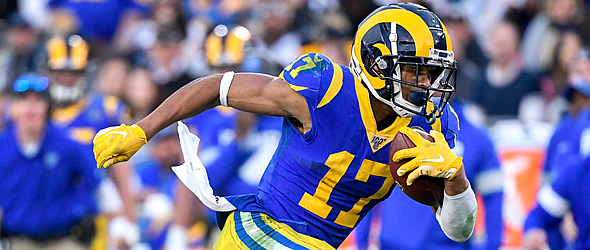 This Week's Question: Could "strength of schedule" or "power ranking" work as a tiebreaker in your league?
This week's question comes from a reader named Derek, who makes an argument about the roles of skill and luck in fantasy football with a suggestion for tilting the odds in skill's favor:
One of my pet peeves with fantasy football is that luck plays a significant role in getting wins or losses. The primary contributor is the fact that since there is absolutely no connection between any two fantasy teams, the weekly schedule could be shuffled and a different set of outcomes will occur across the league. NFL.com has a "Power Rating" which is the cumulative wins and losses of your team's weekly scoring position relative to all of the league's teams. Since this represents all possible outcomes, it is clearly the best measure of each team's placement. Unfortunately, the vast majority of people aren't going to wrap their heads around a record based upon 126 games (@ 14 weeks for 10 team league) and not actually having an opponent (although one bonus win/loss could be provided to preserve the match-up) so converting to this method is highly unlikely to ever happen.

The tie-breaker options that are offered generally compound the issue of bad luck preventing deserving teams from making the play-offs. I have an idea that would help by giving a deserving high Power Rating team an advantage over a low Power Rating team that has benefitted from lucky weekly match-ups in the case of a tie. I suggest creating a Strength Of Schedule rating, which is the cumulative win/loss records of weekly placement of each teams' opponents and offer that as a tie-breaker option.
Derek is absolutely right to point out that luck plays a huge role in determining wins & losses in conventional fantasy leagues, and I think he's correct to suspect that most leagues are unlikely to change to a battle royal format every week just to ensure that luck plays less of a role in determining champions.

Anyone who looks at the FFToday Staff League can see exactly what Derek describes happening among fantasy analysts (who presumably value skill over luck). My current record of 6-5 lands me in last place in my division, though it would have me in first place in Bill Anderson's division (where Anderson is on top NFC East style--with a record of 5-6). It would have me tied for first place in Colby Cavaliere's division, where Cavaliere is in last place with an undeserved record of 4-7.

I just edged out Cavaliere in Week 11 by a couple of points (thanks to a clutch performance by Robert Woods on Monday night). As ripped off as I feel in knowing that I would be tied for first place in his division instead of in last place in my own, Cavaliere has been ripped off even worse. His average points per game is a whopping 146.4, more than 13 points higher than anyone else in his division. But the average points against him are higher than those against any of his division rivals, so he has consistently faced weaker teams that were only capable of beating him once all season on their one lucky day.

That sort of bad luck is going to happen in fantasy football, so I can see why people like Derek would like to mitigate it with something like the "strength of schedule" tiebreaker.

I suspect that readers like Ted (who wrote in about undeserved losses in response to my question about undeserved wins) will be receptive to Derek's proposal (though it sounds like Ted will need more than a tiebreaker for justice to be done in his league):
My team is 3-7--11th in a 12-team league. Second most total points. By far the most points scored against me. Finished with the second highest score in a week four times and lost to the team with the highest score. That's hard to do.
For what it's worth, another reader (Jeremy) wrote in independently of Derek to ask about putting power rankings/strength of schedule to use:
Do other leagues use data at all to influence league standings or maybe just create power rankings? I started looking at data such as if every team played every team each week and what records would be if each team had the same schedule as the other teams each week (with the help of theffhub.com). Lots of data, but not sure how best to use it. Maybe you just have luck and that's part of playing head to head, but if there is a better way that the data can help create a more satisfying and just league, I'm all for it. Now, I know about the 2 wins each week leagues (1 win for match up and 1 win if points are over the league median that week), but I'm interested if there is something else out there.
I'm interested in answers to Jeremy's more general question as well as feedback on Derek's more specific (tiebreaker-based) model. Please consider sharing your opinion/experience in the comment section below or by emailing me.
Survivor Pool Pick (Courtesy of Matthew Schiff)
At this time, during the craziest year in recent memory, I want to wish everyone a happy and healthy Thanksgiving. May you and your family stay safe and healthy in this time of social distancing and family gatherings. Now on with our picks…

#3: NY Giants over Bengals: 6-5 (BAL, KC, az, sf, LAR, min, was, PHL, PIT, GB, mia)

Unlike seasons past, my #3 pick this season has been reliably unreliable. So you might want to think twice before choosing this game. That said, Joe Burrow was lost to a devastating knee injury that ended his promising rookie season, so Brandon Allen, a practice squad player, has been promoted to start. Ryan Finley (the backup to Burrow all season) must be feeling passed over, but the GMen must feel good about facing a team with Joe Mixon still out and a backup under center. As disappointing as the Giants have been, they still have what it takes to beat this shell of a Bengals team. Dan Orlovsky stated on "Get Up" with Michael Greenberg (my elementary school classmate and friend) that he believes Daniel Jones is the best QB in the NFC with the BEST chance to win the woeful NFC East. It's now time for Joe Judge and his Belichick pedigree to prove that he can win with a team that is far from perfect and playing without arguably their best weapon, Saquan Barkley.

This is a statement game for New York coming off their bye, and they are in control of their own playoff destiny with games against Washington and Dallas still to come. Winning the NFC East starts with winning the games that "you are supposed to win." As such, you could do worse than to pick against a Bengals roster that now needs to find a new identity and is probably playing for a top three draft pick against a team that has gone 3-3 in their six games since Barkley's injury--and lost those three games by a total of six points.

#2: Rams over 49ers: 8-3 (ind, AZ, TB, BAL, sf, MIA, LAC, KC, NE, CLE, min)

The Rams showed up on Monday night this week in Tampa, proving that Jared Goff and company can still move the ball when needed. But it is Aaron Donald, one of the best defenders in the NFL, who will take command of this game at home against a division rival. 2019 must seem like a long time ago for the 49ers, who had the top rushing attack and second-best defense in the league. While Raheem Mostert is slated to return this week, along with Tevin Coleman AND Jeff Wilson, it will be tough sledding against the Rams' 3rd-ranked defense. Yes, this is a divisional game, but these teams are headed in opposite direction. The Rams cannot afford to let this game get away from them after showing the Bucs that they might be the team to beat in the NFC.

#1: Browns over Jaguars: 10-1 (KC, GB, IND, LAR, BAL, ne, BUF, TB, HOU, LV, LAC)

When was the last time that the Cleveland Browns were 7-3? Yep, 2007. Derek Andersen was under center; Josh Cribbs was their special teams all-star; and Kellen Winslow and Braylon Edwards both racked up over 1000 yards and made the Pro Bowl. A lot has happened since then. Twenty-two quarterbacks have started a game for the Browns in the interim, and only in three of those seasons did the Browns have a winning season. Does Baker Mayfield have enough to take this team to the playoffs and win? Maybe not without the likes of a healthy OBJ, but Nick Chubb is back, and he continues to deliver a devastating 1-2 punch with Kareem Hunt.

Meanwhile, the Jags haven't won a game since Week 1, when they upset the Indianapolis Colts and knocked a number of people out of their Survival Pools (yours truly included – even though they were my #2 pick that week). Yes, there is nothing guaranteed about these Browns, but without Gardner Minshew under center, James Robinson isn't quite as scary in the backfield, and the Jaguar defense, which was better than average last year, is now ranked a dismal 30th overall. They have given up more touchdowns (55) than all but one team in the league in 2020 (Dallas). Yes, this stadium will have more "home fans" than most games rooting against the favored Browns, but unless those fans can put on a jersey and stop the run, it's going to be a long day for the home team.

---
Mike Davis has been writing about fantasy football since 1999--and playing video games even longer than that. His latest novel (concerning a gamer who gets trapped inside Nethack after eating too many shrooms) can be found here.