Last week's question: Which players did you select for the Quick Quarterly Quiz (QQQ) of 2020?
My column for Week 13 featured my own QQQ picks so far this season. Itís surprising (and delightful) to see players like James Robinson breaking into the top 5 RBs. Itís equally surprising (and disappointing) to see huge talents like Michael Thomas, Julio Jones, and DeAndre Hopkins displaced from the top 5 WRs to make room for the likes of D.K. Metcalf, Keenan Allen (with a rookie QB), and Stefon Diggs (on a new team).
Thereís always turnover in the top 5 slots at any skill position in fantasy football; one of the nice things about these QQQs is how they highlight that turnover unfolding in the course of the season. By focusing on which players are most likely to remain in the top 5 and which ones are most likely to drop out of the top 5 by yearís end, these QQQs force us to revisit our assumptions at quarterly intervals each season.
QQQs consists of 10 simple questions about the 5 most important fantasy positions (QB, RB, WR, TE, and defense). Odd-numbered questions are about which players will stay in the top 5; even-numbered questions are about which ones will drop out.
For the answers below, the designations following the number of the question refer to selections made during the preseason (P), after the first quarter of the season (1), after the second quarter (2), and after the third quarter (3).
#1 - QBs who will finish in the top 5:
Bruce's picks:
1.P Mahomes bc I trust KC's O the most and he's its engine.
1.1 Wilson bc he's Seattle's O's engine!
1.2 Allen bc the Bills D is no good.
1.3 Rodgers bc he keeps playing great no matter who's available to catch his passes.
David's picks:
1.P - Mahomes
1.1 - Wilson
1.2 - Murray
1.3 - Rodgers - Rationale: What he did against a supposedly solid Bears pass defense (I know they were compromised upfront with the absence of Hicks) on Sunday night was magical.
#2 - QBs who will drop out of the top 5:
Bruce's picks:
2.P Prescott bc I'm a Bills fan and this would be pettily satisfying. [Oddly, no, not at all.]
2.1 Murray bc of unevenness of their O.
2.2 Brady bc the Bucs' D is really good.
2.3 Watson bc Fuller's gone
David's picks:
2.P - Murray
2.1 - Allen
2.2 - Brady
2.3 - Murray - Rationale: As much as I want him to heat back up (he's my QB in a league where I need a W this week to get into the playoffs) nothing about the upcoming matchups inspires a ton of confidence in addition to him not seeming "right" since dinging his shoulder against Seattle.
#3 - RBs who will finish in the top 5:
Bruce's picks:
3.P McCaffrey for a similar reason as #1 above.
3.1 Kamara bc he was my top pick in both leagues I'm in and I need him to keep things rolling even after Thomas returns.
3.2 Cook bc wow!!
3.3 Henry bc I seriously underestimated him and he's Mr. Winter.
David's picks:
3.P - Zeke
3.1 - Kamara
3.2 - Cook
3.3 - Henry - Rationale: Have you seen the Titans schedule?!?!? In the same league I need to win and get in as #8, the #1 team has Henry and I'm scared of his Week 14 matchup with Jacksonville already...
#4 - RBs who will drop out of the top 5:
Bruce's picks:
4.P Henry bc as much I hate the Cowboys I gotta respect Zeke enough not to put him here first. He's up next!
4.1 Elliott bc Cowboys and bc their air attack is so on.
4.2 (Could I be right for the wrong reason on Zeke?) Carson bc of injuries and QB culinary arts over there.
4.3 Gibson bc I worry about durability down the home stretch.
David's picks:
4.P - Barkley
4.1 - Carson
4.2 - Zeke
4.3 - None - Rationale: I don't *like* how Kamara's been trending, but since he's #1 he'd have to fall pretty far to get to #6 over the next 4 weeks.
#5 - WRs who will finish in the top 5
Bruce's picks:
5.P Thomas bc he's consistent and durable.
5.1 (Jeez, I went and jinxed Thomas!) Hopkins bc as uneven as the Cards' I can be, he's reliable!
5.2 Adams bc wow!!
5.3 Hill bc wow!!!
[Note: It's a good thing we won't see Bruce's answer for 5.4 because it might result in a global shortage of exclamation points.]
David's picks:
5.P - Adams
5.1 - Hopkins
5.2 - Metcalf
5.3 - Allen - Rationale: Herbert is legit + Allen is a technician + The Chargers are a horrendous run-blocking team = Profit
#6 - WRs who will drop out of the top 5
Bruce's picks:
6.P Hill bc I worry about injuries and games where KC doesn't need his production to win bc the threat of his production creates opportunities for everyone else.
6.1 Ridley bc I can't trust the Falcons but I trust Julio more.
6.2 Cooper bc jeez.
6.3 Metcalf bc of Lockett.
David's picks:
6.P - Hill
6.1 - Lockett
6.2 - Ridley
6.3 - Diggs - Rationale: Not a knock against Stephon (I'm a big fan since he's a local product to my home region) but everyone else on that list is en fuego and I could see A.J. Brown (if his early season injury didn't create too much ground to make up) or McLaurin sneaking in.
#7: TEs who will finish in the top 5:
Bruce's picks:
7.P Kittle bc of his will and wiliness.
7.1 Kelce bc KC gets him the ball no matter what.
7.2 Hockenson bc why not?
7.3 Waller bc of my theme of preseason underestimation.
David's picks:
7.P - Kelce
7.1 - Waller
7.2 - Kittle (ouch...had him in two leagues)
7.3 - Hockenson - Rationale: Slight bump up the pecking order sans Golladay and Bevell supposedly speeding up their pace should help (anything "non-Patricia" has to help, no?).
#8 TEs who will drop out of the top 5:
Bruce's picks:
8.P Waller bc I'm not convinced last year wasn't a fluke.
8.1 Tonyan bc I'm not convinced last week wasn't a fluke.
8.2 Ertz bc jeez.
8.3 Andrews bc of overall Ravens O difficulties.
David's picks:
8.P - Ertz
8.1 - Fant
8.2 - Tonyan
8.3 - Andrews - Rationale: Him landing on the COVID-19 list helps, but that offense just looks "off" for lack of a better description. Maybe a commitment to Dobbins gives them a spark, but I have my doubts.
#9 Defenses that will finish in the top 5:
Bruce's picks:
9.P Well, there's no place for the Bills, so I'll go with the Steelers as the next-closest defense.
9.1 (Thank God the Bills D wasn't a possibility then!) Colts bc holy cow!
9.2 Bucs bc of 2.2 answer.
9.3 Dolphins bc w/the Bills' luck, they will continue overperforming and Miami will take the AFC East title from my team!
David's picks:
9.P - Steelers
9.1 - Colts
9.2 - Ravens
9.3 - ????? - Rationale: I know that's a cop-out, but thanks to my clairvoyance I only have two options (Dolphins and Saints) and they both play the Chiefs during the final quarter...um...Sins?
[Note, for those who don't follow David's joke, he has combined the first letter of the Saints with the last 3 letters of the Fins in a way that made me laugh out loud because it sounds like getting whooped by the Chiefs is a form of penance.]
#10 - Defenses that will drop out of the top 5:
Bruce's picks:
10.P Chiefs bc they can't help but let down at times when the O is putting up so many points so consistently.
10.1 Rams bc they've been about as disappointing as the Bills so far this season on D.
10.2 Pats bc I still hate them and bc their O is so bad it's wearing down their D.
10.3 Ravens bc problems on O are hurting their D.
David's picks:
10.P - Rams
10.1 - Patriots
10.2 - Chiefs
10.3 - Saints - Rationale: Because they're #5 and they still play KC...although they might feast on Wentz enough in Week 14 to offset a bad score against the Chiefs. I guess this choice makes the Dolphins my de facto answer for #9?
My thanks to Bruce and David for their willingness to share their answers. What leapt out at me was the way that all 3 of us concluded that only one Seahawk receiver was likely to finish in the top 5. Bruce and I both fell for the early season ascendancy of Tyler Lockett, who maintained a statistical edge over DK Metcalf for weeks after Metcalf's athletic superiority had become undeniable. Props to David for trusting his eyes enough to put Metcalf ahead of Lockett.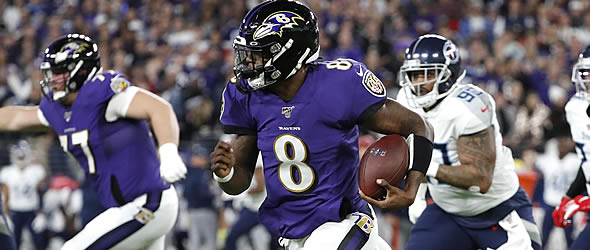 This Week's Question: Can the cost of a keeper go down over time?
Different keeper leagues have different costs associated with the players that owners decide to keep. In some leagues, owners who drafted Lamar Jackson in the 10th round in 2019 only had to give up their 10th-round pick to keep him in 2020. In other leagues, the cost of a kept player increases from one year to the next (typically by one or two rounds each season--so that the owner who drafted Jackson in the 10th round in 2019 could keep him by sacrificing an 8th-round pick in 2020). Still other leagues have time limits on how many years a player can be designated as a keeper. In a league with a 3-year limit and a price increase of 2 rounds per year, the Jackson owner could keep Jackson for an 8th-round pick in 2020 and a 6th-round pick in 2021, but would be unable to designate Jackson as a keeper in 2022.
The same basic logic holds in auction leagues. If you got Jackson for just $5 in 2019, then a keeper league with no price increase would allow you to keep him for another $5 bid in 2020. A league with escalating prices might ask you to pay a certain percentage more than that each year (with some leagues having a time limit kick in after a certain number of seasons).
But what if a playerís value drops and his owner wants to keep him anyway? Should the owner in such a situation receive a discount? Thatís what Michael wants to know:
Interesting issue in our auction and single keeper league. We anticipate that Saquan Barkleyís ESPN cost next year will be less than the auction price paid in this yearís draft. Should the owner have to live with the keeper price from this year or get the ESPN price? Past practice is pay 10% on top of what you paid in the last draft. Keeper price has pretty much always been less than the ESPN price.
Iím glad Michael specified that keeper prices in his league have traditionally been lower than the ESPN price, but that Barkleyís price in 2021 could turn this tradition on its head. If all the other owners are keeping players at a discount to their ESPN prices, is it reasonable to expect the Barkley owner to pay a premium?
The first answer that pops into my head is, ďMaybe the Barkley owner should pick a different player to keep,Ē but Iím sure some readers of this column have more interesting/nuanced answers than that. I look forward to hearing from you in the comment section below or via email.
Survivor Pool Pick (Courtesy of Matthew Schiff)
#3: New Orleans at Philadelphia: 8-5 (BAL, KC, az, sf, LAR, minn, wash, PHI, PIT, GB, mia, NYG, LV)

The Eagles host the NFC-leading Saints, who have Taysom Hill filling in swimmingly (or perhaps runningly) for Drew Brees (broken ribs). Rumor has it that Brees is expected to be back for Week 15 against the Chiefs, but this week, Hill squares off against rookie Jalen Hurts, who gets his first start after the benching of Carson Wentz (broken confidence). Yes, there will be a lot of energy from the kid, and the offense should score more points than in weeks past. But the Saints need to stay ahead of Aaron Rodgers and the Packers (see next pick). With that in mind, look for Thomas, Kamara, Cook and Murray to have a bird fest.

#2: Green Bay over Detroit: 8-4 (ind, AZ, TB, BAL, sf, MIA, LAC, KC, NE, CLE, min, sf, sea)

The Packers are quietly putting together a 2020 campaign that should land them the #2 seed in the NFC for the playoffs. That wonít be good enough for a postseason bye in 2020, so they will continue to try to win every game possible (while hoping for the Saints to hiccup in the home stretch). Few teams present less of a challenge to the Packers than the rudderless Lions, who lost their head coach midseason and only managed to beat the Bears in Week 13 because the Chicago offense has been MIA in 2020. Sure, Matthew Stafford had a good week; but heíll need more than a good week to keep up with Aaron Rodgers, Aaron Jones, and Davante Adams. If you havenít used the Cheeseheads, itís time.

#1: Seattle over NY Jets: 12-1 (KC, GB, IND, LAR, BAL, ne, BUF, TB, HOU, LV, LAC, CLE, MIN)

The Seahawks get to host a team from NY in back-to-back contests. Last week, they let the NY Giants steal a game from them. This week, the 0-11 NY Jets, who gave up a touchdown with five seconds left in the game, come to town. If thereís any team capable of snatching defeat from the jaws of victory in Seattle, itís the Jets. But they probably want to stay winless for the Trevor Lawrence lottery just as much as the Seahawks want to wash the taste of a bad beat out of their mouths. This week, the truth of the matter is that if you havenít used any of these top three picks, you should be safe. Line them up so that you can utilize them over the next three weeks. From here on out, surviving is more about who you havenít used than who to use in any given week.

---
Mike Davis has been writing about fantasy football since 1999--and playing video games even longer than that. His latest novel (concerning a gamer who gets trapped inside Nethack after eating too many shrooms) can be found here.