Tomorrow, September 10th, the NFL season will begin with the Texans squaring off against the Super Bowl champion Chiefs. For a lot of us, it will be the highlight of the past 6 months--and even for many who donít follow football, it will mark a much-needed return to some semblance of normalcy.

Fantasy football has been fun for decades, and in light of the popularity of online drafts, it is one of very few hobbies that need not be impacted in any way by whatever social distancing rules might be in effect where you live. I hope your drafts have been as much of a blast for you as mine have, & I canít wait for kickoff tomorrow night.
Previous Question: Do you have any idea how accurate your fantasy projections are?
In my August column I shared a simple diagnostic tool to help readers get a sense of their own strengths & weaknesses in fantasy prognostication. Itís a quick, 10-question quiz that requires nothing more than 1-word answers. Weíll be revisiting that quiz at quarterly intervals throughout the 2020 season, & thereís still time for you to play along if you are so inclined.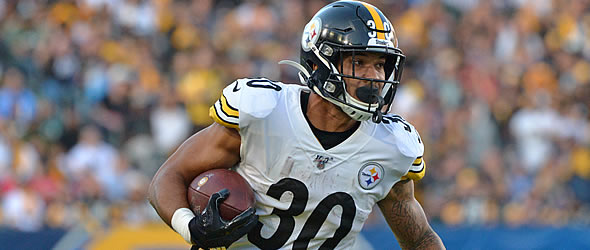 This Weekís Question: What was the biggest hit, miss, hope, or fear of your 2020 draft?
Many readers participate in multiple leagues, but for the purposes of these 4 questions, please think only about the one league that matters most to you. I look forward to sharing the most interesting replies next week, but you need not answer all 4 questions. Just pick the question(s) that appeal(s) most to you.
Who was the biggest hit of your draft?
As good as I felt great about grabbing Pittsburghís James Conner at the end of the 3rd round in the FFToday Staff League (FFTSL), my confidence in his prospects has only grown since then. Iím aware of the argument that since Ben Roethlisberger wasnít playing well before his injury last year, thereís no reason to assume that his return will catapult the Steelers back to greatness. But even if Roethlisberger is a shell of his former self, he is leaps & bounds ahead of Duck Hodges & Mason Rudloph. If Roethlisberger is great, heíll use Conner beautifully. If he struggles, heíll have no choice but to rely on Conner. The Steeler defense is one of the best in the league, which should bode well for the PIttsburgh running game regardless of how much Big Ben has left in the tank. I think Conner will prove to be fantastic value at the end of the 3rd.
Who was the biggest miss of your draft?
For some of you, the biggest miss will be a player you drafted just before he was injured or cut. But for a lot of us, the biggest miss of 2020 will be the player we went into our drafts hoping to land, but failed to acquire. I missed out on Jonathan Taylor, who was snapped up just 3 picks before Conner in the FFTSL. With Marlon Mack still in the picture, I couldnít bring myself to take Taylor at 2.1, & I had no reason to expect him to be available at 3.12 (he wasnít). I took Aaron Jones instead--and I may come to regret it. The Colts traded up to get Taylor; they have one of the best offensive lines in the league, & Philip Rivers could easily make Taylor into the Austin Ekeler of 2020.
Which of your draft choices gives you the greatest hope?
I didnít take a QB until round 17 of the FFTSL draft because I knew I would be perfectly happy with the much maligned & underappreciated Tyrod Taylor. Most FFers are scared of Taylor because Justin Herbert is waiting in the wings, but I expect Taylor to get off to a strong start in 2020 considering that his skill set has an excellent record of meshing beautifully with Anthony Lynnís offense. With a limited off-season & no preseason games, I donít expect Herbert to take over before mid-season, & the Chargers face some of the leagueís softest defenses between now & then. Iím not just expecting him to be a viable streamer. I believe itís possible for him to be a top-10 fantasy QB halfway through the season.
Which of your draft choices causes you the most fear?
I went back-to-back with Cincinnatiís A.J. Green and Tyler Boyd at 5.12 and 6.1--thinking that one or the other will finish the season as an extremely valuable WR. But what if Joe Burrow struggles to adapt to the NFL? What if both WRs fall flat & Burrow is so bad that defenses are able to key on Joe Mixon (my first-round pick in that league)? I have zero shares of Burrow in any of my leagues, but in the FFTSL, my biggest fear is definitely that Burrow will bust and the Bengals will destroy my hopes (a path most of us have traveled at least once with the Bungles).
How about you? In your draft for your most important league, what was your biggest hit, miss, hope, and/or fear? Please post your answer(s) in the comment section below or by emailing me.
Survivor Pool Picks
(Courtesy of Matt Schiff, whose return to this section of the column is deeply appreciated by your truly--& even more so by the readers who know how much more valuable his insights are than mine)

Dear Readers,

If you have been reading Mike Davis' column over the last 20 years here on FFToday.com, then you have been asked a LOT of questions, and some of you have been kind enough to engage with him and make this interesting. It was somewhere around 2002 when I challenged Mike with my picks, gave him my philosophy, and he was intrigued enough to include me in his column.

Except for last year, where I was dealing with some personal issues, I have been lucky enough to contribute to this column. I've also made a friend along the way and have a fan (I think) in Mike Krueger. In a year when the NFL wasn't sure that there would be a season, we can only hope that we finish it out. In that light, I am thankful for the opportunity to share my thoughts over the next 17 weeks with you, and if you are really bold, feel free to go head-to-head with us and track your results. We always document our record (however good, bad, or ugly) with weekly updates throughout the season.

Trap Game (Arizona at San Francisco):

Every year, there are one or two games in Week 1 with lopsided point spreads. In a year with a lot of player movement, no pre-season games, and some players opting out, itís hard to say how accurate Las Vegas will be. Kansas City is the largest favorite over their 2019 AFC Championship opponents (the Texans). Baltimore is next over a Cleveland team that could be scary good or scary bad, but San Francisco is favored by more than a touchdown in a divisional match against the Cardinals & their QB, Kyler Murray, who finished 2019 looking good. In his rookie season, Murray passed for over 3700 yards, 20 touchdowns and 12 interceptions. NFL WRs donít come much more savvy than Larry Fitzgerald or more talented than the newly acquired DeAndre Hopkins, so you can see why this game may be closer than the line suggests. In last yearís Halloween game, both quarterbacks had ratings of 130+, and the real difference this time around should be the addition of linebacker Isaiah Simmons, the eighth overall pick by Arizona in this yearís draft. The Arizona defense gave up 402 yards a game last year, but the last time they faced the 49ers, they played the NFC Champions extremely tight. Take one of my three picks below instead, and wait for the perfect week to use the 49ers, who should have a very good season.

#3: Baltimore over Cleveland

Baker Mayfield regressed in his sophomore season for the Browns in spite the addition of Jarvis Landry and Odell Beckham, Jr. So what did the Browns do? They brought in Case Keenum after he was cut from Washington to put a fire under Mayfield. Even without Earl Thomas, the Ravensí longtime safety, the Baltimore defense should be able to control an inconsistent Cleveland offense with DeShon Elliott playing the deep third. Lamar Jackson and his multifaceted attack will again be too much for the Browns defense, and in spite of this being a ďrivalryĒ game, itís one where you can take the favorite in relative safety.

#2: Indianapolis over Jacksonville

Can two teams go in more opposite directions in the offseason? I think not. Leonard Fournette, the 2018 1st round draft pick, has left Jacksonville. Nose tackle Al Woods opted out of the season because of Coronavirus, and most of the defensive line, which was ranked 31st last year, isnít expected to be much better. Meanwhile, Indianapolis brought in free agent Phillip Rivers to take over for Jacoby Brissett, who was doing fairly well behind an improved offensive line. T.Y. Hilton therefore has a chance to be a top (the top?) fantasy WR assuming he can stay healthy, and it would not surprise this writer to see the Colts in the AFC Championship this year. They have the easiest schedule, an All Star Quarterback, and all the pieces needed to make a run this year. The Jaguars should be outgunned in a big way in Week 1.

#1: Kansas City over Houston

A rematch of last yearís AFC Playoff game should make you think of the 24 points that KC spotted Houston before the Chiefs rallied for 51 unanswered points. Gone from Houston are Carlos Hyde and DeAndre Hopkins; in is David Johnson, who lost his starting job in Arizona to Kenyan Drake. Brandin Cooks and Randall Cobb bring veteran help to Kenny Stills and Will Fuller (awesome when healthy). But Pat Mahomes, his new primary back, Clyde Edwards-Helare, Tyreek Hill and Travis Kelce, are probably the BEST offensive threat foursome in the NFL today. Combine that with a defense that can shut you down, and it should be safe to take the reigning Super Bowl Champions on the night that they raise their banner (albeit in an empty stadium).

---
Mike Davis has been writing about fantasy football since 1999--and playing video games even longer than that. His latest novel (concerning a gamer who gets trapped inside Nethack after eating too many shrooms) can be found here.