Week 2 saw more regulars on the field and another opportunity to see what the rookies may or not be able to do come September. A lot to digest this week so let's dig right in…

1. Rookie Wide Receivers in the Spotlight

There are some indications that a substantial wave of rookie wide receivers will be hitting the field in 2018. And, while it is doubtful we'll see anything close to what we saw in 2014 in terms of rookie WR performance, this group appears to the best since that year. Case in point: Christian Kirk (Arizona), Calvin Ridley (Atlanta), James Washington (Pittsburgh), and Courtland Sutton (Denver) all found the end zone this weekend. And, while the latter three are stuck behind a solid No.2 option for the time being (Sanu, Smith-Schuster, Sanders), Kirk is not and could easily see his fair share of targets with Fitzgerald getting doubled across the field. It will all depend on the quarterback play in Arizona, but at this point, the only rookie wideout likely to make a bigger early season impact would be D.J. Moore in Carolina. I said it last week and I'll say it again: Take a flier on a few of these guys, even in redraft leagues. Their value in keeper/dynasty leagues should be obvious.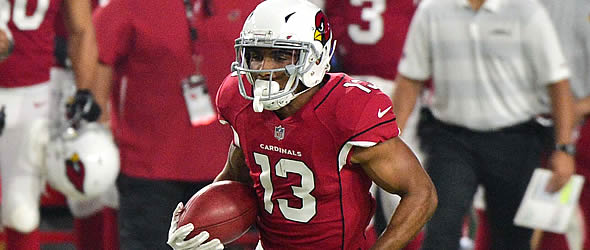 Christian Kirk: The Cardinals are looknig for someone to grab hold of No.2 wide receiver position.




2. "Handcuffs" Are Becoming Easier to Identify



How do you identify a must "handcuff" player? Well, first, any player that fits that description must be tied to a great player in a great offensive system. In other words, they're a part of a system so good that while their production might not match that of the star, it will still be substantial. I've got two names for you this week: James Conner and Dallas Goedert. All Conner did vs. Green Bay was average over 11 yards a carry on 5 totes - a performance which also included a touchdown. Conner may not have Le'Veon Bell's special skill set, but he is a legit high-end RB2 if Bell is out of the lineup for any reason. Likewise, Goedert showed off his abilities vs. New England, catching 3 balls for 57 yards and breaking free effortlessly downfield. If you're drafting Zach Ertz and can afford the spot, draft Goedert, too. Here's hoping Bell and Ertz enjoy completely injury-free seasons, but if they don't, you can thank me later for this little tip.



3. Breakouts Forthcoming in the City by the Bay



Because we aren't seeing full game performances during the preseason, some indications that a big year is coming are still subtle. I guess that would describe what's going on in San Francisco between Jimmy Garoppolo and Marquise Goodwin. In limited action this past weekend, Garoppolo completed 10 of 12 passes and averaged nearly 14 yards a completion. Three of his completions went to Goodwin who racked up a quick 61 yards. Goodwin is a WR2 at this point and should be drafted no later than the fifth round. As for Garoppolo, it really feels like he's being undervalued. I know the QB position is deep and ranking him higher means leap-frogging guys like Matthew Stafford and Philip Rivers, but I truly see something special coming. Kyle Shanahan is going to turn this offense loose in just a few weeks and Garoppolo to Goodwin is going to be one of September's hot connections.



4. Mariota Will Be Connecting With…



…Corey Davis of course. The second-year wideout has all the makings of a true NFL WR1, making him a fantasy player to watch. But, is he the only young wide receiver worth watching out for in the Music City? This weekend's performance by Taywan Taylor (4-95-2) suggests maybe not. Taylor was a blur on a 46-yard screen pass for a touchdown…so much so that superstar basketball player LeBron James took notice of it. With Rishard Matthews yet to get on the field in training camp and Delanie Walker nursing injuries as well, there are targets to be had in this young offense. Taylor has established himself just based on the performance noted above as great late-round flier.



5. Is the Hype Surrounding Kerryon Johnson Getting Out of Hand?



The short answer to that question is "Yes…most likely". Few players have continually moved up draft boards in the past month more than Johnson who is now being taken before established runners like Lamar Miller and Marshawn Lynch. And, while he does offer more upside than either of those two options, it's worth noting that Theo Riddick remains one of the premier third down backs in all of football. It's a point that Riddick drove home on Friday night with 3 receptions for 50 yards. In addition, LeGarrette Blount remains one of the league's premier fourth quarter clock-killers. That's not to say there's not a role for Johnson, but when you already have two RBs who are nearly the best at their specific roles, there's only so much additional cake to go around. And besides…how many impactful fantasy RBs have the Lions had since Barry Sanders retired? There's only so much validity to that last point, but my overall point is clear (and valid from my perspective): Slow down the hype train on Johnson before it's too late.



6. To Infinity and Beyond



A lot of fantasy owners are on the prowl for players still "on their way up" in terms of the career arc. Two such players were on full display in Week 2 as Tyreek Hill and Christian McCaffrey were easily the central characters in two of the weekend's most explosive plays. Hill absolutely torched the Falcons secondary for a 69-yard TD while McCaffrey ran roughshod over the Dolphins on his way to a 71-yard scamper into the end zone. If you believe the coach speak on and watched what they actually did on the field, it's possible that both players are being grossly undervalued. At present, both are resting just outside the top ten at their respective positions according to ADP and consensus rankings. Seems a tad low given what we all just witnessed. Both are elite weapons and don't think for a minute their coaches were sleeping on what just took place.



7. Youth Infusion in the Mile High City



We touched on Courtland Sutton earlier, but it's worth noting that both he and Royce Freeman scored back-to-back TDs for Denver in their game against the Bears. Freeman took his in from four yards on first down and with Devontae Booker nowhere near his level in the goal line department, it's safe to say that Freeman's rising draft status is justified. Denver has had a world class defense now for over half a decade, but has failed to add many meaningful pieces on the offensive side of the ball over that period of time. I think both guys have a role to play this year based on what we've seen thus far, and Freeman is of particular interest given his lack of competition. The fact that Denver never brought in a veteran RB is telling. Speaking of which…



8. In Rob Kelley We Trust…Not



What do Adrian Peterson, Jamaal Charles, and Orleans Darkwa all have in common? The answer is that they all came to Washington over the weekend to try-out for a role in the beleaguered Washington backfield. Rob Kelley gained a pedestrian 17 yards on 7 carries vs. the Jets in preseason Week 2 and Samaje Perine couldn't get through one carry without rolling his ankle. I don't know if Washington will end up signing any of the above trial guys to their ultimate 53-man roster, but it's entirely possible that someone other than Kelley or Perine leads the team in carries this season. Until more clarity is attained, it remains a situation to avoid.



9. The Never-Ending Fantasy Mystery that is New England



There's simply no way to know what to read into with respect to a preseason in Foxboro. The NFL's most impossible team to predict decided this weekend to feature Cordarrelle Patterson opposite Chris Hogan and the two combined for 9 catches and 2 touchdowns. Ultimately, someone has to support Hogan until Julian Edelman (suspended four games) returns, but it's hard to see Patterson being that guy. Then again, it was once hard to see Hogan having a role too after a quiet stint in Buffalo. As with the RB situation in New England, expect a new observation every week.



10. Remember: There are Limits to What Fournette Can Achieve



And finally, just as Theo Riddick is destined to cut into the value of Kerryon Johnson, the same can likely be said for T.J. Yeldon's impact on Leonard Fournette. Yeldon was a dynamic receiving force out of the backfield for Jacksonville on Saturday, accounting for 5 receptions for 73 yards. Fournette is still going to be a stud - particularly in tight games or games in which Jacksonville has a substantial lead. But, Yeldon is the better option on third downs and may have already won that role. I don't think Fournette can crack the top five…especially in PPR leagues…with that reality to consider. It's a liability most of the other elite backs aren't dealing with.

We've got one more week to review and we'll do that next Monday. Good luck in your upcoming drafts! Until a week from today…