One of the most difficult tasks in drafting a fantasy football team is trying to decide between two players you see as having nearly identical value. Knowing how to break this "tie" can be important to your draft success.

The purpose of this article is to not only identify pairs of players that are considered of nearly equal value in 2020, but also take a look at the process of solving those dilemmas. Our first installment of this feature examines two future Hall of Fame quarterbacks who represent QB1 value, but share one mutual caveat: Older age.

There is going to come a time in every draft for those employing a late-round QB strategy in which this decision comes into play. There are essentially six quarterbacks viewed as no-brainer QB1 selections… and then the math gets a little fuzzy. Most would consider Brady or Brees in the low-end QB1 conversation. For years, they have been "safe" choices as your starting QB and in some years, much more than that. Now, they represent players who can still get it done with their arms even as their younger counterparts are more mobile from the pocket.

So, how is the choice between QB legends made in a redraft leagues? Let's break it all down.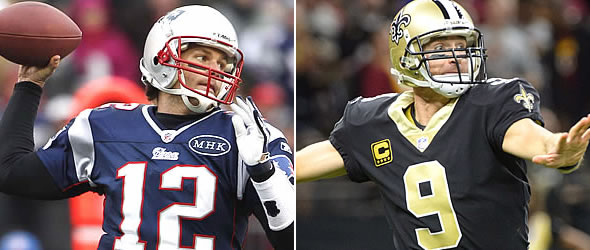 The Strengths
Brady has a fabulous receiving corps at his disposal in Tampa Bay. After years of throwing to mediocre talent (at best) in New England, Tom has struck gold with the likes of Chris Godwin and Mike Evans, not to mention longtime battery-mate Rob Gronkowski and O.J. Howard.

Godwin and Evans had 119 and 118 targets respectively last season despite missing five games combined. That speaks to their ability to gain separation from defenders and factor heavily into the offensive game plan. Both Brady and 2019 Bucs' starter, Jameis Winston, completed 61% of throws, but there's no argument that Brady was throwing into tighter windows. Even so, he topped 4,000 yards and racked up 24 passing TDs in spite of his lack of skill position weaponry.

Now, with an offensive-minded head coach and arguably the best set of receivers in the league, Brady's numbers should only improve. There's simply a lot to be excited about in terms of Brady's prospects and his motivation to show everyone he's far from "washed up".

That same motivation exists for Brees. His off-season had moments of strain with his teammates, and he is no doubt itching to get back on the field and regain cohesion in full.

But, his primary strength is not motivation- it's continuity. Whereas Brady is having to learn a new system and will be asked to change 20-year old habits at the position, Brees has the same head coach and the same supporting cast he's had for recent years. He's even added one of the more underrated WRs in football in the form of Emmanuel Sanders.

Brees knows his offense backwards and forwards and while Brady has never completed 70% of his passes or more, Brees has done it six times in his career including each of the past four seasons. Continuity can be trusted. Sure, players lose skills with age and sometimes that decline can happen all at once. But, the relationship between Brees and head coach, Sean Payton allows for adaptation to a changing skill set. Taysom Hill's role last season speaks to that.

The Weaknesses
Both have mobility issues (30 rushing yards last year combined), so that's a fantasy problem. Brady's primary weakness is uncertainty regarding adaptation to a more vertical offense. In New England, the offense was largely predicated on short drop-backs and quick throws to move the chains. In Tampa Bay, he will be asked to let plays develop longer so that his talented receivers can get to their spots.

Winston was sacked 20 more times than Brady last year - some of that can be attributed to QB error, but some is also indicative of system differences. Brady has more upside than Brees given he'll have to do more in order for the Bucs to win games, but his downside is also more pronounced. There is more risk given just how much he'll likely have to change to become the QB in Tampa Bay.

Gronkowski is also a huge unknown. No one questions if he'll be one of the top blocking TEs in the league - he will - but how much will he be a factor in the passing game?

As for Brees, there's the Taysom Hill factor. And, possibly Jameis Winston, too. Neither will threaten Brees as the starter, but both represent the near future at the position and as such, both are going to get snaps in game situations. Hill's snaps will continue to be situational in nature, while Winston's will be at the end of games already decided.

In addition, the Saints defense allowed one touchdown less per game than the Buccaneers last season and 30 fewer passing yards per game. That means they can win games without Brees having to air it out. Just as the Patriots shifted to be more of a running team last season with Brady and a great defense, the Saints will likely do the same. Simply put, less will be required aside from games in which Brees and Brady go head-to-head. More on that below.

The Verdict
The really fun part of this assessment is that we get to see it begin to play out in a head-to-head matchup in Week 1 in New Orleans. Brees generally is a better fantasy QB at home, so he may win the match-up that day. But, what about Week 2 and beyond? Who is going to be the better option, particularly down the stretch when it matters most? After all, both guys have a wealth of experience.

Brady probably has the edge at wide receiver, but Brees has the pass-catching edge talent at running back. Both have experienced tight ends. I guess we're back to capability vs. continuity. Whereas Brees is likely to finish the season as a top 7-10 QB, Brady could easily be a top 5 QB fantasy-wise or fall outside the top 10 altogether. As such, you might need to select your backup QB a round or too sooner if you opt for Brady to cover yourself in the event of the latter scenario.

All in all, while I value continuity, I think the upside of Brady makes him the pick over Brees. After all, he is inheriting the league's No.1 passing offense from last season. It's worth a roll of the dice coupled with the selection of a quality Plan B option like a Matthew Stafford or Ben Roethlisberger.

Final projections look like this:

Tom Brady - 4,600 passing yards, 31 TDs
Drew Brees - 4,250 passing yards, 29 TDs

Next up: Tale of the Tape, running-back style. Until then…