The 2022 preseason is officially underway! As was the case last season, it's a three-game slate, and while some teams take a cautious approach to the preseason as a whole, others need to put their younger players into game action early and often for the sake of continuity and evaluation. That allows us to pick up on a few things…or even ten things.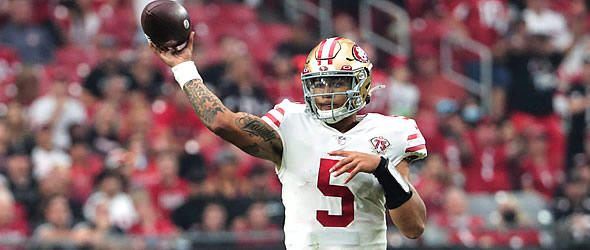 1. Upside on Lance? A Lot

This has a bit of a dťjŗ vu feel to it as Trey Lance began the preseason in 2021 with a long TD pass in his first game. He then went on to play sparingly. But, this isnít 2021 and Lance isnít likely to play sparingly this season. He connected on a 76-yard bomb to Danny Gray on the second series of the first quarter and was sharp overall completing 80% of his passes. For a variety of reasons, preseason is typically a check-down festival so when a QB comes out slinging, itís noteworthy. Lance may still have games where he struggles mightily with the elite defenses and defensive coordinators in the league. But, aside from those match-ups, he looks the part of a poor manís Josh Allen and can score fantasy points quickly and in variety of ways. Target him on draft day and assuming you can pair him with a steady hand like Aaron Rodgers, Derek Carr, or Kirk Cousins during those bad match-up weeks, and your return on investment could be substantial.

2. There Could be Value Beyond Diggs & Davis

Itís not too often that we pay close attention to an NFL teamís projected WR3 as there just arenít enough targets to go around via 80-90% of the offenses in the league. An exception would be a team like Buffalo with such a fierce and dynamic offensive attack. In Week 1 of the preseason, several of Buffaloís candidates for the eventual WR3 spot were featured and they did not disappoint. Khalil Shakir and Isaiah Hodgins combined for 14 receptions, 169 yards, and a TD (Shakir). It has been assumed all off-season that the addition of Jamison Crowder would account for Buffaloís WR3 numbers, but Crowder has battled some nagging health issues over training camp and thereís no guarantee that the Bills will keep him in a prominent role with such youthful production in tow. Yes, itís the preseason. And yes, Shakir and Hodgins didnít produce against elite defensive corners. But, they wonít be facing elite corners anyway if they do play during the regular season due to Diggs and Davis taking precedent. The situation is worth keeping an eye on.

3. Romeo, Where Art Thou? Right Here, Right Now

The satellite radio talking heads have been ablaze about Romeo Doubs for weeks now, but this past weekend, we got to see what he could do in actual game action for the Packers. Well, he did nothing to curb the enthusiasm thatís out there on his behalf. In the first quarter of the game vs. the 49ers, Jordan Love found him for a 33-yard score - one of his three catches on the day. As noted previously, WR3s are hardly locked in for many teams at this point, and in Green Bayís case, WR2 on the team may not be a lock either. In deeper leagues, Doubs is a must draft at this point and even in leagues that only draft 14-16 players, he is most definitely worth a late-round flier. Rookies can make an impact in fantasy football - especially when the guy throwing them the ball is coming off back-to-back MVP seasons. Get on the Romeo train.

4. Not a Great Place for a Rookie RB, butÖ

If your goal as a running back was to make a splash for fantasy purposes as a rookie (it isnít), landing with the Houston Texans might put a damper on such aspirations. After all, Houston is rebuilding in nearly every facet of the team including quarterback which means defending safeties can cheat up and stop the run when facing the Texans. All that said, it was an impressive debut in Week 1 of the preseason for rookie Dameon Pierce out of Florida. Pierce looked sharp and decisive in averaging nearly ten yards a carry on 5 totes. He didnít catch a pass, but was only targeted once. His usage there will be something to monitor in next weekendís game. At 218 pounds, Pierce has the capacity to be a three-down back. At this point, he should be drafted well ahead of Marlon Mack, particularly on the heels of such a positive debut.

5. Rookie QBs Turning Heads with their Legs

This yearís rookie crop of quarterbacks was not highly regarded from both a fantasy and real-world perspective, but this past weekend we did see what a couple of them might be capable of if given starterís opportunities. Desmond Ridder got to play extensively in the Falconsí game vs. Detroit and while he did complete less than half of his passes, he ran for an impressive 59 yards and log two passing TDs. As a fantasy prospect, Ridder could become a solid backup at the quarterback position the moment he begins getting starts this season (assuming that he does). Those rushing numbers after all, suggest that will be fantasy relevant. The other rookie QB this past weekend that ran with authority was Malik Willis of the Titans. Willisís carries included both a 7-yard scamper for a score and a longer run of 17 yards. Itís doubtful that Willis gets much meaningful playing time this season, but his dynasty stock is definitely up after only one preseason game. He has the look of a dynamic playmaker who could take the reins in Tennessee as soon as 2023 if Tannehill were to regress this season.

6. Pickens Reincarnate

For those whose fantasy football roots date back twenty years or more, there are fond memories of Bengals WR, Carl Pickens, who was a top-five option for several years at his position. This season, a new wide receiver named Pickens (George) has entered the scene and camp reviews had been glowing coming into weekend play. As with Romeo Doubs, camp reports do not always translate to on-field production and thus you wait for game action to begin banging the drum more vigorously. That said, Pickens (much like Doubs) debuted with a touchdown receiving and three overall grabs. After a promising rookie season, Chase Claypool disappointed last year and it would not be a surprise given what weíve observed so far if Pickens surpasses him on the depth chart early in the season. Unlike Doubs, George doesnít have an established superstar throwing him the ball, so expectations should be tempered for now.

7. Welcome Back to The Field, Travis!

His on-field production wasnít noteworthy, but the first weekend of the preseason did feature the return of Travis Etienne. In a game that was dominated, headlines-wise, by the return of DeShaun Watson, Etienne logged ten touches, gaining 33 yards in the process. Travis is being drafted at present as RB21-24 despite the fact that James Robinson has been able to return to practice much sooner than many expected. I think Etienne is a risk given Robinsonís presence, but his ability to get on the field and stay on the field this past Friday was encouraging given the severity of last seasonís injury. Hereís hoping weíll get a few more looks at what he can do in the two games to come so that draft-day decisions can be made with a little more confidence.
8. Welcome Back to the Frying Pan, JustinÖ

The statistics will suggest that Justin Fields didnít do anything particularly poorly vs. the Chiefs on Saturday, but anyone who watched the game saw Bears quarterbacks running for their life. In limited action, Fields was sacked twice and pressured on every drop-back and even when the Chiefs reserves took the field, additional pressure was consistent throughout the game. All in all, despite running the ball far more than they threw it, the Bears surrendered five sacks and demonstrated their relative weakness in the trenches on the offensive side of the ball. Further, injuries to WRs Byron Pringle and NíKeal Harry have reduced the weapons for Fields to Darnell MooneyÖand crickets. It could be an ugly year in Chicago and the optics from this past weekendís actions scream caution in relying on Fields for fantasy productionÖand possibly David Montgomery too. Smells like a mess to me.

9. Hurts so Good

Putting in a sharp performance in the first game action of the season isnít earth-shattering, but it canít be faked, either. As such, what Jalen Hurts accomplished right out of the gate on Friday night did nothing to hurt his draft status/stock and likely even improved it a bit. Hurts was a perfect 6-for-6 on the night, and accounted for 80 yards and a crisp TD strike to TE Dallas Goedert. I know many question Hurtsí viability as a decade-long starter in the NFL given some of the limitations of his game, but there is no denying what the eye test suggested vs. the Jets. This is a guy whoís had a full offseason to get on the same page as the crew around him and could be in for a top-5 fantasy season. On the flip side, Jets QB Zach Wilson was injured again and will likely be out for 2-4 weeks as his meniscus heals. Wilsonís absence shouldnít lead to a major downgrade in his ranking or those around him, but it could lead to a slower start in September for the Jets offensively as they look to play catch up in terms of chemistry and timing.

10. Better Late Than Never?

DeAndre Hopkins should be back mid-way through fantasy footballís regular season and will team with Marquise Brown to form a fairly formidable duo for Kyler Murray to hurl passes at. In the meantime, though, the assumption has been that Rondale Moore will fill in the gaps until Hopkins returns with perhaps a sprinkle of re-signed A.J. Green also thrown in. The forgotten man in the equation is fourth-year WR Andy Isabella, who has been the subject of trade rumors this summer and was presumed out of step with any of the Cardinalsí plans. Isabella led Arizona this past weekend in terms of both receptions and receiving yards (4-57) and hauled in a 36-yard pass in the process - all on seven targets. Thereís still a decent chance Isabella isnít on the Cardinalsí final 53-man roster for various reasons, but he has gone from invisible to visible again and that makes him someone to keep in mind as the rest of August plays out.

We will present a recap of Preseason Week 2 one week from todayÖ same time and place.