The Falcons and Jets play tonight (Monday) but the bulk of preseason Week 2 is in the books.

Every NFL team takes a little bit different approach to what can be gained from preseason, but we take the approach here that there is always something to be gained and/or learned from examining the action through the lens of fantasy football. Here's the scoop from the weekend that was…

1. Chiefs/Commanders Running Back Fades

No two players (especially running backs) have been dropping down fantasy rankings in August quite like Antonio Gibson and Ronald Jones. On Saturday, as the Chiefs and Commanders squared off, one might have wondered if that narrative would be allowed to shift. Nope. Washington utilized rookie Brian Robinson Jr. out of the gate via eight touches while only giving two carries to Gibson. Who knows exactly how Washington will split their carries between running backs in Week 1, but it is becoming more and more apparent that itís likely going to be an even timeshare at best for Gibson with J.D. McKissic re-signed for passing down duties.

Meanwhile, Jones caught one pass for one yard as his future in Kansas City remains muddled heading into final cuts in about a week. At this point, Gibson is still worth a draft pick- albeit several rounds later than was originally projected. Jones is probably not.

2. Crickets is Actually Spelled K-M-E-T

If you read last weekís review of Week 1, you might remember I mentioned the Bearsí passing attack consisted of Darnell Mooney andÖ crickets. But, we were reminded on Thursday evening that there is an able source of help in the form of tight end, Cole Kmet. Fields was able to find Kmet twice in the first quarter for a total of 31 yards and even targeted him unsuccessfully on a third throw. In Baltimore, Mark Andrews is a well above average tight end, but has become a fantasy star not only based on his own talents, but also the lack of talent around him. And that supporting cast was and is far superior to what Chicago is dealing with. My point is this: Cole Kmet is going to likely finish in the top-5 among tight ends in targets based on his prominent role in the offense and Justin Fields need to find someone quickly upon duress. If those targets turn into receptions on a consistent basis, you will find that youíve got a TE1 in the process. Adjust rankings accordingly.

3. Tribulation in Tampa

Another weekend, another serious blow to the offensive line of the Tampa Bay Buccaneers. This time, it was Aaron Stinnie, projected starter going down. Several weeks ago, it was center, Ryan Jensen who was lost for the season. Throw in the unexpected retirement of Ali Marpet in the offseason and youíve got a Tampa Bay O-line now in total disarray. Maybe itís just me, but offensive line play is pretty important when youíre trying to protect, sayÖa 45 year-old quarterback. Especially a 45 year-old whoís been absent from training camp for nearly two weeks. Bottom line is that Tampa will likely find a way to cope with all these losses, but September might be a bit rough and a slight downgrade is likely needed for all skill position players as a result. Hereís guessing Week 3 of the preseason will see backups across the board for the beleaguered Bucs.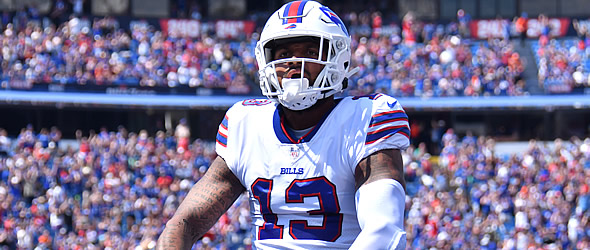 4. Turbo Power in Buffalo

Some teams donít do well in preseason on the offensive side of the ball, but itís hardly a concern given that starters arenít playing and vanilla-only offensive concepts are being employed. That said, when a team is clicking on all cylinders in August, itís something you canít fake. And, to say that Buffalo looks like a team ready to explode on offense is like saying water is wet at this point.

Devin Singletary ran for nearly 10 yards a carry. James Cook did the same. Zack Moss and Duke Johnson combined for 4 rushing touchdowns. The trio of Josh Allen, Case Keenum, and Matt Barkley threw for over 300 yards and werenít sacked once. All in all, Buffalo racked up over 500 offensive yards from scrimmage and looked like a supernova in doing so. I know the Rams defense will offer up solid resistance in Week 1, but thereís not an offense in the league Iím more excited about heading into the season than this one. Donít be afraid to reach a bit to get a Bill or two on your team. Yes, they spread the love, particularly in the backfield, but that love is going to come with a lot of yards and plenty of TDs.

5. Well, if Youíre Going to Pay Him that Much

No NFL player this past offseason received a more ridiculous sum of money based on performance than Christian Kirk in Jacksonville. Itís not that Kirk was a disappointment during his time in Arizona - itís just that he never established himself as an alpha or even a prominent beta during his time in the desert. Apparently, the Jaguars are looking to justify their spending on Kirk by peppering him with targets as Trevor Lawrence attempted to throw his way eight times in the first half alone on Saturday. Kirk ended up catching 5 of those throws for 54 yards and emerged in the process as a possible sleeper candidate on a team that lacks much in the way of completion for catches sans veteran Marvin Jones. Again, if this is a sign of things to come, Kirk is being way undervalued, particularly in PPR formats. You might want to consider him over some guys who are currently being drafted higher, but will only see 70% of his likely target share at best. I guess sometimes money does talk.

6. New Dogs, Same Old Lack of Tricks

The running game in Miami has been putrid now for a number of years and this season, Miami is attempting to flip the script on that by bringing in not one, not two, but three veteran running backs. First, they signed Chase Edmonds. Then, Raheem Mostert followed his former coach to South Beach and finally, Sony Michel was brought on board. But, after running for less than 3 yards a tote in Week 1 of the preseason, the Dolphins ran for a listless 2.1 yards a carry this past weekend. Edmonds was used effectively in the passing game (2-21), but if one is thinking a bunch of new recruits is going to fix a decade-long problem, it might be time for a reality check. The good news for Miami is that they did throw for over 300 yards and so that aspect of the offense may indeed be better. Just donít expect the run game to get fixed overnightÖ and perhaps not at all.

7. Some Love for Olave...

No one really knows at this point what the future holds for WR Michael Thomas. Once largely considered the best wide receiver in football, Thomas has essentially collected two years of paychecks with almost no production on the field to show for it. It is possible that no player in drafts this summer is being undervalued more than Thomas, but itís also possible that his days of being the best WR even on his own team are done after two injury-riddle campaigns.

Enter rookie Chris Olave who could become the top pass catcher in New Orleans almost immediately. Though the sample size is small, Olave looked the part Friday night catching a nifty 20-yard touchdown pass from reserve QB Ian Book. Reports out of practice the past couple of weeks have sent Olaveís value soaring in fantasy football and the actual game action from the weekend did little to stem that optimism. Like I said, maybe Thomas returns to being a WR1 or 2 for fantasy purposes this year, but I think Olave has just as good a chance, and will come at a much cheaper price on draft day.

8. ...And Some Additional Love for Nico

Often times, the WR2 on a rebuilding NFL team doesnít garner much love in fantasy circles given they donít get in the end zone nearly as much as competitive teams and thus TD opportunities are hard to come by. But, that doesnít mean they should be ignored altogether. One such player who continues to look the part as a weekly option is second-year receiver Nico Collins in Houston. Collins has great hands, is able to separate from defenders and is proving to be a solid red zone target. Specifically, he made a brilliant TD catch on Friday night and ended up catching 4 balls for 48 yards on six Davis Mills targets. Michael Pittman Jr. is an example of a WR that made major strides recently from Year 1 to Year 2. Maybe Nico doesnít match that progression stride for stride, but he should be on your radar just the same, particularly in dynasty leagues who draft non-rookies.

9. When the Quarterback is Great, You Dig a Bit Deeper

Last week, it was noted that itís important in fantasy football to pay attention to the WR depth chart on great offensive teams. Thatís because a WR3 on a great offensive team can be more valuable for fantasy purposes than many to most WR2s on lesser units. That said, this past weekendís game offered up another showcase for Josh Palmer of the LA Chargers. Palmer caught 3 balls for 75 yards and a TD and appears to be way out in front among the options beyond Keenan Allen and Mike Williams. Itís important also to remember that any missed time due to injury for Allen or Williams would likely make Palmer a flex play at worst and a WR2 at best for fantasy usage. That makes him worthy of a late-round flier as Justin Herbert will make anyone who lines up out wide for significant snaps fantasy-relevant.

10. Two Productive Tight Ends in Baltimore Likely?

Forgive the shameless play on words, but it would be impossible not to notice what Baltimore seems to have found at the TE position coming out of this yearís draft. Isaiah Likely was a fourth round pick out of Coastal Carolina and was selected most likely (did it again) to provide depth at his position. Instead, he is putting on a show in camp and on Sunday, that translated to 8 receptions on 8 targets for 100 yards and a TD. Thatís impressive for a tight end, even if itís only preseason. The last time I can remember two tight ends being the focal point of a passing offense was the era of Gronkowski and Hernandez in New England. Not saying that Likely is going to fit into that frame perfectly, but heís in the perfect situation to do so given how little Baltimore is operating with at wide receiver. You design an offense based on your strengths and the Ravens seem to have found something unique in this regard. If your league allows for a deep roster, consider Likely an intriguing late-round pick with upside.
That's a wrap on preseason Week 2. We'll put a bow on the entire exercise next week with one final recap with insights! Until then…