Recently, we've been discussing some 2017 fantasy heavyweights—QBs, RBs, and WRs—who stand a reasonably good chance of frustrating expectations this coming season. Now it's time to discuss those up-and-comers who could conceivably replace them and become the fantasy heavyweights of 2018.

Note: All rankings are based on FFToday's default standard scoring.

A quick reminder of the Top 10 fantasy QBs from last season...





Quarterbacks Most Likely to Rise in 2018:



Drew Brees, NO: The last time Drew Brees finished a season outside the Top 10 at his position, my daughter had just turned a year old. She's now a few short weeks away from starting high school (gulp). Any parent will tell you it goes way too fast, but parenting years aren't NFL years and 13+ years is a veritable eternity in the NFL. The Saints' Hall of Fame-bound wheelman has been at the top of his game for a really long time, in other words, and while there's no doubt he's closer to the end than the beginning, there are plenty of reasons to think his tenure as a quarterbacking A-lister isn't completely over.

Brees threw just 537 passes in 2017, ending a string of seven straight seasons with 600+ attempts. That amounted to 136 fewer than he'd tossed in 2016, a sudden and staggering 20% drop in usage. The decline in attempts was not indicative of declining skills or poor health, interestingly, but rather a deliberate attempt on Sean Payton's part to establish a new offensive identity. It worked. New Orleans dropped only from first to second in total offense (behind NE) and ended a three-season rut of 7-9 records by finishing 11-5 to win the NFC South.

The Saints aren't likely to return to their pass-happy ways this season, but even a slight uptick in usage would elevate Brees back into the Top 10. He only missed it by about four points last year (one TD) and his fantasy point-per-attempt rate (0.60) was only barely off his 2016 pace (0.63). There's a very logical reason to expect that aforementioned uptick, moreover: Mark Ingram, one half of New Orleans' two-headed RB monster, serves a four-game suspension to start the season. Expect more passes and more points in 2018.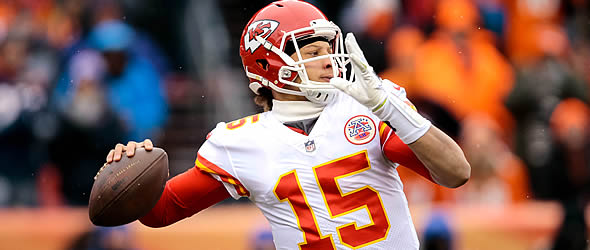 Mahomes may be working with the most explosive collection of skill position players in the league.



Patrick Mahomes, KC: The training camp info warriors were busy dealing down in St. Joseph, MO last week as the Chiefs' sophomore slinger threw 7 interceptions over six practice sessions, a sloppiness not exhibited in KC red and gold since the Matt Cassel era. Maybe Mahomes isn't quite ready for prime time, they seemed to suggest. Maybe he's too much of a risk-taker in the risk-averse world of the NFL. Maybe, just maybe, the Chiefs will rue the day they shipped their Steady Eddie game manager, Alex Smith, off to DC and went all in on a riverboat gambler. To which Andy Reid essentially replied (and I echo)…FAKE NEWS!

Mahomes, despite a single game of NFL experience, is already being compared to some of the game's greats (namely, Brett Favre) and the reason why is simple: ridiculous arm talent. It's neither a necessary nor sufficient condition of professional success—see Joe Montana and Jeff George, respectively—but cannon-like arms, when combined with accuracy, good-enough wheels, and a Texas-sized helping of moxie, can be hazardous to the health of NFL defensive coordinators. The former Red Raider and namesake of a big league pitcher possesses all of these things.

It certainly doesn't hurt that he'll be working with, arguably, the most talented/explosive collection of skill position players in the whole league. In Kareem Hunt and Spencer Ware, he has a RB tandem that can keep opposing pass rushers honest. In Travis Kelce, he has a walking/trash-talking mismatch of a TE. In Tyreek Hill and Sammy Watkins, he has a couple of blazers who can legitimately test his howitzer of a right arm. Finally, in Coach Reid, Mahomes has a veteran of the NFL wars and an offensive tactician who knows how to deploy these assets. Believe the hype.

Marcus Mariota, TEN: It's tricky projecting the performance of new players in established systems (e.g., Mahomes, Alex Smith, Kirk Cousins), but trickier still, in many ways, projecting the performance of an established player in a new system. We already know Marcus Mariota can be a successful quarterback, despite a clear statistical step back in 2017. What we don't know is how he'll fare in an entirely new system conceived and orchestrated by a coach—new offensive coordinator, Matt LaFleur—who has never been a primary play caller at any level of the game. Here's my best guess based on LaFleur's stated intention to "tailor" his offense to the talents of his players: very well.

Mike Mularkey's stubborn refusal to make the system fit the players instead of the other way around is likely what got him fired despite leading Tennessee to its first playoff appearance and surprising playoff victory after a nine-year absence. His "exotic smashmouth" offense was nothing more than a snazzy name for a tired/anachronistic scheme. He didn't seem to know (or possibly care) what he had in Mariota, a quintessential dual-threat QB who is exponentially more dangerous optioning oncoming defenders or rolling out than he is standing in the pocket like a sitting duck (GO DUCKS!). LaFleur does know and has seen this movie before when he was QB coach for Washington in 2012 (think RGIII Offensive ROY).

Two other things working in Mariota's favor this season are upgraded weapons and a cupcake schedule. Corey Davis is ready to assume the WR1 role he likely would have seized in training camp last year, had he not missed most of it, while Dion Lewis adds a dynamic run/pass element in the backfield. The Titans also face the league's second-easiest schedule, despite that playoff success. Marcus finally makes the leap this season.