It's a "what have you done for me lately?" kind of league and we're the legion of optimistic amnesiacs who eat, drink, and sleep it. One would think we'd be better at forgetting the immediate past and focusing instead on what lies ahead. As I document every summer, though, many of the guys we were raving about last December are the same guys we're buzzing about now are the same guys we'll ultimately bemoan come this December. Did I say many? I meant most. In the seven years I've been writing this article, 57% of Top 10 performers have failed to retain Top 10 status the following season. Let's take a look at who disappointed last year, why, and who we should maybe be wary of in 2018.

Note: All rankings are based on FFToday's default standard scoring.



Who Missed the Cut in 2017 (6/10): Jordy Nelson, Mike Evans, Odell Beckham Jr., T.Y. Hilton, Davante Adams, & Doug Baldwin

If youíre following closely, thatís now the No.1 QB, the No.1 RB, and the No.1 WR from 2016 failing to stay fantasy-relevant, let alone Top 10-worthy, last season. Jordy Nelsonís fate was inextricably tied to Aaron Rodgersí, but the swiftness of his decline was still rather alarming. Nelson scored six touchdowns through Week 6, when A-Rodge succumbed to injury, but never scored again in a Packer uniform. Nelsonís teammate, Adams, didnít have that same mind-meld connection with #12, and was therefore able to stay very relevant with Brett Hundley at the controls. It still wasnít enough (he fell six spots to No.13), but a full year with Rodgers back and Nelson in Oakland should augur plenty of fantasy fireworks moving forward.

Doug Baldwin didnít miss the Top 10 mark by much last year either, dropping only four spots from No.10 to No.14. With Jimmy Graham now joining Adams in Green Bay, a whole bunch of red zone targets are up for grabs in Seattle, meaning Baldwin has a very good shot to jump back into the Top 10 this season. So do Mike Evans and T.Y. Hilton, provided their respective quarterbacks donít miss a bunch of games again. Ryan Fitzpatrick is a very serviceable fill-in while Jameis Winston serves his suspension and targeted Evans plenty in Weeks 11 and 12 last season, the weeks Winston missed due to injury. Hilton, meanwhile, stayed relevant with Jacoby Brissett slinging it and even had several huge (175-yard+) games. Nevertheless, he only scored four times, a career low, and managed a mere 120.6 fantasy points (also a career low).

That brings us to Odell Beckham Jr., pound-for-pound the best receiver in the game. The only things preventing OBJ from a return to the Top 10 are more ankle trouble and/or contract-related grousing affecting his performance.




Most Likely Candidates to Fall from the Top 10 This Year: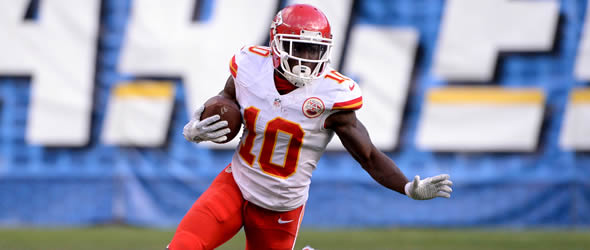 Tyreek Hill's efficiency last season will be difficult to replicate even with strong-armed Mahomes at QB.



Tyreek Hill, KC: Iím sure youíre thinking Iím bearish on Andy Reidís Chiefs by now, but nothing could be further from the truth. I actually think KC has a legit shot to be the most explosive offense in the league, even with a brand new gunslinger and minus the guy (Matt Nagy) who propelled them to great statistical heights late last season. The issue I have with Hill is the same issue I have with Kareem Hunt. There are just a lot of mouths for Andy Reid and Co. to feed and two very talented additions, Spencer Ware and Sammy Watkins, likely portend a more equitable distribution across the board.

I was one of the few, it seems, who touted Hill for Top 10 status last season and he did not disappoint. Before you start proclaiming me a genius, though, understand that he is the ONLY Top 10 riser I correctly identified last August. Ouch! I figured Hill had a chance to shine with even a modest uptick in touches, which is exactly what he got (92 v. 85 in 2016). However, he also turned those touches into an even higher percentage of fantasy points, upping his point-per-touch rate from 1.65 to 1.81, a solid 10% climb. Sustaining that higher rate could prove difficult this season (Hill hit a bunch of homers last year), but even if he could, it doesnít seem likely heíll be targeted as often in the passing game (105) or utilized as frequently on jet sweeps and such in the running game. His rushing yardage, in fact, declined significantly from 2016 and he scored nary a rushing TD last season after scoring three as a rook. Hillís a great piece for the right price but shouldnít be valued as a top 5 WR this year.

Marvin Jones, DET: Neither should Marvin Jones, who had never even cracked the Top 20 at the receiver position until he exploded for 164.1 fantasy points and a Top 5 finish last season. Jonesí target share has been remarkably consistent the last three seasons (103 with Cincinnati and then 103 and 105 with Detroit), but an 18.0 yards/grab average and nine touchdowns vaulted him into the fantasy stratosphere in 2017. To stay there, heíd need to maintain that target share and that points-per-touch efficiency. Can he do it?

The answer is ďmaybe,Ē but there are always concerns when regime change has occurred, Itís at least encouraging Matt Patricia retained OC Jim Bob Cooter, who engineered the Lionsí 6th-rated passing offense last year, but the more immediate concern for Jones and his pass-catching buddies is that Patricia seems intent on breathing life into a moribund rushing offense. And itís hard to blame him when you consider Detroit averaged a league-worst 76.3 rushing yards/game in 2017. Enter Kerryon Johnson, a 2nd round pick out of Auburn in Aprilís draft, and LeGarrette Blount, the bulldozing, short-yardage specialist late of the Eagles.

Matthew Stafford gets paid a lot of money to sling the pigskin around but he canít do it all by himself and the additions of Johnson and Blount should help bring offensive balance back to Motown, a balance thatís been missing for a very long time. In the near decade since Staffordís been a Lion the silver and Honolulu blue have never ranked higher than 17th in rushing offense and average just over 26th overall. Yeah, itís about time the rock toters added some value to the Detroit bottom line and if they do that in 2018, guys like Jones, Golden Tate, and Kenny Golladay will have to take a fantasy hit.

Brandin Cooks, LAR: For a guy who has such immense talent and two straight years of Top 10 production in his back pocket, it sure doesnít seem like anyone wants him around for very long. Cooks is, oddly, who I ended this same column with last summer (whoops), but my reasons for closing with him then (new team, new system, new QB) are still very much in play this summer. I was worried about how heíd fit into an established offense and thatís exactly what heíll be trying to do again come training camp.

The fact we can even call the Los Angeles offense ďestablishedĒ is a true testament to the miracle work Sean McVay et al. did with the Rams last season. McVay took the leagueís worst offense two years running (2015 and 2016) and fashioned it into the highest scoring outfit literally overnight (29.9 pts/game). He did this, moreover, with a QB coming off one of the more disastrous rookie campaigns in league history (Jared Goff) and an assortment of misfit toys (Sammy Watkins, Robert Woods, etc.) that wouldnít have caused any defensive coordinator to lose much sleep before the season began.

Cooks feels like a natural fit for McVayís system, which utilizes lots of pre-snap motion and play-action, complicated/disguised route combos, and plenty of vertical shots (Cooksí specialty). In other words, I could very well be eating a second helping of these words come next summer. Then again, the Rams didnít even place a receiver in the Top 25 last season (!), despite all those points and that widespread acclaim for the offense and its author. Cooks wasnít brought in to become a focal point (thatís still Todd Gurley). He was brought in to put even more pressure on opponents already flummoxed by a difficult-to-defend scheme. Beware.