The only constant at the top is inconstancy, as we've been talking about the past week or so. Regardless of whether I'm right about the who—which top QBs, RBs, and WRs from last year, in particular, will fall from grace in 2021—we already know I'm right about the what: Many, if not most of them, certainly will. The historical data is overwhelming on that point, friends. So who are this season's "disruptors" best positioned to replace last year's studs? Let's break it down.

A quick reminder of the Top 10 fantasy QBs from last season…

Note: All rankings are based on FFToday's Non-PPR league scoring.


Quarterbacks Most Likely to Rise in 2021:
Dak Prescott, DAL: There isn't a more obvious candidate for Top 10 elevation this season than Dak, whose 2020 campaign was cut brutally short by a compound ankle fracture and dislocation. He scored only nine fantasy points in that abbreviated Week 5 appearance v. the Giants, yet still managed to average 31.2 FPts/G on the season. How good was that? Peyton Manning averaged 31.0 FPts/G in 2013, the year he scored the most fantasy points in the history of the game!

Prescott had a long way to go to best Manning's all-time mark, granted, but it's only a matter of time before someone does (keep reading). Though it could be him, I'm skeptical the Cowboys will want or even need him to carry the offense as much as he did early last season. A decimated offensive line should be back to full strength in 2021 and Jerruh used 8 of 11 draft picks to bolster a sieve-like defense. Dallas also replaced defensive coordinator Mike Nolan with Dan Quinn, late of the Falcons and architect of Seattle's historically great defenses in 2013 and 2014, led by the "Legion of Boom." Put another way, I can't see the new $160M man needing to chuck it 55+ times each Sunday, as he did in the two games prior to his early Week 5 exit.

That said, reduced passing volume doesn't necessarily degrade Dak's value. He averaged over 300 rushing yds/season prior to 2020 and has scored 24 career rushing TDs. That's six more than Peyton scored in three times as many seasons. He can do it with his arm or his legs and the Dallas offense is absolutely loaded (Zeke, Amari, CeeDee, et al.). Unless he's cut down by injury again, Dak is a surefire Top 10 performer.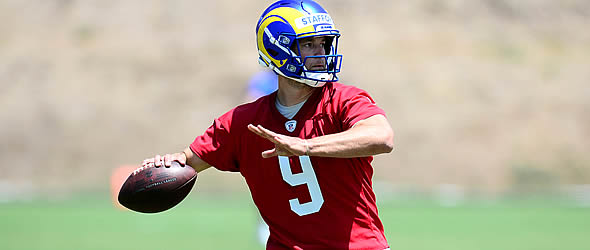 Matthew Stafford, LAR: Players like Prescott have revolutionized the position this past decade and here's the only statistical proof needed to drive that point home. In the ten years since 2011, QBs have topped the 400-point mark 33 times, or just over 3 times per season. In the ten years prior, that happened only four times TOTAL. Put another way, there were three more 400-point QBs in 2020 alone (Allen through Brady above) than there were the entire decade from 2001 to 2010!

Run-pass threats like Dak have clearly caused this explosion in QB fantasy points, but that doesn't mean "traditional" talents like Stafford can't still rack them up. The former Lion was a Top 10 regular from 2011 to 2017, in fact, missing the cut just once during that stretch (QB15 in 2014). It didn't hurt that he played in some pass-happy attacks with some great battery mates (e.g., Megatron), but neither of those things were true last season—career-low attempts for a 16-game season coupled with Kenny Golladay's injury—and he still managed to finish a respectable 15th overall.

The talent is still there, in other words, and now Stafford moves west to Los Angeles after 12 seasons in Detroit, where he'll command a QB-friendly scheme and work with much better weapons than he did in 2020 (Woods, Kupp, DeSean, etc.). Jared Goff was no worse than QB16 in four seasons under Sean McVay and Stafford is a more talented flinger in almost every respect. Don't forget the Rams have already lost Cam Akers for the season, possibly forcing McVay to employ a more pass-heavy attack. Though it's always tricky projecting quarterbacks working in completely new systems, I like Stafford's chances of elevating what had become a stale LA attack and finishing in the Top 10 this season.

Joe Burrow, CIN: Burrow isn't the running threat Dak Prescott is and he doesn't possess Matty Stafford's cannon-like right arm, but he showed enough play-making ability and moxie as a rook to pique this guy's interest. Fresh off a scintillating Natty performance—521 total yards, five TD tosses, and another TD run v. Clemson—the 2019 Heisman winner looked like the real deal in Cincy and a worthy #1 selection, even if he was ultimately overshadowed by fellow 2020 draftee, Justin Herbert (GO DUCKS!!!). His 21.9 FPts/G were actually better than many established names (Stafford, Big Ben, Brees, and Fitzy) and if he hadn't shredded his knee in Week 11, who knows where he might have ended up?

That surgically repaired right knee is concerning heading into 2021, but the current Bengal and former Tiger/Buckeye is more nifty than dangerous when running (think A-Rodge). Simply put, he's the kind of QB who can keep plays alive, but can't necessarily make them with his legs. No matter because keeping plays alive is what allows Burrow to leverage elite accuracy and uncommon instincts. He didn't complete 76% of his passes last year, as he did down on the Bayou, but spinning the pigskin right on the money is what earned him that NCAA hardware and lofty draft position.

Another reason I'm bullish on Burrow? The Bengals upgraded his bodyguards (FA Riley Reiff and second-round pick Jackson Carman) and have surrounded him with an enviable trio of young, talented pass-grabbers (Tyler Boyd, Tee Higgins, and now former LSU teammate, Ja'Marr Chase). If this isn't the year McVay disciple Zac Taylor turns Cincy around, I'm not sure it's actually going to happen. Provided he stays healthy, I like Burrow to rebound from that abbreviated rookie campaign and join Herbert as a Top 10 sophomore sensation.