The only constant at the top is inconstancy, as we've been talking about the past week or so. Regardless of whether I'm right about the who—which top QBs, RBs, and WRs from last year, in particular, will fall from grace in 2021—we already know I'm right about the what: Many, if not most of them, certainly will. The historical data is overwhelming on that point, friends. So who are this season's "disruptors" best positioned to replace last year's studs? Let's break it down.

A quick reminder of the Top 10 fantasy WRs from last season…

Note: All rankings are based on FFToday's Non-PPR league scoring.


Wide Receivers Most Likely to Rise in 2021:
Keenan Allen, LAC: If there's been a more consistent WR the past four years...name him. Since missing almost all of the 2016 season due to a torn ACL, Allen has been remarkably consistent, notching about 100 receptions, 6-8 TDs, and northward of 10+ FPts/G. Had he not missed two games last year, his first in since that lost 2016 season, we might not be talking about him in this spot. As it stands, he's coming off a WR17 season and now looks to build rapport with his sensational sophomore QB, Justin Herbert.

There are certainly more dynamic, athletic, highlight-generating pass grabbers in the NFL, but what makes Allen special for fantasy GMs is his boring predictability and elite target share. In that four-year stretch from 2017 to last season, he ranked 5th, 12th, 6th, and 5th in WR targets. Add in two-plus more games of expected targets in 2020 (he missed most of Weeks 5 and 15, as well) and he'd have very possibly led the league in the category, arguably the most important for a fantasy wide receiver. More opportunity equals more production, all things being equal.

Los Angeles will run it back with pretty much the same wideouts in 2021—Allen, Mike Williams, and Jalen Guyton—but upgrades along the offensive line and the return of Austin Ekeler could make for a more comfortable Herbert, perhaps unleashing the full power of that rocket launcher of a right arm. I'll probably talk myself into drafting Big Mike again (cheaper, more explosive, and I just can't help myself), but if I'm being honest, Allen is the Chargers receiver to own. This has been the case for many years running now, so don't overcomplicate matters. He's the WR1 in a rising offense and a great bet to crack the Top 10.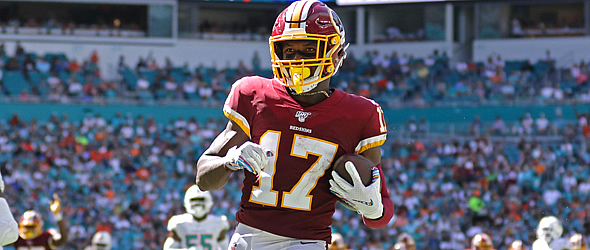 Terry McLaurin, WAS: On paper, there aren't too many better marriages than a speedy, productive WR and a veteran QB who's spent the last several years casting caution aside and routinely driving the ball down the field. Fitzmagic can slap singles and doubles around, sure, but he's more inclined to swing for the fences these days, as evidenced by his QB7 ranking in yards/attempt last year and his QB1 ranking in 2018 with Tampa. That has to be music to Scary Terry's ears after he spent most of last year shagging balls from a bottom three QB room. Only Giants and Jets QBs scored fewer QB fantasy points than WFT (which maybe doesn't say much for quarterback play in the Big Apple, yeah?).

McLaurin's WR20 performance was actually very impressive when you consider the other WR options Washington paired with that woeful quarterback crew: the Sims tandem (Cam and Steven), Isaiah Wright, and Dontrelle Inman. Yeesh. Is it any wonder the 2nd, 3rd, and 4th best passing game options were RBs (J.D. McKissic and Antonio Gibson) and Logan Thomas? McLaurin will still be the focal point for opposing secondaries in 2021, but there are more dangerous, productive playmates to worry about now, Curtis Samuel and Adam Humphries, namely, not to mention third-rounder Dyami Brown, a home-run hitter from Tobacco Road. Paired with last year's top performers, WFT fans have a right to be excited about this coming season.

I've already predicted a Top 10 finish for McLaurin's teammate, Gibson, so maybe I'm a little TOO giddy about the expected turnaround in our nation's capital. Until Fitz trades in the shoulder pads for the porch swing, however, anything could happen. My money's on Ron Rivera's boys to be significantly better than last year's NFC East "champions." Grab McLaurin in drafts.

Brandin Cooks, HOU: The two New York teams have a long way to go to reclaim relevance, but no organization has a steeper mountain to climb than Houston, which is shocking when you consider how recently the team was competitive. Since their 2019-20 playoff appearance (only 16 games ago!), the Texans have been in a violent tailspin, trading away precious draft picks, cutting or selling off top talent for parts, and then sitting by helplessly while their franchise quarterback—who doesn't want to play for them, anyway—gets swallowed up whole by scandal. About the only thing Houston shot callers got right this past year and a half was canning Bill O'Brien, who didn't properly value draft capital or know how to keep the talent happy.

All of which makes for a weird preamble to proclaiming that Cooks, the best player on a terrible team, has a chance to be a Top 10 interloper in 2021. Houston's offense will almost certainly be a bottom five unit and if the team wins more than three games, I'll eat my Stetson (I'll have to buy one first). Nevertheless, Watson's presumed replacement, Tyrod Taylor, has had success before and will spend most afternoons coming from (way) behind. That creates lots of opportunities for the established Cooks, who will command a huge target share. Taylor's other options? Chris Conley, Andre Roberts (43 receptions since 2015), rookie Nico Collins, Keke Coutee, and Anthony Miller. :-|

It's also important to note that, despite playing for four different NFL franchises, Cooks has FIVE 1,000-yard seasons to his credit. Those were achieved playing with much better QBs (Brees, Brady, and Watson), but at some point it's fair to throw some credit his way. So long as Taylor or equivalent keeps throwing PASSES his way, the Top 10 is in reach.