Nobody needs to be told starting Russell Wilson, Todd Gurley, or Antonio Brown is a good idea. Duh, right? You can't have studs at every position, though, unless you're in the shallowest of leagues. This is where the Shot Caller comes in. Need help deciding which bargain basement QB to use and which to ignore on Wilson's bye week? Let's talk. Looking for solutions at running back because Gurley is a game-time decision? Look no further. Need to know which of your unproven targets to start and which to sit since you ignored Brown and went RB-RB-Gronk in your first three rounds? You get the idea. Past results may not guarantee future success, but ignoring them entirely can ruin your Sundays in a hurry (maybe even your Mondays and Thursdays). Read on for a little history and, hopefully, a little sage advice.

Note: Fantasy points based on FF Today's standard scoring system.
Bye Weeks: N/A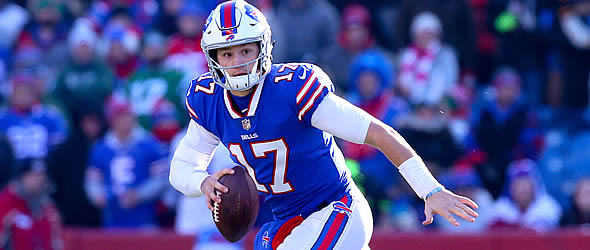 Josh Allen has finished as top ten fantasy quarterback in each of the last four weeks.

Grab a Helmet

Deshaun Watson @ PHI: It's Shot Caller v. Shot Caller for all the FF Today staff league marbles this coming weekend. Colby has a decided advantage at the running back position—Todd Gurley and the combustible Derrick Henry v. Alvin Kamara and whoever replaces Aaron Jones—but I like my QB/WR/TE positional pieces a bit better, starting with Mr. Watson. Though Houston's franchise man hasn't surpassed the 300-yard mark since Week 5, that hasn't kept him from averaging almost 21.4 FPts/G since. He's throwing the ball a lot less but not turning it over (just two picks since Week 6) and mitigating that reduced volume with consistent six-pointers and above-average ground-based production. I like what the Eagles did against the Rams last Sunday night, but they're still yielding over 280 passing yds/game, the second worst mark in the league, and are really banged up in the secondary. Start Deshaun Sunday.

Josh Allen @ NE: Not that 300 yards passing means what it once did. There were 42 such efforts through the season's first four weeks (12 over 400 yards), but that number dropped to 37 from Weeks 5-8 and to 26 from Weeks 9-12. Byes and attrition certainly account for some of that mid-season statistical deflation, but we're a week away from closing the books on the next four-game split (including ZERO byes, notably) and there have only been 13 more 300-yard outings. That's a roundabout way of saying you shouldn't be counting on a sudden passing game explosion in Week 16 and SHOULD be counting on signal callers who bring more to the table. The Bills' rookie certainly does that, having averaged about 12 FPts/G with his legs alone since Week 13. He's a work-in-progress thrower (barely 50% completion rate), but is already proving to be a dynamic playmaker.

Baker Mayfield v. CIN: I bet a league mate back in August the Browns would win at least 6 games, a prospect that looked pretty bleak after they kicked away (literally) several winnable games and sat 2-5-1 through eight weeks. Then Hue Jackson and Todd Haley were canned, Mayfield started to show off the skill set that got him drafted No.1, and Cleveland reeled off four wins in six games to seal the deal for me with room to spare. Mayfield isn't necessarily the reason I was bullish on the 2018 Brownies (I liked the overall talent infusion and trusted regression toward the mean), but he's been the chief catalyst for their recent surge. He's averaged 22.4 FPts/G from Week 9 on and that includes successive meh efforts against Carolina and Denver. I love this matchup against a Bengals team surrendering 25.6 FPts/G to opposing QBs this year (second worst).
Grab a Clipboard

Jameis Winston @ DAL: Colby rolls with Winston this Sunday after dropping Matt Stafford, but neither option scared me. Stafford's fallen off a cliff under Matt Patricia (18.1 FPts/G, the lowest mark of his career) while Winston has struggled in successive outings, completing just 47% of his passes in Week 12 and then getting shut down completely by Baltimore's suffocating stopper unit last Sunday. Dallas' defense is stifling in its own right (317.4 yards/game, fifth overall) and now has every reason to play for keeps this weekend. With two Philadelphia wins and two Cowboy losses, a once-secure NFC East crown would be lost and, with it, a playoff berth. It's not a likely scenario, sure, but I doubt Jason Garrett et al. want that division title/playoff berth riding on a late December trip to the Meadowlands. Expect lots of Zeke, lots of Dallas D, and a disappointing afternoon for Winston.

Kirk Cousins @ DET: Cousins and the Minnesota offense had been floundering when Mike Zimmer surprisingly sacked offensive coordinator John DeFilippo following a Week 14 stinker in Seattle. There's usually more to the story, but "irreconcilable differences" best explain this split and they boiled down to this: Zimmer wanted to run the ball and DeFilippo wanted Minny's $84 Million Dollar Man throwing it. Head coaches usually win these philosophical showdowns and new OC Kevin Stefanski clearly recognized that. The Vikes ran the ball 40 times for 220 yards and three touchdowns last weekend against the Fish, all season highs, and also scored a season-high 41 points. Cousins wasn't bad but only threw the ball 21 times, his fewest attempts since…a Week 9 tilt against this Sunday's opponent, the Lions. Minnesota won't be inclined to go Cousins or bust this Sunday and likely won't need to against a downtrodden Detroit team.

Mitchell Trubisky @ SF: The Bears have the NFC North already sewn up and would need the Rams to soil the bed against two vastly inferior opponents (Arizona and then San Francisco) in order to earn a first-round bye. That doesn't mean they're mailing it in by any stretch, but it might mean being careful with Trubisky's health in preparation for the playoffs. Much of Mitch's appeal is his off-schedule scrambling ability, but he's looked more cautious since missing Weeks 12 and 13 with a shoulder injury. He's also been far less productive. The former Tar Heel averaged almost 32 FPts/G over a torrid stretch from Weeks 4-10 but is averaging barely half that since then (16.6). This Chicago team is good enough defensively to challenge all contenders come January, but can't be taken seriously without their franchise man under center. Expect just-good-enough production this Sunday down in Santa Clara.


Quarterbacks | Running Backs | Wide Receivers